BBQ Pork Steaks in the Slow Cooker: Cook in the crockpot with sauce, & and it's one of the best pork steak recipes ever! So quick & easy!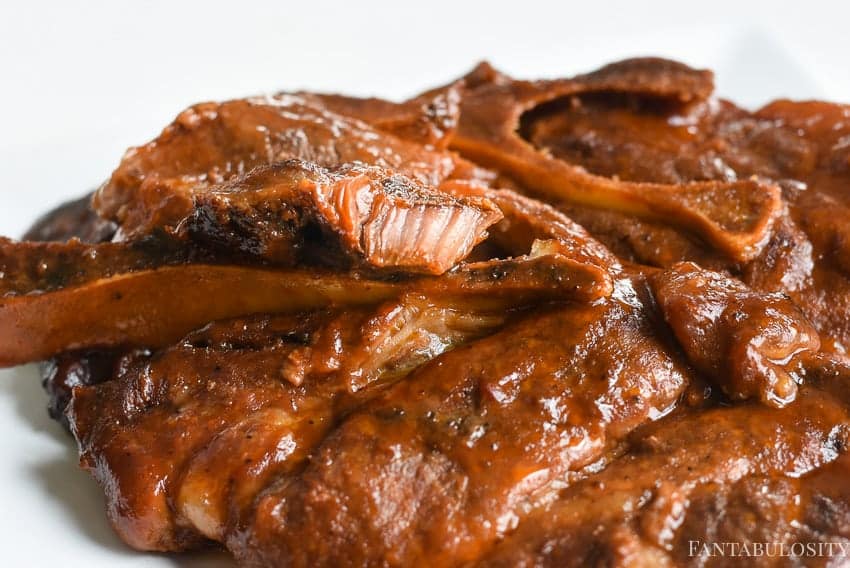 BBQ Pork Steaks Recipe in the Slow Cooker
Friends, we all know that all of the recipes around here are quick and easy, yes? Well, if there was a word to describe that this pork steak recipe was even easier than ANY recipe on this blog, then I'd say it. So I'm just asking that you take my word for it!
Or… better yet, take a look at the recipe below, and you'll SEE how easy it's going to be.
Not Enough Time? If you don't have time for a slow cooker recipe, then check out my Baked BBQ Pork Steaks recipe to speed things up!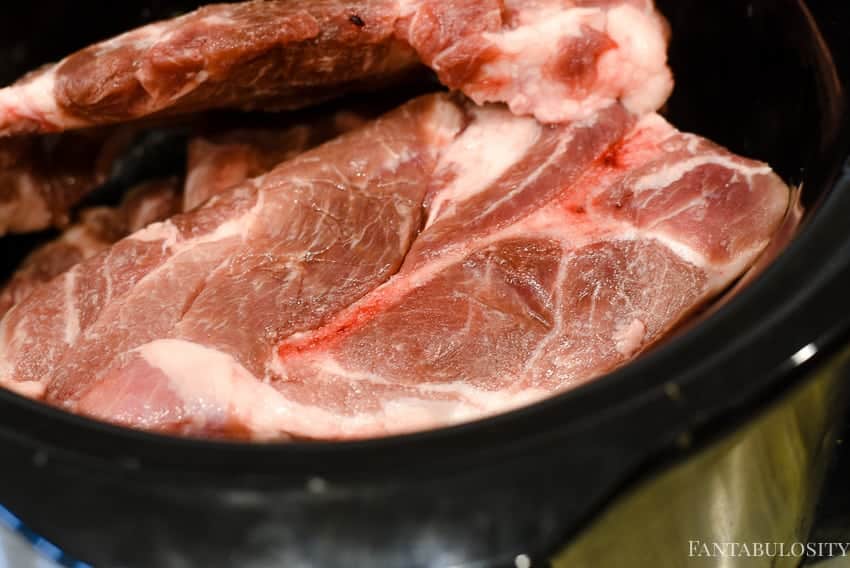 Honestly,  I think the hardest part of this recipe was walking to the deep freezer, to pull the pork steaks out to cook. 
You'll find the full recipe card at the bottom of the post, but if you're a visual person, don't miss the helpful tips throughout the post!
How to Cook Pork Steaks
First, I added a little salt and pepper to the pork steaks, before putting them in the cooker.
Since my crazy-awesome parents gifted us with half a hog this year, we have an endless large amount of pork in our deep freeze. And because I didn't think until the last minute to make pork steaks for dinner, I threw those frozen babies right in to the slow cooker.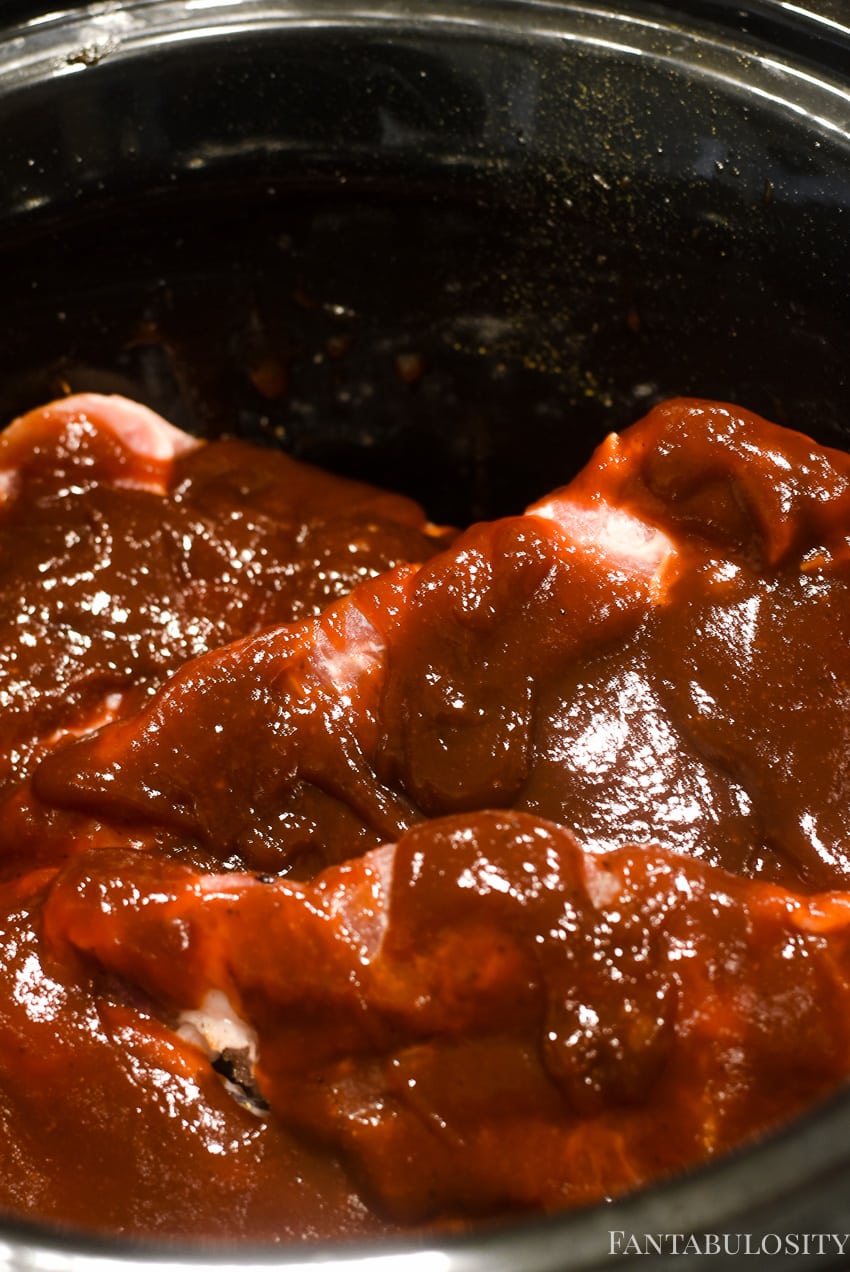 Then, I literally poured the sauce right over the pork steaks. Set it, forget it.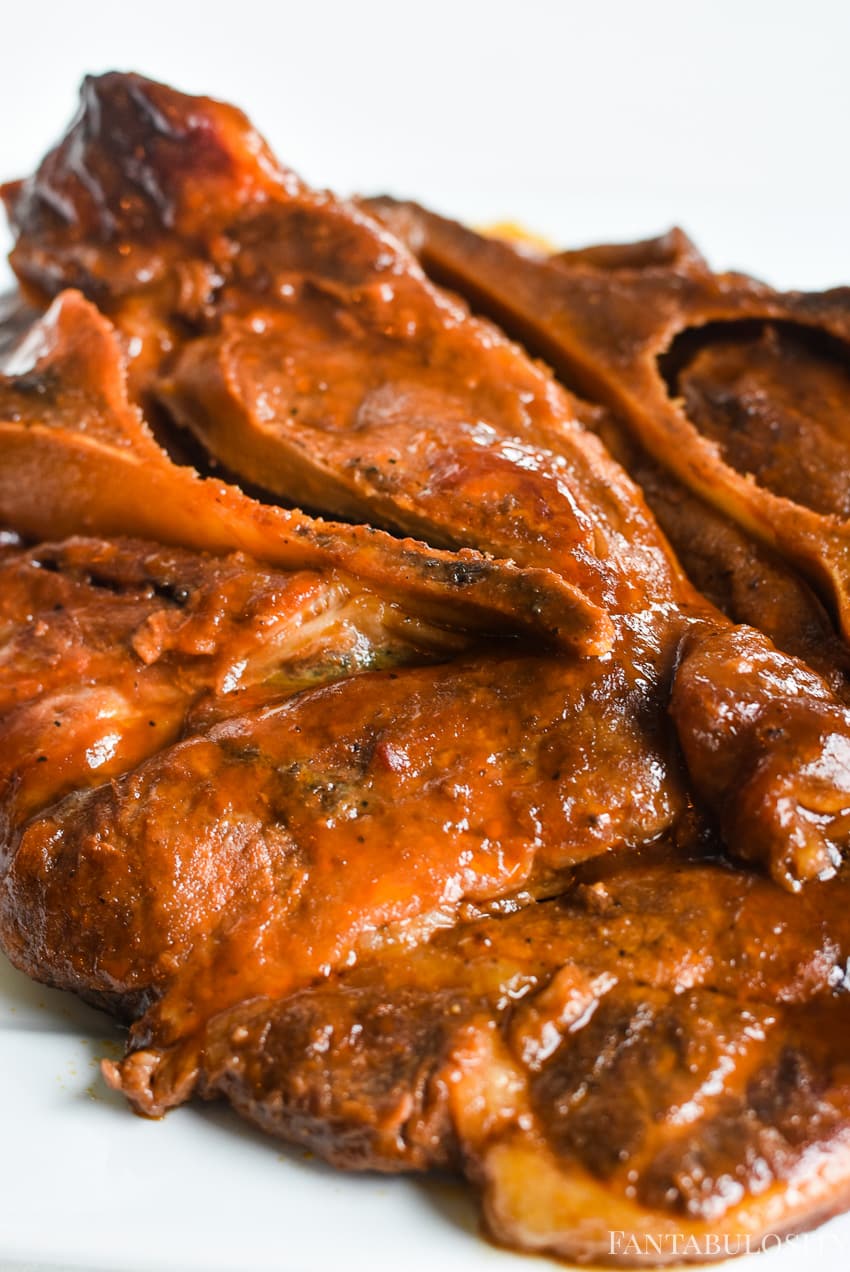 Tender Pork Steak Recipes
I've always been on a hunt for tender pork steak recipes, and before making these, I knew that cooking meats in the slow cooker, typically made them super tender. But for my husband to stop mid-bite to say,
"Jessica… these are really, really tender."
I'll have a hard time making these any other way. They were so tender that I'm even considering cooking them again, just to use the meat in a "pulled pork," style of dish. They turned out to be one of the best pork steak recipes we've ever had.
HEADS UP: Our slow cooker tends to cook SUPER fast. (Even on the "low" setting.) So our pork steaks tend to be "done" after a couple of hours. But when I leave the pork steaks in the crockpot for a while (at least four hours) they're literally hard to get out, without them falling off of the bone.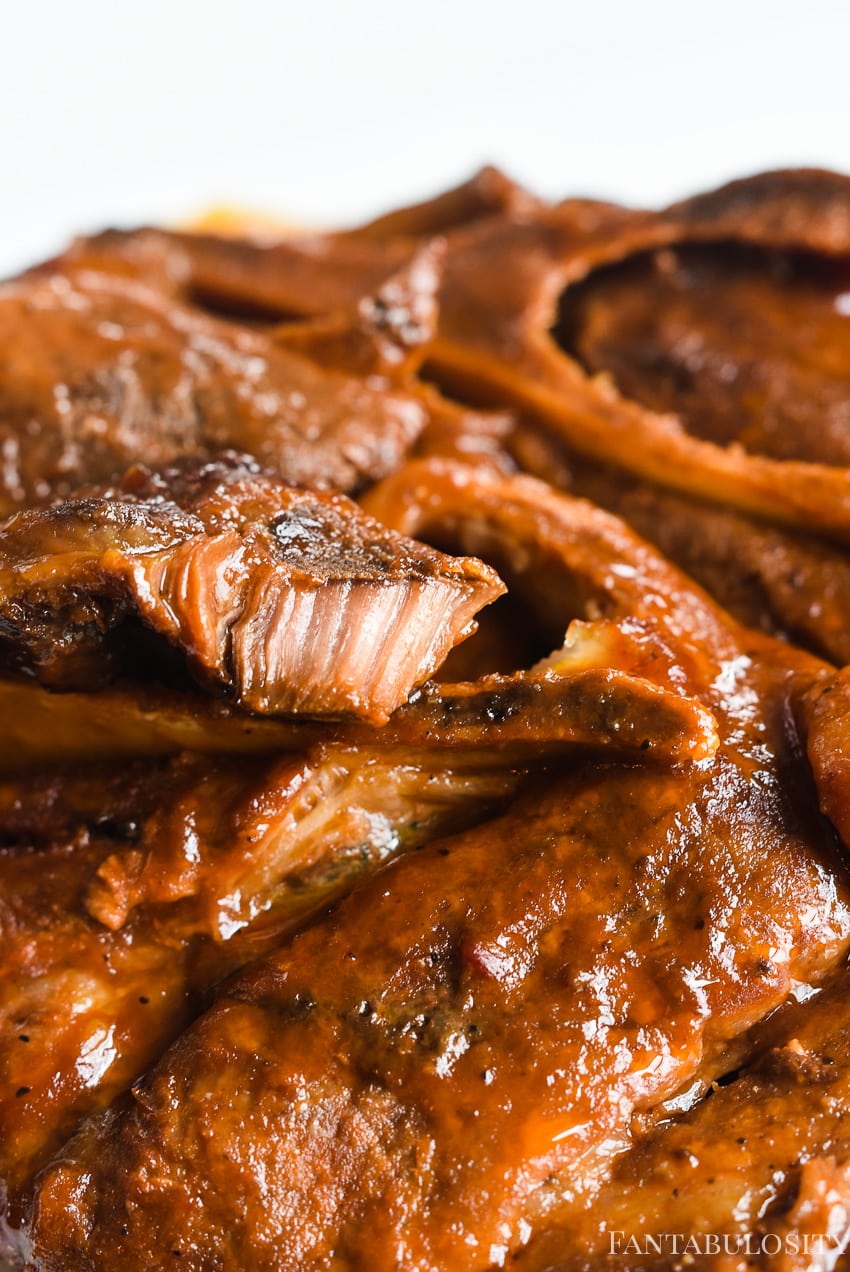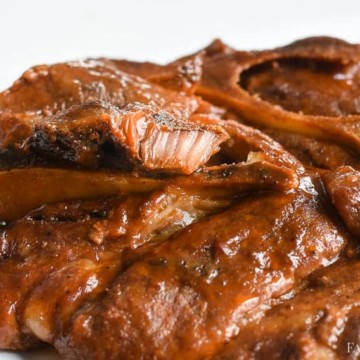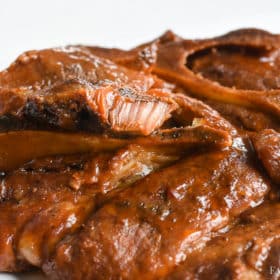 BBQ Pork Steaks in the Slow Cooker
BBQ Pork Steaks in the Slow Cooker: Cook in the crockpot with sauce, & after a few hours they'll be so tender they'll fall off the bone! Definitely one of the quick and easy pork steak recipes!

Ingredients
4

pork steaks

1

bottle

BBQ sauce

we use Sweet Baby Rays

salt and pepper

to taste
Instructions
Rub salt and pepper on both sides of each pork steak.

Using a knife, cut a small slit or two in each steak.

Pour a dab of bbq sauce in the bottom of the

slow cooker

Place a steak in the

slow cooker

and baste with a dab of bbq sauce.

Repeat the process and place another steak in the slow cooker, making sure each steak is covered with sauce.

Cook on low for 4-6 hours, or until steaks are done. (Making sure internal temp of pork steaks reach 145 degrees, and allow to rest for 3 minutes before serving.)
Notes
*** Our crockpot cooks VERY hot, so there are times that the pork steaks are done in a shorter amount of time. But the longer the pork steaks remain in the slow cooker, they FALL off of the bone.
Nutrition
Serving:
1
serving
Calories:
392
kcal
Carbohydrates:
43
g
Protein:
29
g
Fat:
9
g
Saturated Fat:
3
g
Cholesterol:
89
mg
Sodium:
1165
mg
Potassium:
748
mg
Sugar:
35
g
Vitamin A:
240
IU
Vitamin C:
0.7
mg
Calcium:
45
mg
Iron:
1.4
mg
So if you're staring at a package of pork steaks in your freezer like I was, or if you found them on sale at your local grocery store… you MAY want to give this a try. You won't be disappointed.
Do you have the dinnertime blues? Let's get rid of those NOW!
I've heard from so long,
"Jessica, I just need quick and easy recipes to make my family for dinner, and if you can tell me what to serve with it… that'd be even better."
So I did it! I made a cookbook JUST FOR YOU! You don't want to hesitate, because your dinnertime is about to get a LOT easier.
More Steak Recipes
If you're a steak lover like those in our house, then you'll definitely want to check out the ever so popular steak recipe here on the blog where I show you how to cook a steak in the oven!
How to Cook Steak in the Oven
Deer Steak Recipe
I've been a huge fan of cooking deer meat, fried and in a pan on the stove. But I have to say that when I cooked this deer steak in browned butter and salt and pepper, my tastebuds were struggling with what was better! Get the recipe for this deer steak recipe HERE!
TOP EASY RECIPES…