How to Make Canned Green Beans Taste Better: Canned green beans can easily be kicked up a notch with these simple additions to ignite some flavor in this popular side dish!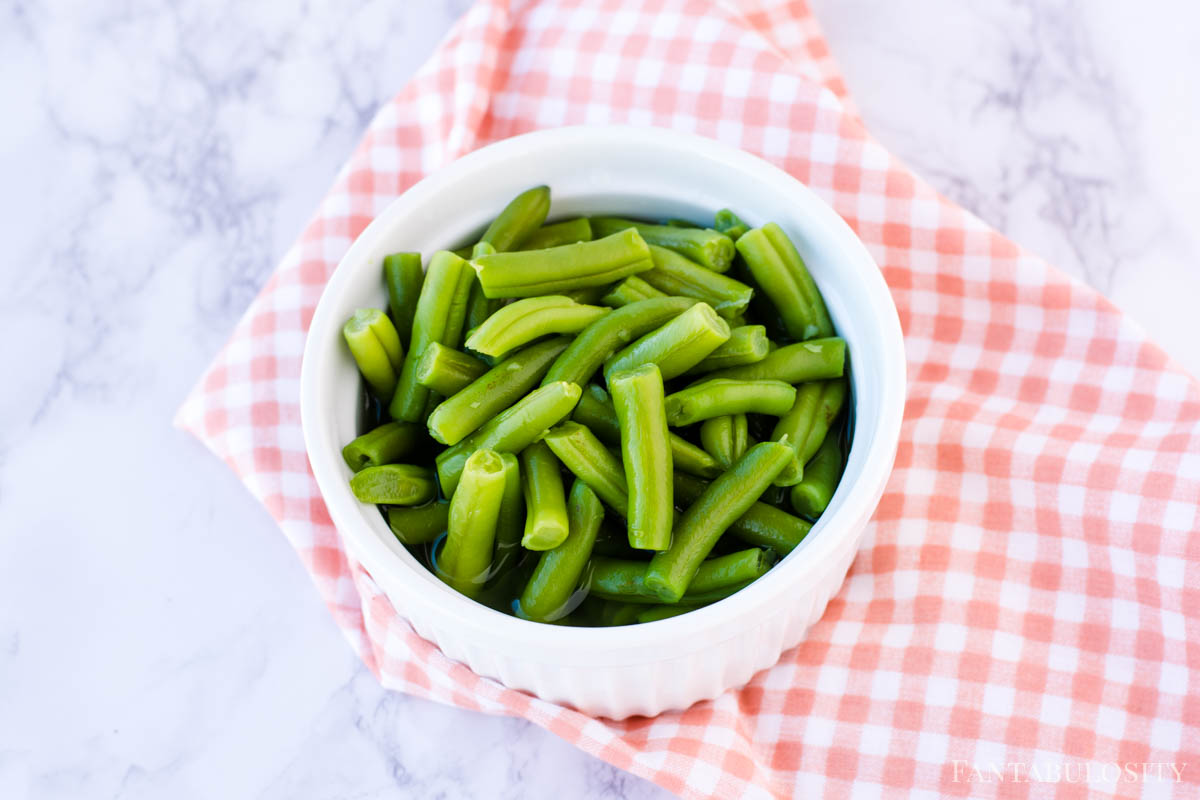 How to Make Canned Green Beans Taste Better
We cook dinner more than ever, now that we live in the middle of nowhere here in Montana.
It's so much more affordable than driving 30 minutes to the nearest restaurant and to be honest… it has REALLY saved us a lot of money.
But like so many of you, coming up with a new side dish recipe every now and then can get challenging. And sometimes, when I've exhausted the side dish recipes in my cookbook, I just feel like opening up a can of green beans to serve alongside main dishes. (We LOVE serving green beans alongside this French Onion Casserole.)
You'll Also Love:
How do you make canned vegetables taste good?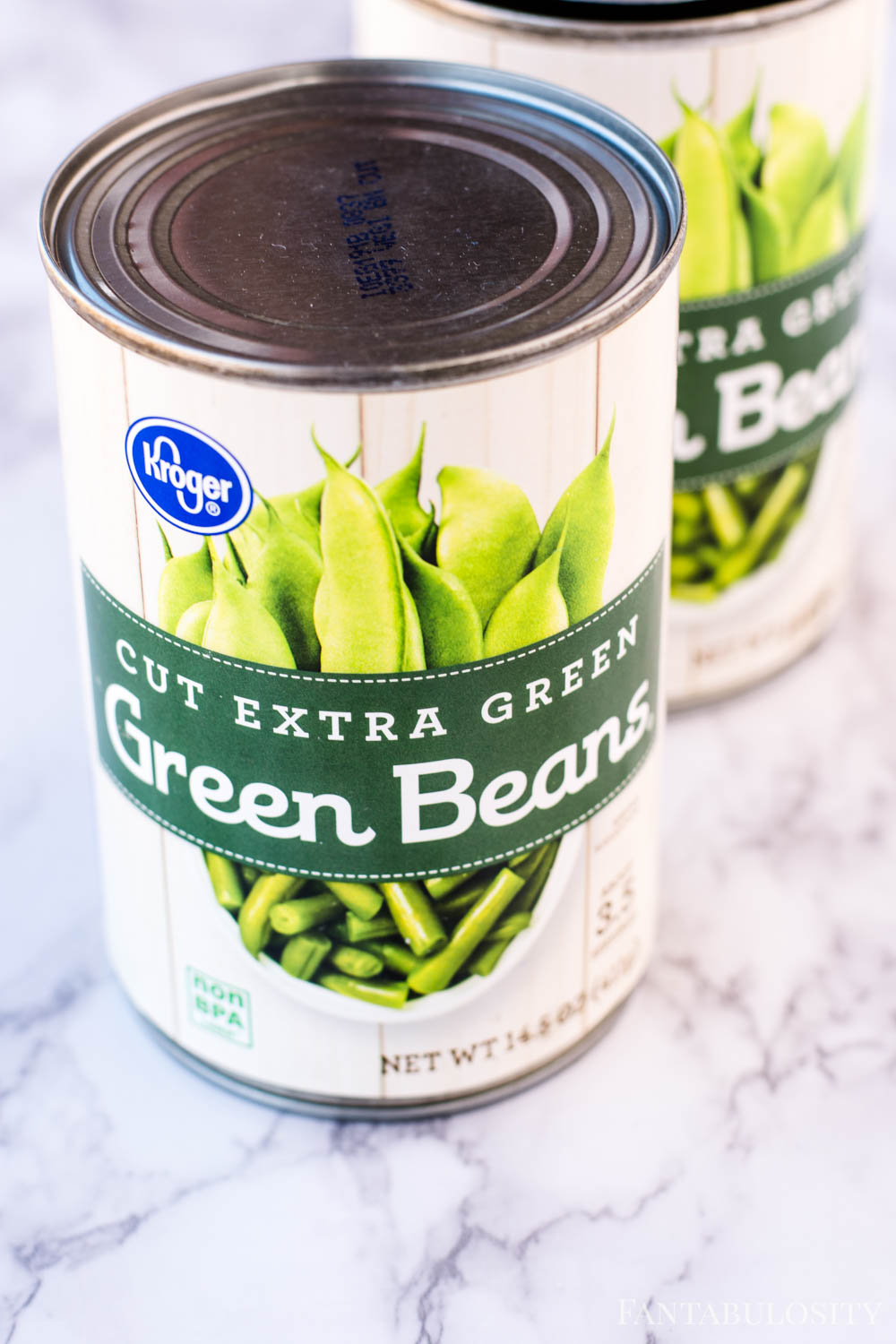 Let's face it… canned green beans can get the job done when you need something quick and easy to serve with chicken, steak or your favorite easy dinner recipe.
But adding a little spice or "oomph" to canned green beans can make this side dish REALLY stand out and taste good; especially if you're taking a side dish with you to a family gathering or potluck.
What can I add to green beans for flavor?
I have my favorite ingredients and techniques to flavor up our canned green beans but I wanted to ask around in the Fab Society Group and find out what so many of you add to them too, to give you a list of multiple ideas.
Here's what you all told me!
Cook in chicken broth and bacon grease. – Jessica B.
Drain them, put them in a casserole dish, drizzle EVOO and shake lemon pepper on. Super good. Bake at 350 for about 20 minutes! – Kim B.
Garlic powder and butter. – Tara B.
Bacon grease, garlic powder, onion powder, seasoned salt, pepper. – Miranda D.
Onions or onion powder. A key for me is hickory smoked salt. Butter. And chopped bacon if I have some handy. – Kassidy T.
A beef bouillon cube. – Sarah D.
I cook in a cast-iron skillet and add butter, salt, worchshire, and a little soy sauce. Sometimes I add a little brown sugar! Cool them until they get a little crispy! – Joni M.
Just butter and salt & pepper. – Melissa N.
Butter and season salt. I usually boil mine and then drop them in the skillet before serving to get a little crunch to them. – Jennifer I.
Butter or bacon grease and garlic salt, cook them down until soft. – Cheyenna H.
Two slices of bacon in a pot. Let them get almost all the way cooked, pour 2 undrained cans of green beans in pot with bacon. Cook it down until almost all the water is out. About 20 mins. A splash of worchshire sauce and a squirt of spicy mustard. Stir it all up. You won't make them any other way after that. So good. – Erin R.
Bacon grease, onion bits, garlic powder, liquid smoke, butter, crunchy bacon. – Wanda O.
My FAV way is in a crockpot with a bit of chicken broth, real bacon, and onion. Let them cook for at least 4 hours – they're heavenly! – Danica K.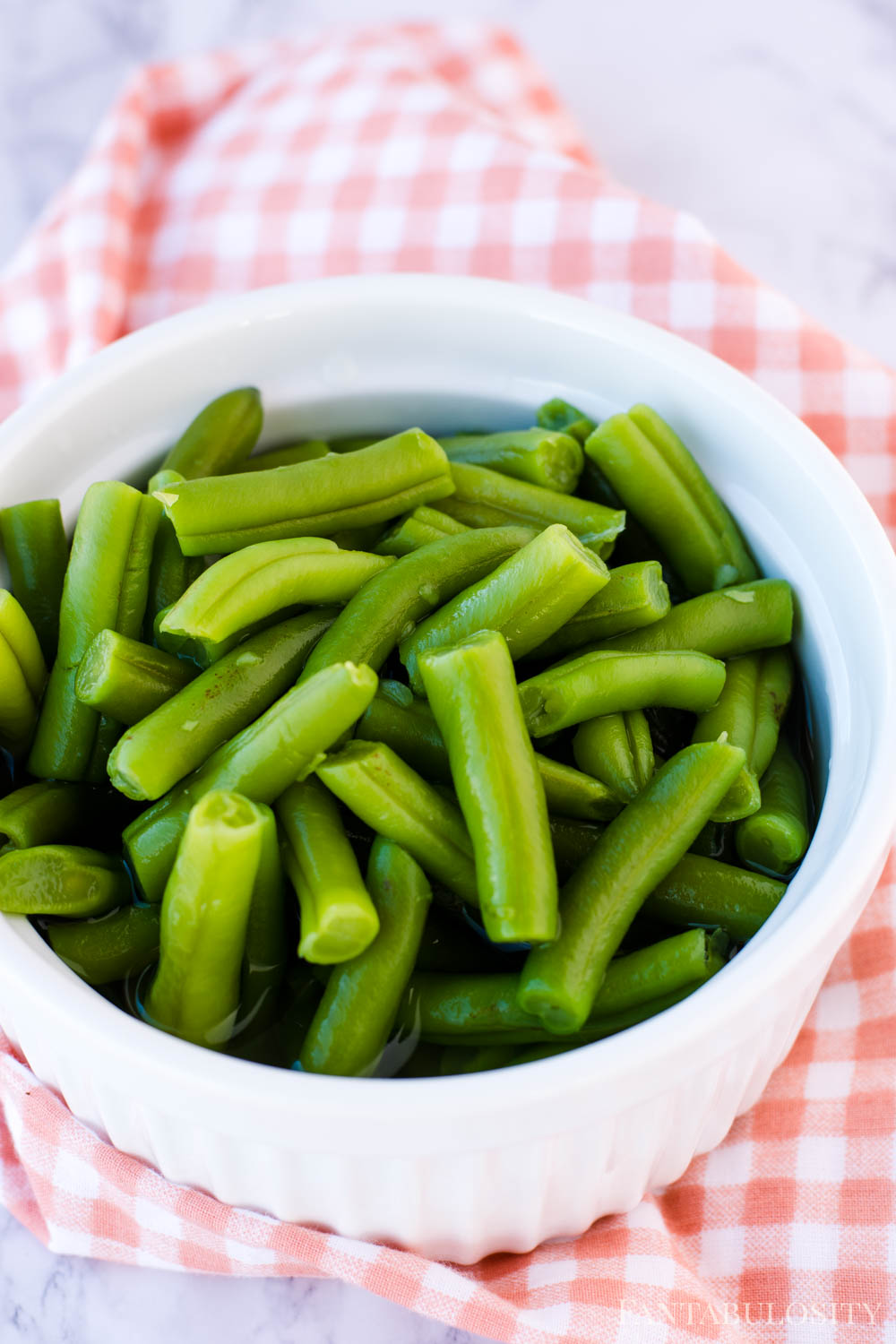 How long do you cook canned green beans in the microwave?
If you're cooking your canned green beans in the microwave, you're essentially just heating them up since they're already cooked.
So if you're ONLY cooking the green beans, and not doing any of the suggested recipes above, you can open the can and pour the green beans, with their juices, into a microwave-safe container. Heat for 2 minutes or until heated through.
How long do you boil canned green beans on the stovetop?
If you prefer cooking or boiling your canned green beans on the stovetop, you're just going to cook them long enough to heat through.
When cooking only the green beans (not any of the suggested recipes above), open the can, and pour the green beans, with their juices, in to a small saucepan and cook over high heat. When they start to boil, boil for a few minutes, until the water reduces about halfway, and then they should be ready to eat!
More Green Bean Recipes You'll Love:
More Side Dish Recipes You'll Love: