Instant Pot Green Beans and Potatoes: In only 5 minutes, this flavorful side dish is ready to serve alongside your favorite steak, chicken, ham or protein of choice!
One of our favorite side dish recipes to date, and an EASY one at that, along with our SUPER popular green bean casserole with cheese and bacon! With only a 5 minute cook time in the Instant Pot, fresh green beans and red potatoes combined with some of our favorite spices and condiments pack a punch that any potluck or family dinner would be lucky to have on the table.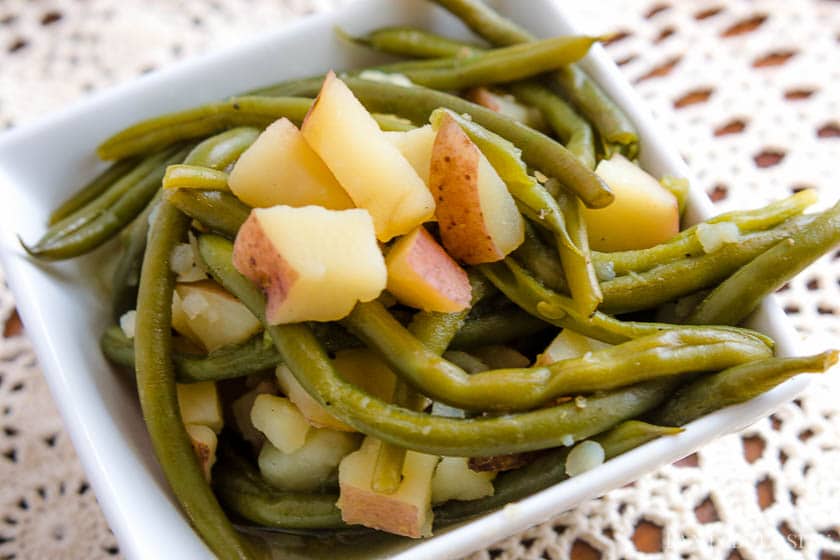 Jump to:
More Instant Pot Side Dishes You'll Love:
We know you'll also love Instant Pot mashed potatoes, Instant Pot Spaghetti Squash, Instant Pot Sweet Potatoes and Amish Potato Salad in the Instant Pot!
Instant Pot Green Beans and Potatoes
Having green beans and potatoes are a HUGE hit during the summer months when your garden or the produce stand is in full force.
However, don't limit this side dish to just a few months out of the year. The grocery store should always have fresh green beans and red (or new) potatoes so you can whip this up.
Fresh Green Beans
Can you use canned green beans? I'm sure you can, but I wouldn't go to the trouble of pressuring them in the Instant Pot. Save them and use these tricks to make canned green beans taste better!
You could simply pressure just the potatoes with the spices and butter/bacon grease and then cook/warm the canned green beans in the microwave or on the stovetop and combine afterward.
Red Potatoes
Can you use baking, Idaho, russet or new potatoes instead?
Sure. I don't see why not. I'd just make sure to cut the potatoes into 1-inch cubes before pressuring.
Also, I only use about 4 large red potatoes when I make this dish, but you could add a couple more and have more of an even potato to green bean ratio if you like. I prefer to have more green beans than potatoes to encourage more greens in my family.
Chicken Green Beans and Potatoes
What I absolutely LOVE about this recipe is that you can easily add chicken and make it a rounded out dinner!
However, instead of cooking the chicken, green beans and potatoes all together in the instant pot, I prefer to cook my salt and pepper chicken bites and then add that in to the green beans and potatoes later!
Ham Green Beans and Potatoes
Looking for a way to use that leftover ham from Easter? Well if you're not wanting to make the ham casserole recipe, then this is another perfect way to use it up!
If the ham is cooked, feel free to add that in to the Instant Pot with the green beans and potatoes to allow the ham flavor to soak in to the other ingredients!
How to Make Green Beans and Potatoes in the Instant Pot
Make sure to see the FULL, printable recipe card toward the bottom this post for easy reference!
Chicken Broth
If you've had the chance to make my Kielbasa and Cabbage in the Instant Pot, then you know my new love for the chicken broth base I've been using lately in my recipes.
This recipe is NO different and I use this powder/water combination to create the chicken broth that adds a lovely flavor to my recipes.
However, using homemade chicken broth, store-bought broth in a container/can is just fine too!
You'll want to use 2 cups of chicken broth and pour it in to the bottom of the Instant Pot pot.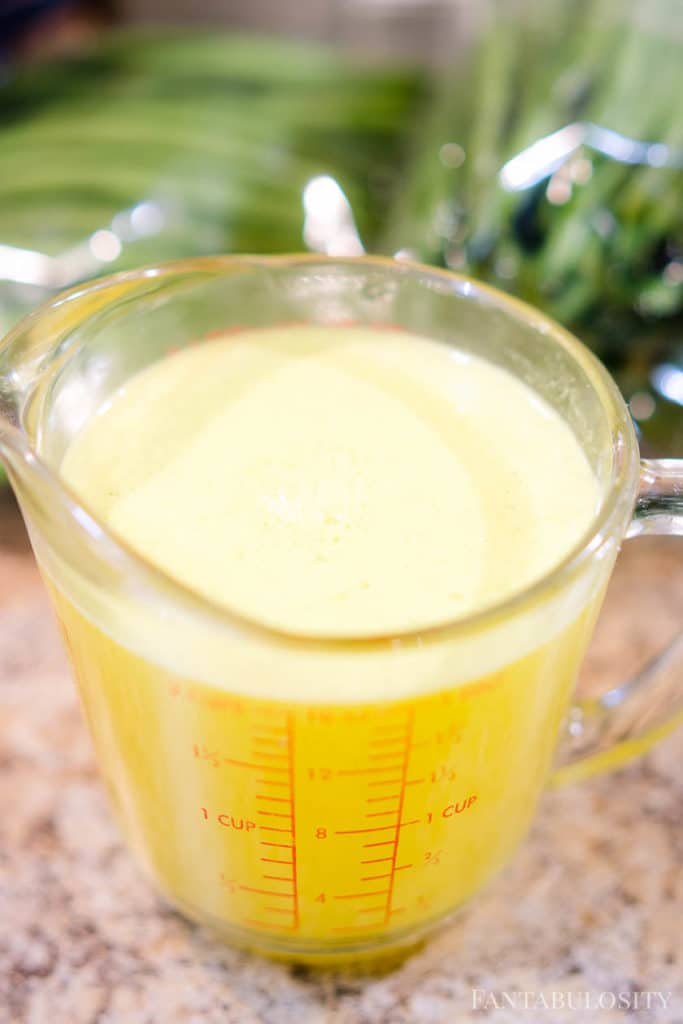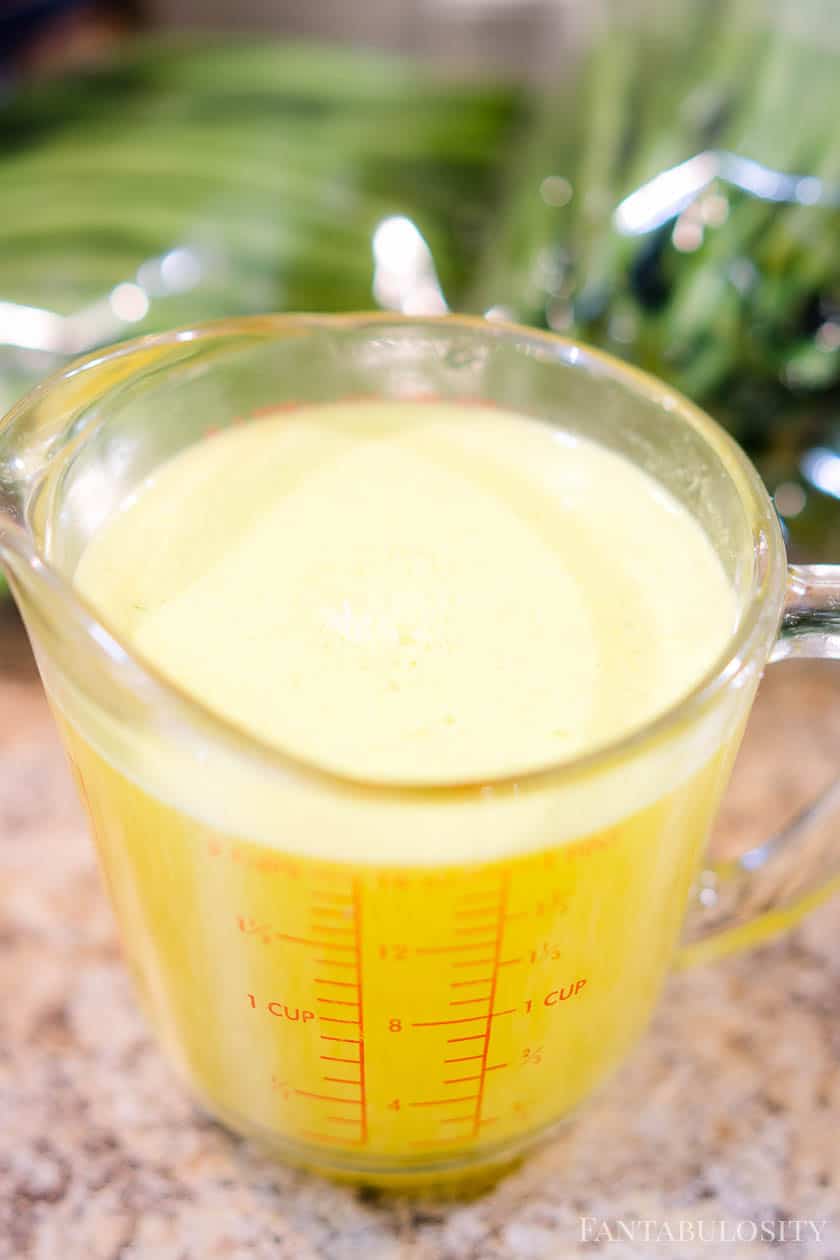 Potatoes Cut in to 1-Inch Cubes
Wash and cut your potatoes in to 1-inch cubes. Place the potatoes in to the Instant Pot, in to the chicken broth.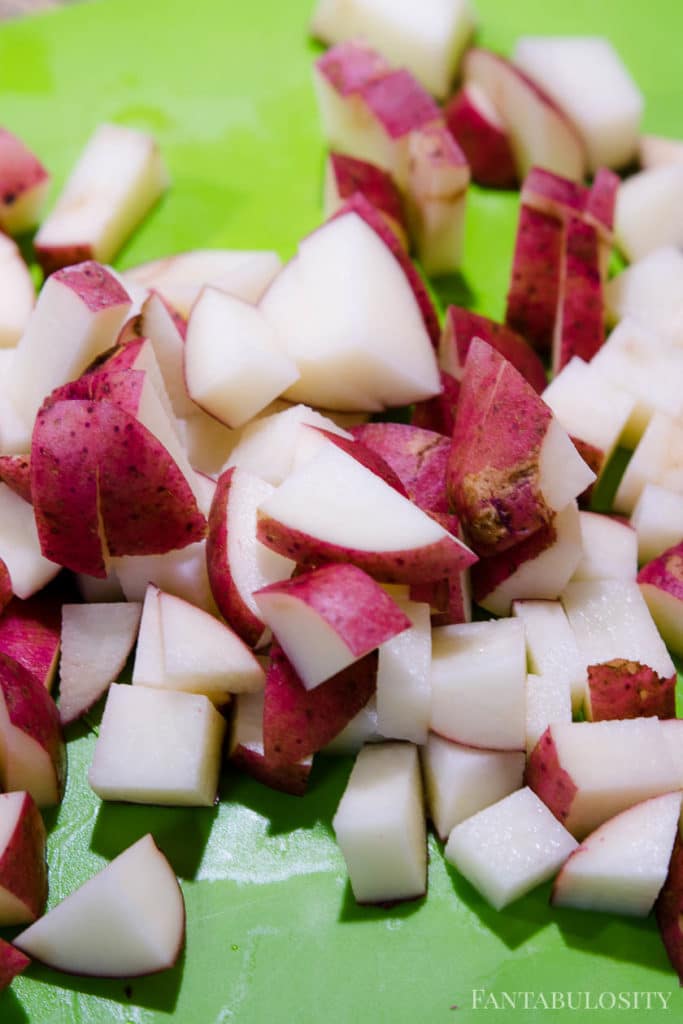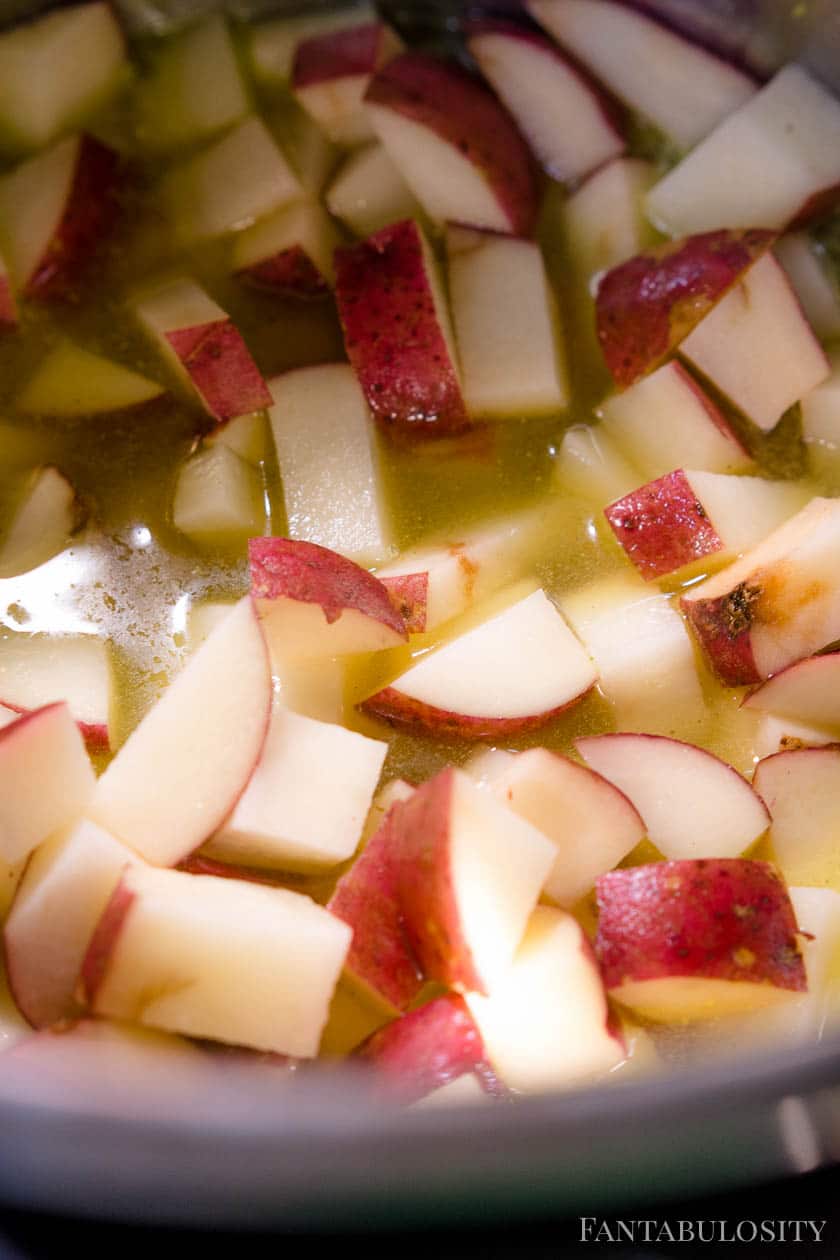 Fresh Green Beans
If your green beans are not washed, go ahead and wash them before cooking.
If using garden-fresh green beans, I do take the time to pinch off the ends before washing/cooking. However, if I'm using green beans from the store, the ends are usually off and I can just throw them in as is.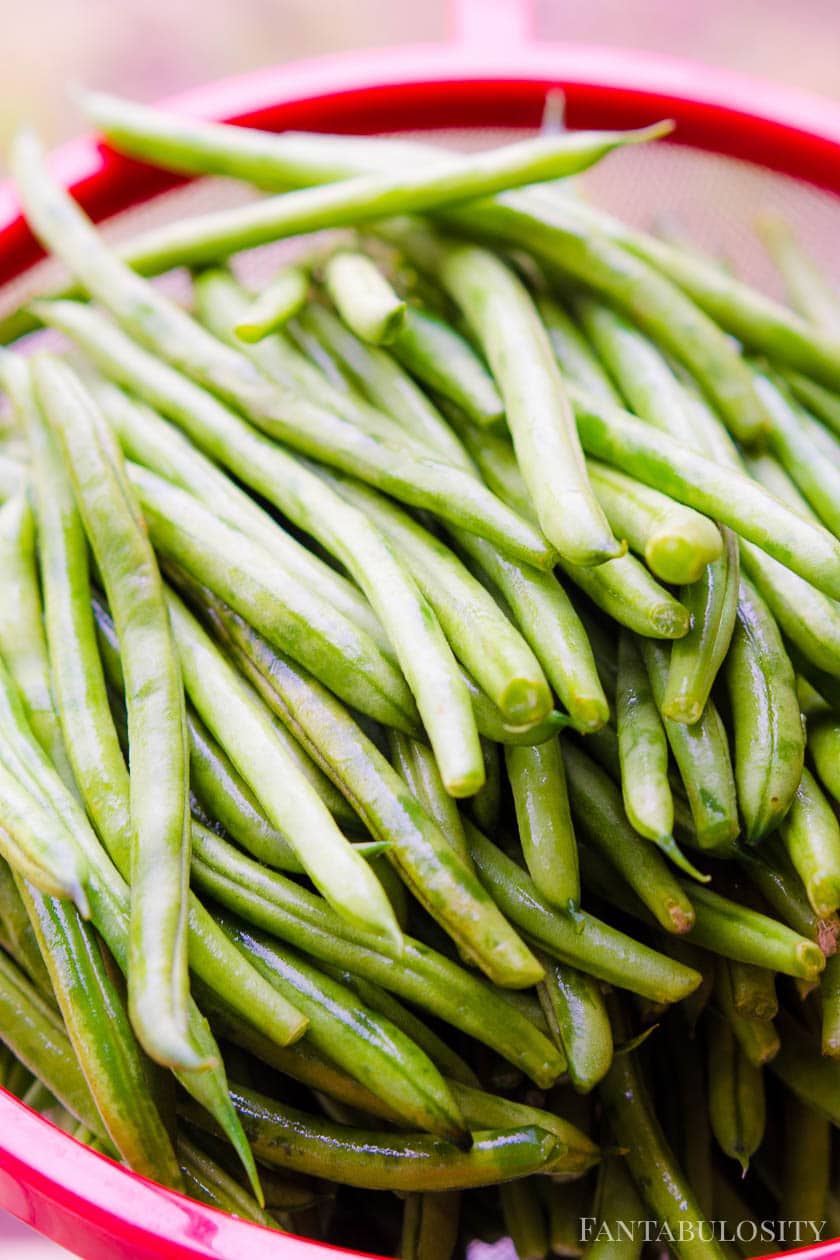 Place the green beans on top of the potatoes inside of the Instant Pot.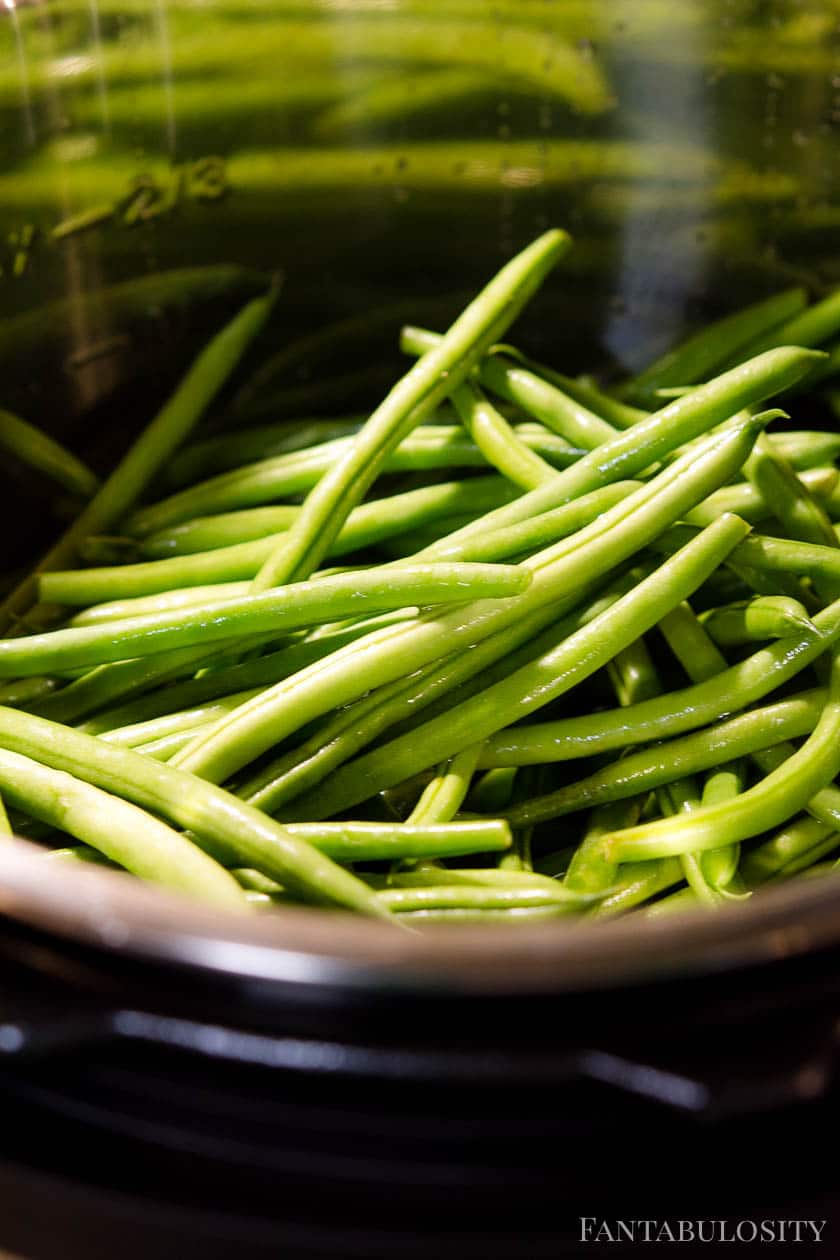 Butter and Bacon Grease – Optional
Although completely optional, if you're not avoiding ingredients like butter and/or bacon grease… I HIGHLY recommend adding it for some "umph" and extra flavor.
Because who doesn't love butter and bacon?
I use about 4 tablespoons of salted butter and place the 4 pieces on top of the green beans.
Frozen Bacon Grease
When making bacon for breakfast, I like to save the grease and freeze it in a freezer-safe container for recipes like these! It comes in VERY handy for that bacon flavor when you may not have the bacon.
Or, feel free to cook bacon and add the cooked bacon to the green beans and potatoes before cooking! TIP: If adding bacon to this recipe, place the cooked bacon on top of everything, so when it heats, the grease will drop down in to the beans and potatoes! Yumm-O!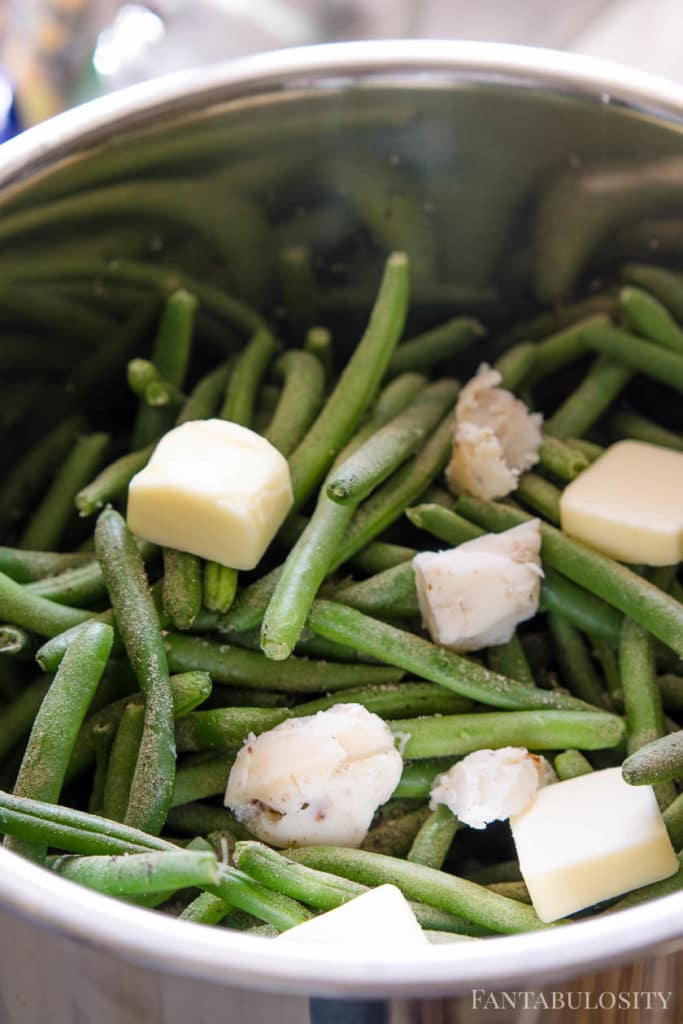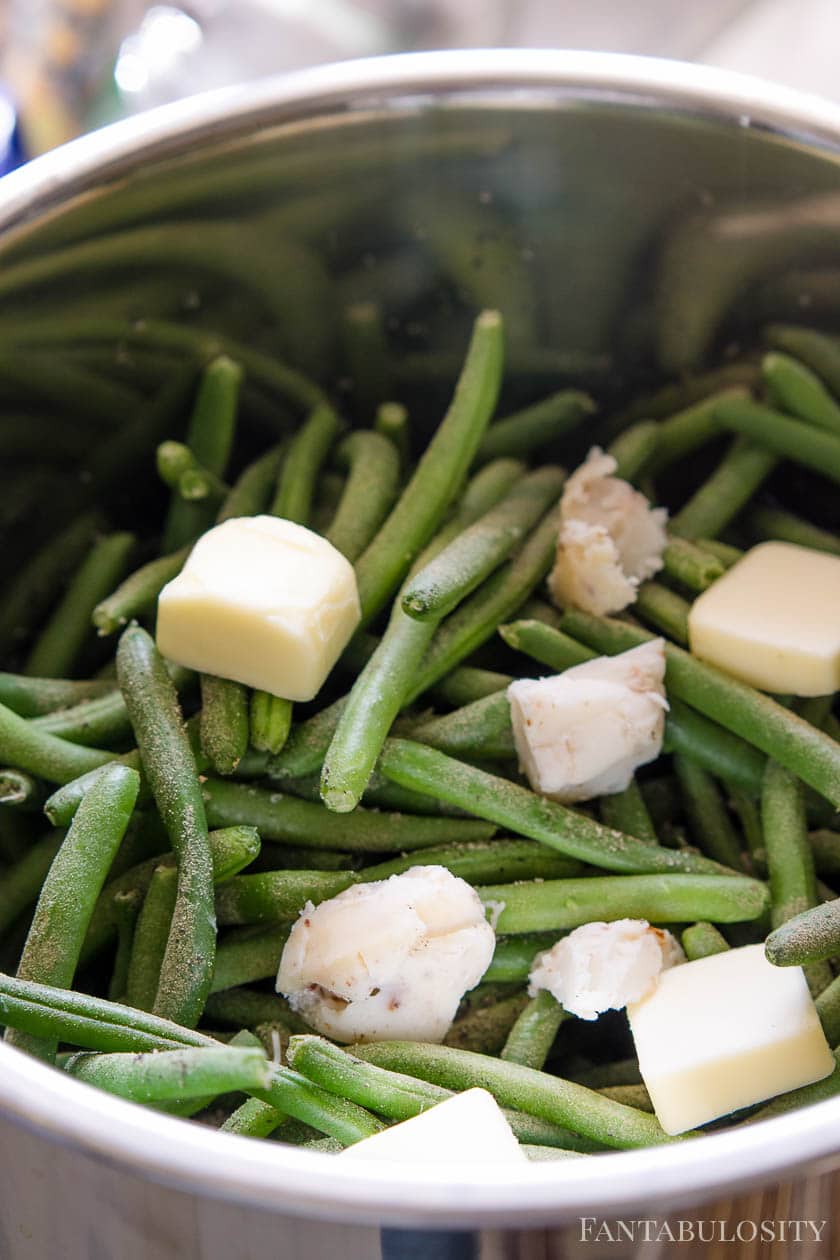 Spices:
Use salt and pepper as desired, just keep in mind that sometimes chicken broth, butter and bacon grease may already have salt added.
Also note that you can always add salt later, but you can't take it away. So I'll usually add salt and pepper and then taste afterward to see if it needs a little more.
Adding poultry seasoning is definitely something that you can do without in this recipe, but it adds such a nice touch of flavor. So if you do have it, sprinkle about a teaspoon on with the salt and pepper!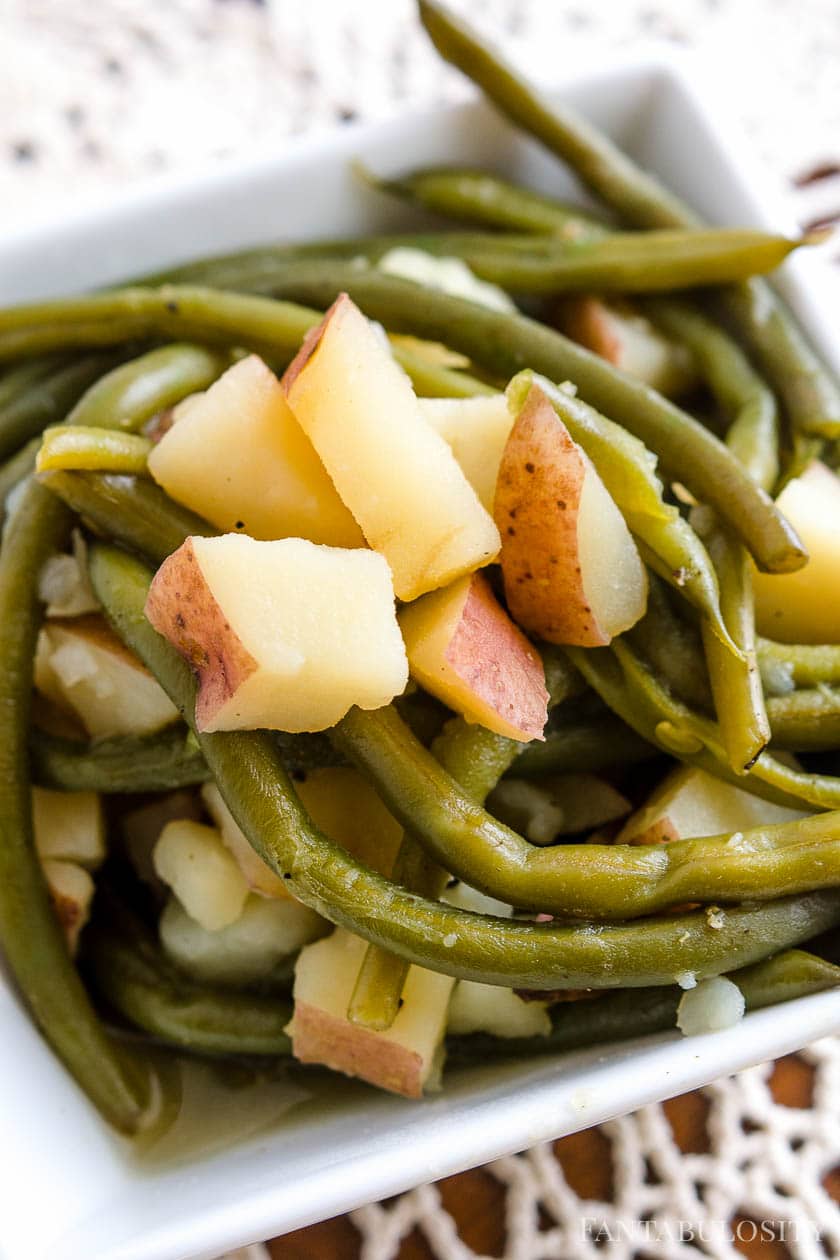 Serve!
Ideally, you want to serve this dish right away after it finishes cooking. Reheating and letting it sit can result in soggy green beans.
However, if you're heading to a potluck or family dinner, making this in the morning and keeping it on warm works just fine, and I've done this several times!
Enjoy!
What to Serve Green Beans and Potatoes with:
The beauty of this recipe is that it can be served with just about anything! But here are a few of my favorite recipes to serve this as a side dish with…
If you have an Instant Pot, check out these recipes too!
📖 Recipe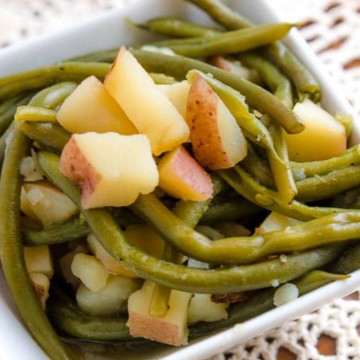 Instant Pot Green Beans and Potatoes
Instant Pot Green Beans and Potatoes are a healthy side dish that can easily be turned in to a main dish by adding chicken or ham if desired!
Ingredients
2

cups

chicken broth

4

large

red potatoes

36

oz.

fresh green beans

I use 3 12 oz. bags

1

teaspoon

poultry seasoning

4

tablespoon

butter

2

tablespoon

bacon grease

if desired: see notes in blog post

salt

to taste

pepper

to taste
Instructions
Cut potatoes in to about 1-inch cubes

Pour chicken broth in to Instant Pot and then add in the potatoes

Next, pour all of the green beans on top of the potatoes.

Place butter, bacon grease and spice on top.

Secure the lid on to the Instant Pot and turn the nozzle to the sealed position.

On manula high pressure, turn the timer to 5 minutes.

When the timer is up, manually release the pressure.

Once the valve has fallen, it is safe to remove the lid.

GENTLY stir the green beans and potatoes to mix the seasonings evenly. (Gently mix being careful not to destroy the soft and fragile potatoes.)
Nutrition
Serving:
1
serving
|
Calories:
170
kcal
|
Carbohydrates:
26
g
|
Protein:
4
g
|
Fat:
7
g
|
Saturated Fat:
3
g
|
Polyunsaturated Fat:
1
g
|
Monounsaturated Fat:
2
g
|
Trans Fat:
0.2
g
|
Cholesterol:
13
mg
|
Sodium:
206
mg
|
Potassium:
748
mg
|
Fiber:
4
g
|
Sugar:
5
g
|
Vitamin A:
717
IU
|
Vitamin C:
21
mg
|
Calcium:
48
mg
|
Iron:
2
mg
Nutritional information is based on third-party calculations and should be considered estimates. Actual nutritional content will vary with brands used, measuring methods, portion sizes and more.
Did you just get an Instant Pot, or thinking of getting one?
Using an Instant Pot can be very intimidating at first. Here's the video of my unboxing and first use. If I can do it, you can do it!
Did You Make This?
Snap a pic and hashtag it #Fantabulosity — I love to see your creations on Instagram, Facebook, and Twitter!