Instant Pot® Review: How to Use an Instant Pot® – With so many recommending the Instant Pot® pressure cooker, I knew it was something I had to try for myself when it wasn't seeming like just a fad anymore. I'm so glad that I did. I unboxed it, and made chicken breasts, all in a few minutes.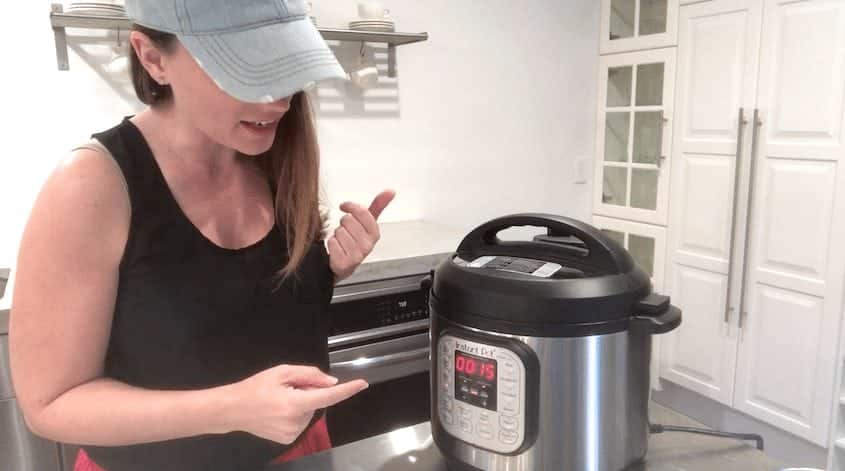 Instant Pot® Review
So I'm not going to lie. I've heard about the Instant Pot® for a long time, I seriously thought it would be old news in about a couple of months. But then, I started seeing more and more recipes pop up on my Pinterest feed, and even from friends in my Facebook groups, so I knew it was time to try this thing out.
During my self retreat, it was the perfect time to try this bad boy out. So I tapped "record" on my phone, and started filming from the moment I plopped the box up on the counter, so we could go on this pressure cooker journey together.
Instant Pot® Frozen Chicken Breasts:
For the first round of cooking in the "pot", I thought frozen chicken breasts would be easy and something that I'd cook often in this bad boy.
With just a little salt and water (you have to put a little water or chicken broth in the bottom of the Instant Pot when you cook it), I had chicken breasts ready to eat in about 20 minutes. Say whaaa? Well, just watch in the video below and you'll see.
No Time to Watch?
No worries, I put my cliff notes of the review and I've put a recipe card below to show you how to cook chicken breasts in the Instant Pot® for your quick reference.
How to Use an Instant Pot®
So What's My Overall Review of the Instant Pot®?
I'm in love. It took me a minute to get familiar with it, but the instruction manual helped me, and in just a couple of minutes I was rocking and rolling.
You do have to put some sort of liquid in it before cooking, determine which setting to "cook" it on, because each recipe will differ… and know that you CAN set the timer to whatever you want it to be.
For instance, if you're cooking something that doesn't have a "button" to match what you're cooking (like "chicken") no worries. You can choose which setting you want to cook it at, and put the timer on whatever time you want it to cook!
Instant Pot® How-To Cliff Notes:
It will take a few minutes to build up pressure, before the timer starts and cooking starts.
When the cooking begins, it will cook as long as the timer is set for.
After the timer ends, it will naturally cool down unless the "keep warm" button is pushed. You can let it naturally cool down before taking the lid off (make sure the float has lowered back down)… OR you can let the steam out manually. Just be super careful!
Ready to Buy This Thing Too?
So for real… how fun is this thing? If you're ready to buy one, I don't blame you. I actually found this exact one on Amazon, and you get buy it HERE. (This is my affiliate link, which means that I could make a commission off of your purchase, for referring you to it… but it comes at no extra expense to you!)
Now I know some of you probably already have one of these, and use it up to 5 nights a week. I totally understand why.
But for those of you who have been intimidated by this thing… be intimidated NO MORE! It was a breeze to use, and now I can't wait to see what else I can cook in this thing. (See the post on my Facebook page of reader suggestions for Instant Pot® recipes HERE!)
Instant Pot® Hard Boiled Eggs?
So before I left my self retreat, I decided I must try to cook boiled eggs in this Instant Pot® too. I had heard that the shells peel off so easy and fast, and if that was even CLOSE to true… then it would be a miracle. Way too many times, I've been hangry and grumpy on Easter morning when my boiled eggs for deviled eggs came out wonky.
Sneak Peek: Let me just tell you… they DID come out amazing, and I recorded that little experience too. Look for that video to come at you soon!
How to Cook Frozen Chicken Breasts in the Instant Pot®: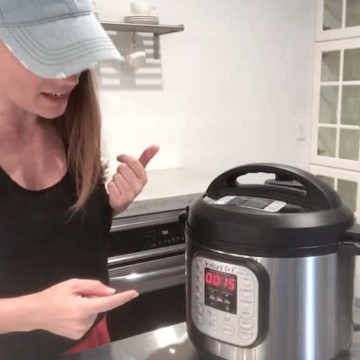 Instant Pot® Frozen Chicken Breasts
Even with frozen chicken breasts, you can have ready to eat chicken breasts in 20 minutes! Chicken breasts cooked in the Instant Pot® is incredibly convenient to eat on all week!
Ingredients
4

Frozen Chicken Breasts

1-1/2

cups

Water or Chicken Broth
Instructions
Pour water or chicken broth in the bottom of Instant Pot, and then chicken breasts.

Instant Pot will read "on" while pressurizing, and then 15:00 should appear on the display.

Once the 15 minutes is up, you can let it naturally cool, or you can release steam from the float.

Chicken should be cooked and ready to eat!
Nutrition
Serving:
1
chicken breast
|
Calories:
257
kcal
|
Protein:
47
g
|
Fat:
5
g
|
Saturated Fat:
1
g
|
Cholesterol:
144
mg
|
Sodium:
262
mg
|
Potassium:
836
mg
|
Vitamin A:
70
IU
|
Vitamin C:
2.7
mg
|
Calcium:
11
mg
|
Iron:
0.8
mg
Nutritional information is based on third-party calculations and should be considered estimates. Actual nutritional content will vary with brands used, measuring methods, portion sizes and more.
What Are Your Thoughts on This Pressure Cooker?
So tell me… what is YOUR favorite thing to make in an Instant Pot?
Or tell me if you've had one for a while and this gave you the confidence boost to give it a try!?
I can't wait to hear from you!