This blog post was sponsored by Purple and all opinions are my own.
To say that my husband and I were ready for a new mattress is an understatement.
We had been shopping around and looking at all kinds of different mattresses, ever since we moved in to our furnished home here in Montana. Now, don't get me wrong… we were so grateful the home already had a bed for us to sleep in when we moved in but we just weren't grooving with the mattress that was here.
Our old mattress was a queen size, and being married to someone who doesn't consider himself to have the body type of a small person… it was a tight squeeze. Add that with "uncomfortable" and it was a combination for a rough night's sleep.
So when I had the opportunity to try out the California King, Purple Hybrid Premier mattress, that I had been hearing so many positive reviews about when reading mattress reviews online, I knew we had to get it in to our bedroom, quickly!
Purple Mattress Review
From the moment our new Purple mattress arrived (yes! It was delivered right to our house!) I was totally impressed. It arrived, "rolled-up" in a long "tube-like" bag (almost like a large duffel bag), where we could unpack it and unroll it right where we wanted it.
Now, I say "right where we wanted it" because our mattress arrived before the new bed frame that we ordered. So since we couldn't wait, we unrolled that baby, right there on the floor, and slept on it for the next few nights!
That first night was a DREAM! We had more space to stretch out and the comfort we experienced was unlike any other.
I felt like I was "floating" and my husband actually slept ALL night, which hadn't happened since moving in.
When the bed came in a few days later, we were able to easily remove the mattress from the floor and place it on the bed frame! (No box springs needed!)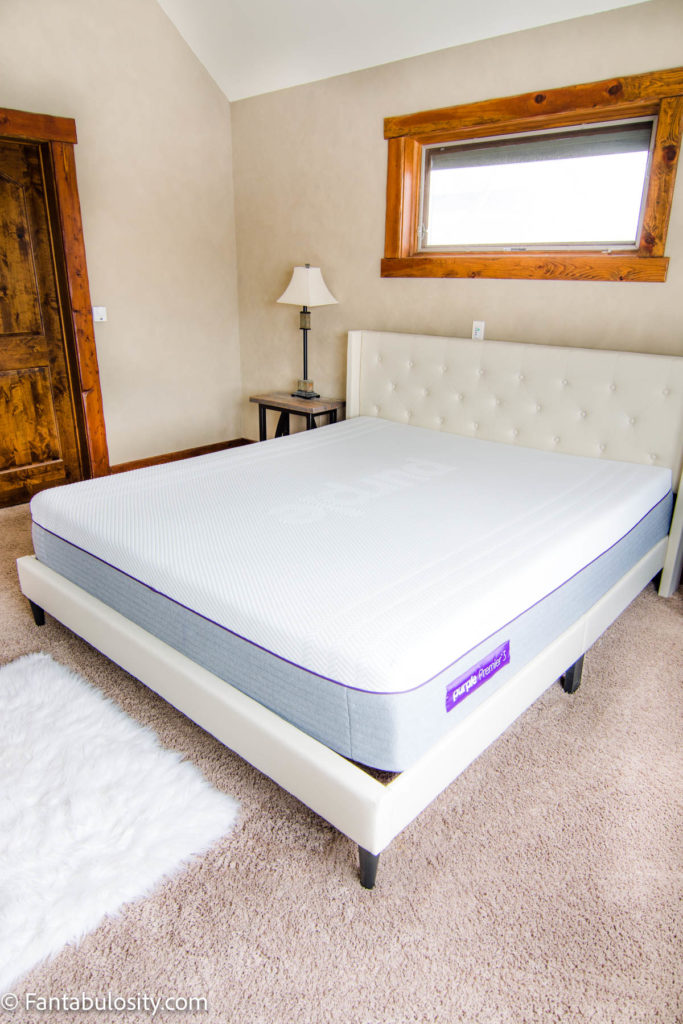 Specifications:
I tend to OVER research things when looking for something online or when needing to buy something that will play a large part in our lives.
So when researching the Purple mattress, I found these specifications and info about the unique materials, VERY helpful:
Purple mattresses have Optimal Temperature: There are 1,800 air channels built into the temperature-neutral grid and breathable foams used in the vase, you'll stay comfortable all night. This was VERY important for my husband as he's a "hot-sleeper" so making sure we didn't get a mattress that would make him even hotter, was a priority.
The Instant Response is so nice: The hyper-elastic gel Grid immediately flexes to give great support and springs back into place as you readjust and move overnight. I love this because when (and if) I roll around (which I've been known to sleep in one position all night on this mattress now), I feel like I'm gently cradled "in-place" when I adjust positions.
With the Pressure Reduction feature, the soft, cushioning, smart comfort Grid cradles points like your hips and shoulders, with layers of foam providing extra padding.
With the signature Purple Grid, the thicker the gel grid, the less pressure you'll feel. The Hybrid Premier that we received (and that you see in this review) is perfect for sleepers who crave even more of that dreamy "floating" effect – like ME!
The mattress has a "StretchMax" Cover which boasts even more stretch, and the soft top material allows you to feel the full benefits of the Purple Grid, while ultra-breathable woven side panels encourage airflow. It's the perfect complement to the Grid's 1,800+ air channels. Now, even though we have sheets on the bed, that soft cover feels amazing to the touch.
With the Purple hybrid mattress that we have, you have the option to get the 3'' or 4'' Purple Grid, which is made from temperature-neutral, hyper-elastic gel, this graded layer is engineered to flex directly under pressure points while still supporting the rest of your body.
In regard to "support," it has responsive support coils which are individually wrapped stainless steel coils that pair with the Grid to offer dynamic pressure relief and support. And what I absolutely love about this, is that each coil is wrapped in premium noise-reducing fabric. The LAST thing I want is a mattress that is "noisy" while my husband or I turn in the middle of the night and it does a great job of being quiet!
The Purple Mattress has a signature 2″ gel Grid, that pairs with dual-layered comfort foam to give you just the right mix of support and flex.
Dual Comfort Layer Foam: A soft, cushioning layer and a firm, supportive layer create an ideal combination. Both foams are high in density to offer a durable, long-lasting base – which makes me feel really good, hoping it lasts us a long time!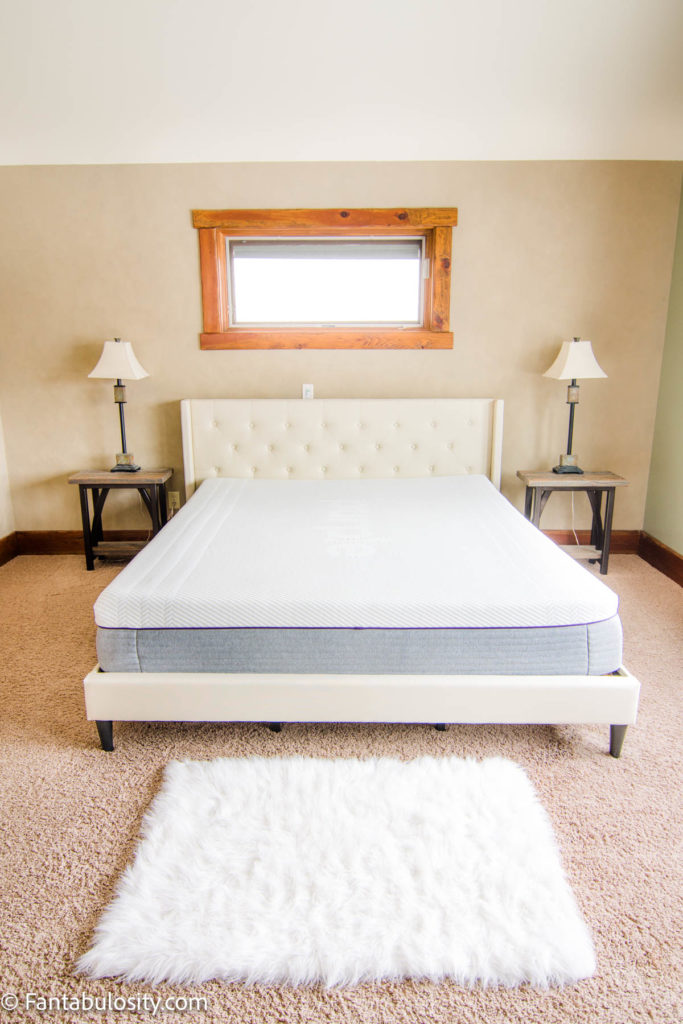 Best sheets for purple mattress
Picking out a new mattress that works for YOU is important. But I feel like picking out sheets to go ON that mattress is just as important.
We knew we wanted TIGHT sheets because we don't like sheets that pull up around the corners, or get baggy throughout the night if tossing and turning.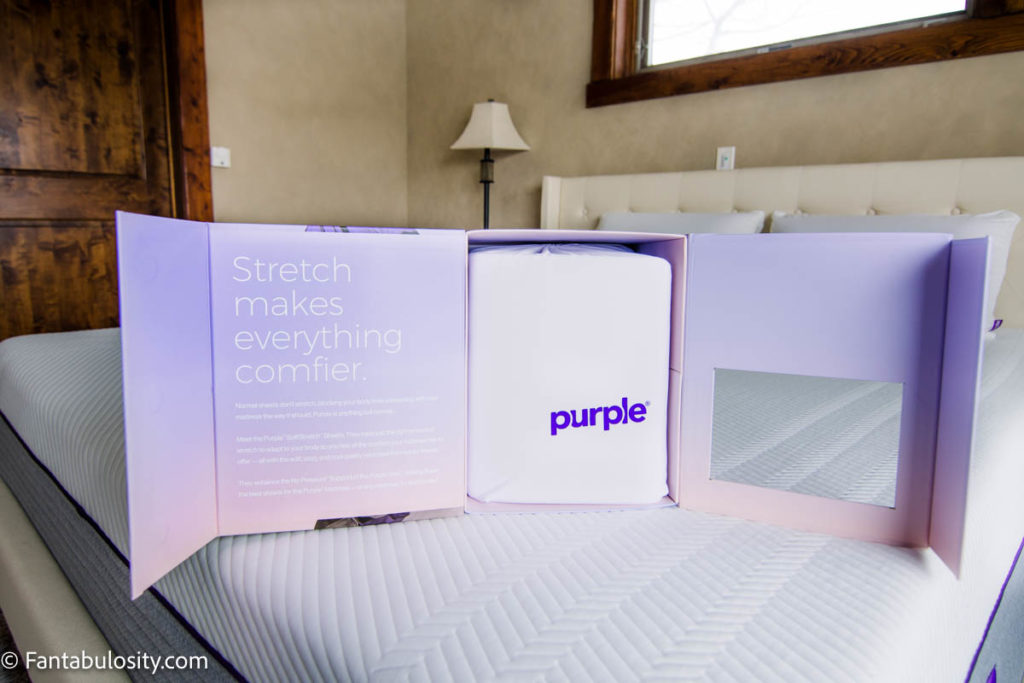 So it was a no-brainer to put Purple sheets on our new mattress and oooooh my goodness. I've never felt anything like them. Almost like a VERY soft, breathable t-shirt, (you know, the good tees that feel soft on your skin but not too hot) these sheets are unlike any others I've ever slept on.
I'm so thankful I chose to put these on because it only amplified the sleeping experience.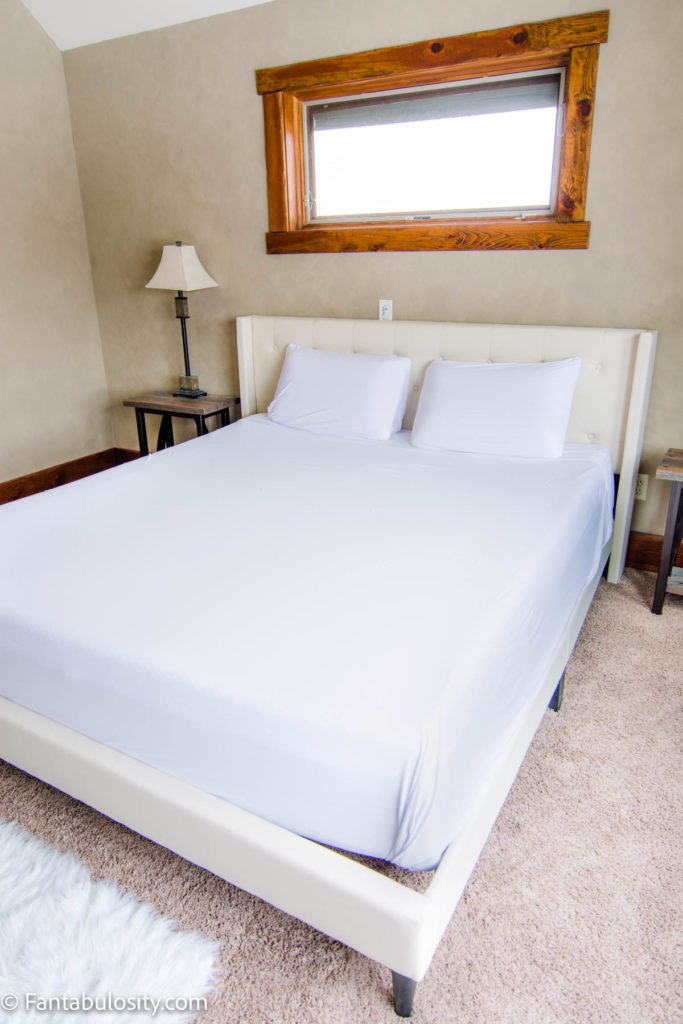 Closer Look
If you've been hanging around Fantabulosity for some time now, then you know that I don't recommend something without truly loving it.
Well, this is no exception.
If you've been shopping or needing a new mattress, PLEASE consider buying a Purple. I've slept on, and have tried many mattresses over the years and this is by far my favorite.
It's incredibly cozy, provides enough support that I need without pressure, and helps me get a FULL night's sleep. Finally.
Does the sleeping position matter?
As a side sleeper, and someone who loves to hug the edge, I find that it has great edge support and is a good option! Now, since I'm one of the side sleepers, I had heard that the Purple Hybrid Premier was a good choice, and although I've never tried the original Purple mattress, I have to agree that the Hybrid was a fantastic choice for me!
I also find it's great for back sleepers (my husband) and stomach sleepers (both of us at times).
What about body heat at night?
Another important trait that we love is that it's ideal for hot sleepers, due to the 1800 air channels and side panels so it can "breathe".
How does it feel?
It has a responsive feel, is a comfortable mattress, and is a good option for different types of sleepers! Honestly, I truly feel like it's one of the best mattresses I've ever slept on.
Now, going to bed at night is not only a daily routine, it's an experience.