If you are looking for a quick, easy recipe to make a snack the kids (and adults) will love – look no further. This recipe for Chocolate Covered Teddy Bear Graham Crackers is delish and a fun treat for everyone. They would make the perfect side dish for a kid's birthday party or a playdate with friends.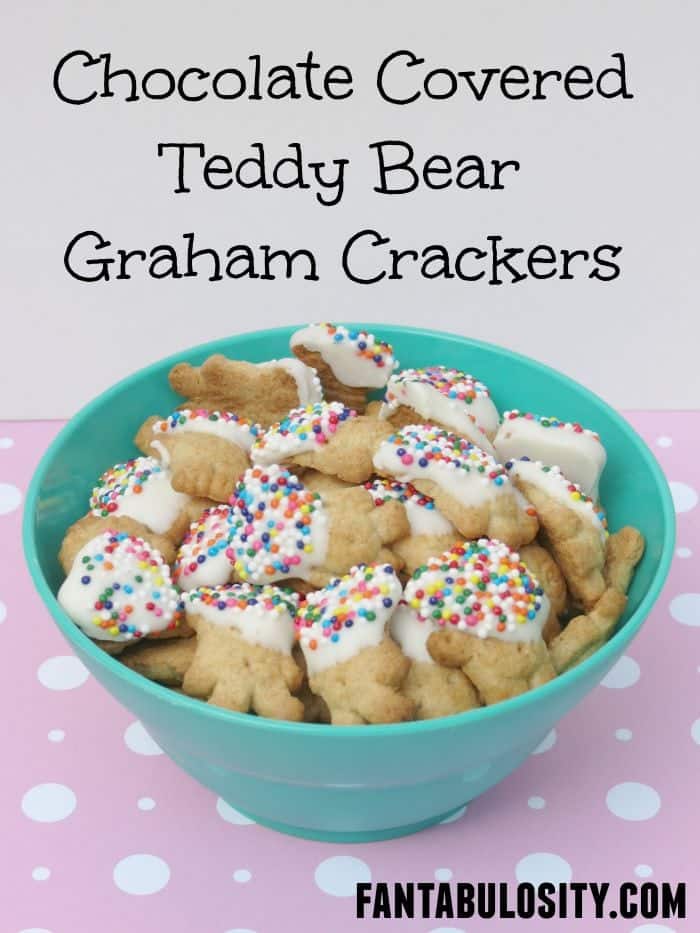 Recently I made S'mores Teddy Bears and I had a few left over Teddy Grahams. I couldn't stop thinking – what ELSE could I make with these? Teddy Grahams are just too cute, and I love having them as a snack with my preschool aged daughter. I decided to try dipping them in white chocolate, on the spur of the moment.
I melted some white chocolate chips that I had in the microwave for about 30 seconds to 1 minute.  (I always try to have the ingredients for basic chocolate chip cookies on hand. You never know when you're going to want to make cookies!) I also had some sprinkles (small round sprinkles) in the pantry and I poured some out onto a small plate.
I laid out a baking sheet lined with parchment paper so I would have a place to set the finished teddy grahams. Then I got to work.
I started with  a teddy graham and dipped his face in the white chocolate. It was easier to just dip the front of the teddy halfway down. It doesn't have to be exact by any means! This is an easy recipe, but it can get a bit tedious. It does go by quickly though.
Then I dipped the chocolate teddy graham lightly onto the sprinkles. It did leave behind some chocolate but not much. Then I set the finished teddy graham onto the parchment lined baking sheet.
One by one, I dipped the teddy grahams until they were all gone. Then I let them harden in the fridge for an hour or two. They turned out so cute, and more delicious than I expected! The white chocolate and the honey graham cracker really complemented each other well.
Be sure to make plenty of teddy grahams for your party – they won't last long!
Chocolate Covered Teddy Bear Graham Crackers
Ingredients
Teddy Grahams

White chocolate chips

Sprinkles
Instructions
Melt the chocolate chips in the microwave for about 30 seconds-1 minute

Pour the sprinkles onto a small plate

One by one, dip the teddy grahams face side down into the melted chocolate

Then dip the chocolate covered teddy graham in the sprinkles

Allow to fully harden in the fridge about 1-2 hours