A Winter Onederland Birthday Party: A first birthday party idea for a girl turning 1! Pink, white, snowflakes and all the precious decorations!
By far… one of my favorite parties in my portfolio. This Winter "One"derland First Birthday party, makes me smile every time I look at the pictures.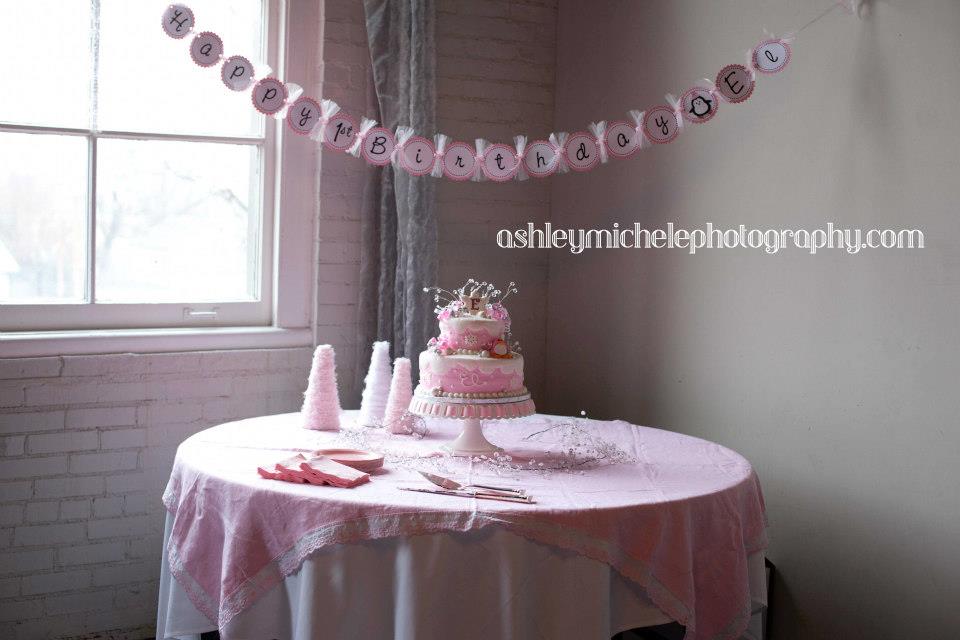 The BEST Kind of Client!
My client already had her theme picked out for her daughter's 1st birthday, and had tons of ideas. She just needed a little help preparing for the big day. She had excellent taste, creative ideas, and a can-do attitude… the perfect combination to make an adorable party like this one.
Need Winter Birthday Party Invites?
See how to create birthday party invitations using Canva!
Winter Onederland First Birthday Party
I found this adorable banner online at Paper Party Parade, and it was PERFECT to drape along the dessert table!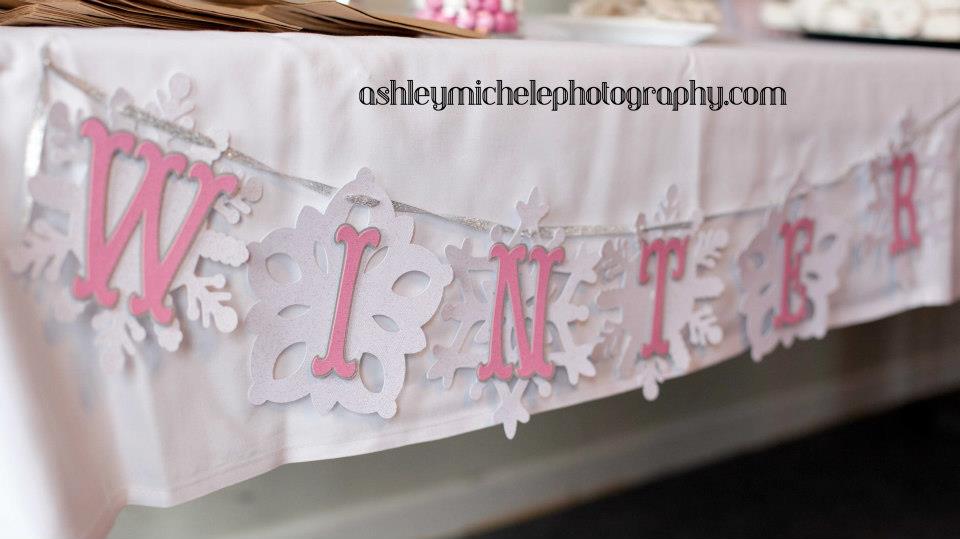 Winter Onederland Cake Idea
Really? Could this cake get any cuter? Diane's Cakery makes the BEST cakes around. The cake was decorated with snowflakes, a little penguin, snowballs, and so much more. Too cute to eat! My client added the perfect touch to the cake table, by laying the clear "wintery like" twigs around the cake.
Winter Wonderland Trees
Let me emphasize how talented my client is. She fell in love with the pink and white trees that she saw online. So she took it upon herself to make them herself. She found the cones, wrapped the ribbon around and around, securing the ribbon as she went, and that's it! Thrifty and fabulous! Don't you think?
Cake Pops
Mmm… cake pops. Pale, pink glittery cake pops looked so elegant (and tasty) on the dessert table. Yummo!
Pink Party Candy
Since the little gal's birthday was so close to Valentine's Day, Momma got lucky and found Valentine's candy that matched the party theme! However, if you're not so lucky with party and holiday timing, check out Amazon for all sorts of pink candy!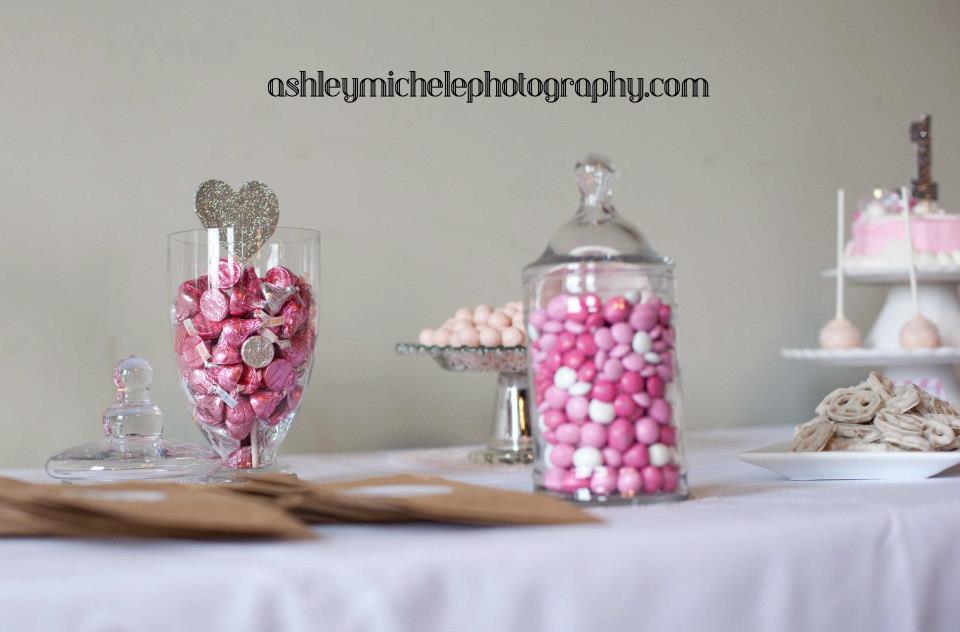 Snowflake Sugar Cookies
If you'd like to attempt snowflake sugar cookies like below, PLEASE don't be intimidated to try it. They are incredibly easy to make. Just use our Easy Sugar Cookie Recipe, and snag some snowflake cookie cutters. We had these for the dessert table, and my client had the brilliant idea of making cookie bouquets for centerpieces for the guest tables! Each bouquet had a little sign (With a cute little snowflake) saying, "Thanks SNOW much for coming to my party. Please take a cookie with you." Adorable, right?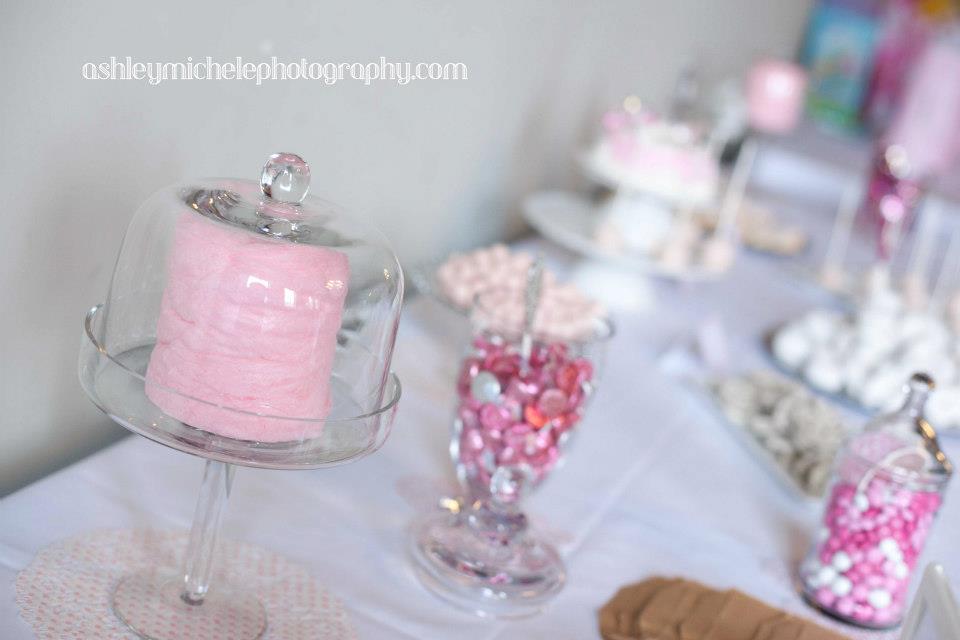 Pink Drink Ideas
Pink lemonade is not only a staple party drink, but it matched perfectly! If you're looking for more pink drink ideas, see what we've come up with for pink drink ideas!
Hot Chocolate + Coffee Bar
A hot chocolate and coffee bar is the perfect touch to this kind of party! Using cups like these, I simply punched out 2 inch circles with my scallop punch, and stamped a silver snowflake on each label; hot glued the ribbon and labels on, and there you have it! The wintery touch to a coffee cup!
If you haven't seen the coffee bar party that we styled, then you'll want to make sure to check out those party styling details for your own party too! See that coffee bar party!
Framed Table Signs
I'm obsessed with these Picture Frame Stands. They are double-sided, but just look cute overall on a table! You can buy the picture frame stands on Amazon!
Now wasn't that party AH-Mazing? My client is so talented, and I give her all of the credit. I just helped her out with a few things because she's a busy woman. She definitely has the party "touch!" 😉
Want More Party Ideas?
Then you'll LOVE browsing through all of the party stylings we've styled for brands and for our own parties! Start browsing our easy party ideas!
Party Credits:
Party Design: Jessica with Fantabulosity, formally Sweet Pea Party Designs
Cake Stands/Platters Rentals: Fantabulosity Rentals
Photography: Ashley Michele Photography
Cake Design: Diane's Cakery
Thank you to Ashley Michele Photography for capturing the party details! She would love to take photos of your next event, so give her a shout!