How to Make Iced Coffee: Skip the busy lines at your favorite coffee shop, save money, and make a delicious iced coffee recipe at home!
This recipe teaches you how to make iced coffee in minutes, and you can customize it to your desired taste, sweetness, strength and temperature!
The best part… once you have your extract, you can make your iced coffee faster than you could, placing your drive-through order!
Friends, I am THRILLED to have Charlotte from Pretty Mindful Mama Life with us today, sharing how she makes her favorite iced coffee recipe…
How to Make Iced Coffee
As a busy mom of 4 very active boys, it is no secret that I am FUELED BY COFFEE! I love it in any form!
Latte, cappuccino, americano…once that aroma hits me I'm ready to start my day! When it's hot, my go-to is definitely an iced coffee which is a treat in a glass.
I usually enjoy my coffee with no sugar but iced coffee is really elevated with a little bit of sweetness.
Side note: Jessica LOVES her Ninja Coffee Bar if you're in the market for a new coffee machine!
Make Your Cold Brew
The only part of this process that takes a bit of time is creating your cold brew coffee extract.
It's not difficult but requires you to wait patiently for your coffee to brew in cold water in the fridge overnight.
The great news is, once you've made a batch of your cold brew you can use it all week for your favorite coffee drinks hot or cold.
Wanting something faster? You may LOVE the Ninja Coffee Bar that Jessica uses since it has an iced brew setting! Or, brew your coffee like normal and let it sit overnight!
Learn more about the machine HERE or just head over and buy the Ninja Coffee Maker HERE!
French Press or No French Press…
A french press is not required for the cold brew process but I find it super handy and convenient for this task and love the flavor it gives the iced coffee.
If you don't have a french press, never fear…all you need is a container to pour your water and coffee in. You would then need a coffee filter or cheesecloth to strain the grinds.
Step 1: Add Water
Pour 4 cups of cold filtered water into your french press (or container of choice, a mason jar works great!)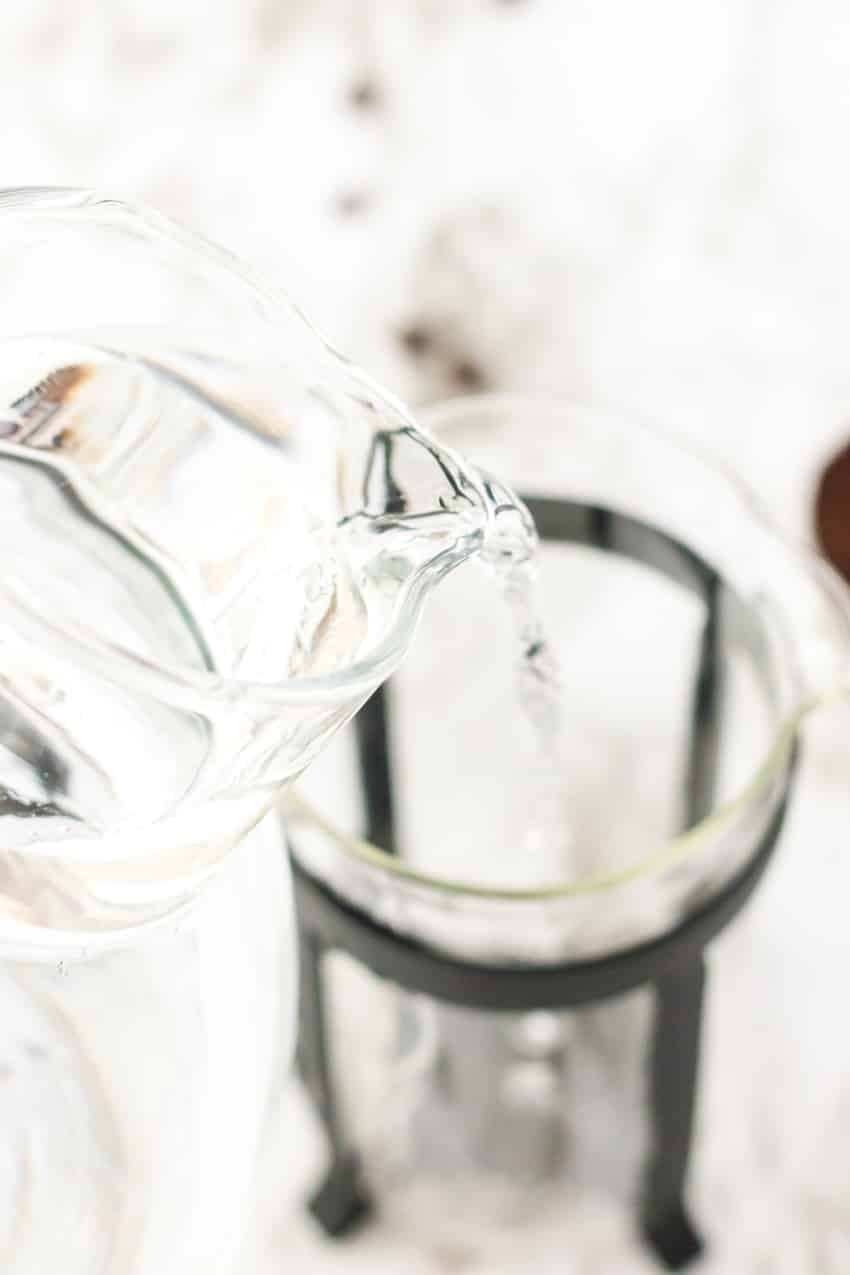 Step 2: Ground Coffee Beans
Add 1/2 cup of course ground coffee beans of your choice to the water. I use a medium – dark roast, organic.
Give it a gentle stir just to moisten the grounds and your coffee is ready to be transformed into a delicious cold brew.
You will have to cover it with plastic wrap and allow it to brew for about 12-18 hrs in the fridge.
When you wake up, you will be ready to use your coffee extract!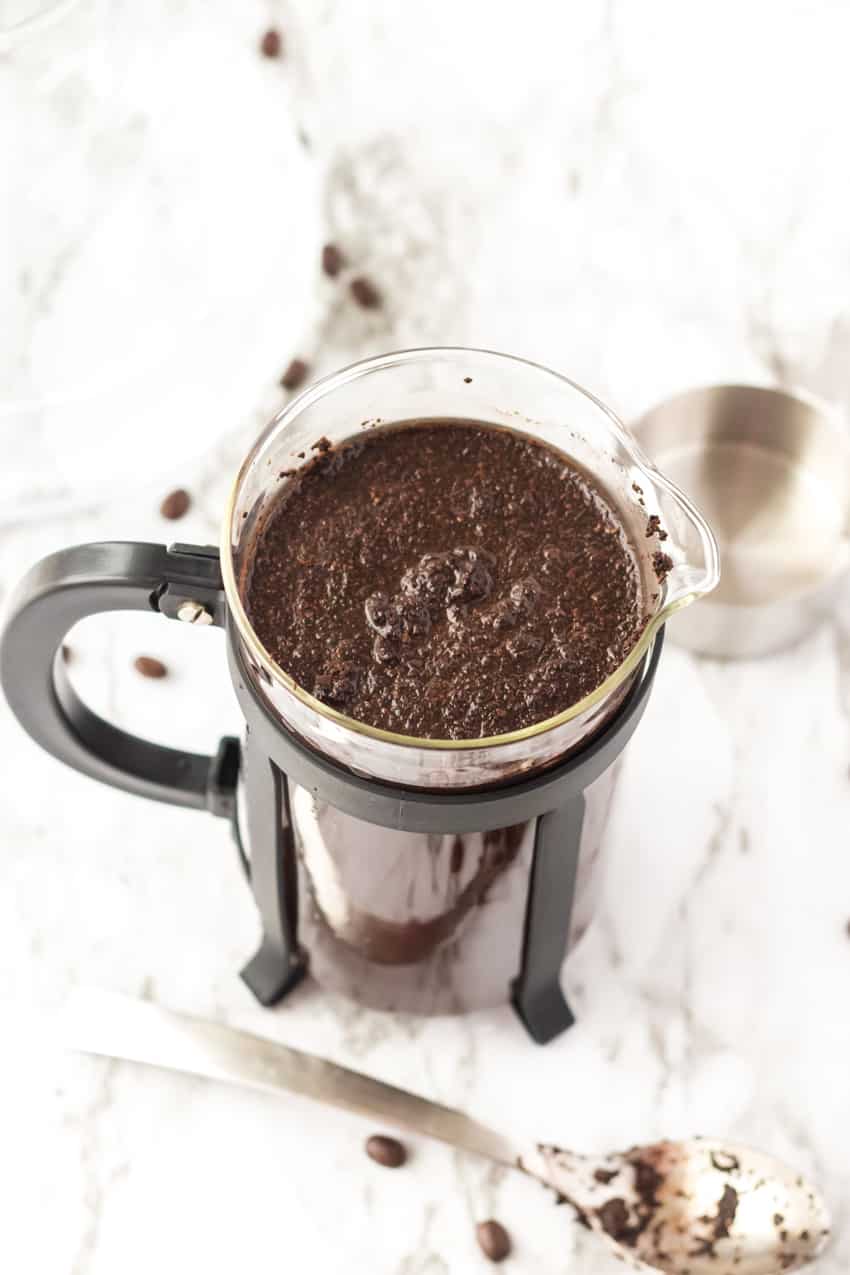 Cold Brew Coffee Extract
After the brewing process, if you are using a french press, simply press your grounds slowly and decant your coffee extract into a mason jar. (If you are not using a french press, use a wet coffee filter or cheesecloth to strain the grounds and then decant).
Coffee Extract for the Week…
Now that you have made your coffee extract you can store it in the fridge and use it for the rest of the week!
TIP: If you would like to drink it hot, just pour a third of a cup into your coffee cup and fill with boiling water.
Then add your favorite mix-ins! Coffee that's ready for the week? Yes Please!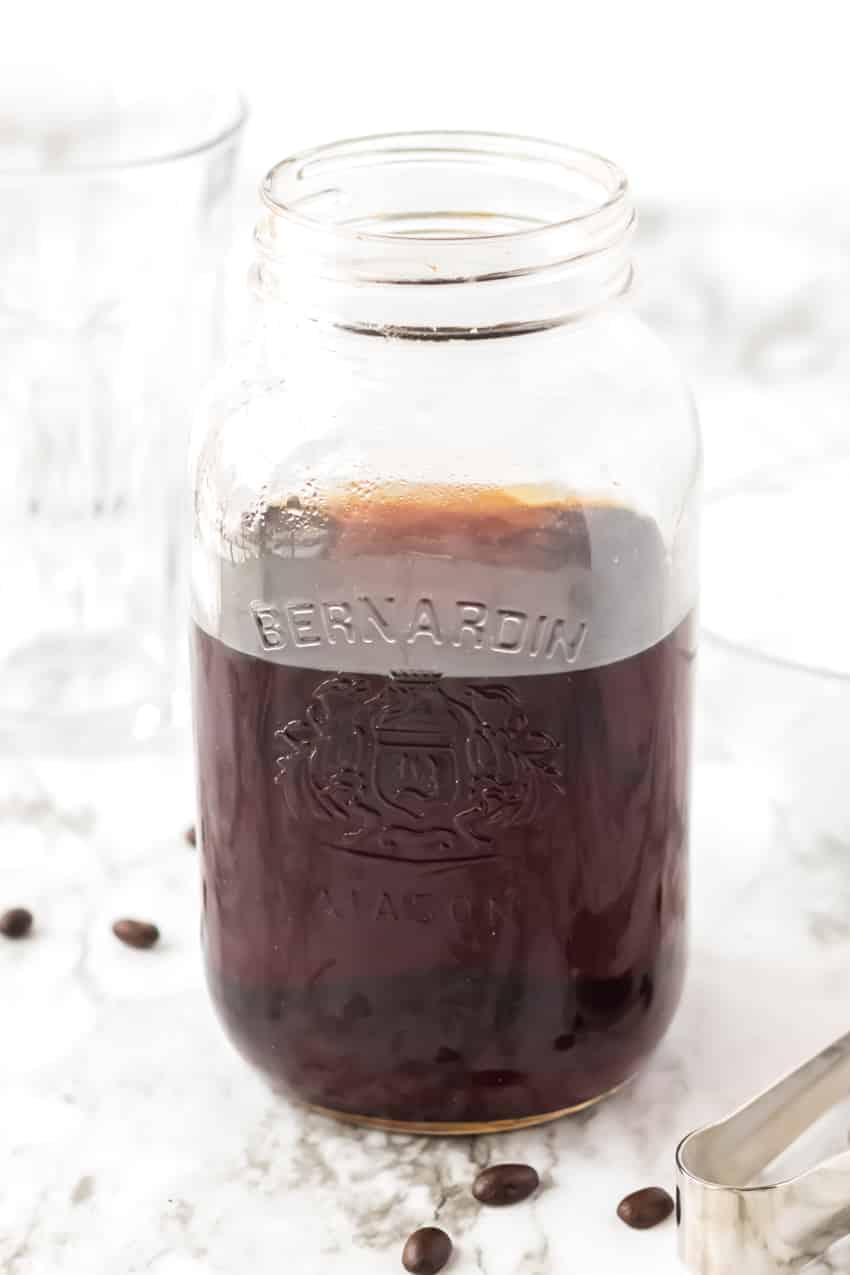 Making the Iced Coffee
Step 1: Add Ice
Fill your serving glass with ice!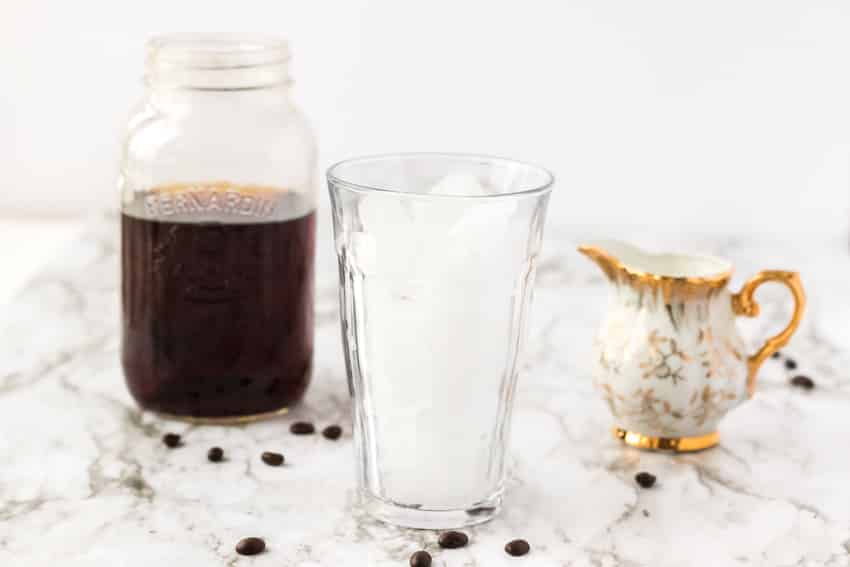 Step 2: Fill with Cold Brew
Fill a 1/3 to 1/2 the cup with your cold brew!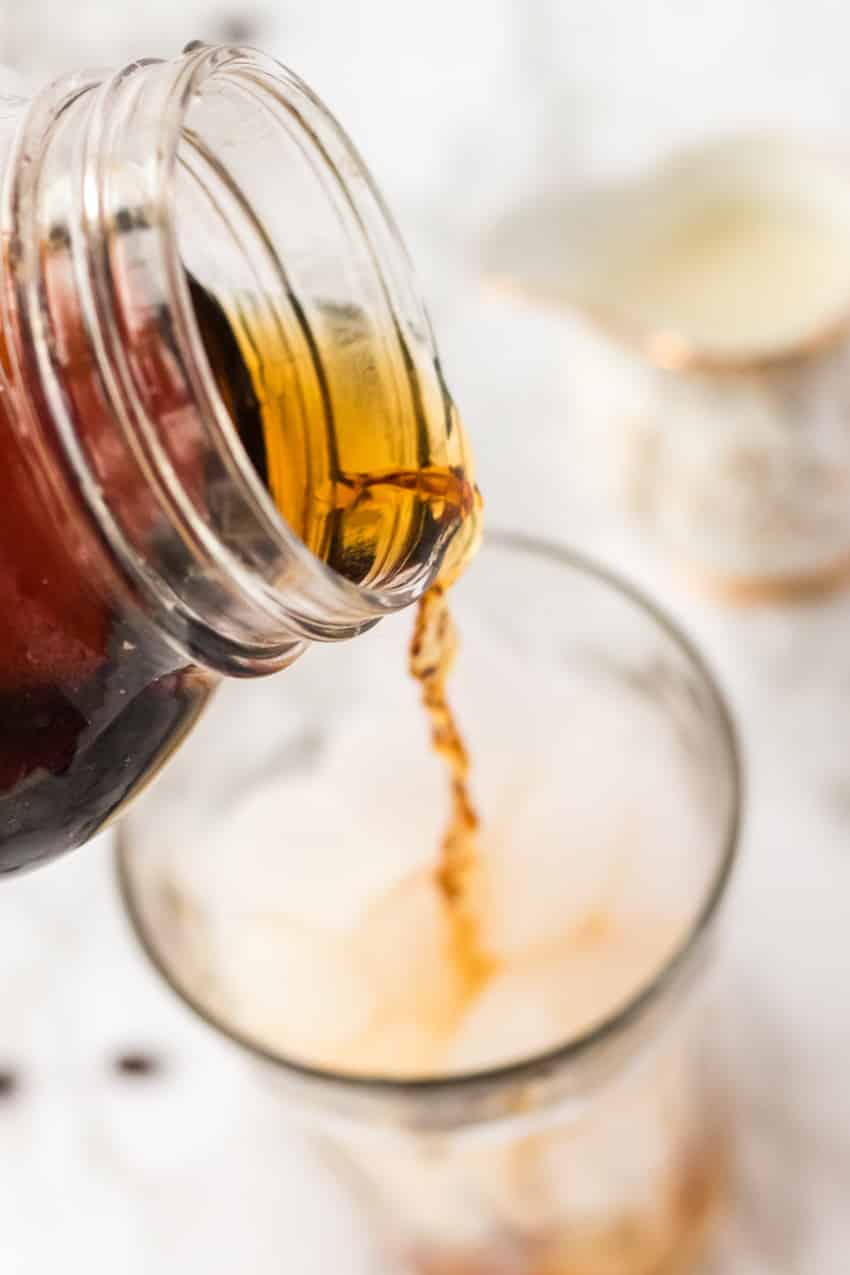 Step 3: Add Milk + Sweetener
Fill the remainder of the cup with your favorite milk and sweetener.
I like a mix of half and half with 2 tablespoons of condensed milk! SO GOOD!
You could use 2% milk, almond milk, coconut milk whatever you like. Whatever you do, DO NOT use regular sugar to sweeten. It will not dissolve.
Sweeteners for Iced Coffee
You can go unsweetened if that's your jam too.
But if you want to sweeten with something other than the condensed milk you can use a sugar syrup (or simple syrup) that you can purchase or easily make yourself.
How to Make Your Own Simple Syrup
Boil equal parts of sugar and water. I like to do 1 of cup sugar and 1 cup of water and once cooled I store it in a pretty bottle in my coffee station!
You can even flavor your sugar syrup with different coffee flavor extracts.
I like adding a whole scraped vanilla bean, or you can also use coconut sugar for your syrup.
Honey or real maple syrup can also work as a sweetener.
Before you know it you'll be a master barista creating your own signature drinks!
Step 4: Enjoy Iced Coffee at Home
Enjoy!
It's THAT easy! Who would have thought? This recipe will be sure to quench your coffee thirst on a hot day or give you a much needed afternoon boost when energy is low.
It will also save you a ton of money and time and most importantly you can have your drink the way YOU want it! Don't even get me started on how you could take these over the top when you are entertaining!
You could add whipped cream and garnish with a sprinkle of cinnamon or grated dark chocolate or a drizzle of salted caramel or dulce de leche!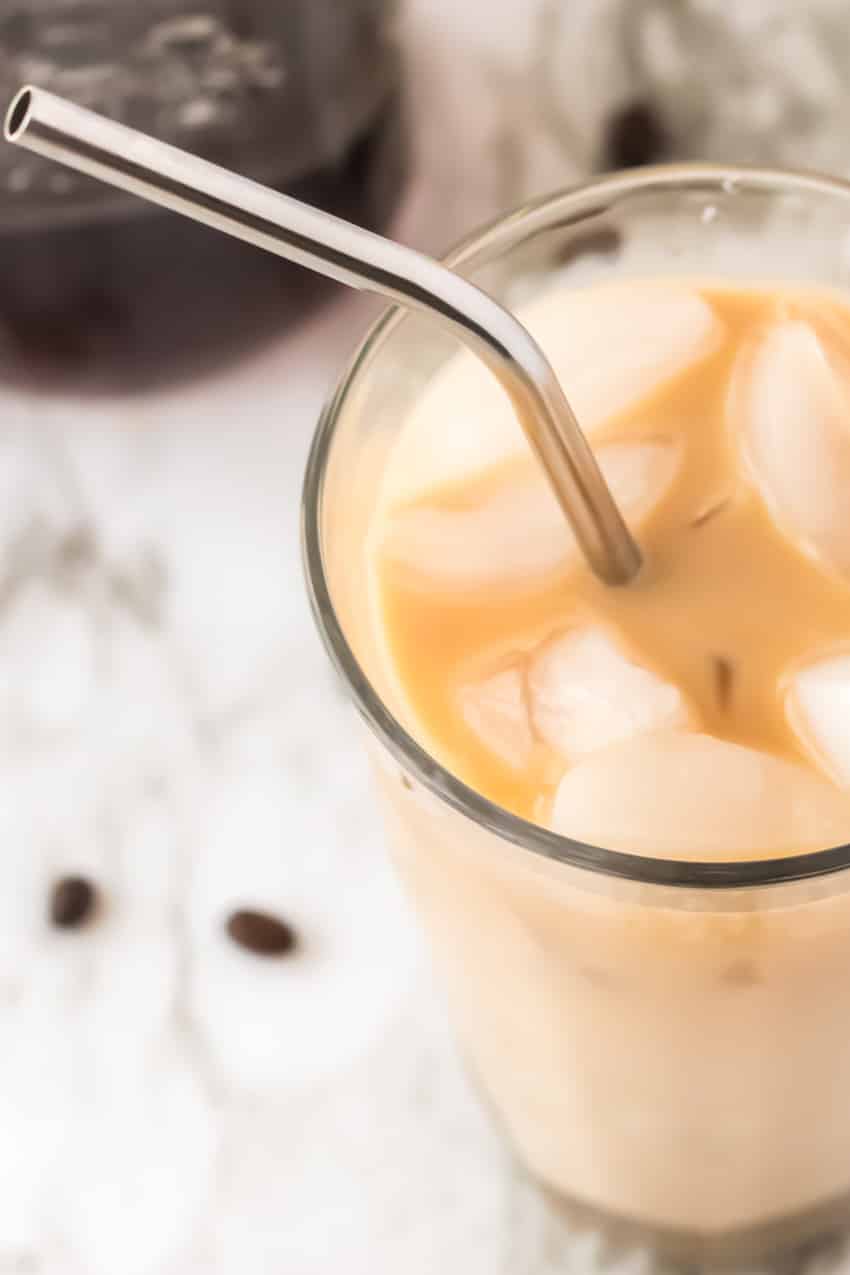 How Do YOU Make Iced Coffee?
Let us know how you enjoy this super easy and delicious iced coffee and what your favorite mix-ins and toppings are! Drop a note in the comments so we can hear your wonderful ideas too!
How to Make Iced Coffee
How to Make Iced Coffee: Skip the busy lines at your favorite coffee shop, save money, and make a delicious iced coffee recipe at home!
Ingredients
4

cups

Cold Filtered Water

1/2

cup

Coarse Ground Coffee

I use medium dark roast.

1/4

cup

milk of choice

I use half & half.

2

tablespoon

sweetened condensed milk

You may use liquid sweetener of your choice.

Ice
Instructions
To make Cold Brew Coffee Extract:
Pour 4 cups of water into a french press or container of your choice.




Add coffee and gently stir to moisten grounds.

Cover with plastic wrap and refrigerate for 12-18 hours.

Once the coffee has brewed, press grounds with french press or strain with a wet coffee filter or cheesecloth. Pour strained cold brew into a mason jar. Cold Brew can be stored for up to two weeks in the refrigerator.
To make Iced Coffee:
Fill a glass tumbler with ice.




Fill 1/3 to 1/2 the tumbler with cold brew.

Mix 1/4 cup milk of choice with sweetener of choice and pour over cold brew.
Nutrition
Serving:
1
coffee
|
Calories:
33
kcal
|
Carbohydrates:
5
g
|
Protein:
1
g
|
Fat:
1
g
|
Saturated Fat:
1
g
|
Polyunsaturated Fat:
0.04
g
|
Monounsaturated Fat:
0.3
g
|
Cholesterol:
4
mg
|
Sodium:
24
mg
|
Potassium:
48
mg
|
Sugar:
5
g
|
Vitamin A:
41
IU
|
Vitamin C:
0.2
mg
|
Calcium:
43
mg
|
Iron:
0.02
mg
Nutritional information is based on third-party calculations and should be considered estimates. Actual nutritional content will vary with brands used, measuring methods, portion sizes and more.
Looking for More Drink Recipes?
If you love easy, and you love making your own drinks, then you'll ADORE the super popular and super easy drink recipes here on the blog, already waiting for you!