Easter is one of the top holidays for kids, hands down. Egg hunting, baskets, and candy. So much candy. But honestly, there can be a bit too much candy.
When filling a basket, it can be hard to find non-sugary options. Which is where this list of 20 non-candy Easter basket ideas comes in to save the day.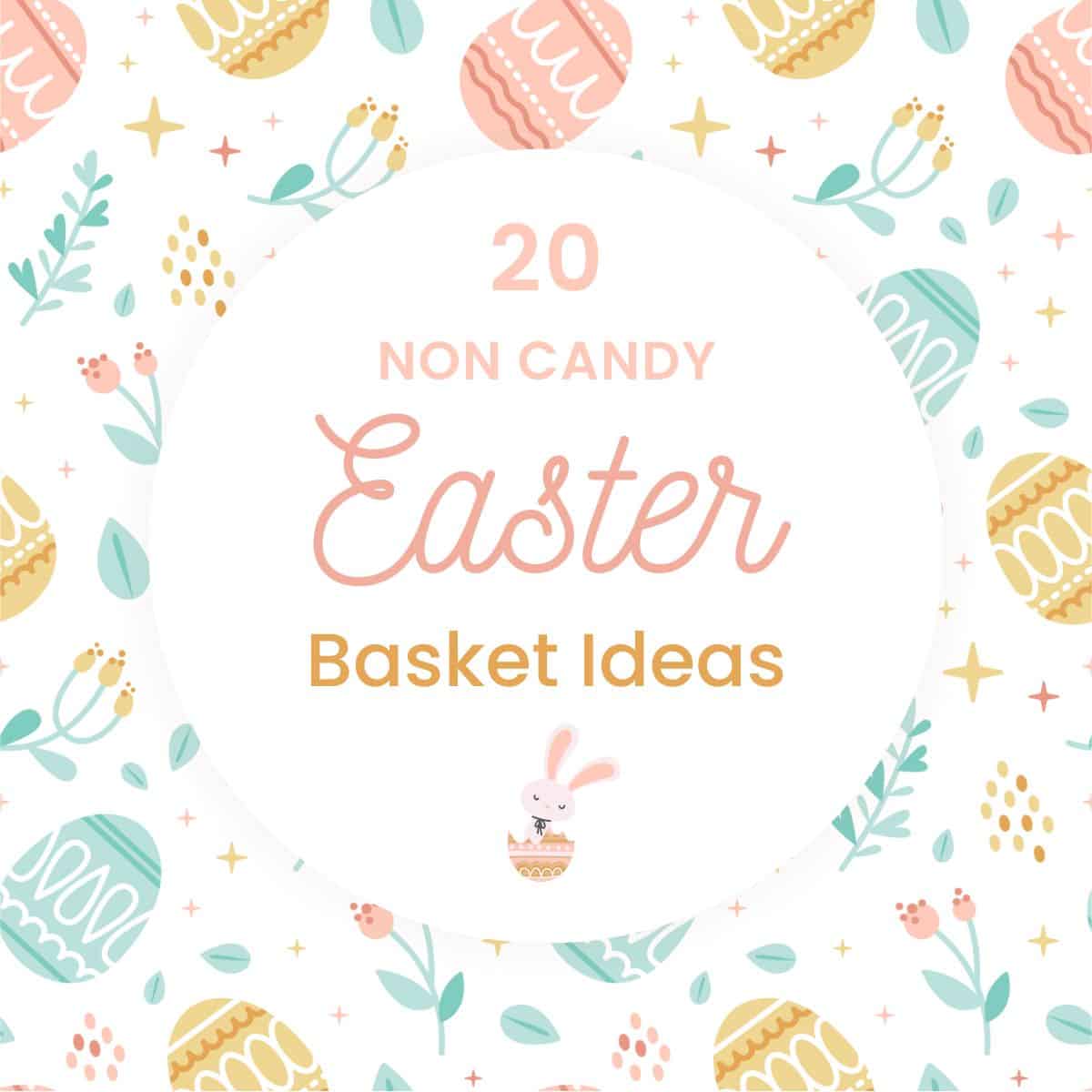 Make sure you check out our other Easter ideas here, to fill your holiday with fun things to try!
Non-Candy Easter Basket Ideas for Toddlers
Toddlers don't need too much sugar regardless, holiday or not. While a little candy every once in a while won't necessarily hurt a toddler, it's still better to stay away from it whenever possible. These non-candy Easter basket ideas for toddlers offer multiple basket fillers for little ones.
This bright, colorful toy will please kids who are learning how to grab and manipulate objects. The Peekaboo Learning Farm contains a series of colored barns that hide rubber farm animals inside. These make great Easter basket ideas. Toddlers will love opening them and finding out what animals are there to be found.
Biscuit's Pet & Play Easter: A Touch & Feel Book
Little kids love books, even if they can't really read just yet. But they love being read to, and it helps them develop language skills as well. The
Biscuit's Pet & Play Easter is a great book for toddlers who can touch the different textures and surfaces. Plus, Biscuit the pup is a classic children's character, and this is a perfect introduction to that little dog.
Toddlers love to stack things, and to put things into other things. This
Nesting Easter Eggs Toy allows them to do both to their heart's content. The cute, colorful plastic eggs have little faces on them that toddlers will be drawn to.
6 Pack Wooden Percussion Musical Shake Eggs
To toddlers, toys are great, but toys that make noise are even better. Toddlers love to shake things around anyway, but any toy that gives them feedback is sure to be a hit. These Wooden Percussion Musical Shake Eggs are perfect. The bright, colorful eggs are on theme for Easter, and the fact that they are shakers mean toddlers won't be able to put them down.
Lil' Nibbles Textured Silicone Teether
Bunnies love carrots, historically. Now your toddler can love carrots as well, or at least the Lil' Nibbles Textured Silicone Teether. This carrot-shaped teether will appeal to little ones pushing out teeth, and the bright colors and soft texture mean they will latch on to this teether happily.
Educational Wooden Carrot Toys
This Wooden Carrot Toys Shape Size Sorting Matching Puzzle lets toddlers put carrots into holes all the live-long day. Plus, as they do it more and more, they will start to learn that certain carrots go into certain holes, which makes it a learning experience as well.
Non-Candy Easter Egg Fillers
Those plastic Easter eggs are an Easter mainstay, and always need to be filled. Candy is the easiest option, but since we're trying to avoid candy, something else will need to fill the void. What follows are a number of great non-candy fillers for those plastic eggs.
Here we have a whole collection of cute little Mini Novelty Tiny Take-Apart Puzzle Erasers for kids to play with. They can collect them, take them apart and put them together, even erase things with them, if they feel so inclined.
Another thing kids love are little bracelets. The more brightly colored, the better. This Easter Slap Bracelets and Rubber Wristbands pack comes with a good assortment of rubber bracelets and slap bracelets, so there is sure to be something to please each of them.
Kids love pop keychains. Basically reusable bubble wrap, these keychains are made of durable rubber. The Mini Pop Keychain Fidget Toys come in a variety of bright colors and fun shapes, so kids will be happy collecting and trading them.
DIY Flower Garden Building Block
These DIY Flower Garden Building Block sets are high quality and come with a really nice assortment of flowers that can be put together by the kids. This bouquet of building block flowers will be so much fun once it's all put together.
Kids always love temporary tattoos, and they make perfect non-candy Easter egg stuffers, too. These cute little Easter tattoos are sure to please kids who will end the holiday with more than one piece of artwork on their arms. In terms of non-candy Easter ideas, you can't go wrong with tattoos.
Non-Candy Easter Gifts
Let's face it, a lot of gifts that go into Easter baskets aren't of the highest quality. Especially those pre-packed ones at grocery stores. But that doesn't have to be the case by any means. The following are all good quality toys or gifts that are on theme with the holiday, but that kids won't just toss out as soon as they are done pretending that they really like it.
White Rabbit Animal Toy Building Set
The Lego Easter bunny is a great model for the Easter holiday. It's very cute, and kids will love building it. Plus, it can be converted to a couple of other models as well. Legos are perfect Easter gifts.
Light Up Bunny Easter Bubble Wand
A bubble wand is a no-brainer, really. Kids love bubbles, and they will definitely love this Light Up Bunny Easter Bubble Wand. It lights up and shoots bubbles, and that's all they really need. When looking for good Amazon Easter gifts, a light-up bubble wand is a great way to go.
Easter Bunny Go Fish Card Game
A fun game is always a welcome change, and Go Fish is a classic. This Easter Bunny Go Fish Card Game will give them something to do after the egg hunt and Easter lunch have ended.
Another fun game for kids to play comes with this Easter Egg Toss.They can toss it back and forth, but they have to be gentle, and avoid breaking the egg.
This one is perfect for the younger egg hunters out there. The 4 Pack Easter Wooden Puzzles for Kids are nice, quality wood puzzles with fun Easter scenes on them that little ones can put together.
Non-Candy Easter Basket Ideas for Tweens and Teens
Teens and Tweens aren't going to be happy with just some temporary tattoos, however. It usually takes a bit more to please them. Luckily, this list has several different options for a variety of non-candy Easter basket stuffers for tweens as well as teens.
Burt's Bees Easter Basket Stuffers
Tweens and teens love flavored lip balms, and tend to like Burt's Bees products as well. The Burt's Bees Easter Basket Stuffers Spring Surprise Set scratches both of those itches with a couple nice Easter basket ideas for teens.
Staying up reading is something a lot of kids this age will do. If they are going to do it anyway, might as well do it right. The LED Neck Reading Light will help them read without straining their eyes, and it's rechargeable. Creative Easter baskets sporting a gift like this will go over very well.
Kids love emojis. They just seem drawn to them. This Emojinks Emoji Card Game gives them something to play with their friends while comparing basket hauls after the egg hunt. A good card game is one of the most unique Easter gifts.
These adorable blue light glasses are perfect for tweens and teens. They're stylish, and affordable and we haven't met a gal yet who wouldn't love these! (Make sure you also check out some of the cutest accessories that SheIn has, that make perfect Easter basket gifts.)
More Easter Ideas
So there are plenty of options for people who want to keep the sugar levels down on Easter Sunday, regardless of the ages of the kids involved. While some candy is just fine, it's great to have options that aren't sugared up to keep everybody just a little bit calmer.
For more Easter ideas, you'll love these reader favorites: