This post has been sponsored by Schwan's Food Delivery™. All thoughts and opinions are my own.
Meal planning is all the rage and I'm fixing to tell you about one of my favorite meal plan secret weapons…
Schwan's Food Delivery™
Meal Planning Secret Weapon
If you've never heard of Schwan's, then I'm tickled to tell you about it, because it has the potential to save your dinnertime blues.
If you're like me, some days, I'll find myself realizing that it's an hour away from dinnertime and I've forgotten to plan something for dinner.
But the Bake & Serve meals from Schwans.com, like this Homestyle Chicken Bake, is a LIFESAVER!
What is Schwan's?
Schwan's Food Delivery can make mealtime more manageable for those of us with busy lives, and if you know me… you KNOW I don't recommend something if I truly don't love it. Here's why I love it…
Their high-quality food is conveniently delivered to your door, which a HUGE time saver, and their mealtime food options consist of plenty of kid-friendly foods for picky eaters like mine. Woot woot!
Get 50% OFF + Free Delivery your first order with code: YUM50 and fill up your cart so your meal planning gets a LOT easier!
No Contracts, No Pre-Determined Meals
I've always liked the idea of food delivery, but didn't like how I had to sign up for a membership or have a certain meal planned out that I HAD to have, or the ingredients would go bad.
But with Schwans.com, I can order online WHEN I want, or when I'm ready… and the meals are in the freezer so I can pick out WHAT we want for dinner.
Snag a Glimpse of Dinnertime with my Family…
You may think I'm exaggerating when I say that dinnertime can be CRAZY at our house, but you just saw it. With two little boys, there's NEVER a dull moment around here.
Homestyle Chicken Bake
So picture it. You get home from work, the kids are asking for snacks because they're "STARVING" and you just realized that you forgot to thaw something out for dinner or stop by the grocery store.
But then you remembered that you ordered a Bake and Serve meal from Schwans.com the other day, and now you can easily:
preheat your oven to 400˚F
unbox the meal
remove the plastic film
pop into the oven and let it bake
You've just saved dinnertime momma (or dad), and now you have more time to focus on whipping up a quick side dish, (like my favorite side salad recipe) helping with homework, getting laundry started, or heck… relaxing and catching up on the latest episode of your favorite guilty-pleasure reality show.
Quality, with Little Effort…
Now don't let the ease of the Schwan's Bake and Serve meals fool you.
They're made with high-quality ingredients that you don't have to feel guilty about and they're frozen-fresh and made with REAL ingredients.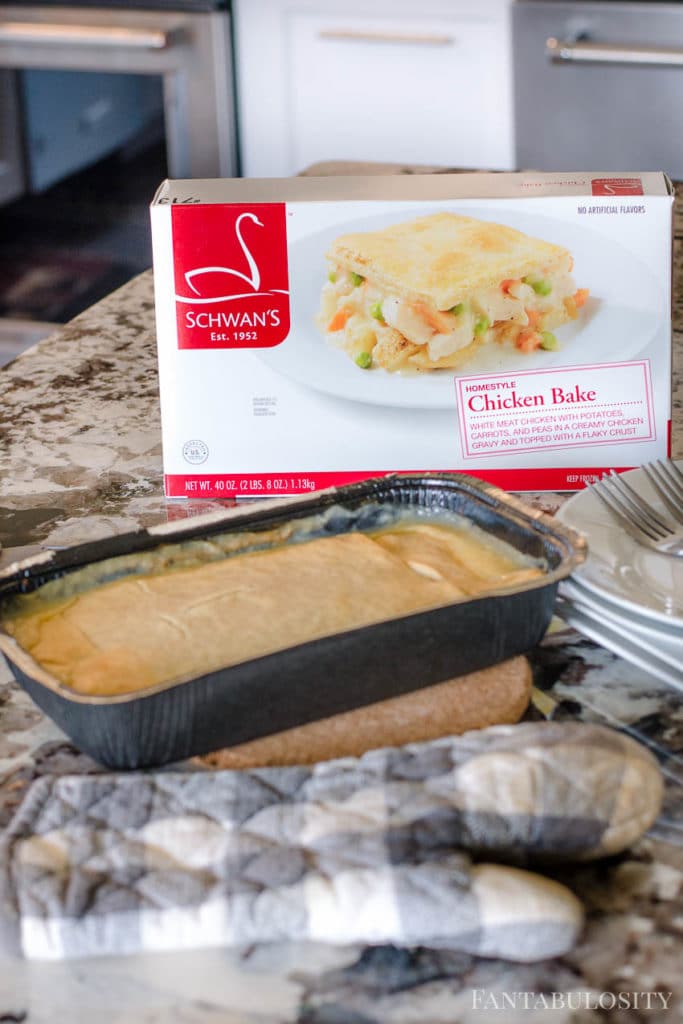 The Homestyle Chicken Bake has white-meat chicken with potatoes, carrots and peas in a creamy chicken gravy and is topped with a flaky crust. No artificial flavors.
So it already has veggies in it that I want to serve my kiddos.
Good Food Doesn't Have to be Difficult
As you know, I'm a firm believer that good food doesn't have to be difficult.
I strive for that in all of my easy recipes here on the blog, and when I find something like Schwan's that makes dinnertime even easier for those nights where I need to make something quick, but I don't have a lot of hands-on time available… then you better believe I'm going to share it with you.
To be honest, I've never been impressed with "frozen dinners" until I tried this Homestyle Chicken Bake. It really does have a great flavor and I have fans of it in this house, which makes it a WIN!
Childhood Traditions
When I was a little girl, I remember "Schwan's Day" being my favorite day of the week.
The "ice cream man" (I'd call him) would show up and I'd beg my mom and dad for a special treat.
Now, as an adult, I still get just as excited when he shows up… and I still try to beg my parents to stock up on my favorites, so I can enjoy Schwan's while I'm at their house too!
50% Off + Free Delivery
If you're a first-time customer, Schwan's has given me a coupon code to share with you so you can get 50% off and free delivery on your first order at Schwans.com!
So fill up your freezer and feel like supermom when life happens and you need to tackle dinner easily.
Shop Schwan's: Use coupon code: YUM50