Canva is an online design tool that you can use to create images and printables. I had never heard of it before becoming a blogger. My daughter's 2nd birthday was coming up and I created a super cute birthday invitation (and a thank you card) and I totally wowed her friends moms, and my husband! I'm not a designer by trade, I'm just a regular mom blogger but I created something really cute and I know you can too!
You could spend a lot of money on a personalized printed birthday invitation. And for a kid's birthday, it just doesn't make sense to spend that kind of money when you can make it yourself (and it doesn't even look homemade). Below is a detailed tutorial with lots of pictures to get you started even if you have never used Canva.com before.
There is also another website you can use called PicMonkey, which does the same thing. Some people like Picmonkey better than Canva – they each have different ways to use them, so it's just a matter of preference. I also created a tutorial for Picmonkey on my blog PracticalMommy.com and I created a video that is less than 5 minutes long so you can follow along to that.
Create a Personalized Kid's Birthday Invitation with Canva
Step 1 – Go to Canva.com. This is the page you will see. Select "More."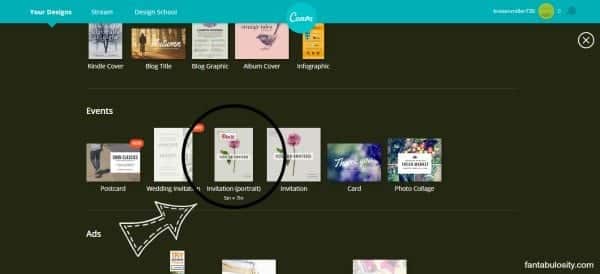 Step 2 – Scroll down to Events and select "Invitation (portrait)." See how easy they make it for you with all the pre-set sizes?
Step 3 – Now this is your blank canvas. And to be completely honest, this is where a lot of people get lost. "What do I do next?" I'm here to show you. This main page shows you different layouts. This is what Canva does best – they help the design-challenged by creating template layouts that look great and you can fill in the blanks. So you can choose a layout they have already created or you can leave this page and have some fun creating on your own.
NOTE: Some layouts, images and design elements are available for purchase on Canva. You can see a dollar sign ($) when you hover over some elements. I believe everything is $1 each and you have a certain amount of time to come back and download your project.
Before moving onto step 4, you need to decide what kind of images you want. You can use the images in Canva and pay them when you download, or what I did was find some cute princess images on Etsy and bought them there. The princess pack I used in this tutorial I purchased from JWIllustrations. Her images are super cute and affordable and they will take your birthday invitation to the next level.
Step 4 – Start designing! Select "Background" on the right hand side and select the color you want. This is where you will notice some paid elements. I chose a simple purple background and that was free. Then select "Uploads" and this is where you will upload any images you want to include on your invitation, such as the princess and her castle.
Step 5 – Add your text. Canva has so many fonts to choose from and it's one of the things I love best about Canva. Add your text, move it around by hovering over the edges of the text box and you're all set.
Step 6 – Download your card. You can download as an image or a PDF. I would suggest you download your own as an image and then when you print it, you can print multiple cards per page (depending on the size you want).
I hope you liked this tutorial and found it easy to follow along. Let me know what you created in the comments.