How to Cozy up your Home: It's where we spend a LOT of our time, so we might as well make it a place we love to relax and stay!
Whether you're looking for inspiration on how to decorate your home or just love browsing how others style their rooms, you're going to LOVE this mini home tour.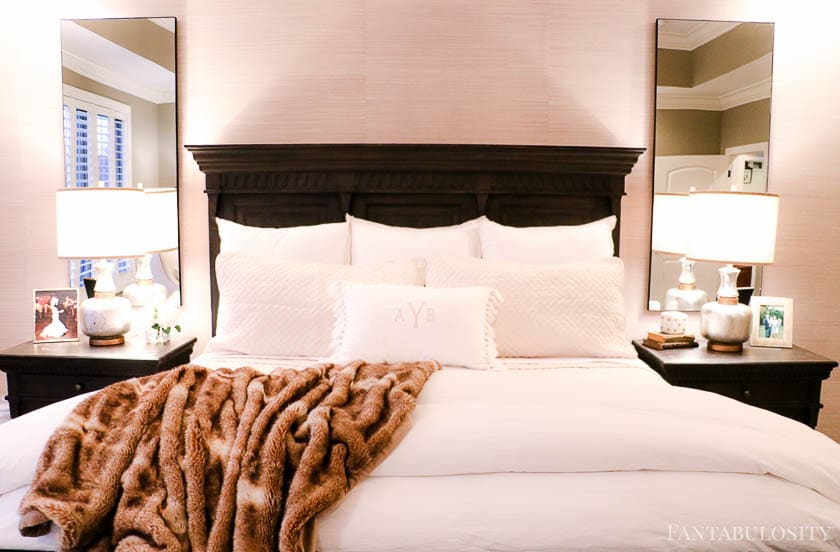 Hey y'all!
I'm Ashley with The Southern Transplants and I am so excited Jessica invited me to share a few attainable home décor tips on how to cozy up your spaces over here on Fantabulosity today!
She has been such an inspiration to me and helped me so much over the past year in countless ways. Everything she does is just amazing, am I right!? Thank you so much for having me today, Jessica!
What is the Southern Transplants Blog?
My website is a comfortable, lifestyle blog where I share all the real-life things you need to know, just like a good girlfriend should!
We talk about home improvements and interior design, easy meals, party planning and tips for entertaining, life hacks, good finds, and more – usually with a side of wine!
Everything from where to buy the best fitting white t-shirt for under $20, to how to whip up a weeknight meal (that your kids will actually eat!) in less than 20 minutes, to how to rearrange those bookshelves and everything in between.
I get so much joy from helping make other peoples' lives simpler, beautiful and meaningful in some way, and The Southern Transplants is where I get to do just that! I hope you'll come on over and stay awhile!
How Jessica and I Met
Jessica and I met virtually last year and became fast friends.
She has the kindest, most generous heart and has helped me SO much with improving my blog!
I seriously cannot say enough about her as a person, and her blogging courses.
The information in them is seriously invaluable! Not to mention she is just as authentic in real life as she seems on her website, which these days can be really hard to come by in these online spaces.
She understands the ins and outs of the blogging world and is passionate about her work. I am so grateful for her mentorship!
She is incredible and her parties + recipes + style, too, are just amazing.
Anyway, I could go on and on but today she was kind enough to let me share a few of my go-to home décor tips with you and I'm so excited!
Before I dive into to the really fun part, I thought I'd share a little bit of my background so you can understand where my knack for home décor and design comes from.
My Love for Design
Growing up, my mom always had an eye for design. I vividly remember her rearranging furniture "for fun" or "because she was bored!"
It's so funny, because now I literally do the exact same thing!
She was one of the top realtors in St. Louis for many years and she really showed me the ropes of how to stage rooms. She would take me to open houses, through model homes, and on appointments with clients that needed design help prior to selling. I've been hooked on design ever since!
Fast forward nearly 15 years from when I started helping my mom and I've now spent the last decade of my career in commercial real estate finance. Yikes, that's a long time! Life goes by so fast!
I also have my residential real estate license in three states, thanks to moving from place to place for my husband's job.
The good news is I absolutely LOVE making houses into homes, thankfully since I think we've moved 4 times in the last 5 years alone actually, and I've gotten pretty good at it!
But, this last move from Chicago to Knoxville was my (hopefully) last. I have always wanted to raise my family in the South, and I can honestly say I've never felt more "at home" than I do right here.
How to Have a Cozy Home
There are a lot of reasons a place or a house can feel like home – – but mostly, for me, it means three basic things: it is comfortable (casual), friendly (inviting), and easy on the eyes. Just like Tennessee!
So, today I'm going to share a few tips on how to bring these qualities into your house to cozy it up a bit and really make it feel like home!
I don't know about you, but even down here it is still FREEZING! I swear, two weeks after Christmas I am like "okay spring, where are you?!" But, since most of us are still a few months away from that, I, most likely like y'all, am still in cozy mode.
So let's get started with the good stuff, shall we?! Here we go!
1. Blankets + Throws + Pillows
The first one is the easiest one! Blankets and pillows are natural cozy pieces because they're part of what goes into making a great bed, which is naturally the definition of "cozy!" Think about it…a bunch of soft, squishy, cozy pillows piled up on a couch with a big blanket makes you want to just snuggle up, right!?
Blankets/throws really add a welcoming touch, and they don't have to be perfectly folded and displayed. Actually, for this purpose I think the messier the better!
And even beyond the couch – – you can easily cozy up a space by putting a throw over the back of an occasional chair or draping a blanket off the corner of a bed.
And then, when spring does finally decide to show up, just switch out the heavier blankets for some lighter material ones. It's a simple transition!
Of course you probably already have pillows on your couch. However, try putting some of those in the closet and getting a few new ones – maybe even all neutral tones but with various textures, or different shades of your favorite color for a pop. Also, I'm not sure you can EVER have too many pillows!
For great, affordable blankets/throws try Home Goods, and for decorative pillows, I love Kirkland's!
2. Lighting: Lamps & Candles
This one is my favorite. Hello, romance! I could go on and on about the impact lighting can have on a space (and actually have a post on my website where I do just this!) but here are the main things to remember with lighting:
Yellow light or warm tones are less harsh than bright white bulbs. I recommend warm-colored light bulbs for indoor lamps.
Also, bulbs that are too bright aren't super cozy. Pay attention to the wattage of the bulbs you're putting in your lamps, and if your lamp will take a 3-way bulb definitely use those! They're great because then you can brighten things up during the day and turn them down at night. Along those same lines, dimmer switches are under $10 and really easy to install – I put them on all of my light fixtures and canned lights. You can too!
Consider adding a tiny lamp (Kirkland's and Target have tons of great options under $20) to a dark corner of your kitchen counter or bathroom. They give such a nice homey-feel! I use twisty-ties to hide the cords (and if needed a little green plant!).
Also, candles really can set the mood! Not only can you pick ones that give off a smell you love which is a nice personal touch, but there's just something about a little real fire! Flameless candles are great for smaller spots or places where you wouldn't want to light real candles though, and super affordable these days.
I find my lamps at such a wide variety of places – – furniture stores, little boutiques, antique stores, Kirkland's, Home Goods, Pottery Barn, Target. So many options! For light fixtures I usually buy them online, I find the pricing is the most affordable that way.
3. Area Rugs
I saved the largest one for last! Rugs define spaces. They give shape and add texture to rooms, incline you to take your shoes off and get comfortable and they aren't something that we typically change out seasonally or even annually.
So, you want to make sure when you're purchasing rugs that you're choosing ones that you, first of all, love the look of, second that fit your space/furniture well (when in doubt too big is always better than too small), and third that will hold up with whatever your life situation is at home. For us, that's a 100-pound German Shepherd, 2 kids under 2, and countless feet every day – needless to say, I make sure they're going to be durable and hide stains well!
My personal favorite place to buy rugs is Pottery Barn, but there are also so many great online retailers selling really pretty rugs at great prices! For runners I have had really good luck with World Market and for small natural fiber mats you can always find a good one for $19.99 at Home Goods!
Thank you!
Well, thank you all so much for reading along and thank YOU, Jessica, for having me! This truly has been such a fun post for me to share and I hope to see y'all over on The Southern Transplants soon!
I have my home tours and a lot more tips and tricks over there. Also, definitely follow on Instagram if you like the real-life stuff because I share quite a bit of our everyday life on my IG stories daily!
Happy decorating, everyone!!
XO, Ashley