This post has been sponsored by Mars Wrigley Confectionery. All thoughts and opinions are my own.
Random Act of Kindness Idea
All year, and especially around the holidays, my boys absolutely LOVE to surprise others with gifts, whether that be if they see something in the store that a friend would love or if they make something at home.
Sam's Club for the Win!
So when I visited Sam's Club the other day and found myself in the candy aisle, I knew the Red & Green M&M's would be the PERFECT item that the boys could use to make small gifts as a random act of kindness for so many people this holiday season.
The M&M'S candies are the perfect colors, they're a treat that my boys will LOVE to craft with, and they're something that everyone will love.
M&M'S Candies Gift Idea
Knowing I should keep things simple, I came up with an idea that would be something they could help with and that the recipient would actually love and use.
I grabbed the supplies we needed and told the boys all about it when I got home.
When they saw the M&M'S Red & Green Milk Chocolate Pantry Jar, you should have SEEN their eyes light up. You better believe they were game for crafting and giving!
M&M'S® Christmas Gift Tutorial
So to "house" the M&M'S candies, I decided to use little plastic jars (that also serve as Christmas ornaments… how cute is that?!) and let the boys help me fill them.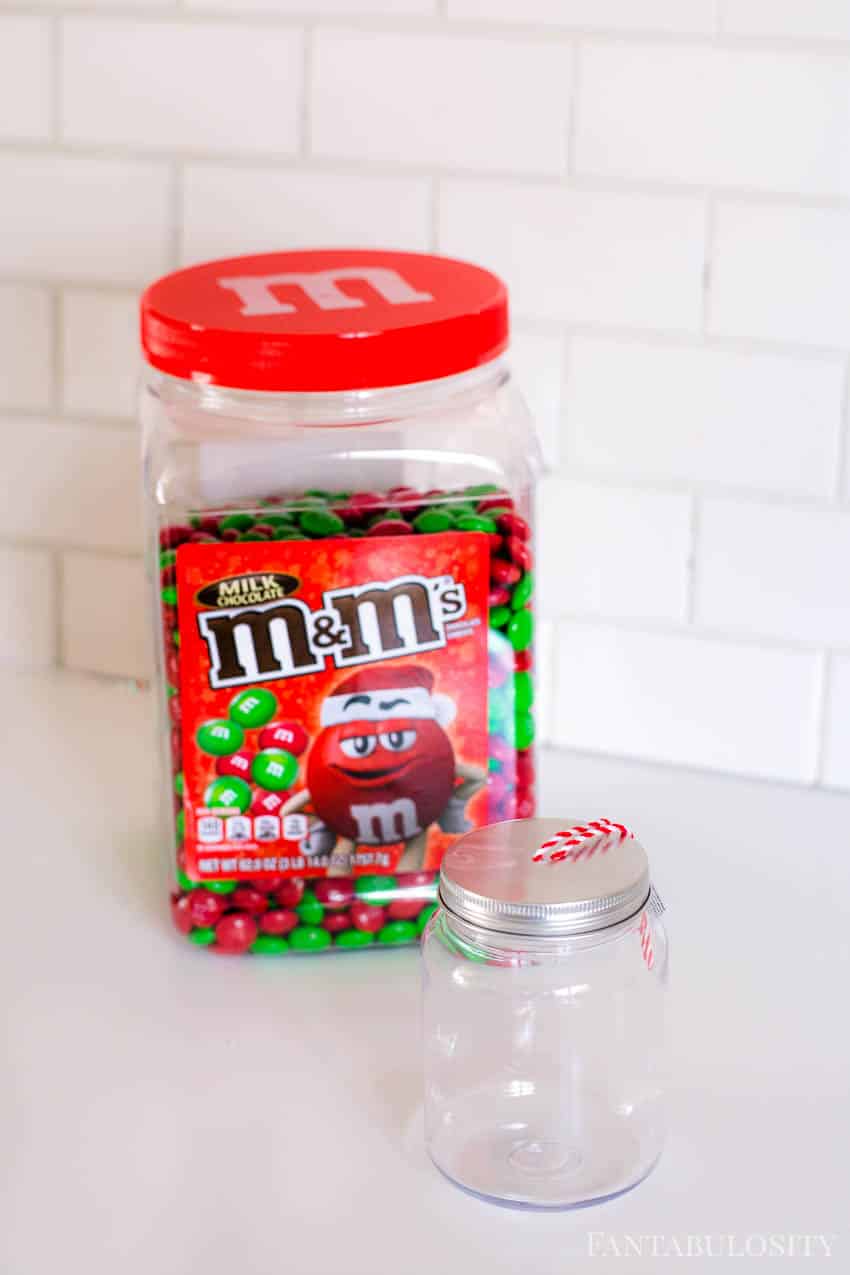 They may have accidentally "dropped" a couple, just so they could say,
"Ooops Mom. I better eat that one."
Uh huh, I know that trick. I do it myself. I suppose I taught them well.
Free Printable Christmas Treat Tags
Now I'll be honest… I did have thoughts of letting the boys color and create their own little gift tags to put on the jars but then quickly realized they'd tire of that after a couple. I decided it would be best to go ahead and make some so all they had to do was string them on the ribbon!
Download Your Own Tags!
I'm super glad I chose this route. Why? Because now I have a free printable to give you so you can make your own M&M'S gifts!
After pondering on a fun saying for a little bit, I finally came up with (what I think) is a super cute one. It incorporates a lot of words that started with "m" to tie in the red and green M&M'S candies.
"Merry Christmas from us to you! May it be Magical and full of Munching too!"
To download your own treat tags, click on the image below!
TIP: I used white cardstock for mine, so it was more of a sturdy type of paper since we were planning to do some "crafting" with them.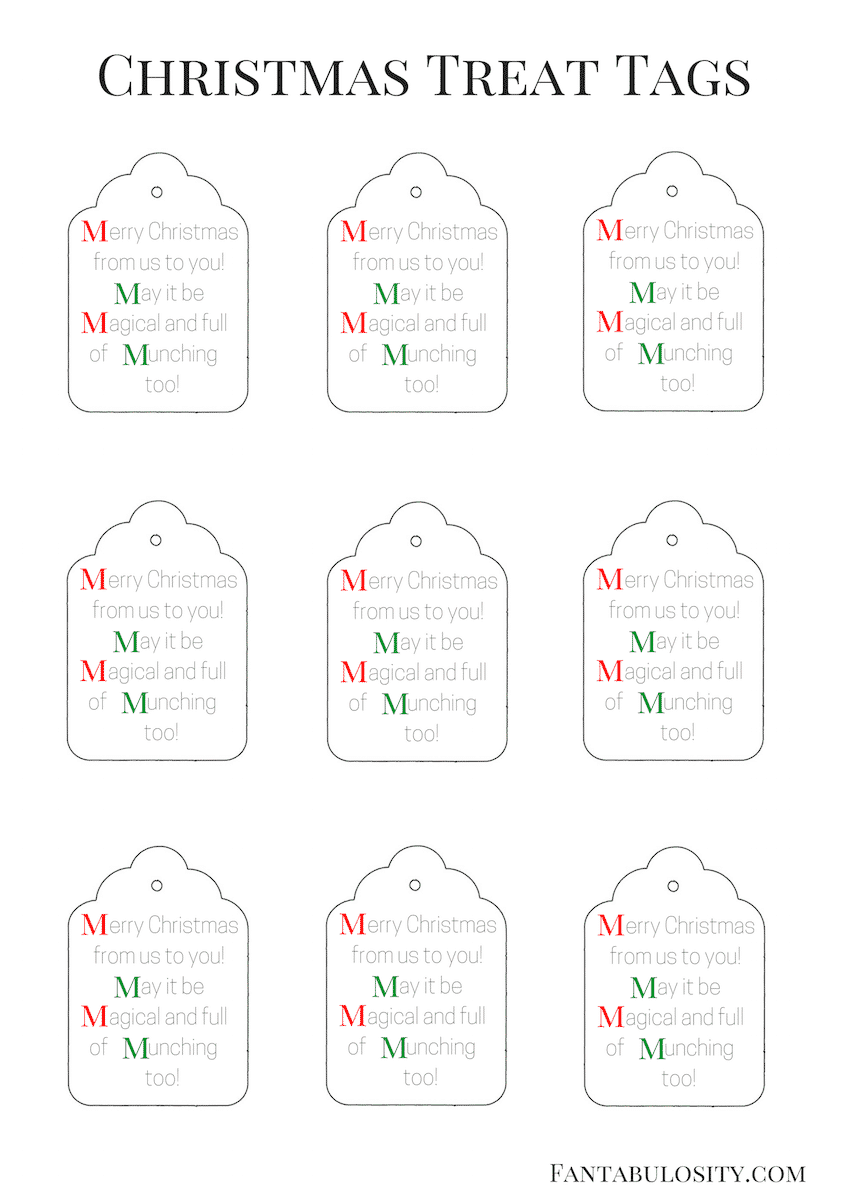 String the Tags On
Once I cut out the tags, the boys were able to hole punch them and string the ribbon through!
I tied the ribbon on around the opening of the jar…
Then, using the little red berries from the craft store, I cut little twigs off of each bunch, and the boys were able to stick a strand inside the tied ribbon!
Get Creative with Decorating
If you know me, you know that I can't leave well enough alone and I tend to have to mix things up. Well, this craft wasn't any different.
I didn't want all of the jars to look the same (I have no idea why, because they're all super cute) so I changed some of them up a bit.
I mean, we had enough M&M'S candies to make a lot of treats. So even though the boys had fun… momma had fun getting creative and decorating a LOT of jars, too!
Christmas Tree Jar Tutorial
For this little jar, I simply used the same tags and layered them over blank canvas tags so the printable would "POP." I finished it off by tying a little winter Christmas tree around the lid, too!
This may be my favorite one.
Surprise! Hand Delivery!
We ended up making quite a few of the little jars and hand delivered them to neighbors, friends, and family.
My boys LOVE walking up, ringing someone's doorbell with a smile and getting a big ole "thank you" after giving such a fun surprise.
If it involves M&M'S candies, crafting, smiles and gifting… you better believe my boys are counting it as one of the "BEST DAYS EVER."