With a vest in almost every color from J.Crew, I always try to find a place for one in my daily outfit selections during the Winter! Plus, the new style of Hunter Boots!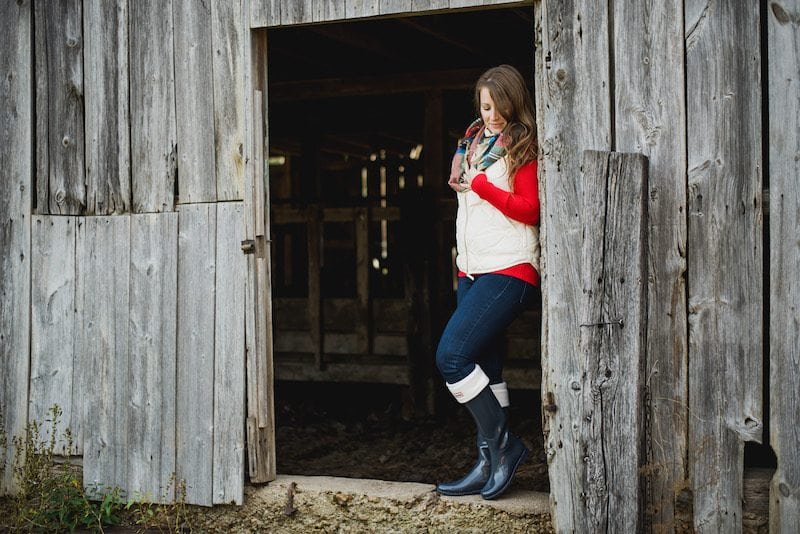 Hunter Boot Train + Boot Socks
I'm going to admit. I didn't really want to jump on the Hunter Boot train last year. Why? Because every rubber boot that I've ever tried on seemed clunky and uncomfortable. But late one night, I found myself on Nordstrom's website, and I found the NEW Original Refind Hunter Boots. They are a sleek, thinner, more flexible rubber with a slimmer silhouette. I absolutely fell in LOVE, and had to have them.
As I threw the Hunter Boots in to my virtual shopping cart, the pretty little Original Tall Fleece Welly Boot Socks enticed me. I thought the cream fleece color would look gorge with the dark slate boots, and I am NOT disappointed! They're not only cute, and add an extra look to an outfit, but you talk about COZY-COZY! I'm kind of looking forward to snow this year, just so I can wear the cozy little things and appreciate the warmth.
Buy the Hunter Boots HERE in Dark Slate // Buy the Hunter Tall Fleece Welly Boot Socks HERE in Cream Fleece
The first ever????
That same night, I branched out and bought my first scarf. YES, I said "first," scarf. I never really had a desire for a scarf, because I thought they were all big and bulky which is something that I DON'T want on my top half. But when I saw that this BP. "Heritage Plaid" Infinity scarf was pretty thin, rather than bulky, and then found myself swooning over the colors, I had to have it. Now I find myself hoping it will go with every outfit, every day.
PLUS, I'm a huge fan of BP. brand at Nordstrom, because it's more affordable than most Nordstrom items…so it just made sense.
Buy the scarf here!
Vests are Best
My husband and I adore vests. If we are getting dressed to go out somewhere, you can almost bet we will both be wearing a vest. I'm not sure what it is for him, but I feel all warm and cozy in them, and they make layering easy.
Not to mention that I can throw one on, zip it up, and hide any extra fluff around the waist line from too much white Peppermint Mocha Crunch Cake.
I love snagging a new colors of quilted puffer vests each season, and this bleached sand vest from J.Crew Factory was a steal! I'm crushing over it this season because it goes with a ton of outfits.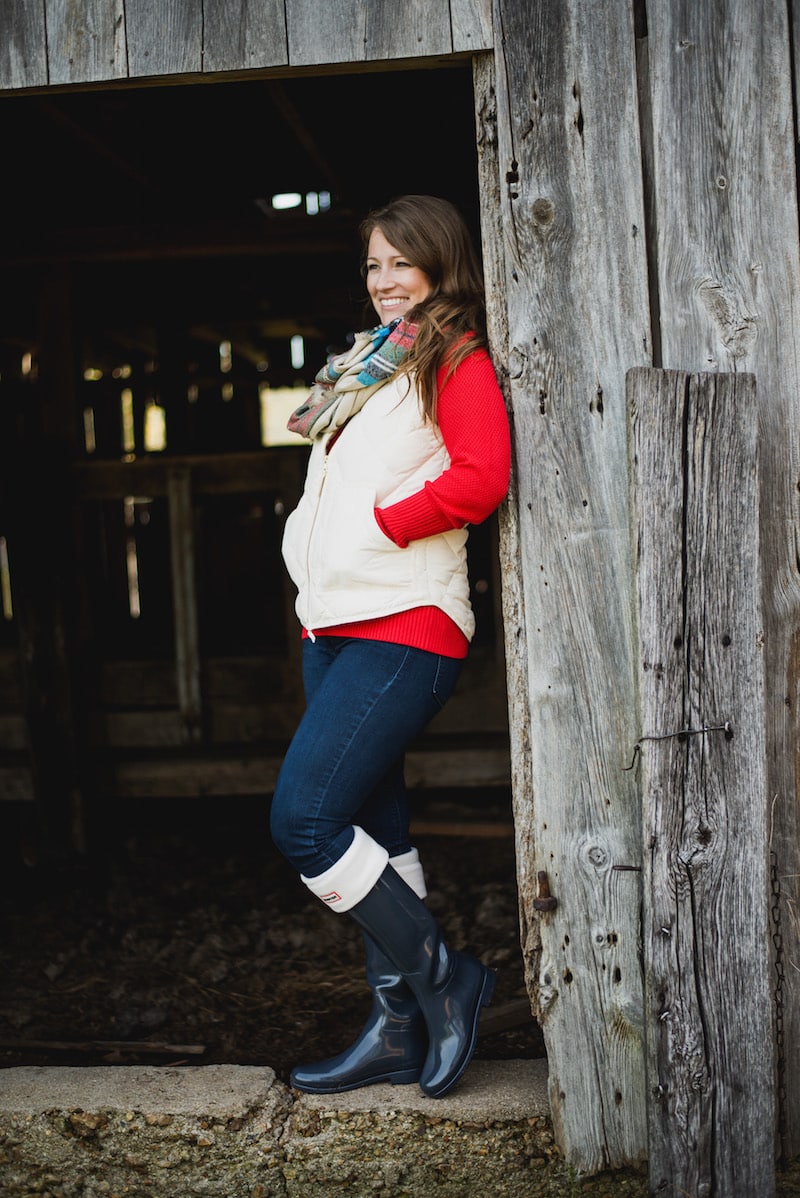 Buy the vest HERE!
Sweater Weather
Although they no longer have the red sweater that I'm wearing here, they do have a similar one that's even cashmere!! I know, I know… the word cashmere is scary because that usually means a price tag that's over $100. But this sweater is under $100, and comes in a ton of different colors! Woot!
Shop the sweaters HERE!
This photo makes me giggle. I remember exactly what I was doing when she snapped this shot. I said, "This is so awkward Megan. Why can't I just pose like those other fashion girls that are naturals? They just turn and pose and twirl so nice. I'm just a hot mess… look." (And she snapped it.)
Shop the look here:
(Remember, the red sweater is similar, not the one I have on in the photos.)