How to Start a Blog: A quick and easy to understand blueprint, of how to become a blogger and the first step to get paid to blog, write, and even make money from home!
I'm ecstatic to be creating this tutorial on how to start a blog!
I've had a lot of you contact me recently, asking how they would go about starting a blog like I did.
So, to best answer your questions, I came up with FIVE quick steps to get you started.
Fantabulous Blogging 101: How to Start a Blog
But first, if you're really ready to start your blog, and you're tired of reading and trying to figure out everyone on your own…the frustration can be REAL, and the time you waste can be monumental because who seriously has enough hours in the day to search around for the answers.
That's why I created Fantabulous Blogging 101, a video series and "how-to" that shows you the EXACT steps to start your blog. By the end of the video series, you'll be publishing your first blog post.
Now if researching and reading bits and pieces at a time is more your thing, here are the 5 quick steps for starting your own blog…
How does a Blog Work?
First things first, I think it's important that you know and understand how a blog is set-up. When my brand new students say that they want to start a blog, but they have no idea where to start… this is where I start them.
Understanding how it works is a hurdle that once understood, the process of starting can make waaaay more sense.
To best explain it, I relate a blog metaphorically to a brick and motor business or store. So say you're getting ready to open a store to sell your favorite things.
There are a few things to do to get it set-up and going, and a blog is no different. Here's an infographic to help break things down to understand easier…
How to Start a Blog: In 5 Easy Steps
Step 1:
Decide what your blog is going to be about.
This should be something you are passionate about, because you don't want to put in all of the time and effort in something, and be burnt out on it in just a few short months and want to quit. Do you love "baking?" You could share recipes and photos of your baking adventures.
Do you love shopping for clothing? You could share your favorite "finds," and "how to dress on a budget!" Or maybe you just want a "place" where you can talk about anything you want! For me, that's kind of what Fantabulosity is about. So your first step is decide what is important to you, and what you would like to share with the world!
Step 2. Decide what the name of your blog will be.
Will the name of your blog be something that describes it to a "T," or will it be something "cutesy," you have come up with? Whatever it is, a good thing to make sure of, is that it's something that's easy to remember, and it's not too long for someone to have to type in.
For "Fantabulosity," I went with something "catchy." Yeah, seeing the name of my blog won't tell you exactly what is going to be shared over here… but heck, I don't even know what all is going to be shared over here. But it's "catchy," and people REMEMBER it!
If you need help coming up with a blog name, I LOVE this blog name generator!
Step 3. Get
your domain name.
AKA: Your web address like: http://example.com
Now… is the domain you want, available? That's a big question. You may have the most PERFECT idea for a blog name, until you go to get the domain, and someone else had that great idea before you. Booo! Yes… That's happened to me a lot. It has happened to everyone I'm sure. I always get my domains at Name Cheap, (for usually around $10.00) and I'm VERY pleased with them.
It's simple to get your domain and exactly how you go about it will depend on which company you use to buy it, or get it for free.
Typically, you'll just type in what you want your www.nameyoupick.com to be. Then, it will show you if it's available or not. If it is… then hot dog! It's yours! Double-check your spelling though, just in case!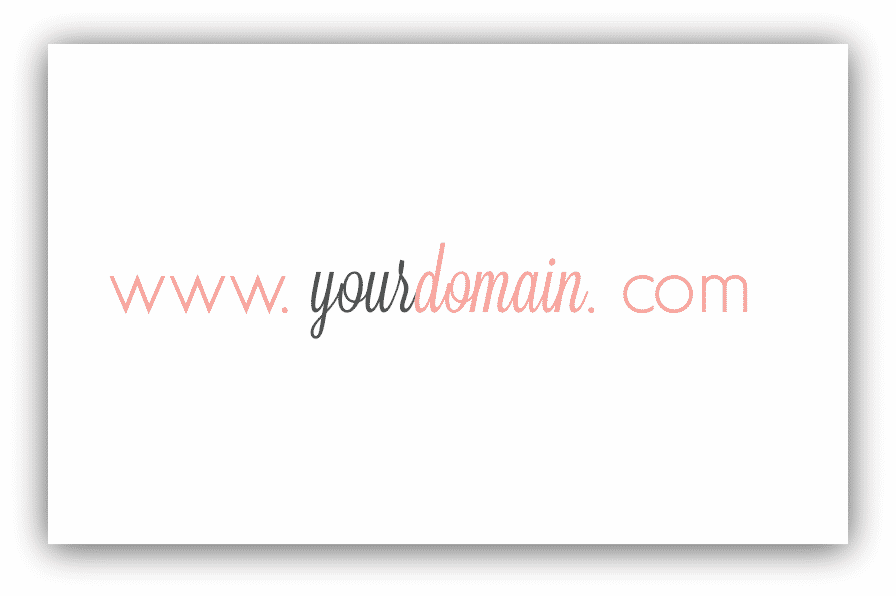 If you just went and bought your domain, yaaaay! You're another step closer!
Step 4. Decide which platform you want to use.
This is a big question to answer… but you gotta know…
There are typically only a few that new bloggers try to decide between. What's a platform? Yeah, I was there too. So there's a "backend," to your website, so you can go in to "edit" your site to create blog posts, etc. There are pros and cons to them all. "Blogger," "SquareSpace," and "WordPress" are typically the platforms that are the most popular.
I've heard good things about Blogger and SquareSpace… HOWEVER, I've been told that if you believe you will want to potentially make money with your blog with ads, OWN your own blog, or even customize your blog with looks, settings, etc. Wordpress is the way to go.
I've been told that Blogger and Squarespace may have restrictions… but again, I've never used those, so I can't really tell you what all that they can offer/do.
I really, REALLY just suggest to make sure that you own your blog (which means, to pay for "hosting"… which I'll get in to later), so it can't be taken away from you one day.
Now, so Wordpress.com OR Wordpress.org?
That's if you've decided on Wordpress of course… (hint hint)
Wordpress.org is the way you wanna go. Yes… you'll have to pay for hosting. But most hosting plans can be affordable. For instance, I recently just helped someone in my family start their own blog, and after comparing hosting plans and looking for an affordable option, SiteGround was our go-to!
You can get it for around $6 a month! I mean, that's cheaper than a trip into the convenience store for me!
Also note: If you haven't bought your domain in step 3 yet, you can buy it from SiteGround at the same time you're buying your hosting. But note that it may be a few dollars more for the domain purchase, but it may be worth it to have it all in one spot! (I like having these separate in case one of the companies go flop.
So What's Hosting?
Hosting is what "holds," your site, or makes it "live." Think of it as you're paying rent to appear on the internet.
If you're just starting out, SiteGround would be the most affordable and one that I'd recommend after recently using it to help someone start her own blog too! Siteground will also install Wordpress for you, and this is a BIG time/stress saver.

Step 5. What should your blog look like?
I recommend browsing the web for similar blogs that you love the "look," of. What catches your attention? Are there certain colors you love? What fonts do you like?
Make note of everything you like of others, that you'd like on yours. Do you like one that you've found? Scroll to the bottom to see who designed it, because sometimes the designer will include a link to their site!
Head over to the designers site, and see if they provide free templates or "ready to purchase" templates, or are taking new customers for blog design. If you don't have any luck with that, google "free blog templates," and you may just get lucky enough and find a fantabulous blog template that you love, for free! Etsy also has a TON of templates that you can likely score for a few bucks!
Wrap Up:
This is my, "Did you get all that?" look…
Yes, this post is full of words, but I hope you find it helpful!
I can't wait to hear if you've taken any of the steps to start your own blog. It has literally been one of the best decisions I've ever made. It started as a hobby and has grown into a business that I can do at home… on the couch… with my kids… AND it now provides an income that helps support our family. Absolutely a dream come true.
I believe that if you blog about something that you're passionate about, your blog will be a success!