Best Air Fryer: The top 5 air fryers after researching customer reviews and specs of each one! Shop them today on Amazon and find out the favorite pick from Walmart!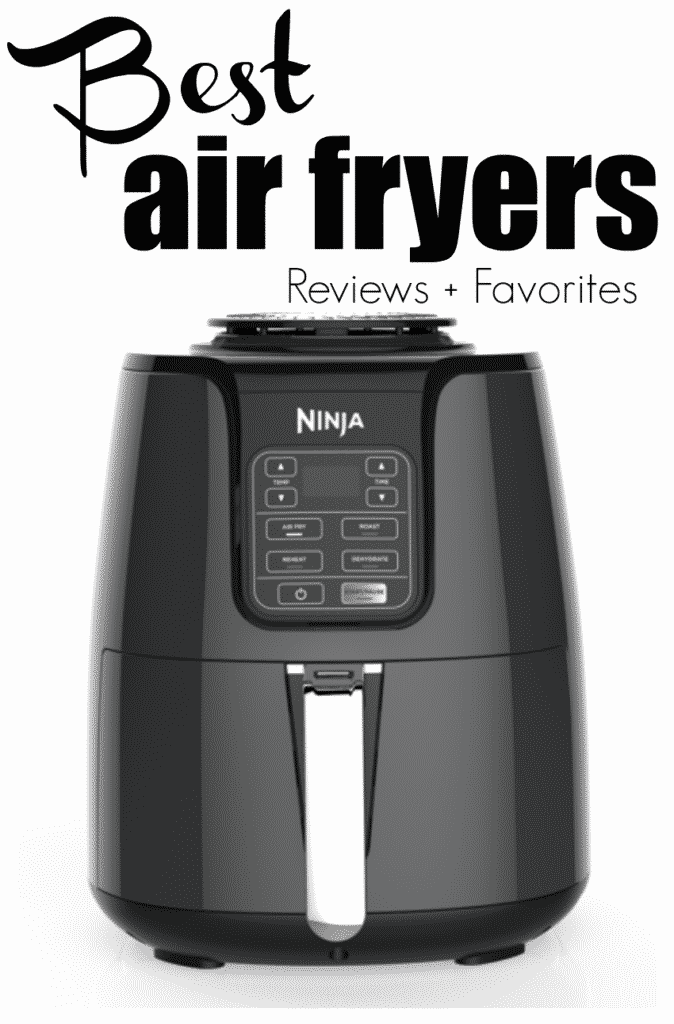 Fantabulosity participates in affiliate programs, which means we may receive commissions if you purchased an item via links on this page to retailer sites, at no extra cost to you! However, our recommendations do not reflect commisions. For more details, you can read our affiliate and earnings disclaimer!
---
You know my love for my new kitchen gadget, the Instant Pot… so now I'm totally intrigued with what else I could add to my kitchen collection. My parent's just purchased an air fryer, and after watching them use and LOVE theirs, it helped solidify that I may need one too.
What is an Air Fryer?
Well, according to Wikipedia,
"An air fryer is a kitchen appliance that cooks by circulating hot air around the food using the convection mechanism. A mechanical fan circulates the hot air around the food at high speed, cooking the food and producing a crispy layer via the Maillard effect."
But if you ask my friends that have one, they'll tell you something like,
It's crazy cool. It will fry the food without using oil and gives it an amazing flavor that baking doesn't!
Air Fryer Reviews
But where do I begin? Researching, that's where! So I've researched and compiled 5 air fryers that are great to choose from based on customer and Fantabulosity reader reviews!
Best Air Fryer: Which One To Buy
Listed in no particular order… and sharing my top pick at the bottom of this post!
---
The reviews on this one from Amazon really surprised me. At the time of this post, it has 332 reviews and has a star rating of 4.5 out of 5!
Favorite Reviews:
Easy to use and clean
Food is crispy on the outside and juicy on the inside!
Favorite Specs:
7 presets
Extra large capacity (which I hear is super nice)
---
The XL capacity really caught my eye on this one, since I always feed a family of four and we like leftovers.
I was also pretty pleased with it when I used it since they sent me one to try out! See the video of the unboxing and how I made chicken wings below…
Favorite Reviews:
This Chefman 6.5 Liter Air Fryer has twice the capacity of my largest air fryer…
Super easy to use
Buy the Chefman 6.5L XL Air Fryer HERE!
Don't need an XL? You may love this one instead:
Although smaller than the first one listed, this one caught my eye because of the price! Not sure you'll use an air fryer? Start with a smaller (more affordable one) to see if you like it.
Favorite Reviews:
Sleek design
Perfect for 2 (smaller basket)
Favorite Specs:
Dishwasher safe parts
Nonstick and easy to clean
---
The Ninja Air Fryer has fantastic reviews, and if you've heard me go on and on about my Ninja Coffee Bar, then you already know how big of a fan I am about anything "Ninja". You can buy this on Amazon, but I found it cheaper online at Walmart HERE!
Favorite Reviews:
Roasts, dehydrates and reheats!
Attractive and lightweight
Favorite Specs:
4 qt. nonstick basket
Cooks up to 2 lbs. french fries
---
This reader favorite air fryer is what multiple Fantabulosity readers have and recommend, and sometimes there are no better reviews than those that you can trust!
Favorite Reviews:
Can cook a whole chicken
Love the preset buttons!
Favorite Specs:
Air Fry, Bake, Steam, Saute, Grill and Roast
7 Preset Programs with easy one-touch digital controls.
---
My Pick?
I think I'm going to go with the Ninja Air Fryer AF100.
I'm such a fan of the Ninja Coffee Bar and love that this one dehydrates because a dehydrator has been on my wishlist for a long time!
I feel like getting this one will kill two birds with one stone!
Plus, the price is mid-range of the others and I feel like I'm getting a good deal, yet not skimping on quality/size!
If you only need an air fryer, I'd go with the Chefman 6.5L XL air fryer. But if you are looking for a combo, then the Ninja may be more your style!
---
Do you have a favorite air fryer?
I'd love to hear if you have an air fryer that I haven't mentioned! Let us know in the comments below why you love it and why it's your favorite!