Asian Chicken Lettuce Wraps: A weeknight meal for those nights you stay in, but feel like take-out! A gourmet-inspired dish, for beginner chefs!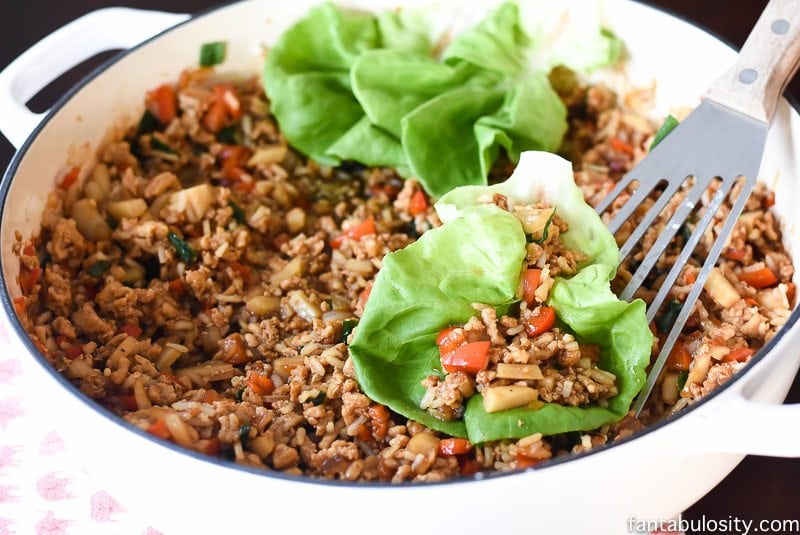 Asian Chicken Lettuce Wraps
You all, I pinned a Slow Cooker Asian Chicken Lettuce Wrap recipe from Cooking Classy a LONG time ago, and I finally got around to whipping up a similar recipe last week. I'll admit that I rolled my eyes after it was finished, because of my hesitation with making it for so long.
I thought it would be one of those that would take about 2000 hours (not really) to make, and 3 seconds to eat. Those recipes make me a little angry… not going to lie. I sure as heck don't have time to stand and cook in the kitchen for hours on end, just to watch my family devour it in 10 seconds, and run off to do something else. Don't get me wrong… I like to cook. As long as it takes just about as long to cook it, as it does to eat. That's all. 😉
Asian Chicken Lettuce Wraps
With an early start to planning dinner one day, I decided that I would give these wraps a try. The original recipe was created for a slow cooker, but most days I'm not that on top of my game, and I'm realizing at 4:00 that I never planned anything for dinner.
So my own little "stove-top" Asian chicken lettuce wrap recipe, was created.
I rarely cook with ground chicken, so when I saw it in the cast iron, it felt a little odd. I'm used to seeing dark ground beef sautéing away. So the white-meat "look," took a few minutes to get used to, but quickly stole my heart when the dish was complete.
Ingredients for this Recipe
See full recipe card below for ingredients and instructions!
What you'll need for this dish:
2 pounds ground chicken
3 Tablespoons minced garlic
1 red bell pepper cored and finely chopped
1/2 cup finely chopped yellow onion
1/2 cup hoisin sauce
2 Tablespoons soy sauce
salt and pepper to taste
1 8-ounce can sliced water chestnuts drained and rinsed
1-1/2 cups cooked white rice (or try this wild rice recipe!)
3 green onions sliced
1-1/2 teaspoons sesame oil
1 package butter lettuce
One-Pot Dish
I literally ate it RIGHT out of the pan, when it was complete. My husband was running late for dinner, and I wasn't waiting. (It's ok… we made that agreement early on in our marriage. Me + Hangry = Not something he wants to come home to.)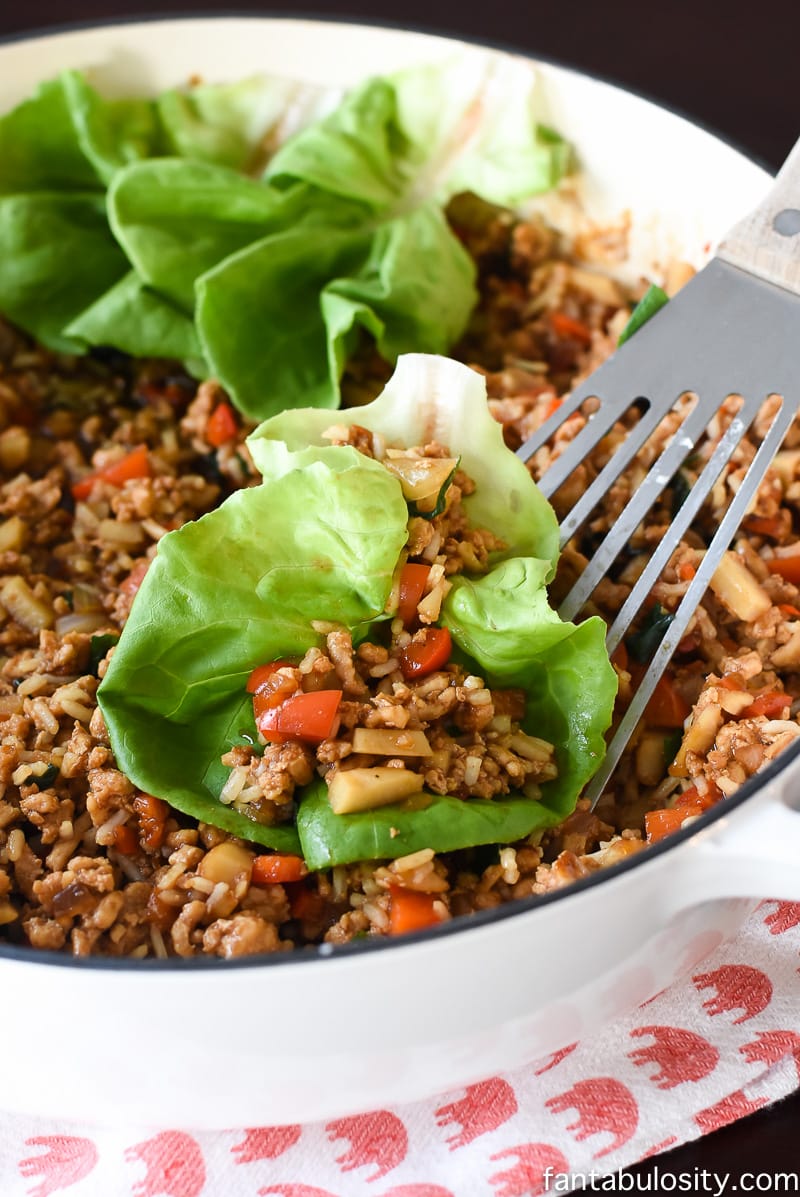 I decided to use butter lettuce from the store, and I'm SUPER happy with that decision. I usually buy "leaf" lettuce for my salads but decided to give the butter lettuce a try, and so glad that I did. It was perfect for small little servings, and has a natural curve to it, locking the Asian chicken inside a lot better than leaf lettuce.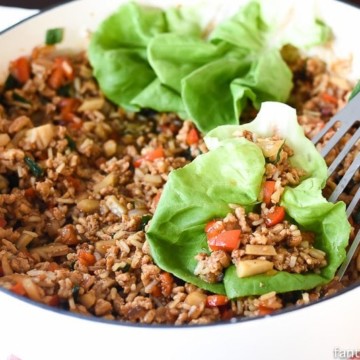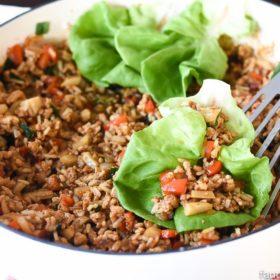 Asian Chicken Lettuce Wraps
These lettuce wraps are super easy to whip up and are a great low carb dinner option!
Ingredients
2

pounds

ground chicken

3

Tablespoons

minced garlic

1

red bell pepper

cored and finely chopped

1/2

cup

finely chopped yellow onion

1/2

cup

hoisin sauce

2

Tablespoons

soy sauce

salt and pepper

to taste

1

8-ounce can

sliced water chestnuts

drained and rinsed

1-1/2

cups

cooked white rice

3

green onions

sliced

1-1/2

teaspoons

sesame oil

1

package

butter lettuce
Instructions
Cook the ground chicken and garlic, until juices run clear.

Add remaining ingredients, (except butter lettuce) and let cook through for 5 minutes, or so. Just long enough to let the flavors mesh together.

To Serve: Scoop a couple of tablespoons into each lettuce leaf and serve.

Or eat straight out of the pan like I did. 😉
Nutrition
Serving:
1
serving
|
Calories:
309
kcal
|
Carbohydrates:
18
g
|
Protein:
28
g
|
Fat:
13
g
|
Saturated Fat:
3
g
|
Cholesterol:
130
mg
|
Sodium:
799
mg
|
Potassium:
923
mg
|
Fiber:
1
g
|
Sugar:
7
g
|
Vitamin A:
680
IU
|
Vitamin C:
28.7
mg
|
Calcium:
31
mg
|
Iron:
1.9
mg