This post has been sponsored by Challenge Butter. All thoughts and opinions are my own.
Gooey Butter Cake: An easy dessert recipe that's an ooey goodness, made with a cake mix, butter, sugar, eggs, vanilla, and cream cheese.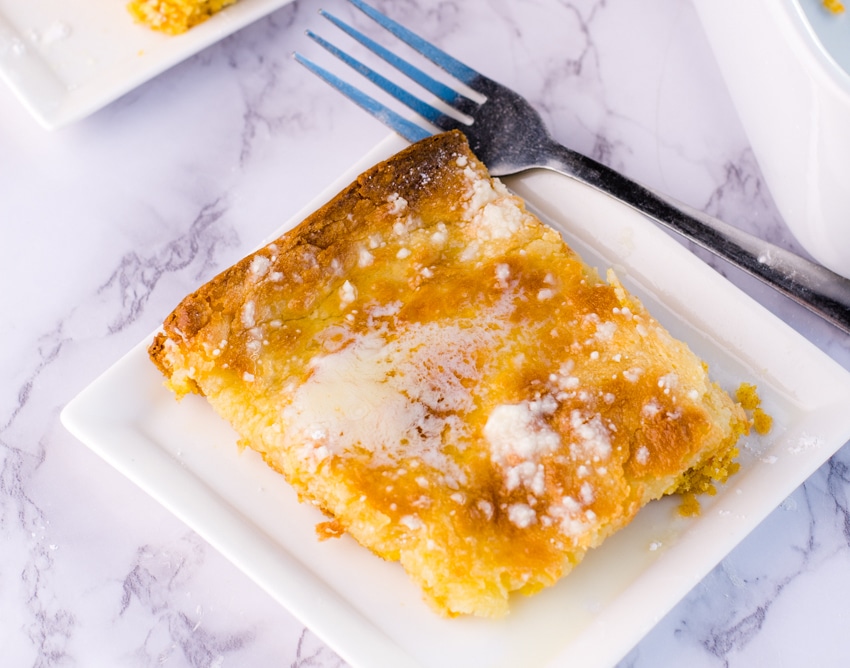 Gooey Butter Cake
The other day on Instagram, I polled in my stories, asking if you had heard of gooey butter cake or if this was new terminology, and I was surprised at how many hadn't heard of this delicious dessert!
So I KNEW it was time that I shared one of my favorite recipes with you, and I also knew it was the perfect fit for today's sponsor, Challenge Unsalted Butter and Safeway!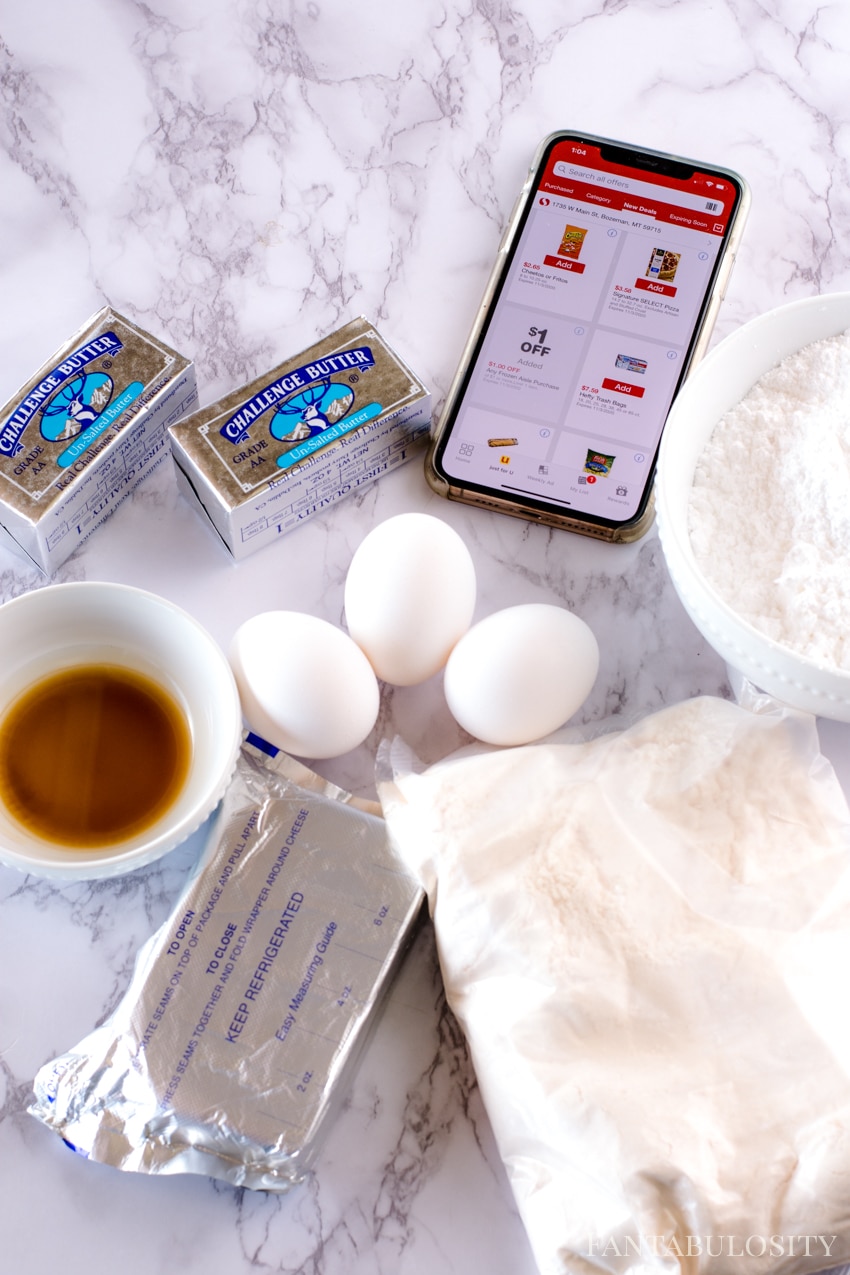 After moving out to Montana, EVERYTHING was unfamiliar and that meant that I had to find new places to grab the necessities. Places to grab a coffee, places to eat and most importantly… somewhere to grocery shop!
It didn't take me long to find Safeway and I was hooked. When I walked in, the store was clean, organized and had so many products that were new and exciting to try!
And with their app, I'm able to save coupons right to my phone for when I'm shopping and I even get special discounts on certain products just because I'm a rewards member!
Grab a coupon offer here!
Challenge Butter
With a new grocery store, I also found a new favorite product in the dairy aisle, Challenge Butter.
Now, this is coming from a gal who lives by the motto, "It's going to snow? Well we better stock up on the necessities…BUTTER, bread, milk, and eggs." … So if it made the top 4 on my list, then you know I'm going to be picky about my butter.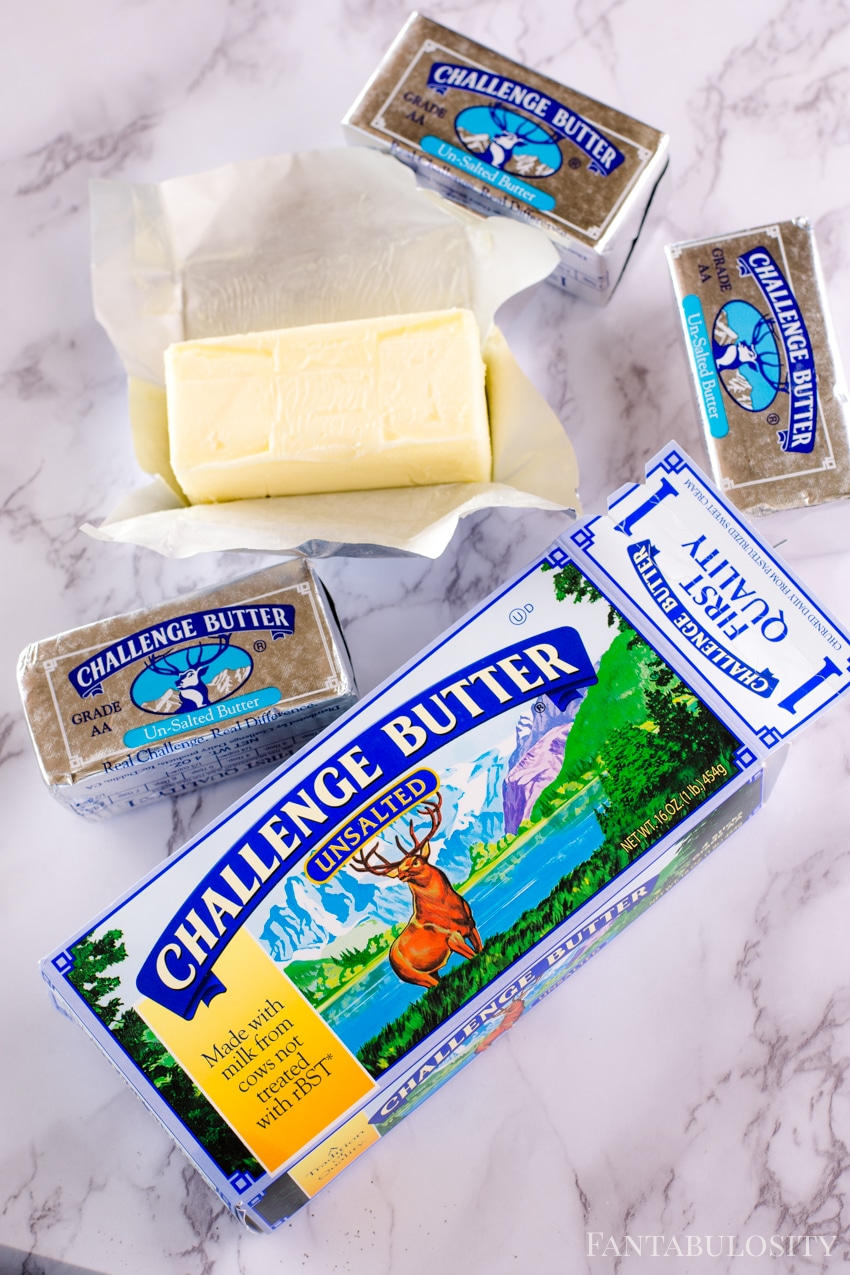 Whether it's butter for making scrambled eggs for my husband and little boys in the morning or we're whipping up a family-favorite treat for the holidays… butter is always a rotating item on our store list, and it has to be GOOD butter, like Challenge Butter.
Challenge Butter has been churned fresh daily since 1911, is family farmer owned, and is made with fresh sweet cream. So as a gal who grew up on a farm, I have quite the heart for a product with qualities like these.
And when it comes to making Gooey BUTTER Cake, you have to have a good butter, one made with sweet cream, preferably!
But rather than just teasing you about this goodness, let's get in to the details of how to make it so you can whip it up as a weeknight dessert or your staple dessert for the holidays!
What is Gooey Butter Cake?
Gooey butter cake is a flat cake without icing that is made of everyday ingredients, like butter, eggs, sugar, cream cheese and occasionally, a cake mix to keep it quick and easy!
How to Make Gooey Butter Cake
First, I must say that you're going to be pleasantly surprised at how easy this recipe is and how much your friends and family will love it!
This recipe that I make uses a cake mix which makes things even easier in the kitchen and I think we can all get on board for that.
Ingredients for Gooey Butter Cake
What you'll need to make this cake is,
yellow cake mix
eggs
Challenge Unsalted melted butter
Challenge Cream Cheese
vanilla extract
powdered sugar
That's it! Now, let's walk through the steps to make it because you won't actually use all of the eggs and butter at once, so pay close attention to how much and when to add them.
First, preheat your oven to 350 degrees.
Next, you'll start with grabbing a medium or large mixing bowl.
Add in your cake mix, 1 stick of melted butter and 1 egg.
Mix with a mixer until well-combined.
Grab a 9×13 baking dish, spray with non-stick cooking spray, and spread out the cake mix batter into the bottom of the dish, making sure to evenly distribute.
NOTE: You may slightly panic, thinking you don't have enough to cover the pan. You will! Just keep spreading it out, making sure the entire pan bottom is covered.
Set the baking dish aside and either wash out the bowl you used for the cake mix batter or grab a different bowl so you can mix together the gooey butter topping.
In the mixing bowl, add in the cream cheese and with clean mixer attachments, mix the cream cheese until light and fluffy.
Pour in 1 stick of melted butter…
…the 2 eggs and the vanilla extract.
Mix until evenly combined.
Add in the powdered sugar…
… and mix until evenly combined.
Pour the powdered sugar mixture onto the top of the cake mix mixture…
…and spread out evenly. (I like to use a rubber spatula for this.)
Bake the cake in a 350 degree oven for about 35-40 minutes, or until the top of the cake turns to a golden brown.
When the cake has been removed from the oven, and while the cake is still hot, sprinkle on about 2 tablespoons of powdered sugar!
How to Serve Gooey Butter Cake
We prefer to cut the gooey butter cake while it's still warm and top each piece with a small slice of butter so it gently melts on top of that powdered sugar and warm, gooey, goodness.
Does Gooey Butter Cake Need to be Refrigerated?
Gooey butter cake can actually be stored at room temperature for about 2-3 days or refrigerated for up to 4-5 days.
However, I recommend warming it up just a tad and adding on that sliver of butter before serving if you are eating left overs or have made it in advance.
Can you Freeze Gooey Butter Cake?
Absolutely! Cut it in to squares for easier serving later, and when stored-right, (in an airtight container) gooey butter cake be frozen for at least up to a month. Just make sure you allow enough time for defrosting when serving.
Gooey Butter Cake
Gooey Butter Cake: An easy dessert recipe that's an ooey goodness, made with a cake mix, butter, sugar, eggs, vanilla, and cream cheese.
Ingredients
1

15.25

box of yellow cake mix

3

eggs

(Divided 2+1)

2

sticks

Challenge Unsalted Butter

melted (Divided: 1+1)

8

oz.

package of Challenge Cream Cheese, softened

softened

1

tbsp

vanilla extract

2

cups

powdered sugar

with an extra 2 tablespoons for garnish
Instructions
Preheat your oven to 350 degrees.

In a mixing bowl, mix together the yellow cake mix, 1 egg, and 1 stick of Challenge melted butter, with a mixer.

Grab a 9×13 baking dish, spray it with non-stick cooking spray, and press the cake mixture into the bottom. Set the baking dish aside.

If you prefer, wash the same mixing bowl and beaters to mix the other half of the ingredients to make the gooey butter topping.

Mix the softened cream cheese until light and fluffy and then add the vanilla, 1 stick of melted butter, and 2 eggs. Mix until evenly combined and then add in the powdered sugar (reserving about 2 tablespoons) and beat well.

Spread the powdered sugar batter, evenly over the cake batter and bake at 350 degrees for 35-40 minutes or until top is golden brown. 

Remove from oven and sprinkle about 2 tablespoons of powdered sugar on top of the cake while still warm.
Notes
Feel free to serve warm with an extra sliver of butter on each piece or let cool to eat later.
Nutrition
Serving:
1
slice
Calories:
451
kcal
Carbohydrates:
32
g
Protein:
3
g
Fat:
35
g
Saturated Fat:
18
g
Cholesterol:
123
mg
Sodium:
177
mg
Potassium:
70
mg
Sugar:
29
g
Vitamin A:
941
IU
Calcium:
36
mg
Iron:
1
mg
I hope you LOVE this Gooey Butter Cake as much as we do.
Don't forget to make a stop at Safeway to stock up on Challenge Butter for all of your holiday cooking this year!