Strawberry Cream Cheese Icebox Cake: Looking for the perfect dessert for a hot day or a summer party? This no-bake recipe is perfect for those hot summer days when you're craving something sweet, creamy, and refreshing.
With layers of juicy strawberries, luscious cream cheese filling, and tender graham crackers, this cake is a crowd-pleaser that's incredibly easy to make. The combination of flavors and textures will have your taste buds dancing with joy.
If you have some strawberries left after making this simple delicious layered dessert, why not use them to make this fun walking strawberry cheesecake dessert? You could also have a go at making my Strawberry Crumble or even some Strawberry Cheesecake Cookies for an easy dessert that perfect for strawberry season.
Jump to:
❤️ Why You'll Love This Recipe
Easy to make recipe: This recipe is simple for all skill levels as it uses instant pudding mixes to do most of the work
No-bake recipe: No need to turn on the oven to make this delicious dessert.
Only 15 minutes prep: This recipe takes just 15 minutes to prepare and then the rest of the time is chilling in the refrigerator.
What is an Icebox Cake?
An icebox cake is a chilled, no-bake dessert that typically consists of layers of cookies or crackers and whipped cream or custard. The dessert gets its name from the "icebox" refrigerators used in the early 20th century, where the cake would be stored to set and develop its flavors.
As the cake chills, the cookies or crackers absorb moisture from the surrounding layers, creating a tender, cake-like texture. Icebox cakes are famous for their simple assembly, versatility in flavors, and the delightful contrast in textures, making them a popular choice for gatherings and warm weather treats.
🧾 Ingredients Needed
I've highlighted a couple of ingredients with some relevant notes. Aside from this, the ingredients needed are pretty basic.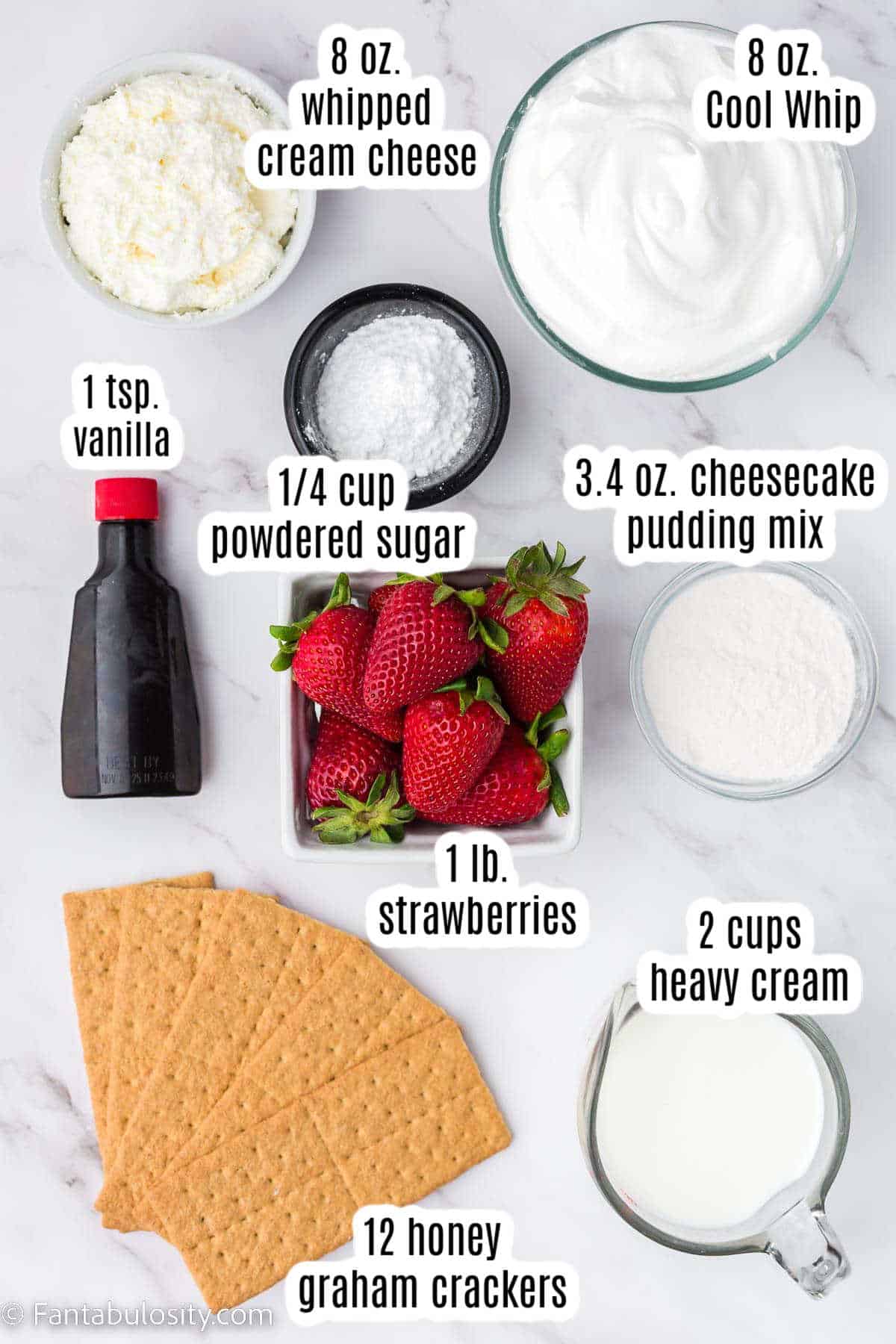 Strawberries – You'll definitely want fresh strawberries for this recipe to get the best results
Cream cheese – Use whipped cream cheese for the icebox cake to get a nice consistency.
Instant mix pudding – I use a cheesecake pudding dry instant mix for this cake and it works perfectly.
📖 Substitutions
Sometimes substitutions are necessary because of ingredients that are unavailable or needed for dietary restrictions. Here are some suggestions that can help:
Cream cheese – if you can't find the whipped version, normal cream cheese will work, just whip it to get the right consistency.
Pudding mix – you could also use a vanilla pudding mix if you can't find the cheesecake version.
Vanilla extract – you could use almond extract in place of the vanilla for a slightly different taste to the cake.
📖 Variations
There are a few simple variations you can make to this basic recipe to enjoy a whole range of different icebox cakes:
Tropical Twist: Replace strawberries with a mix of pineapple, mango, and kiwi for an exotic flavor. Use coconut-flavored whipped cream for an added tropical touch.
Berry Medley: Combine blueberries, raspberries, and blackberries with the strawberries for a colorful and antioxidant-rich dessert.
Chocolate Lovers: Add a layer of chocolate ganache or chocolate chips between the cream cheese mixture and fruit layers for a decadent treat.
Lemon Burst: Incorporate lemon zest and a splash of lemon juice into the instant cheesecake filling for a tangy twist that complements the strawberries.
Peanut Butter Delight: Spread a thin layer of peanut butter on the graham crackers before assembling the cake, adding a nutty flavor that pairs well with the strawberries.
Oreo Surprise: Swap out the graham crackers for Oreo cookies or other chocolate wafers to create a chocolatey foundation for your cake.
Peaches and Cream: Substitute the strawberries with fresh, sliced peaches for a different fruity spin on this classic icebox cake.
Spiced Caramel: Drizzle a layer of caramel sauce over the fruit and sprinkle some cinnamon or nutmeg on top for a warm, spiced touch.
👩🏻‍🍳 How to Make Strawberry Cream Cheese Icebox Cake
This strawberry icebox cake is broken into 3 components:
Make the cake mixture
Make the topping
Assemble the cake and chill
*Be sure to see the recipe card below for the full ingredients list & instructions!*
STEP 1: Slice the strawberries. Before you start preparing the filling, wash the strawberries and cut them into thin lengthwise slices. Then, set them aside and proceed with preparing the filling. (Image 1).
STEP 2: Mix the pudding mixture. Mix the heavy cream with the cheesecake pudding in a large mixing bowl until it thickens. (Image 2-4).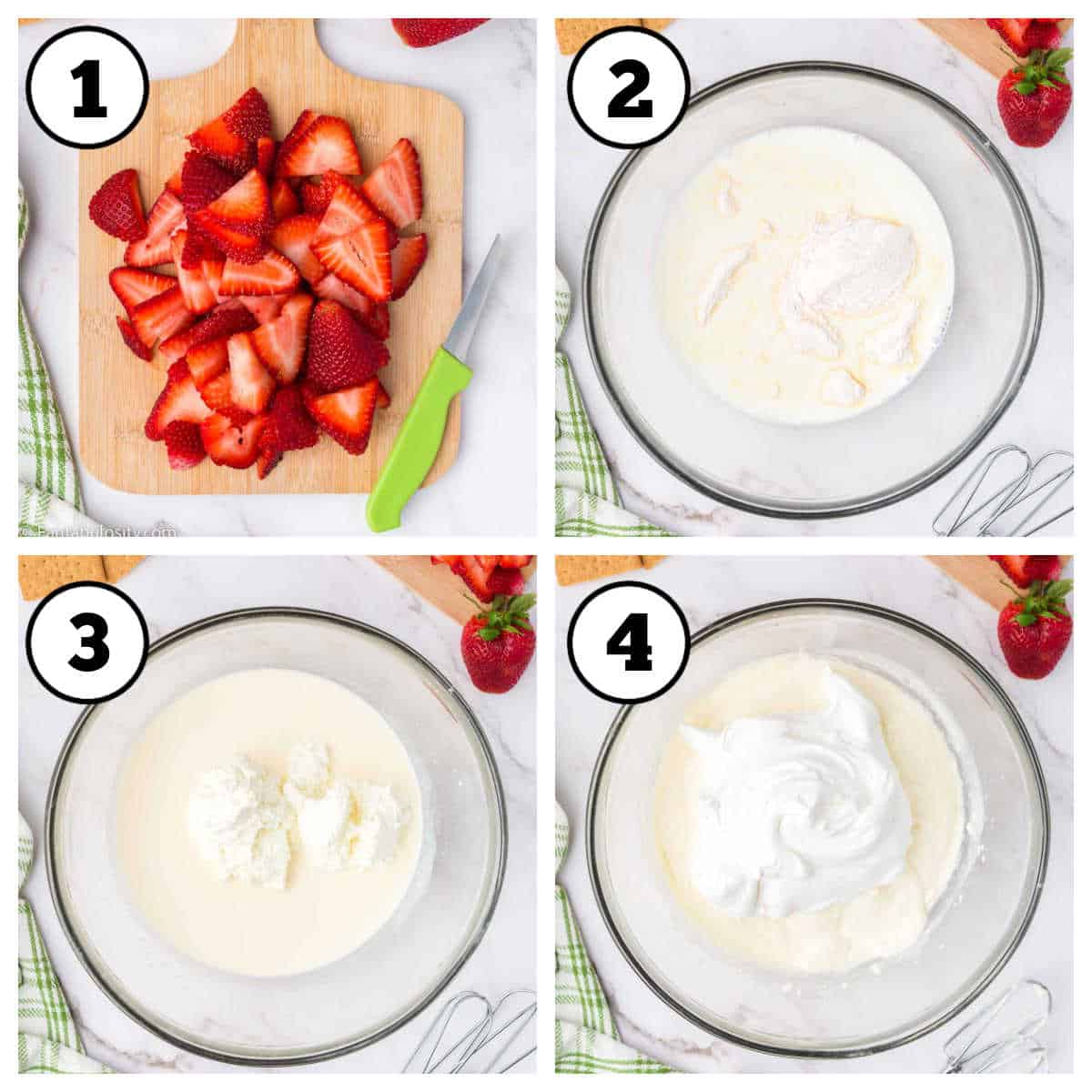 STEP 3: Add the cream cheese. In the bowl of a stand mixer, combine cream cheese, powdered sugar, and vanilla extract thoroughly into your pudding mixture.
STEP 4: Get the right texture. Blend the pudding cream cheese mixture until smooth, then add cool whip and continue to mix until the texture is creamy and smooth.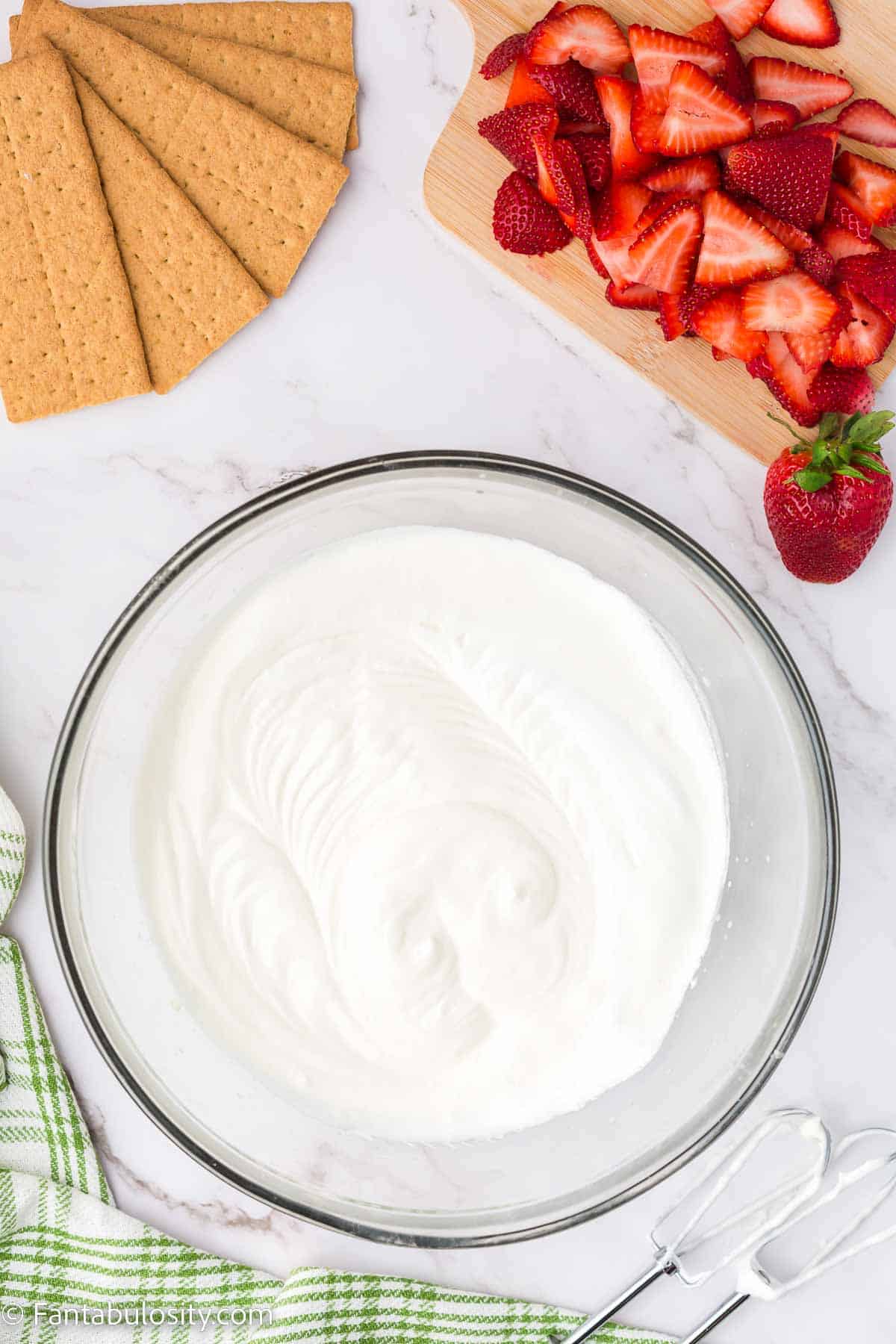 STEP 5: Create the bottom layer. To create an even layer, spread graham crackers along the bottom of an ungreased 9×9 baking dish. You can break the crackers as needed. (Image 5).
STEP 6: Add the other ingredients. Spread half of the cream cheese mixture smoothly over the top of the graham crackers. Next, tightly arrange a single layer of strawberries over the cream cheese mixture. (Image 6).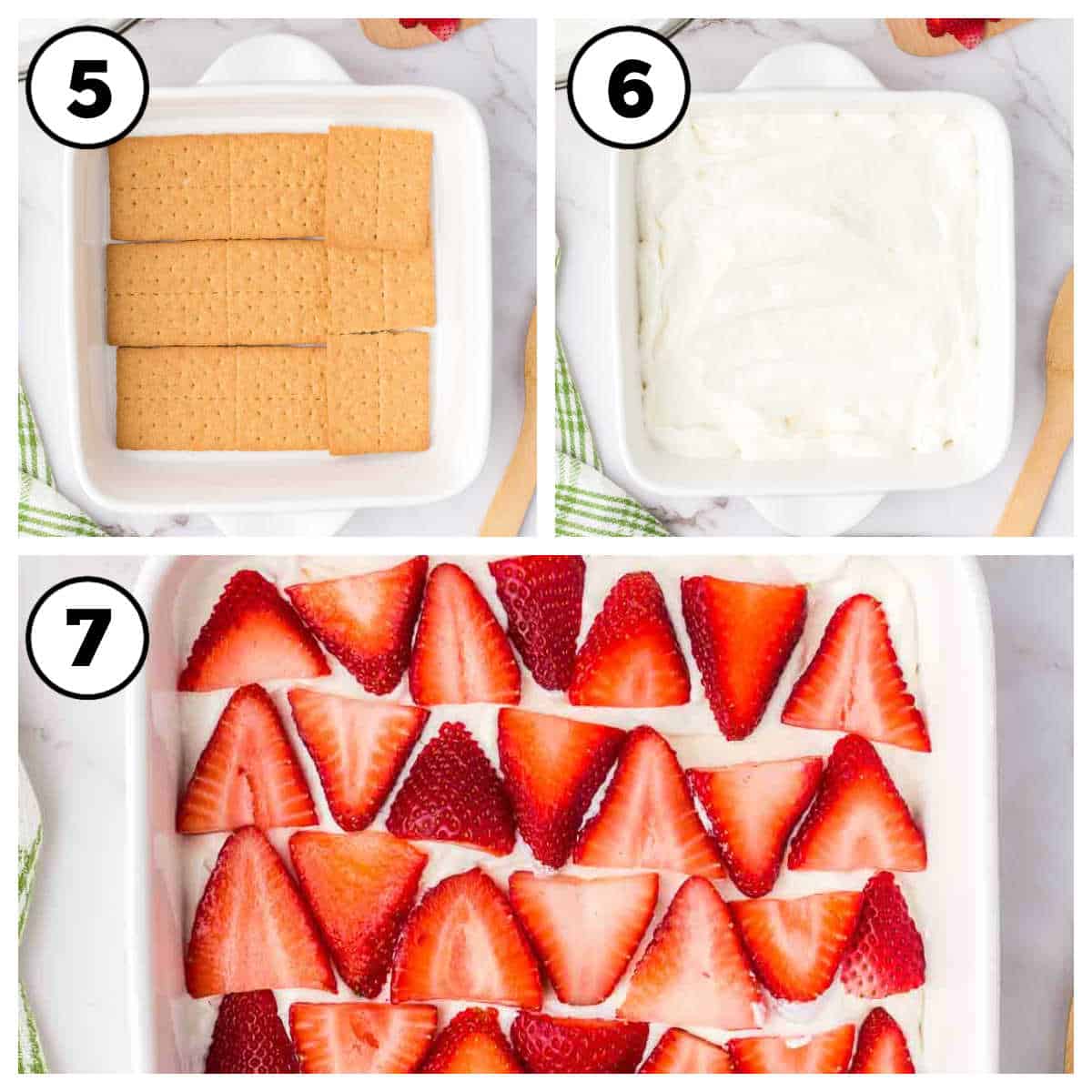 STEP 7: Repeat! Create layers of graham crackers, cream cheese mixture, and finish with more fresh berries. Then, cover the dish and refrigerate it for 6-8 hours to allow the flavors to blend and the pudding to firm up. (Image 7).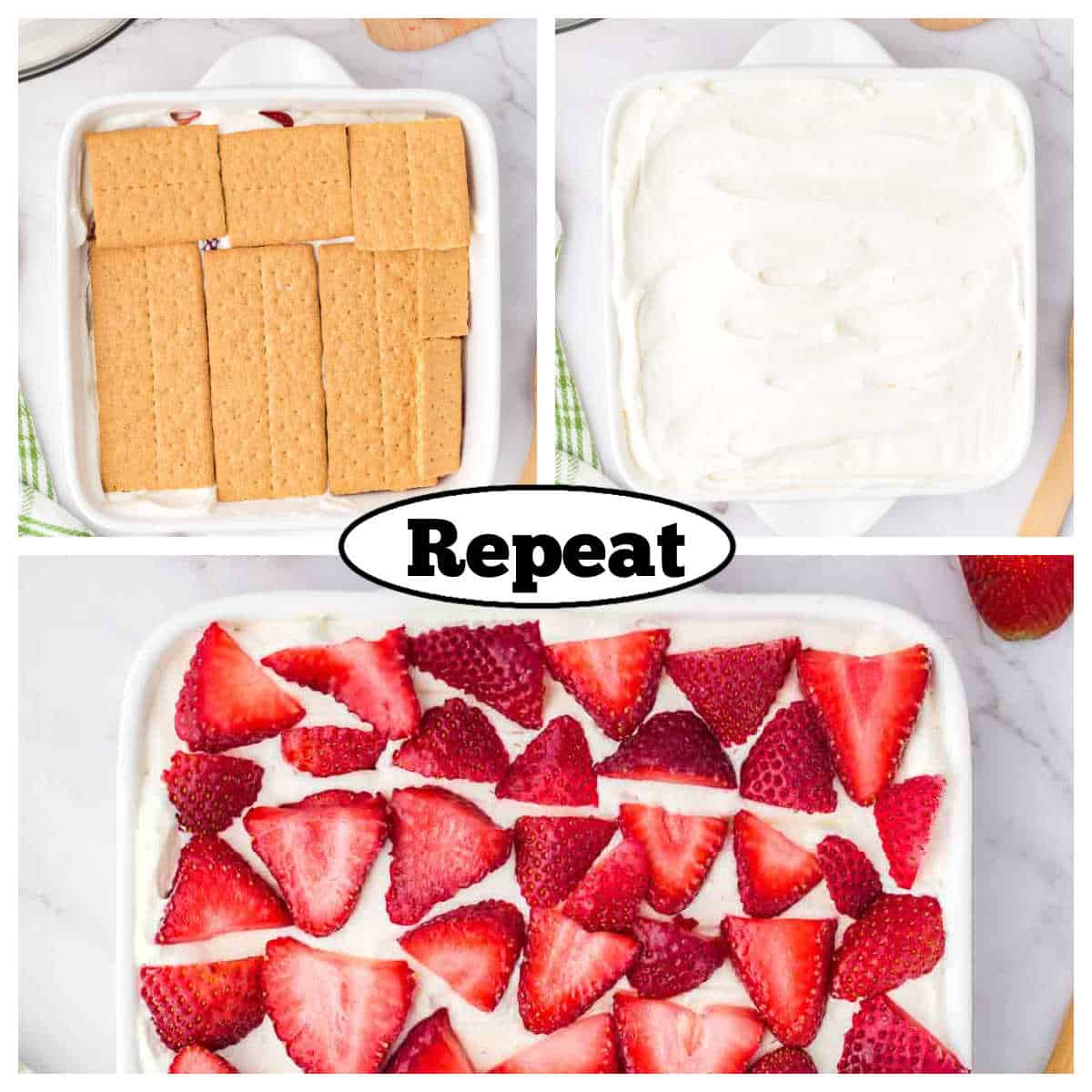 STEP 8: Chill and serve. To serve the cake chilled, take it out of the refrigerator and slice it.
💭 Recipe Pro Tips
Chill Time: Allow the cake to chill for at least 4 hours, or preferably overnight, to ensure the graham crackers soften and the flavors meld together.
Fresh Fruit: Use ripe, juicy strawberries for the best flavor and texture. Wash and dry them thoroughly before slicing to prevent excess moisture in the cake.
Whipped Cream: For a lighter texture, fold in some whipped cream into the cream cheese mixture before layering it onto the graham crackers.
Serving Size: Cut smaller pieces when serving, as this dessert can be quite rich and indulgent.
Garnish: Add a touch of elegance by garnishing the top of the cake with fresh mint leaves, chocolate curls, or a dusting of powdered sugar on top of the whipping cream.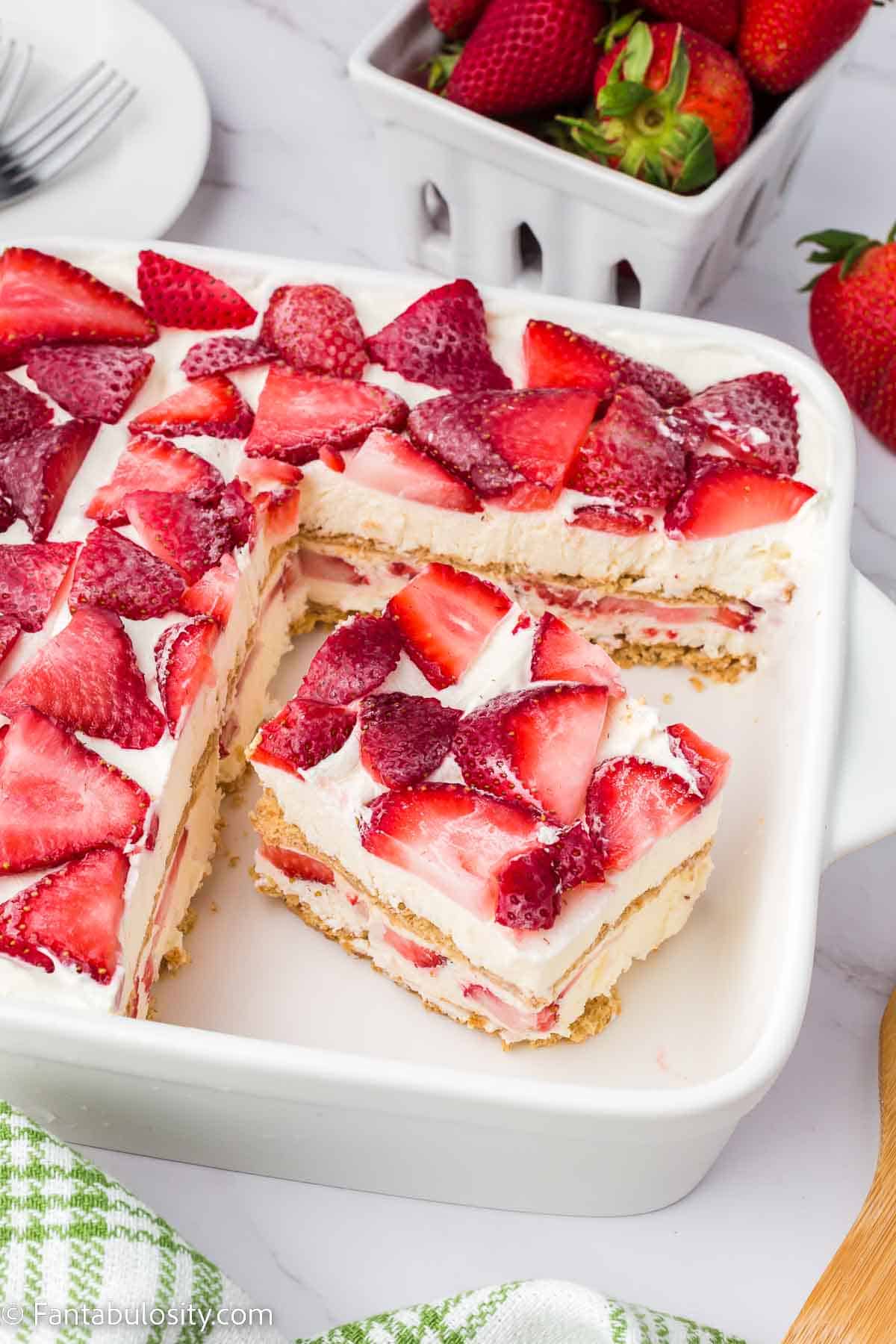 📋 Recipe FAQs
Can I use frozen strawberries instead of fresh ones?
While fresh strawberries are recommended for the best flavor and texture, you can use frozen strawberries if they're not in season. Just be sure to thaw them completely and drain any excess liquid before using them in the recipe.
Can I make this cake gluten-free?
Yes, you can make this icebox cake gluten-free by using gluten-free graham crackers or another suitable gluten-free cookie as a substitute.
Can I use graham cracker crumb crust instead of sheets of graham crackers?
For the strawberry cream cheese icebox cake recipe, you have the option to use a pre-made graham cracker crumb crust instead of graham cracker sheets. However, please note that using the crumb crust may make spreading the pudding filling and serving the finished dish a little more difficult due to its crumbly texture, but it will still taste great.

Can I use a different type of fruit for this recipe?
Absolutely! Feel free to get creative with your fruit choices. Some great alternatives include blueberries, raspberries, peaches, or mixed berries.
Can I use store-bought whipped cream instead of making my own?
Yes, you can use store-bought whipped cream for convenience. However, homemade whipped cream tends to have a better flavor and texture, so it's worth the extra effort if you have the time.

Can I make this ahead of time and freeze it?
You can prepare and freeze the strawberry cream cheese icebox cake in advance. It's recommended to store it in a freezer-safe container for a maximum of 3 months. To defrost, simply cover it and place it in the refrigerator for 24-48 hours until it's completely thawed. Alternatively, it can also be eaten as a frozen dessert.
🍽 What to Serve with Strawberry Cream Cheese Icebox Cake
Strawberry Cream Cheese Icebox Cake is a delightful dessert on its own, but you can elevate the experience by serving it with complementary accompaniments. Here are some suggestions:
Sauces: Drizzle a bit of chocolate or caramel sauce over each slice of cake for an added layer of flavor and visual appeal.
Whipped Cream: Serve an extra dollop of whipped cream on the side for guests to add as desired, enhancing the creaminess of the dessert.
Ice Cream or Sorbet: A scoop of vanilla ice cream or a fruity sorbet, such as strawberry or raspberry, can complement the flavors and add a contrasting temperature element to the dish.
Fresh Fruit: Offer a side of fresh fruit salad or a fruit compote to complement the fruity flavors of the cake and provide additional textures.
Mint Leaves: Garnish each plate with a sprig of fresh mint for a touch of color and a refreshing aroma that pairs well with the strawberry flavor.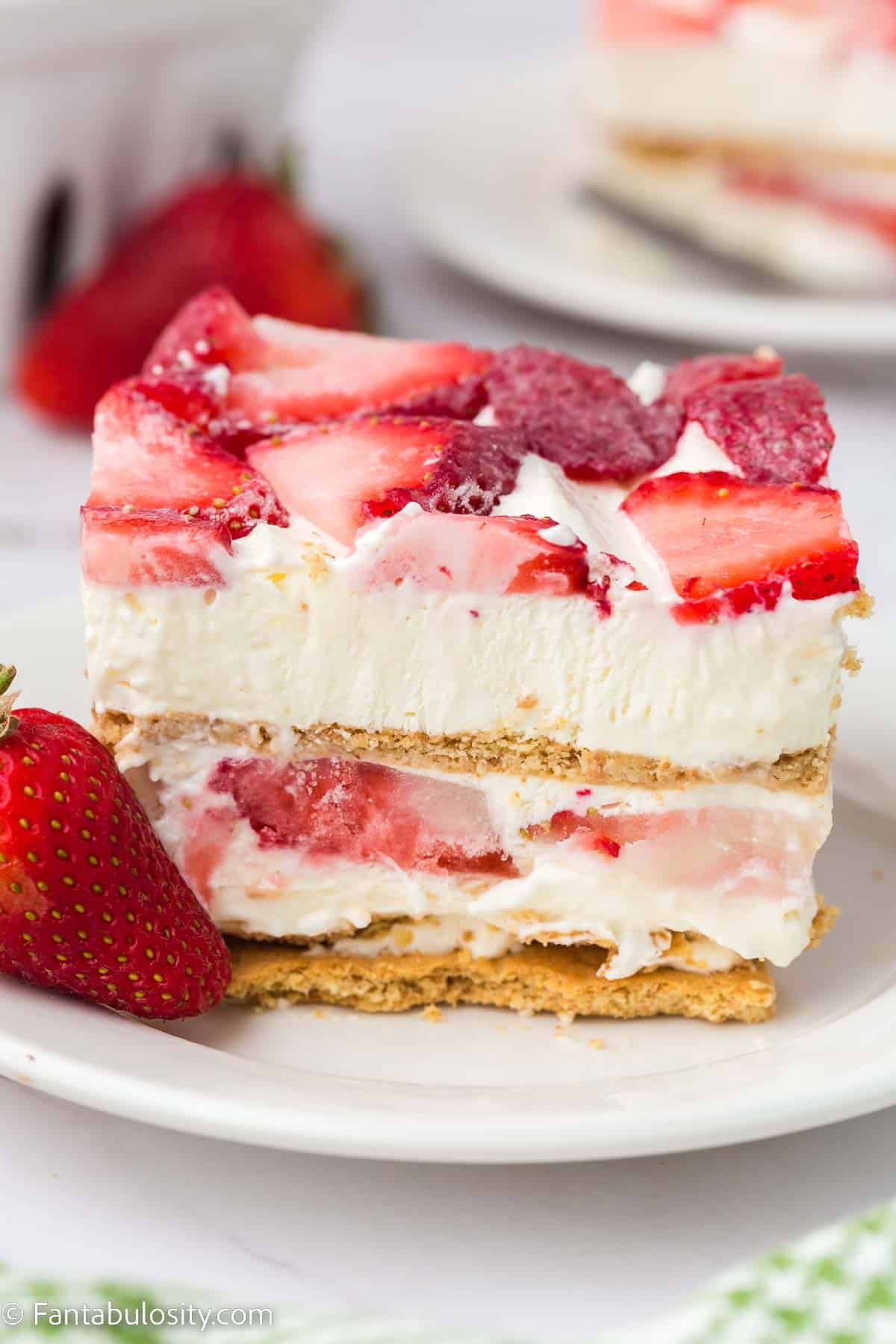 ❄️ Storage
To store an icebox cake, follow these steps:
Cover the cake: Once the cake is assembled and chilled, cover it with plastic wrap, aluminum foil, or place it in an airtight container to protect it from air exposure and prevent it from absorbing any odors from the fridge.
Refrigerate: Store the icebox cake in the refrigerator, as it needs to be kept cold to maintain its structure and freshness. Make sure the temperature in your fridge is consistently between 35-40°F (2-4°C).
Shelf life: An icebox cake can generally be stored for up to 3-4 days in the refrigerator. Keep in mind that the texture of the cake may change slightly over time, and the fruit may release more moisture, so it's best enjoyed within the first couple of days.
🍦 More No Bake Recipes You'll Love
🍰 More Cake Recipes
If making this strawberry icebox cheesecake cake has given you the desire to try other cake recipes, why not start with this Cherry Chip Cake? Or for a really summery recipe, try making a Pineapple Sunshine Cake. Want to indulge in something a little more chocolatey? Then try this Homemade Marble Cake instead.
Did you make this? I'd be so grateful if you left a "star" rating below to let me know what you thought! Then, the next time you need a quick and easy recipe, come back to Fantabulosity to browse all of my easy recipes!
📖 Recipe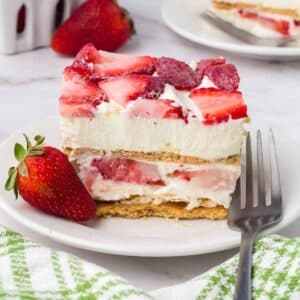 Strawberry Cream Cheese Icebox Cake
This Strawberry Cream Cheese Icebox Cake has layers of juicy strawberries, luscious cream cheese filling, and tender graham crackers, this cake is a crowd-pleaser that's incredibly easy to make. The combination of flavors and textures will have your taste buds dancing with joy.
Ingredients
1

pound

Fresh Strawberries

8

ounces

Whipped Cream Cheese

12

Honey Graham Crackers

1

3.4 ounces

Cheesecake Pudding Dry Instant Mix

2

cups

Heavy Cream

8

ounces

Cool Whip

Thawed

1

teaspoon

Vanilla Extract

1/4

cup

Powdered Sugar
Instructions
Prep strawberries: Wash and slice your strawberries into thin lengthwise slices and set them aside while you prepare the filling.

Mix pudding: In a large bowl, combine cheesecake pudding with heavy cream and mix well until it thickens.

Cream: Add cream cheese, powdered sugar, and vanilla extract to your pudding mixture and blend well using a mixer.

Add Cool Whip: Once the pudding cream cheese mixture is smoothly blended, mix in cool whip until creamy and smooth.

Add crackers: Place a layer of graham crackers evenly along the bottom of an ungreased 9×9 baking dish. You may have to break the graham crackers to make an even layer, which is ok.

Spread: Smooth half of the cream cheese mixture over the graham cracker layer as evenly as you can. Then arrange a layer of strawberry slices over the cream cheese mixture placing them as closely together as you can.

Repeat these layers once more. graham crackers, cream cheese mixture, and ending with strawberries. Cover the dish in your refrigerator for 8 hours so that the flavors can combine, and the pudding can set.

Serve: Remove the cake from your refrigerator, slice it, and serve chilled.
Nutrition
Serving:
1
slice
|
Calories:
328
kcal
|
Carbohydrates:
29
g
|
Protein:
4
g
|
Fat:
22
g
|
Saturated Fat:
13
g
|
Polyunsaturated Fat:
1
g
|
Monounsaturated Fat:
6
g
|
Cholesterol:
64
mg
|
Sodium:
158
mg
|
Potassium:
188
mg
|
Fiber:
2
g
|
Sugar:
16
g
|
Vitamin A:
829
IU
|
Vitamin C:
30
mg
|
Calcium:
85
mg
|
Iron:
1
mg
Nutritional information is based on third-party calculations and should be considered estimates. Actual nutritional content will vary with brands used, measuring methods, portion sizes and more.