This turtle pie is a heavenly dessert recipe that is the perfect combination of rich chocolate, gooey caramel, and crunchy pecans, all nestled in a buttery graham cracker crust.
Whether treating yourself or impressing guests, it's one of our favorite pie recipes and one that you'll want to add to your recipe box.
Are you looking for more tasty dessert pie recipes to try? Why not have a go at a Chocolate Cream Cheese Pie to add new favorite desserts with melted chocolate? Or if you have pecans left, make a Possum Pie with them. Love the no-bake pie idea? Then you could make this No Bake Peanut Butter Pie without needing the oven.
Jump to:
What is Turtle Pie?
The name "Turtle Pie" actually comes from turtle candies. These delicious confections are made with chocolate, caramel, and pecans – the same trio of ingredients that give our pie its rich, irresistible flavor. The candies resemble the shape of a turtle, with the pecans forming the legs and head and the chocolate and caramel creating the shell. Clever, right?
This no-bake turtle pie recipe is the perfect homage to its candy counterpart. Over time, creative bakers decided to take the flavors of turtle candies and turn them into a mouth-watering pie. They combined a buttery crust, luscious caramel, crunchy pecans, and velvety chocolate to create the masterpiece we know and love today.
❤️ Why You'll Love This Recipe
Easy to make: Use the simple Oreo cookie crust recipe or even use a premade one to save time
Make-ahead recipe: You can make this recipe in advance if you want to. It's true; see my tips below on how to do that!
Simple to personalize: Got someone who isn't a caramel sauce fan? You can easily change ingredients and toppings to suit who will be tucking in.
🧾 Turtle Pie Ingredients
I've highlighted a couple of ingredients below with some relevant notes. Aside from this, the ingredients needed are pretty basic.
Cookies – We use chocolate sandwich cookies to create the base of the Turtle Pie.
Cream – Heavy cream is excellent for this as it has the right consistency for the filling and creates that creamy pie foam that's just extravagant perfection for these no-bake recipes.
Pudding mix – We use a cheesecake pudding mix to get the right flavor for the pie.
📖 Substitutions
Sometimes substitutions are necessary because of ingredients that are unavailable or needed for dietary restrictions. Here are some suggestions that can help:
Cookies – if you want to save some time, you can use a premade chocolate cookie crust for this recipe and miss out on the cookies and salted butter. Or, we've even made a Biscoff cookie crust for a lot of our pies, and it would probably be delicious for this too!
Caramel topping – Try swapping the caramel with butterscotch sauce or dulce de leche for a slightly different flavor. It's sweet, buttery, and oh-so-delicious!
Pecans: Walnuts make a great substitute if you don't have pecans. They're equally crunchy and offer a slightly different yet delightful taste. For a lighter, nuttier flavor, go for almonds. They'll add a lovely crunch and pair wonderfully with the other ingredients.
Pudding Mix: If you can't find cheesecake pudding mix, vanilla pudding mix or cool whip works just as well. It'll create creamy, velvety layers that complement the other flavors perfectly.
📖 Variations
We know you love our classic Turtle Pie, but sometimes it's fun to shake things up a bit! Here are some delightful topping alternatives to traditional chocolate, caramel sauces, and whipped cream. Feel free to mix and match these options to create your own unique spin on this delectable dessert:
Berrylicious Drizzle: Swap out the chocolate and caramel sauces for a luscious mixed berry sauce. Simply cook down some fresh or frozen berries with a touch of sugar and a squeeze of lemon juice. This fruity twist adds a burst of color and natural sweetness to your Turtle Pie.
White Chocolate Elegance: For a sophisticated variation replace the regular chocolate sauce with melted white chocolate chips for a sophisticated variation. It offers a delicate, creamy toucReplaceflavors in the pie.
Tropical Paradise: Bring a taste of the tropics to your dessert by swapping the whipped cream for a dollop of coconut cream. Drizzle with passion fruit or mango sauce for an exotic twist to transport your taste buds to a sunny island getaway.
👩🏻‍🍳 How to Make Turtle Pie
This turtle pie recipe is broken into three components:
pie crust
creamy filling
tasty toppings
You can make the pie a day in advance but leave off the toppings until you are ready to serve the dish; otherwise, they could spoil the consistency of the creamy filling
*Be sure to see the recipe card below for the full ingredients list & instructions!*
If you use a premade crust, skip the first step and move straight to creating the filling.
STEP 1. Make the crust. To crush 20 Oreo cookies, use a food processor or put them in a plastic bag and crush them with a rolling pin. (Image 1-4).
Tip: I prefer the crumbly texture of the pie crust; however, in case you want it to be firmer, you can finely crush the cookies.
STEP 2. Create the pie crust. Combine the crushed cookies with melted butter until they are all evenly coated. Next, firmly press the mixture into a 9-inch pie plate.
STEP 3. Make the pecan caramel topping. Chop the pecans. If desired, save some for topping. Then, mix the chopped pecans with caramel topping and salt. Spread the pecan mixture evenly over the Oreo crust in the pie plate. (Image 5-6).
STEP 4. Make the filling. To make the creamy caramel filling, use a large mixing bowl and beat the pudding mix and cream together until stiff peaks form. The mixture should have a spreadable consistency, slightly looser than buttercream. (Image 7-8).
STEP 5. Create the pie. Pour the jello mixture over the pecans in the pie plate and then place it in the refrigerator for at least one hour to allow the pie to become firm. (Image 9).
STEP 6: Add the toppings. To top the pie, drizzle the chocolate syrup and smooth caramel sauce. If needed, warm the caramel and chocolate for easier drizzling. Use whipped cream to decorate the pie's edge. If desired, sprinkle the reserved pecans on top. (Image 10).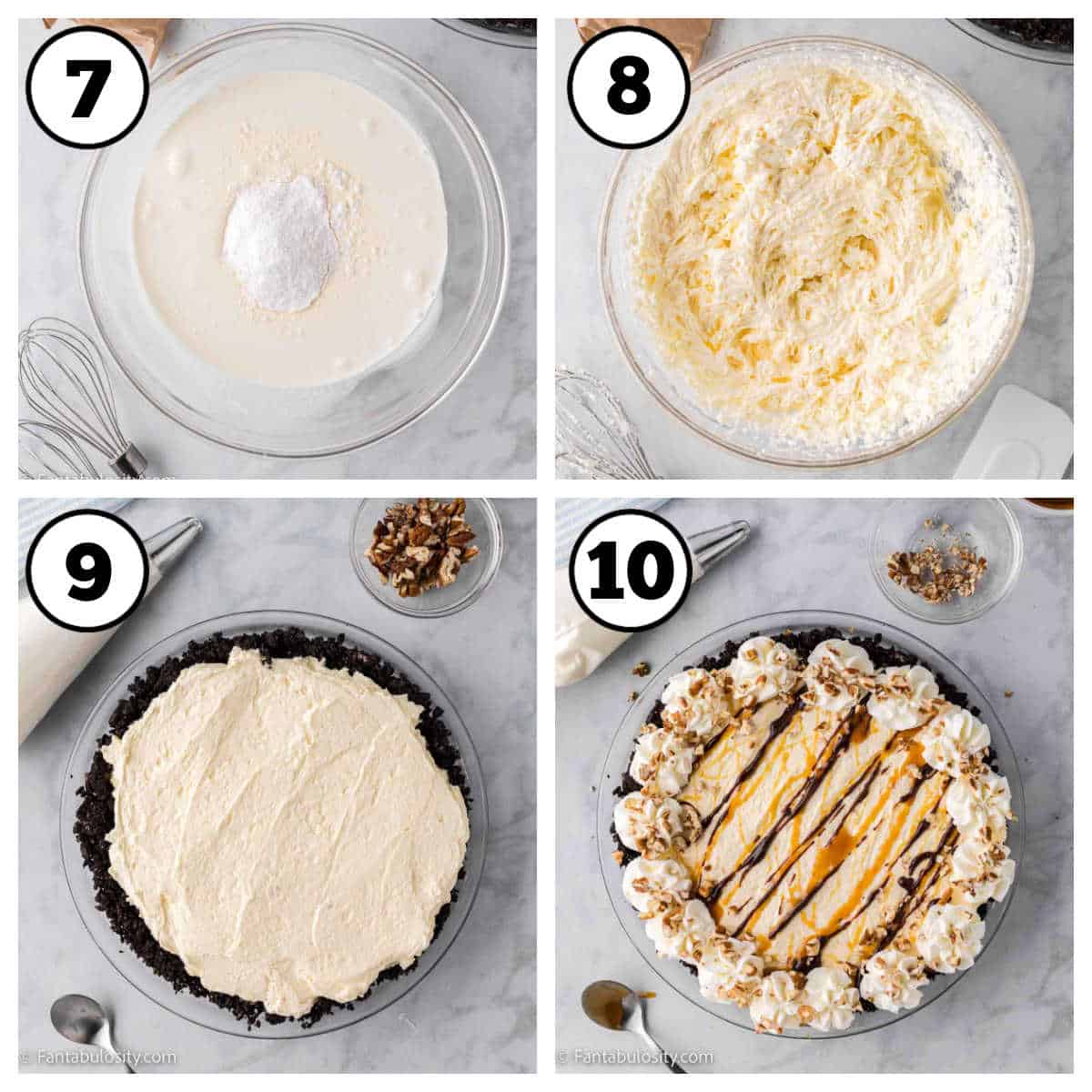 💭 Recipe Pro Tips
Cream topping: You can use canned whipped cream or whipped topping as an alternative to stabilized whipped cream for the topping.
Wait to add toppings: Adding toppings before refrigerating is fine, but if you plan to use store-bought whipped cream, remember that it may lose its texture and become watery.
📋 Recipe FAQs
Can I make Turtle Pie ahead of time?
Absolutely! Turtle Pie tastes even better when made in advance. This allows the flavors to meld together and the filling to set properly. Simply prepare the pie crust and filling, cover, and refrigerate for up to 2 days before serving. Great for special occasions!
Can I use different nuts in my Turtle Pie?
Of course! Feel free to get creative and swap out pecans for other nuts like walnuts, almonds, or even hazelnuts. The choice is yours – just remember to toast the nuts lightly for added crunch and flavor.
What if I don't have a pie dish? Can I still make Turtle Pie?
No worries! If you don't have a pie pan, you can easily use a 9-inch round or square baking dish or a springform pan. Just make sure to adjust the crust and filling quantities accordingly, and keep an eye on the baking time, as it may vary slightly.
🍽 What to Serve with Turtle Pie
This easy turtle pie recipe is a rich and decadent dessert, so it's best to serve it with something light and refreshing to balance the flavors. Here are some suggestions:
Fresh fruit salad: A colorful mix of seasonal fruits like berries, melon, pineapple, and kiwi can provide a bright contrast to the heaviness of turtle pie.
Vanilla ice cream: A scoop of ice cream such as vanilla can complement the pie's chocolate, caramel, and pecan flavors.
Sorbet: A tangy fruit sorbet, such as lemon or raspberry, can cleanse the palate between bites of the decadent dessert.
Coffee or tea: A hot cup of coffee or tea can help counterbalance the sweetness of the turtle pie, making for a satisfying end to a meal.
❄️ Storage
To store any leftovers, simply cover your Turtle Pie with plastic wrap or aluminum foil and refrigerate for up to 3 days.
🥧 More Recipes You'll Love
If this caramel turtle pie recipe has whet your appetite for more dessert pies, there are plenty of great ideas! An easy Banana Cream Pie is always a favorite in our house, while a Candy Cane Pie is fantastic around Christmas or whenever you want something a little sweeter. Finally, if you still have a sweet tooth, try a Pecan Mango Pie next.
Did you make this? I'd be so grateful if you left a "star" rated-review below to let me know what you thought! Then, the next time you need a quick and easy recipe, come back to Fantabulosity to browse all of my easy recipes!
📖 Recipe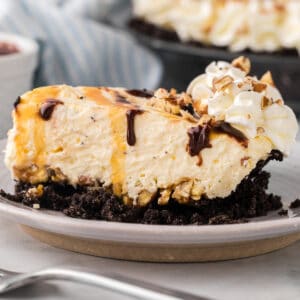 Turtle Pie
A delicious no bake pie made with caramel, pecans and chocolate. Similar to turtle candies, this pie recipe will be a new favorite.
Ingredients
Crust
20

chocolate sandwich cookies

4

tablespoons

salted butter
Filling
3

tablespoons

caramel topping

1/4

teaspoon

salt

2 1/2

cups

heavy whipping cream

1-3

ounces

cheesecake pudding mix
Toppings
chocolate sauce

caramel sauce

whipped cream
Instructions
Crust
If using a premade crust, skip the next two steps.

Crush 20 Oreo cookies with a food processor, or place cookies in a plastic bag and crush them with a rolling pen.

Mix crushed cookies with the melted butter until evenly coated. Then press the Cookie mixture into a 9-inch pie plate.
Filling
Chop the pecans; reserve some for topping, if desired. Then mix chopped pecans with caramel topping and salt.

Evenly spread the pecan mixture on top of the Oreo crust in the pie plate.

In a large mixing bowl, beat the pudding mix and cream until firm, stiff peaks form. The consistency should be easily spreadable and a little looser than buttercream.

Spread the pudding mixture over the pecans in the pie plate.

Refrigerate for at least one hour to allow the pie to set.
Topping
Drizzle the chocolate sauce and caramel on top of the pie. You may need to heat the Carmel and chocolate for easier drizzling.

Decorate the edge of the pie with whipped cream.

Sprinkle with the reserved pecans if desired.
Notes
Instead of stabilized whipped cream for the topping, you can also use canned whipped cream or whipped topping.
You can add toppings before refrigerating, but if using store-bought whipped cream, the cream will deflate and become watery. 
I like the texture of the crumbly crust for this pie, but if you want a firmer crust, finely crush the cookies. 
This pie can be made a day in advance. Add the toppings just before serving.
Cover and refrigerate any leftovers for up to three days. 
Nutrition
Calories:
472
kcal
|
Carbohydrates:
31
g
|
Protein:
4
g
|
Fat:
38
g
|
Saturated Fat:
22
g
|
Polyunsaturated Fat:
2
g
|
Monounsaturated Fat:
11
g
|
Trans Fat:
0.2
g
|
Cholesterol:
99
mg
|
Sodium:
329
mg
|
Potassium:
148
mg
|
Fiber:
1
g
|
Sugar:
21
g
|
Vitamin A:
1276
IU
|
Vitamin C:
0.5
mg
|
Calcium:
61
mg
|
Iron:
4
mg
Nutritional information is based on third-party calculations and should be considered estimates. Actual nutritional content will vary with brands used, measuring methods, portion sizes and more.