This post brought to you by The Clorox Company. The content and opinions expressed below are that of Fantabulosity. 4 Sneaky Places Urine Smell Hides in your Bathroom: The areas that can get overlooked in the bathroom that traps that pesky smell, and how to get rid of it!
I have two little boys home. So I, along with many others in this world I'm sure, am VERY familiar with the urine smell in the bathroom. Before kiddos, I never really knew what moms meant when they said, things like, "The bathroom just always smells! Just wait Jessica… just wait."
I'd smile and secretly roll my eyes to the ignorance of what they were talking about. Two little boys, and 5 years in to parenthood… now I'M the mom saying, "Just wait dear, just wait." But I'm tickled to death to share how we finally CONQUERED the urine smell in our bathrooms here at home!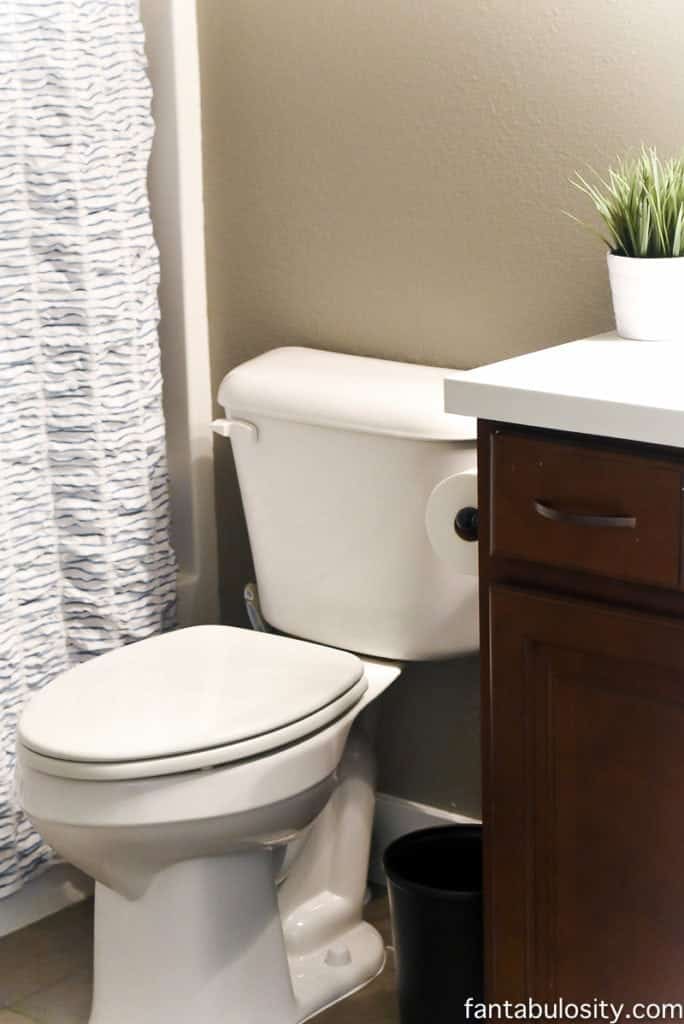 How to get rid of the urine smell in the bathroom…
After having a normal recap-of-the-day conversation with my husband one day, I mentioned that I was flabbergasted with the bathroom smell. I had spent HOURS in the boys bathroom that day, trying to clean everything that I could think of, to get rid of the urine smell from my potty trained (But yet not the best with "aim,") little boys.
He said, "Well have you tried "X," "X," and "X?" I must have looked at him like a deer in headlights with a whole new level of excitement. My husband may have helped me finally conquer the urine smell.
I immediately ran in to the bathroom, did what he suggested, and I kid you not… the urine smell was GONE!
Months. MONTHS!! I spent trying to get rid of that "smell," in the bathroom. My husband is officially genius. (Don't tell him I said that.) So now, I'm sharing with you what finally worked!
4 Sneaky Places Urine Smell Hides in your Bathroom
First and foremost, I have to say I also tackled these sneaky hiding places in the bathroom with the new Scentiva by Clorox. Guys…have you smelled this!? One of my friends came over the other day after my recent shopping trip to Target, and saw my Scentiva "haul," of the spray and wipes, and I had to admit that I'm in love, and had to stock up. I had her smell both scents, (Tuscan Lavender and Jasmine & Hawaiian Sunshine) and she went to the store later and bought it too. When I clean with this, the amazing smell lingers for hours. I ADORE using this in the bathroom to help make it smell delightful, PLUS is has the power of Clorox clean, (Kills 99.9% of Viruses & Bacteria, Cleans, Disinfects and Deodorizes) so it's a win-win.
1. Remove the toilet seat lid:
My husband has been building homes for years, so he will fill me in on tricks of the trade from time to time with household fixtures, and this is one of them. I had NO idea that the toilet seat would pop off so easily, and that this was a HUGE culprit of the bathroom smelling so awful.
Disclaimer: In this post, I show you a video and photos that you may not want to see if you have a weak stomach. But I feel like I MUST share it with you, so you can see what you may be missing in your very own bathroom.
See the hinge that I'm grabbing on to there? If you have a newer toilet, you may be able to just turn and twist this to unlock it. Then, when unlocked, grab the toilet seat and pull the toilet seat up, and off.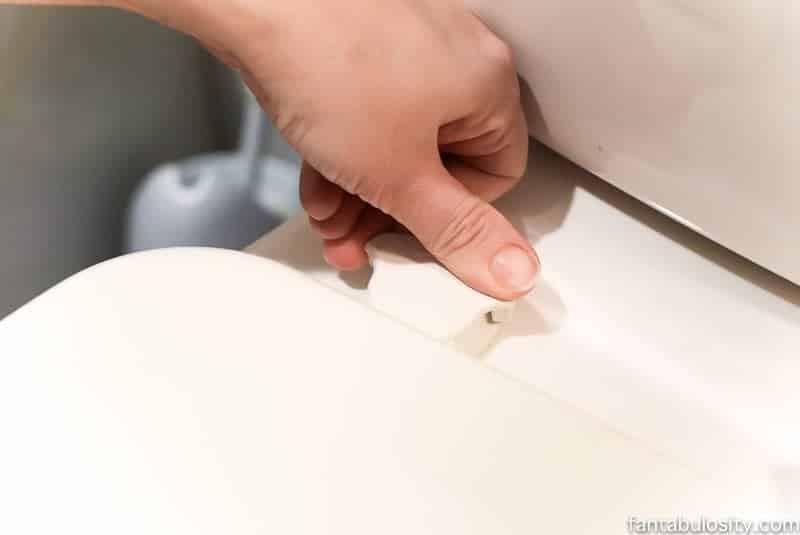 EW! Do you see that? It's the hidden spot that I can't get to, when I'm performing a normal cleaning operation! The urine will sneak in the crevices and just sit there, collecting.
So I grabbed a Scentiva wipe and went to town, cleaning away! When finished wiping away, simply lay the toilet seat back down, (don't forget to wipe down the underside of the toilet seat too), and lock back in to place.
If you have an older toilet, you may have to use a screwdriver to remove the lid.
2. Wipe Down Surrounding Furniture
When little boys are in the bathroom, (at least my little boys) they can get curious and start looking around, not really paying attention to what's going on. So this means that at times, they can splatter and the urine will end up splashing on the items located around the toilet. The side of the vanity, the side of the bathtub, etc. The moment that I realized that I couldn't see the urine spatter on the tub or vanity, but that it existed… changed my whole perception of cleaning. Wipe it down, even if you don't see it!
3. Wipe the Floor
I know how much work it can be to get out the mop, and fill the bucket full of soapy water. So I usually keep the Scentiva spray and wipes, underneath the sink, and when quickly running through the bathroom for quick cleanup, I'll wipe the floor around the toilet. Like mentioning earlier, urine can go EVERYWHERE, and the floor around the toilet is no exception. A quick wipe down can help prevent the urine smell. This way, you won't have to wait until it's time to mop again.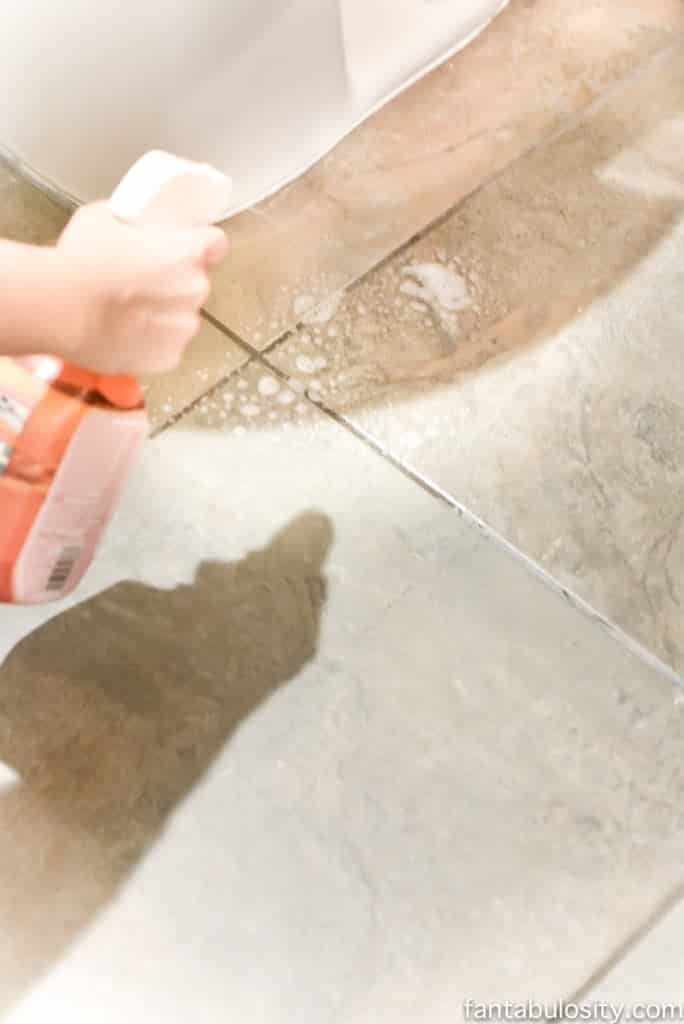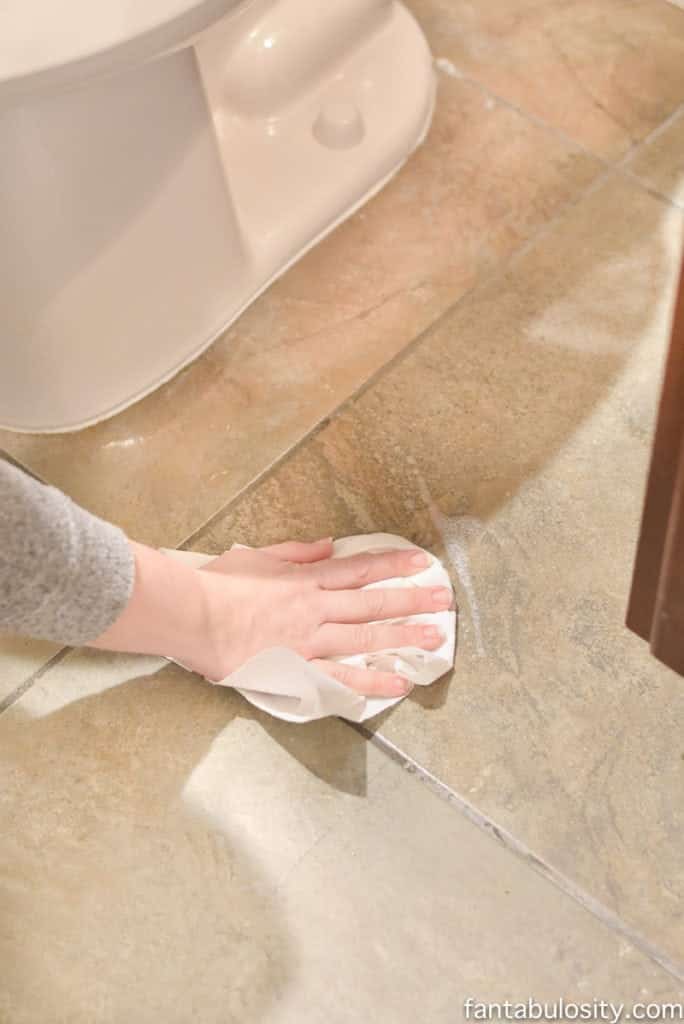 4. Remove the Rug
I've always wanted a rug in my bathroom, because it makes it feel a bit cozy. But hear me when I say, it will be one of the sneaky spots that the urine smell will hide. If you must have a rug, (like I like to have when my kiddos get out of the bath, but sometimes forget to remove it), I toss it in the washing machine. So my advice is to get rid of the rug, or wash it regularly for sure!
So happy you stopped by! I hope you found these 4 tips helpful for getting rid of the urine smell in your bathroom!
If you have kiddos at home, then you'll also love seeing my tips for how to keep the school germs out of your house!
Now that you've seen the most disgusting part of our home, come take a gander at the rest on our Home Tour. I promise, no more pictures of urine on the toilet. 😉