This post was created in partnership with Ninja Coffee Bar® System. I received complimentary products and compensation to facilitate my review, but all opinions within are my own.
DIY Coffee Bar Ideas for the Kitchen: An easy set-up for a small coffee station in the kitchen, dining room, or any small space in your home. Keeping it simple, and cute!
I'm slightly crushing on DIY coffee bar ideas all over Pinterest. Ok, ok, a LOT crushing on them. Ever since we moved in to our home a couple of years ago (have I mentioned that we are listing this one soon?? I know, we are absolutely CRAZY.) I've wanted a small designated space in our kitchen for a built-in coffee bar, for everyday coffee recipe creations and for entertaining.
Not realizing this at the time of building, I didn't really set aside a space for such a thing. But I did have a little extra space in the breakfast nook area for a small table, that I kept my eye out for at antique shops and flea markets. The day that I found the cutest little dark brown (yes, dark brown) table at a used furniture shop, I knew she had to be mine and that she was going to be my little coffee bar table. My right-hand gal Kate (who LOVES to refinish furniture), took the table under her wing and turned it in to exactly what I imagined.
DIY Coffee Bar Ideas for the Kitchen & Entertaining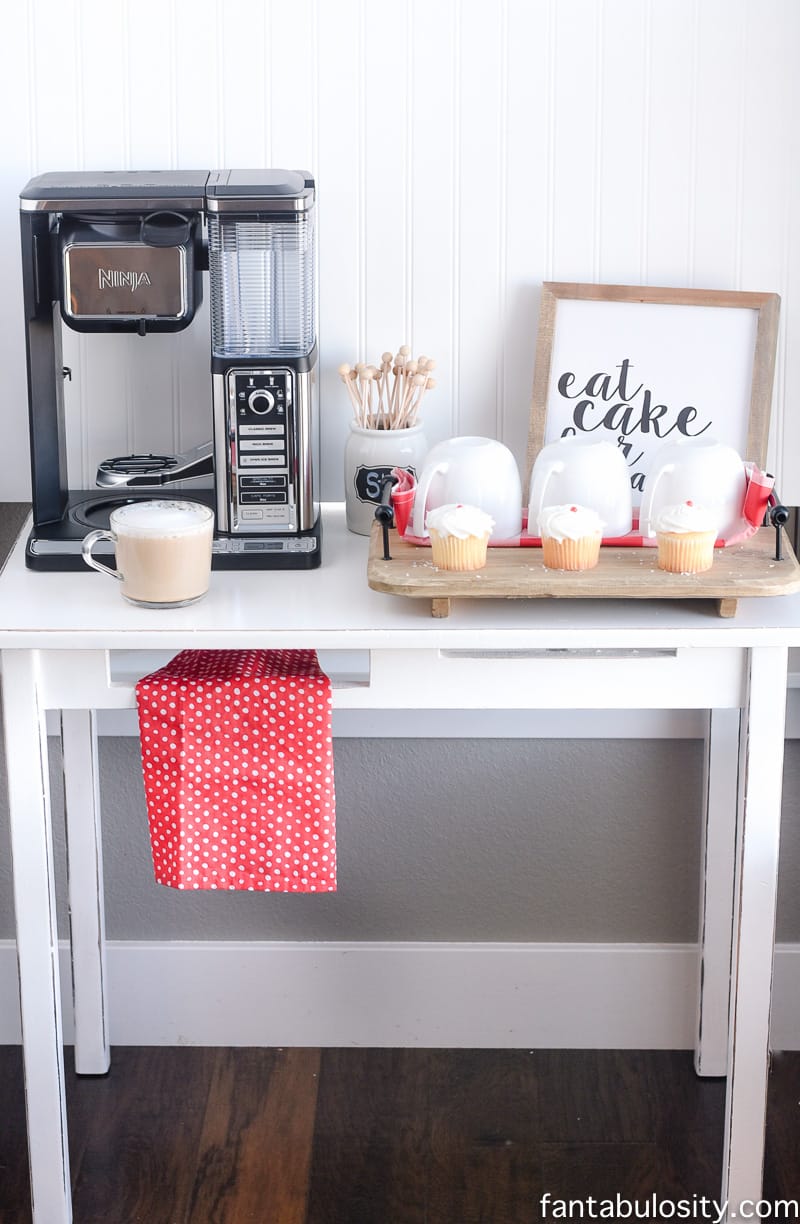 Coffee Bar Ideas:
No matter if you have a designated space or just a small space to squeeze in a few coffee bar items, I wanted to give you a few ideas of what you could do, to create a coffee bar in your home.
1. Cute Table
Think outside of the box when needing a place to store your coffee bar items. You don't have to go big or go home when it comes to finding something cute and practical. Keep your eyes open for used furniture, or even look around your home for something that would serve as a great coffee bar table! You may be surprised at what you can find!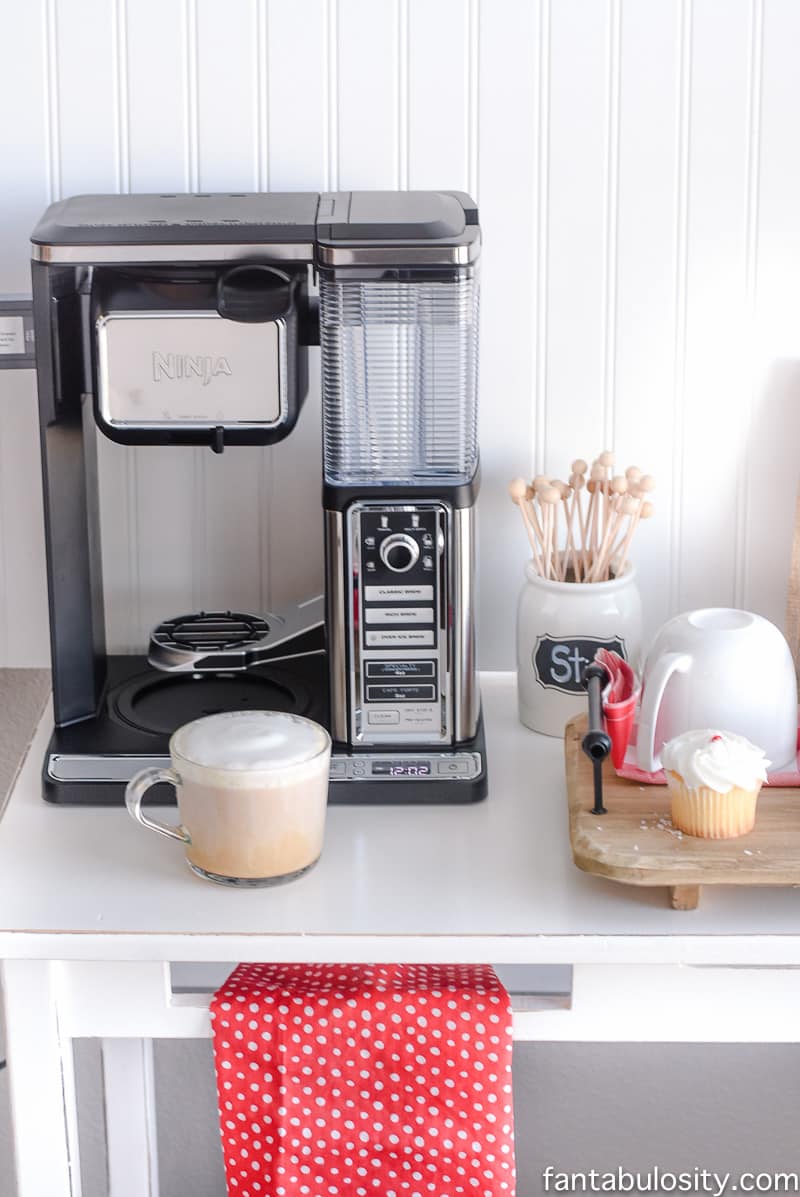 2. Coffee Bar Decor:
Whether it's a small sign, a vase full of flowers, or something else that would fit the style of your home… adding a bit of decor to a coffee station can make it suddenly feel homey and "dressed up." For our coffee bar station, I already had the "Eat Cake for Breakfast," sign, and since I frequent the coffee bar in the morning around breakfast time… it was absolutely fitting.
I found a cute croc to store the drink stirrers in, that also helped add a bit of a decor touch.
The cupcakes?  Yeah, those are real. When entertaining, I LOVE having this coffee bar set up with fun snacks and bite-size foods for my guests.
If you're looking to add this type of look to your coffee bar too, but don't always want real food sitting out, you'd be SURPRISED at the artificial food that you can find at craft stores these days! Artificial donuts, bagels, cupcakes, and cookies would look so stinking cute on a coffee bar table.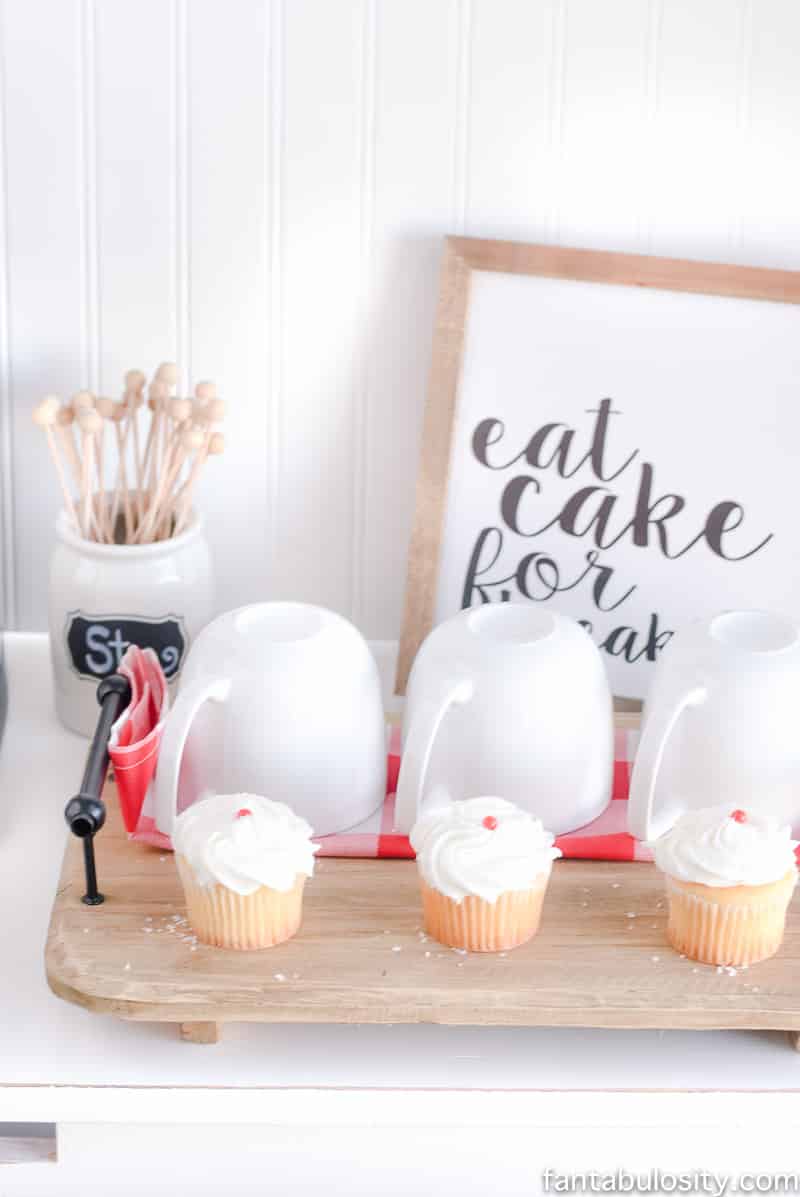 3. Coffee Cups
It's always a great idea to have coffee cups ready to go at the coffee bar station. I'm a sucker for all-matching coffee cups like the white mugs that I have here. (But don't get me wrong, I have a ton of mismatched random cups just like you, hiding away in my cupboard.)  When having guests over, take all of the guesswork out of how to "help themselves," by making sure everything they would need is already sitting out and ready.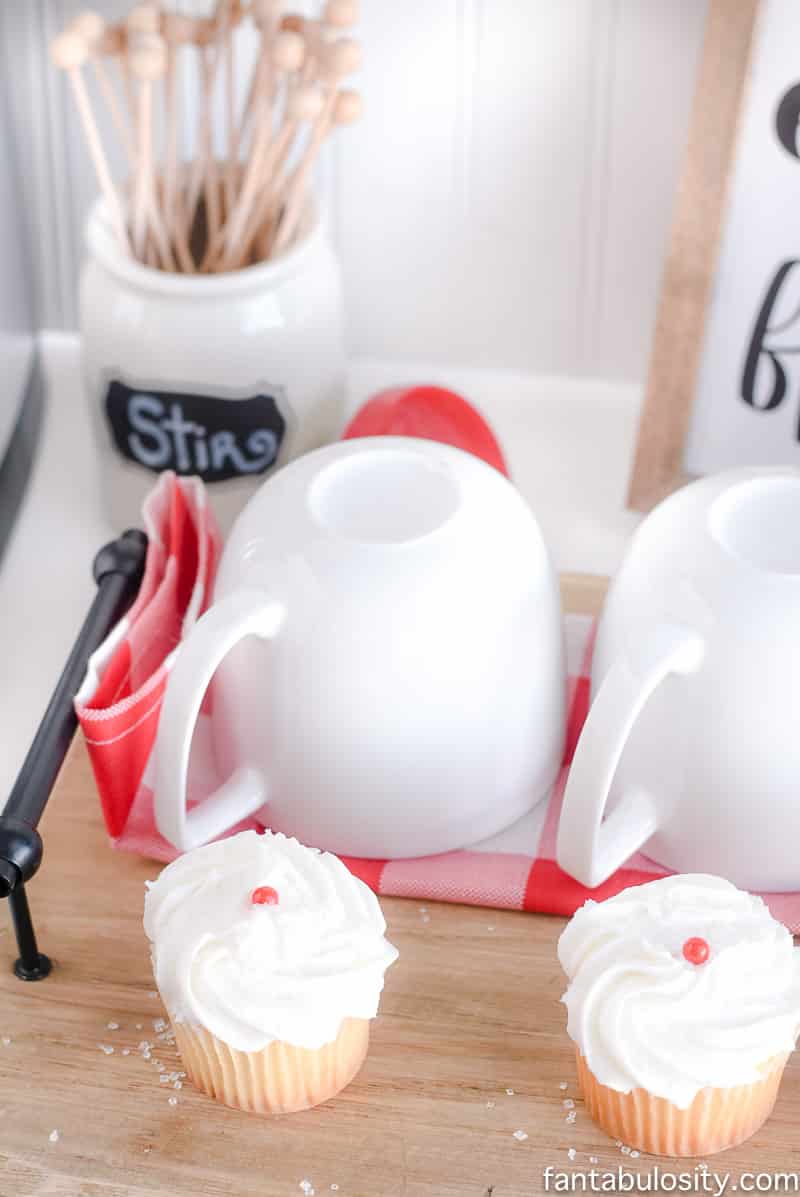 4. Coffee System
Then the most important aspect of the coffee bar… a coffee system. You all, I have fallen in absolute love with the Ninja Coffee Bar® System. I've had my eye on this guy for quite some time, and I finally have my hands on one. Its sleek appearance looks STUNNING on my coffee bar, and doesn't take up a ton of space. It amazes me what all this thing can do, in such a compact space.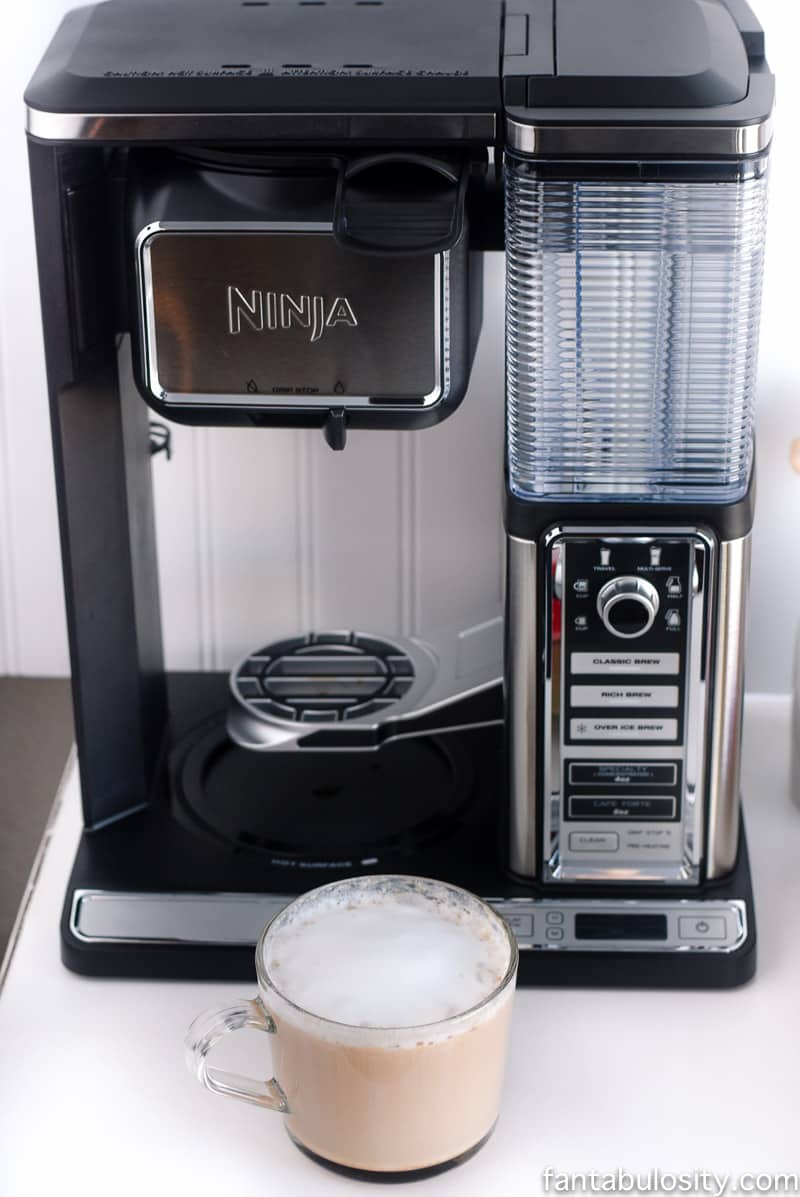 When I gave a sneak peek on Facebook the other day of one of my first coffee's that I made with this, I couldn't believe the response from you all, about how bad that you've wanted one too.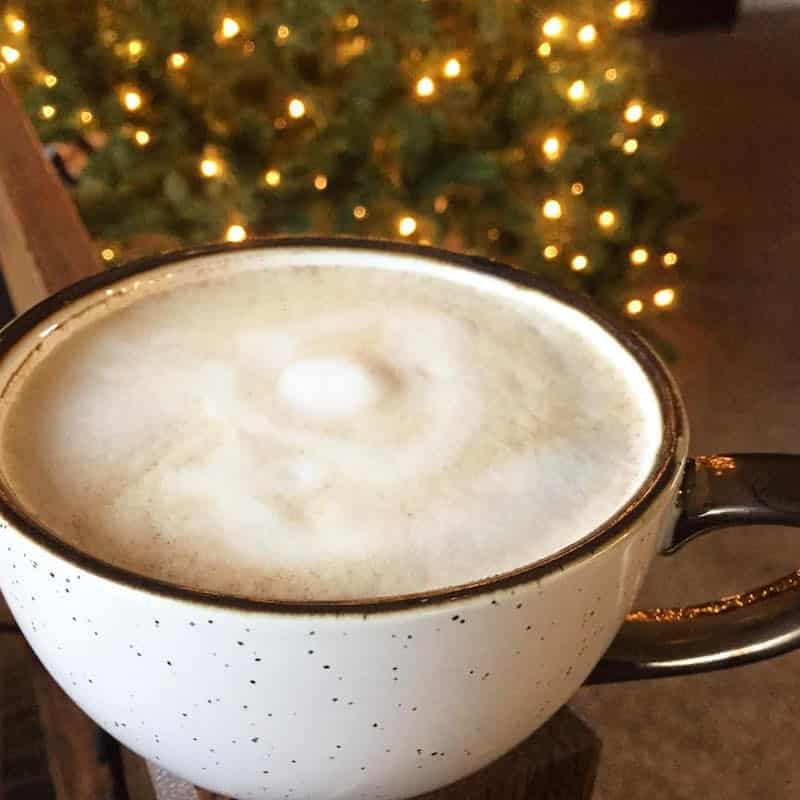 A Few Details on the Ninja Coffee Bar® System:
You all, the set up was so easy, the moment I pulled it out of the box. I was so intimidated at first, thinking that I'd have to put it all together, and I didn't! It was ready to go, with a quick-start guide! 

No guess-work:
It has a "Ninja Smart™ Scoop," with it, so I can measure out exactly how much coffee to brew, for the amount that I need to make, day to day.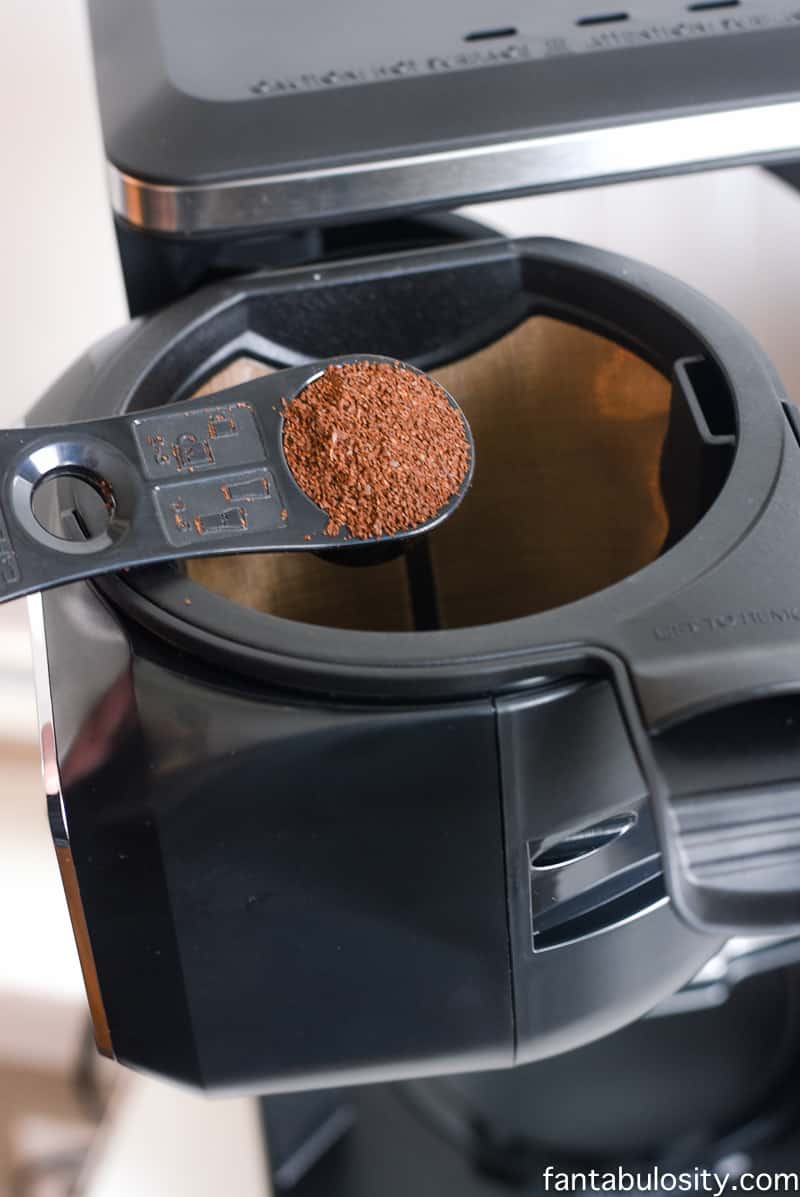 Big or Small Brew:
I can make a 10-cup glass carafe on the mornings that I know my husband and I will be drinking more than one cup. Or, if it's just me at home… I can brew one cup and call it a day!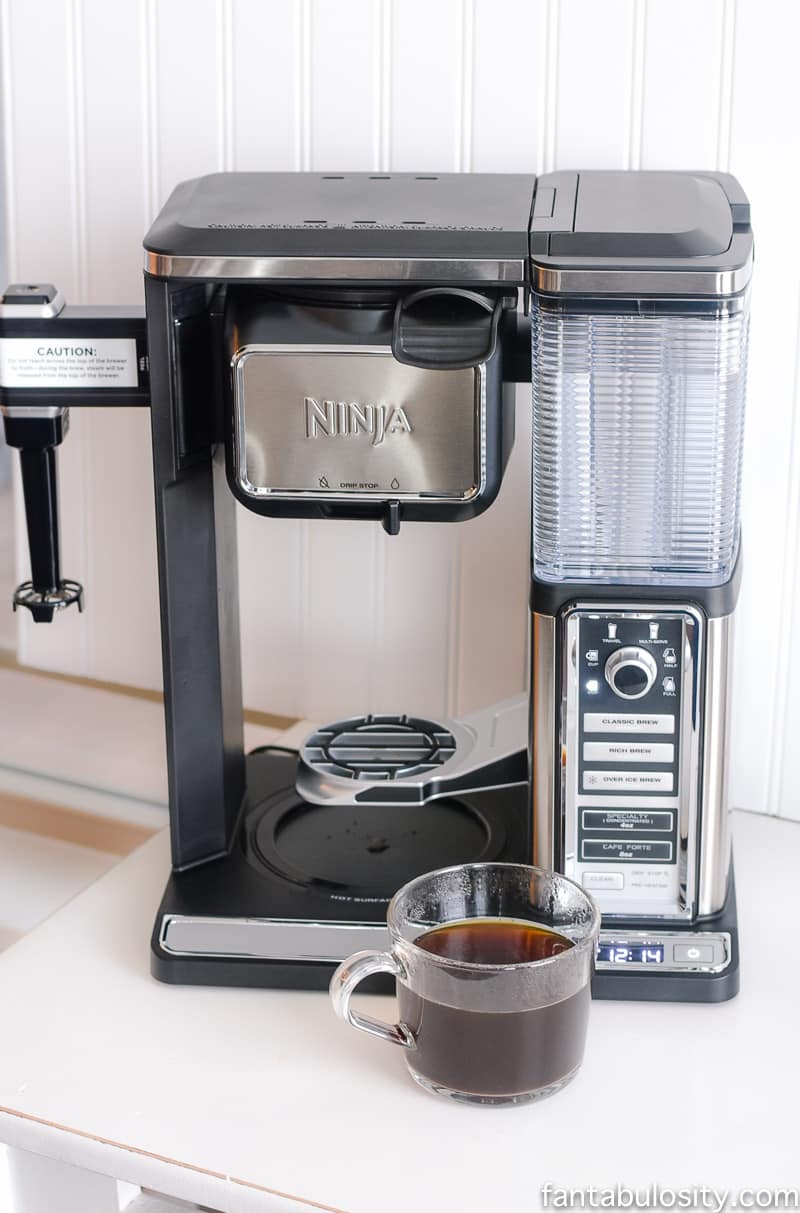 Frother:
The system includes a built-in hot and cold frother, (I LOVE this feature), six brew sizes… and five brew types (including the Ninja-exclusive Cafe Forte brew, which amplifies the flavors of your favorite coffee. I didn't even know how GOOD coffee could taste at home, until I used this feature. I kid you not.)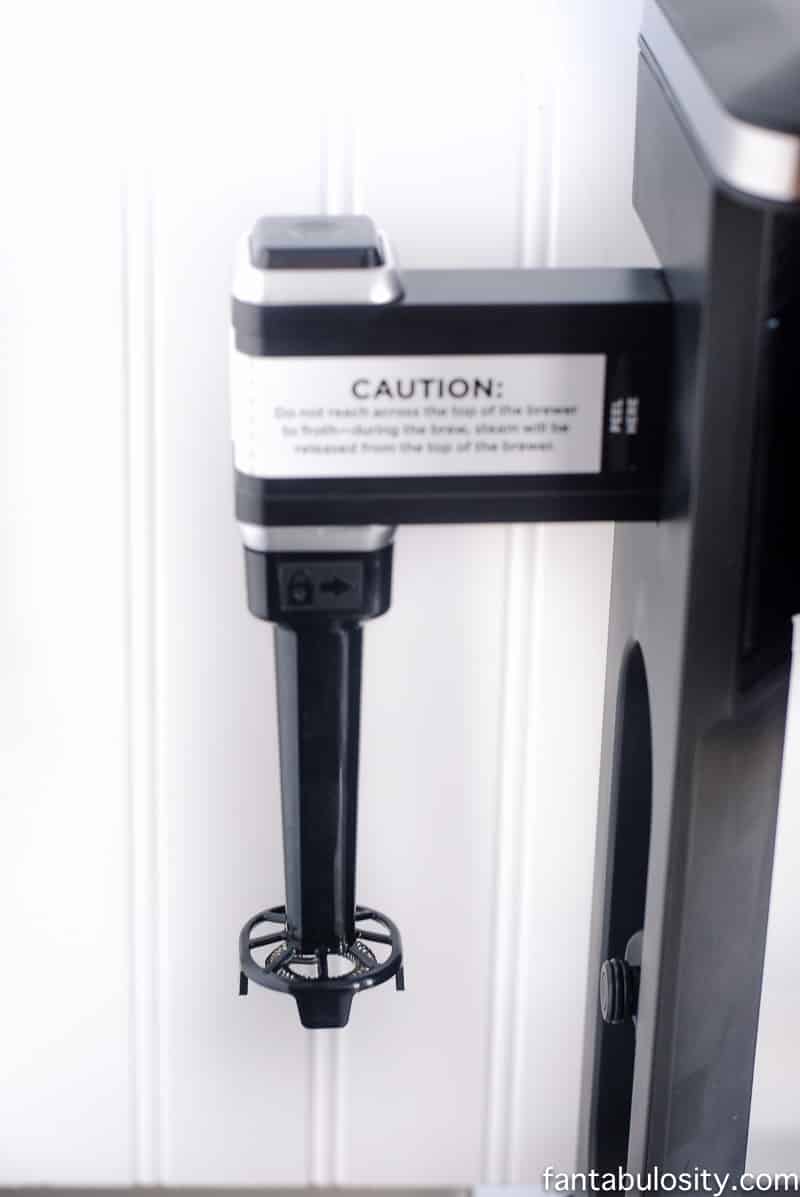 Inner Barista:
Then it also came with a recipe book that has customized recipes, of fun beverages to make and experiment with! I'll admit, my inner barista totally slips out some days.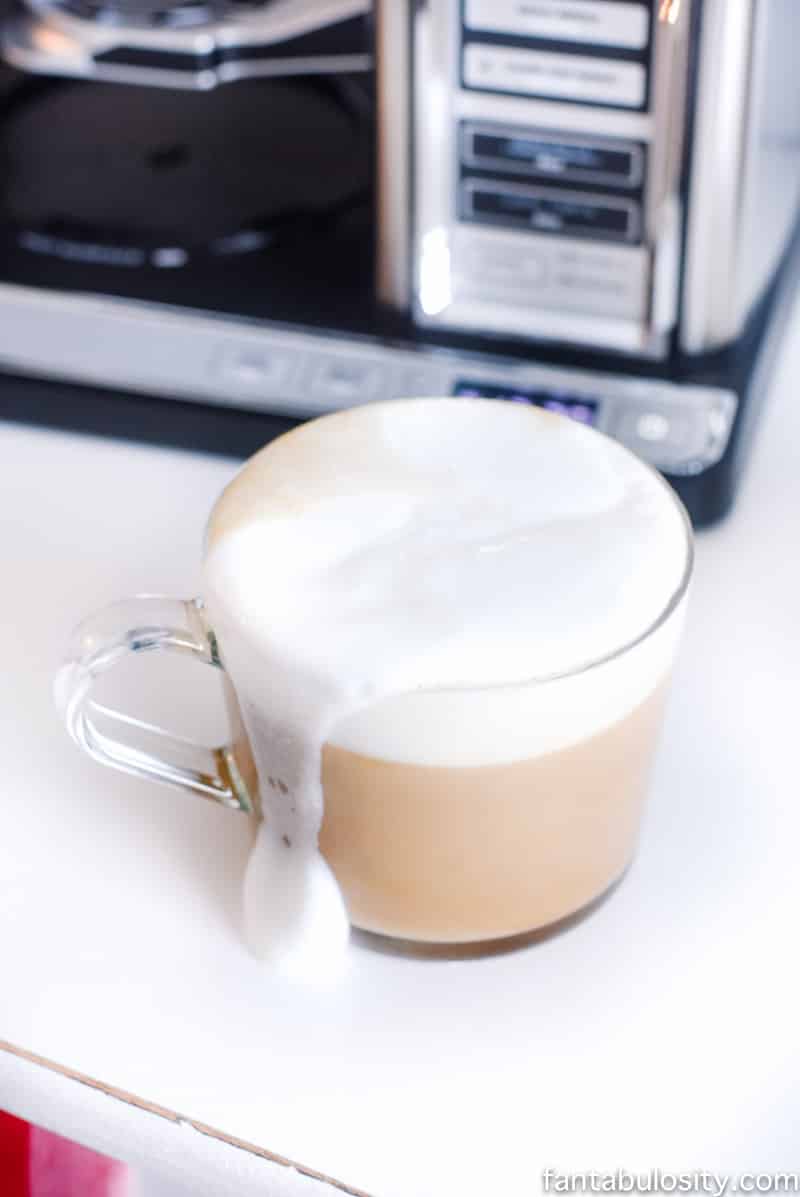 Mmmm…. I have so much fun experimenting with different recipes. But my favorite so far? This one. A simple brew of coffee, frothed milk, topped with bits of toffee.
Easy clean-up:
It has a permanent filter, that I can just clean out when we're done with coffee for the day, and easily get it ready for the next. No need for disposable filters.
Eeeek! I couldn't WAIT to share my new coffee bar with you all! I hope you love it as much as we do!