20 eggplant recipes to add to your Pinterest boards and weekly dinner menu: Roasted, fried, Italian, healthy, grilled and so much more!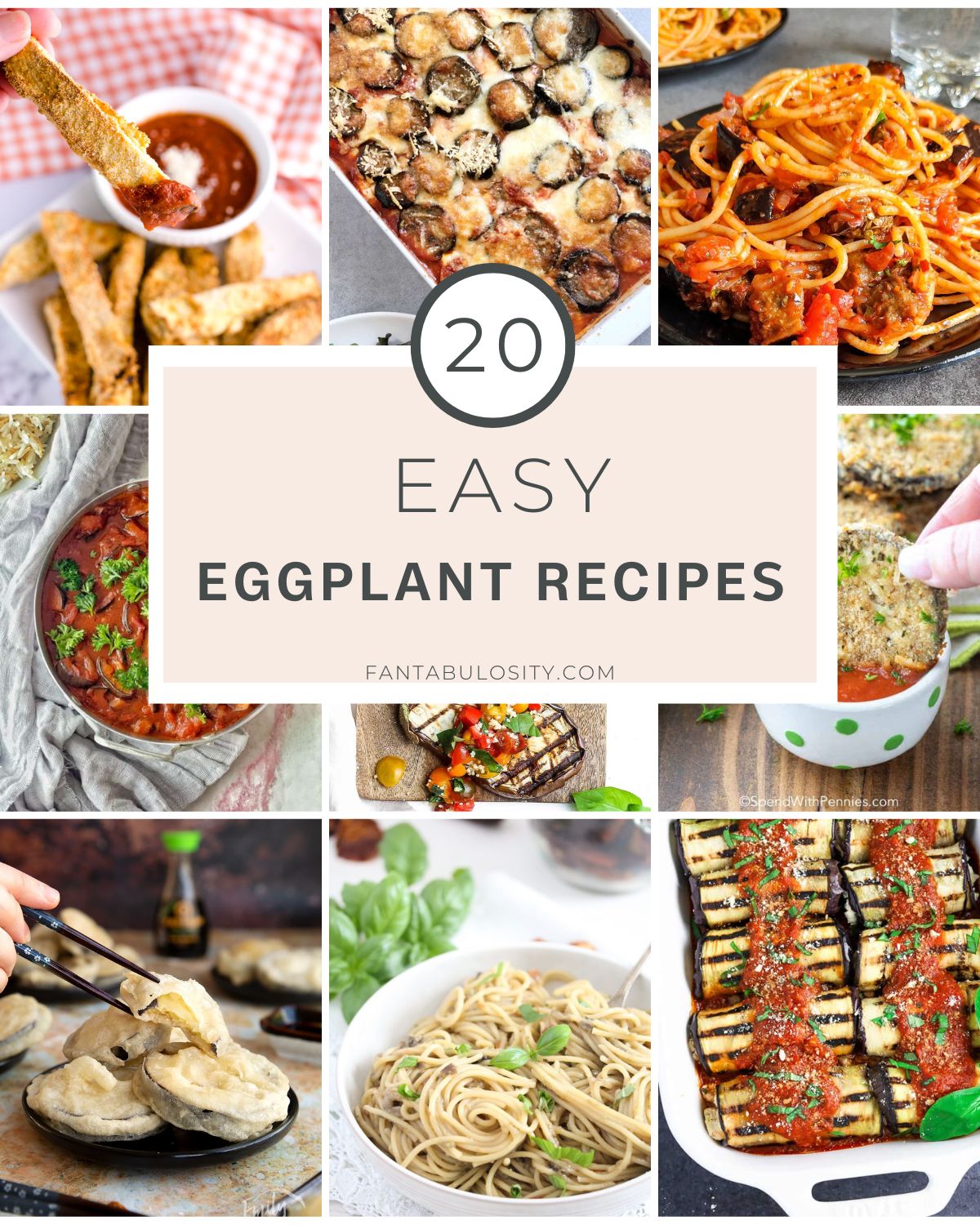 Eggplant Recipes
Eggplants are popular vegetables to use in recipes, possibly because they are easily one of the most versatile vegetables out there.
Whether you are looking for a hearty main course or a simple snack or side dish, eggplants are a perfect choice! Plus, eggplant is so easy to incorporate into foods you already love!
More Recipes You'll Love:
Healthy Eggplant Recipes
Eggplants offer so many great health benefits and can easily make any recipe low carb or even vegan! They are rich in antioxidants, help lower blood pressure, and even reduce your risk of heart disease!
Easy Eggplant Recipes
Many of these recipes are so simple to make, you'll wonder why you didn't try them sooner!
Roasted, Fried, Italian, Grilled & MORE Eggplant Recipes
Here you'll find eggplant recipes that make the perfect dinner or even a side dish for your next meal.
Air Fryer Eggplant Fries by Fantabulosity
Have you ever made fries with eggplant? This recipe is so easy and makes for the best healthier fries right from the air fryer.
Eggplant Pancakes by The Top Meal
Incorporate healthy eggplant into breakfast with these unique and tasty pancakes. These savory cakes are going to be a favorite way to make things deliciously interesting at the first meal of the day.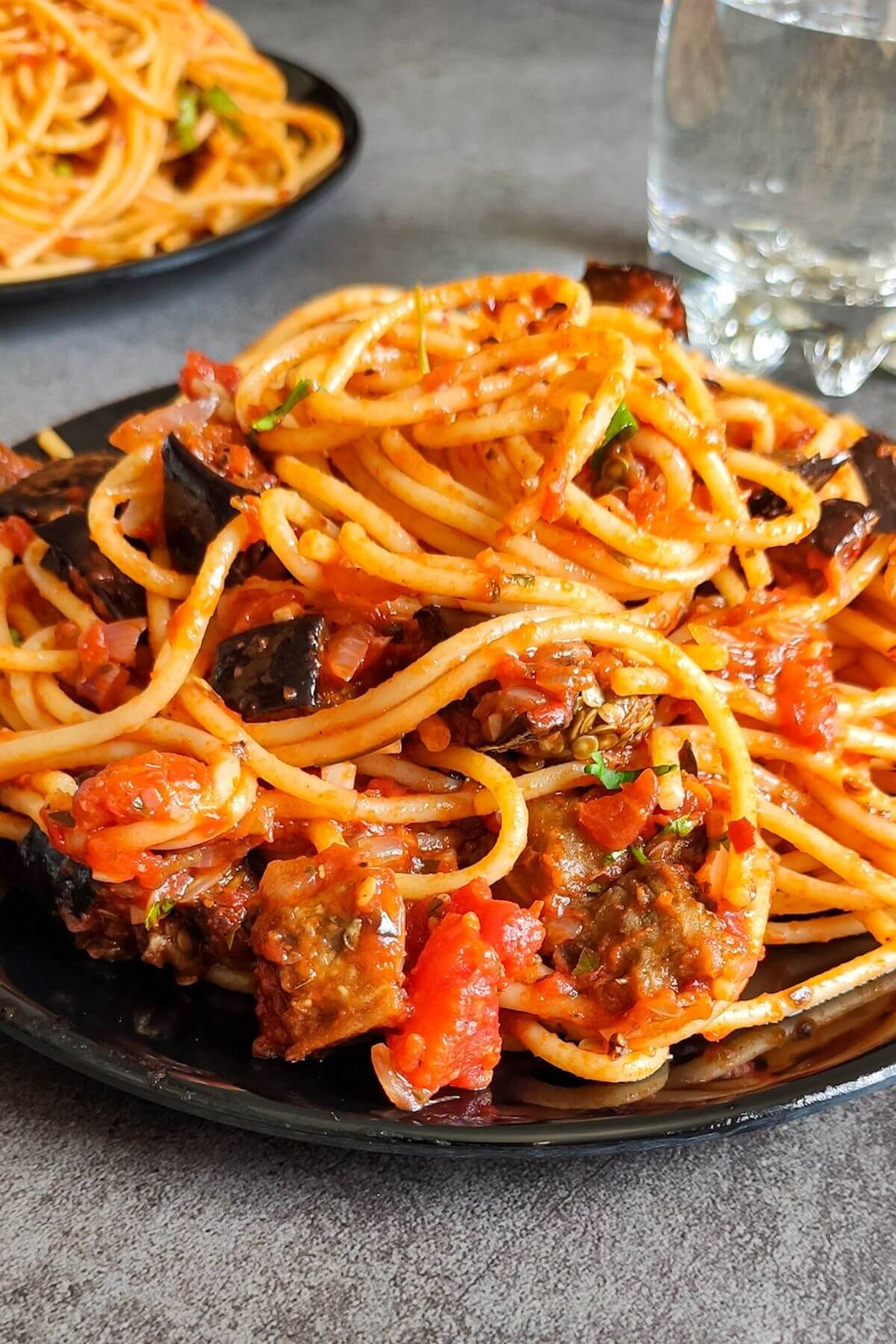 Eggplant Pasta by Green Bowl 2 Soul
Roasted eggplant pairs perfectly with pasta and tomato sauce. This makes a great summertime dinner that is veggie packed for a filling meal.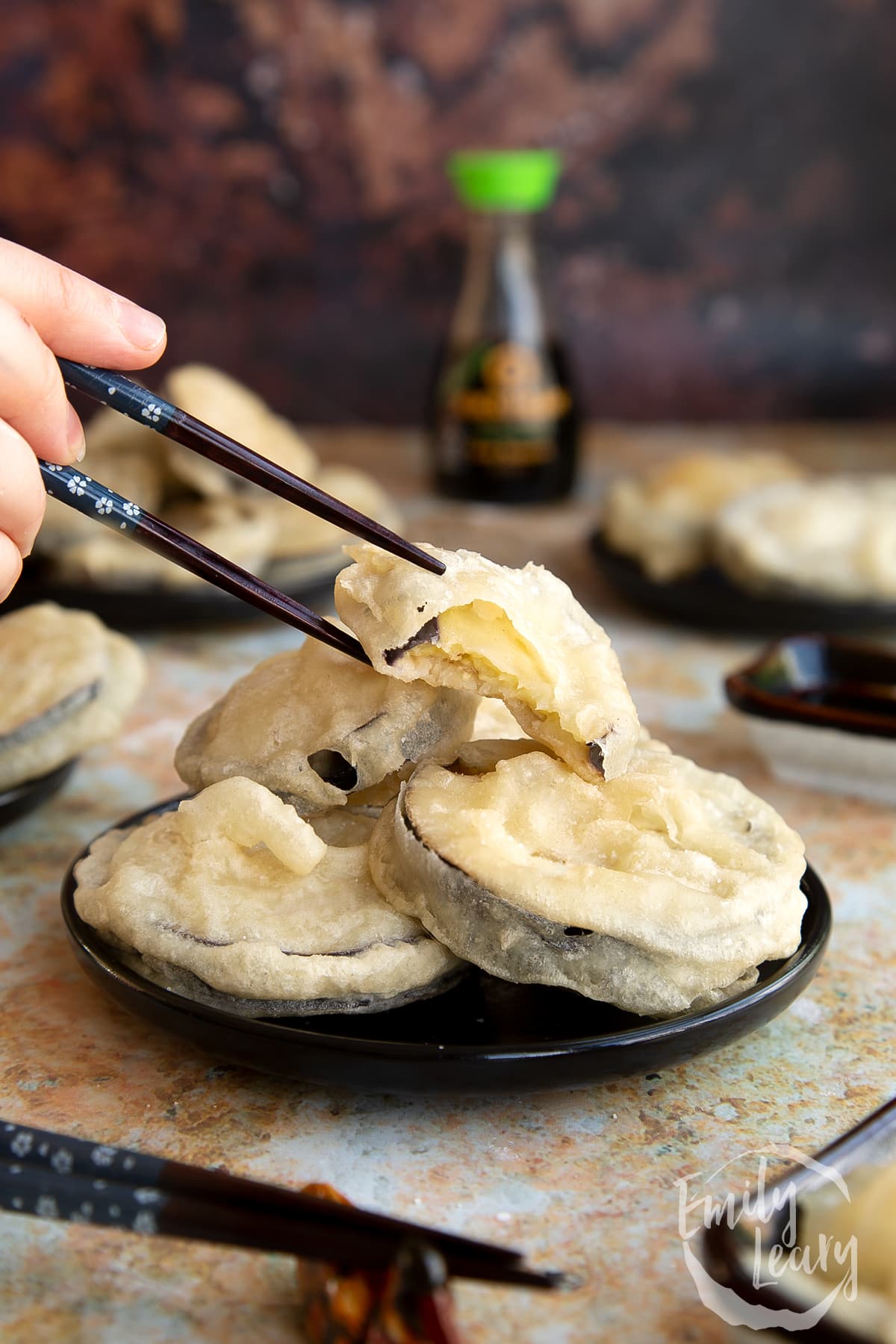 Eggplant Tempura by A Mummy Too
This recipe is so tasty that you can fake your family out. They would absolutely believe these crispy battered tempura eggplants came from a great restaurant.
Baba Ganoush by Pinch and Swirl
This spread is smoky, creamy and oh so good. Bake your eggplant in the oven to speed the process up without sacrificing flavor.
Baked Eggplant Gratin by Joy Filled Eats
This easy side dish has the best garlic and basil sauce. It is creamy, easy to prepare and is vegan, so everyone can enjoy a scoop.
Melanzane Parmigiana by Emma Eats and Explores
This dish feels as cozy as the best pasta dinner, but it doesn't have the noodles. I know you will love the three cheese blend this eggplant dish offers. It tastes perfect with the eggplant.
Eggplant Rollatini by Vegan Huggs
Make long thin slices of eggplant and tuck plenty of ricotta inside. This simple meal is vegan, and has the best smoky flavor for a dish that delights with every bite.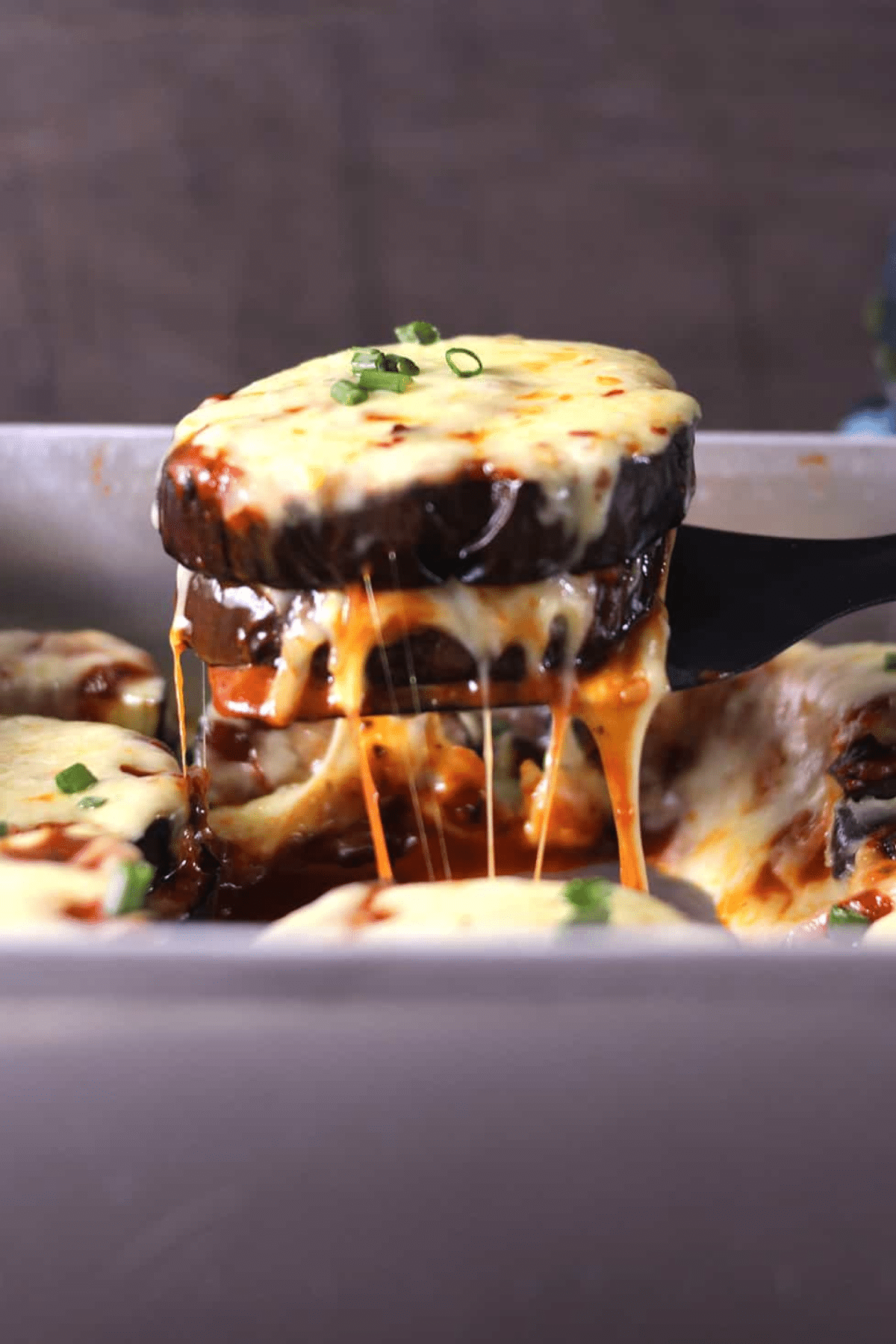 Easy Cheesy Eggplant Casserole by Cook With Kushi
If you have some eggplant, cheese and tomato sauce, you can whip up this delicious and easy dish. It works as a side or the main course on those nights you want a meatless meal.
Eggplant Fries with Honey by The Foodolic
Bring the flavor of a favorite tapas from Spain to the table with this simply delicious way to serve eggplant. Coarse salt, fresh eggplant and sweet honey make this such a yummy side or starter to share.
Eggplant Masala by Rosanna Etc
Spinach, chickpeas, eggplant and masala spices make this dish completely delicious. You will want to serve this with yogurt on top to add a creaminess that sets this dish off.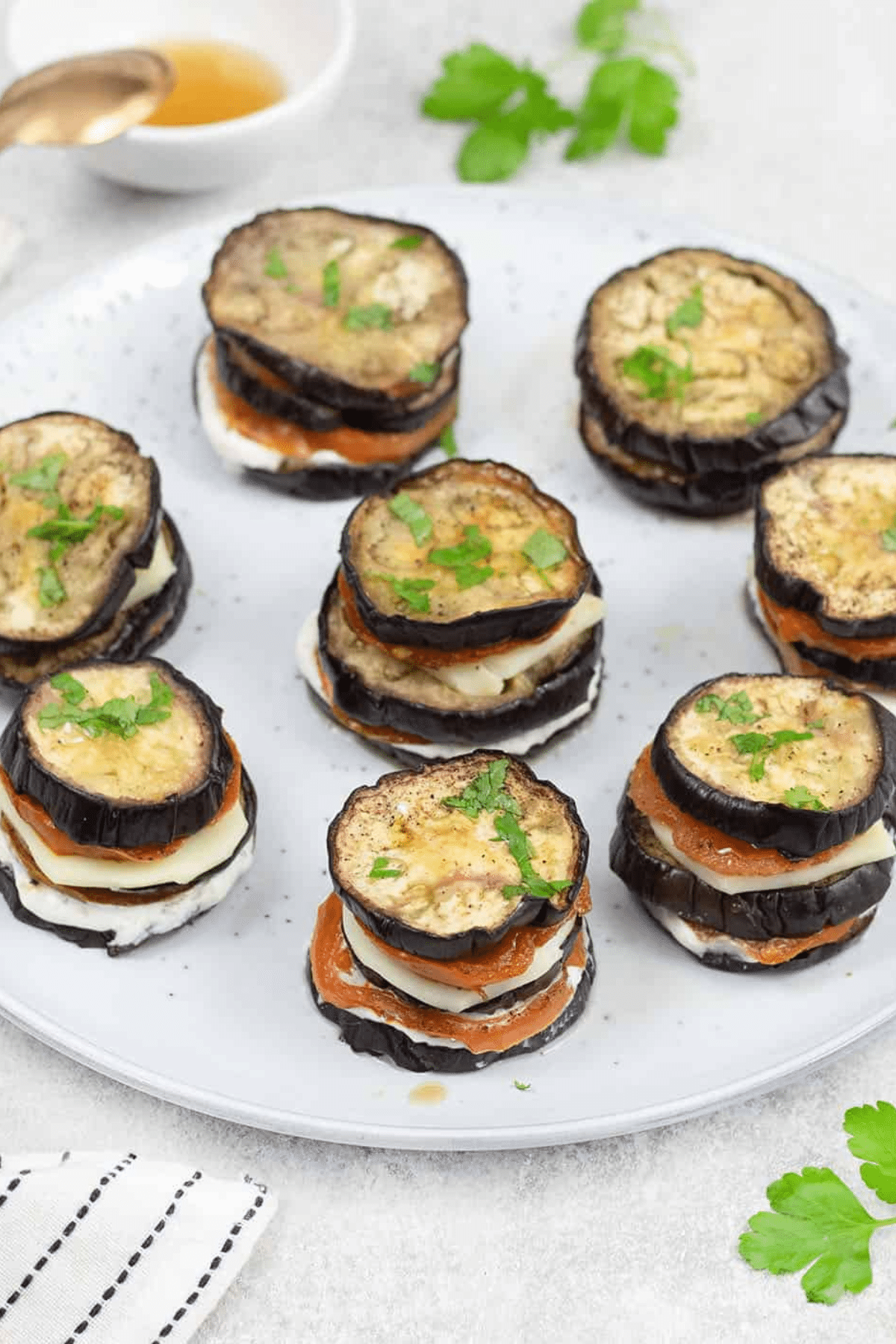 Eggplant Napoleon by Healthy Life Trainer
This dish is so easy to assemble, but it has so much fantastic flavor! Layers od eggplant slices, tomato sauce and cheese come together to make a perfect summer meal that won't weigh you down.
Crispy Baked Eggplant by Spend with Pennies
Bake this crispy eggplant for a healthy and delicious side. This will pair well with burgers, pasta or chicken for a fast and filling addition to dinner.
Mediterranean Eggplant Stew by Sour and Sweets
This stew is loaded with tasty ingredients like eggplant, tomatoes, and onions to make a meal that is like a vacation for your taste buds. Get the flavors of the Mediterranean on your dinner table!
Pasta Alla Norma by Gypsy Plate
This dish is a Sicilian classic for good reason; it is delicious! Make this pasta dish with buttery eggplant and tomato sauce for a meatless meal that is simple and so satisfying on a summer night.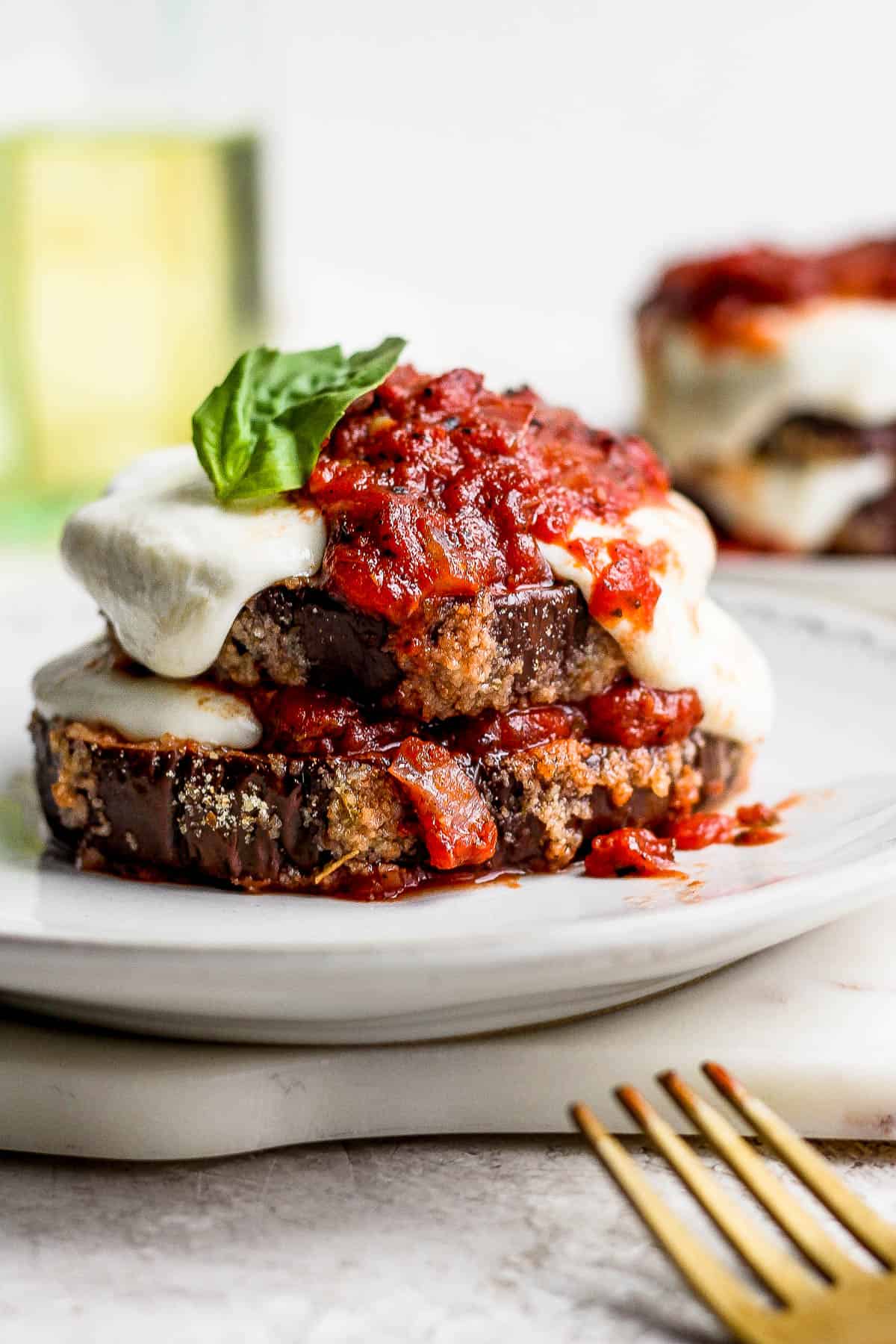 Baked Eggplant Parmesan by The Wooden Skillet
Baked eggplant parm makes for such a wonderful summer meal. With crispy bread eggplant, tangy tomato sauce and creamy, melty cheese, what's not to love? Serve this dish with a salad and a glass of wine for the ultimate healthier indulgence.
Cheesy Baked Italian Sausage Casserole by Mae's Menu
This Italian sausage baked casserole is loaded with cheese and it has eggplant cubes to add plenty of healthy, in season eggplant. The ricotta cheese layer makes this easy casserole feel extra indulgent.
Aubergine Spaghetti by Where Is My Spoon
Skip the red sauce, and go with this creamy garlic eggplant sauce. It is completely delicious and makes for such a great twist on pasta for dinner, using seasonal ingredients.
Crispy Eggplant by I Heart Vegetables
This crispy eggplant is sure to be a summer side you can't stop eating. Pair it with grilled meats, or simple summer sandwiches for a flavorful meal that uses in season produce for healthier eating.
Grilled Eggplant by The Wooden Skillet
This grilled eggplant is loaded with seasonal goodies like fresh tomatoes and garlic drizzle with olive oil to make a bruschetta unlike any other! It is so good that you will want to make this every week as an appetizer.
More Eggplant Recipes?
Have a favorite eggplant recipe? Share it right here in the comments below! I'd love to add it to my list!