This shop has been compensated by Collective Bias, Inc. and its advertiser. All opinions are mine alone. #GameDayGoldfish #CollectiveBias
Football Bingo for Kids – Free Printable for parties, watching the big game, or football loving kiddos! Print and keep them entertained, using snacks as the daubers.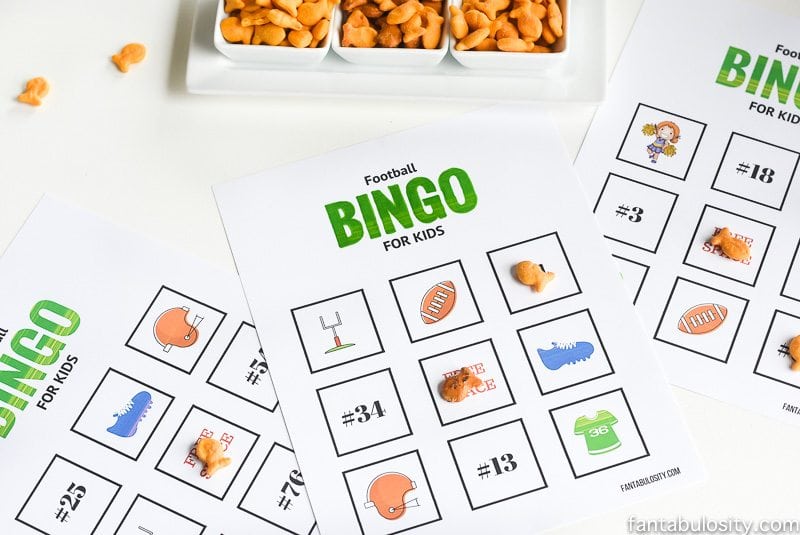 Oh my goodness. I had so much fun designing this Football Bingo for kids! It's the same program I used when I make birthday party invitations! When trying to think of something to keep the kiddos entertained while others watch the BIG GAME that's coming up, BINGO came to mind immediately. A fun and easy game kiddos always seem to love!
I wanted to make them feel included on game day, since they may not be able to completely grasp watching the football game in it's entirety, I created 6 different BINGO sheets, that are "football," themed for them!
Football Bingo for Kids
What I love about this idea, is that fun snacks like Goldfish® crackers (A wholesome snack, instead of sugary sweet items) can be used for daubers, AND they can snack while they play! My kiddos LOVE Goldfish crackers (The Snack That Smiles Back®, hee hee)… and it's a good excuse for me to buy them, when I love them just as much as they do. 😉 I grab the big bulk sizes of Goldfish crackers at Target, back towards the "rear seasonal," aisle. They last a while for us, since they're 30 and 34 oz. (I'm a big lover of buying in bulk, if you haven't noticed that by now.)
Side note: Right now, you can get 10% off of the bulk Goldfish crackers with the Cartwheel app for Target HERE!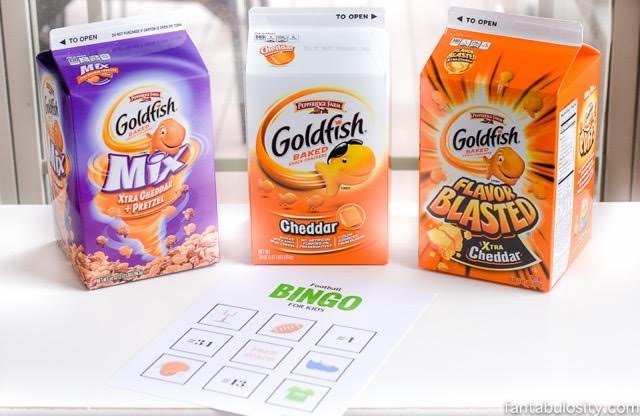 For "party time," I'll grab a few different flavors, to let the kids choose which they want to snack on. Now don't EVEN put the box of the Xtra Cheddar Flavor Blasted Goldfish 30 oz. Cartons in front of me, because I may not leave much for the kids. 🙂
How to Play: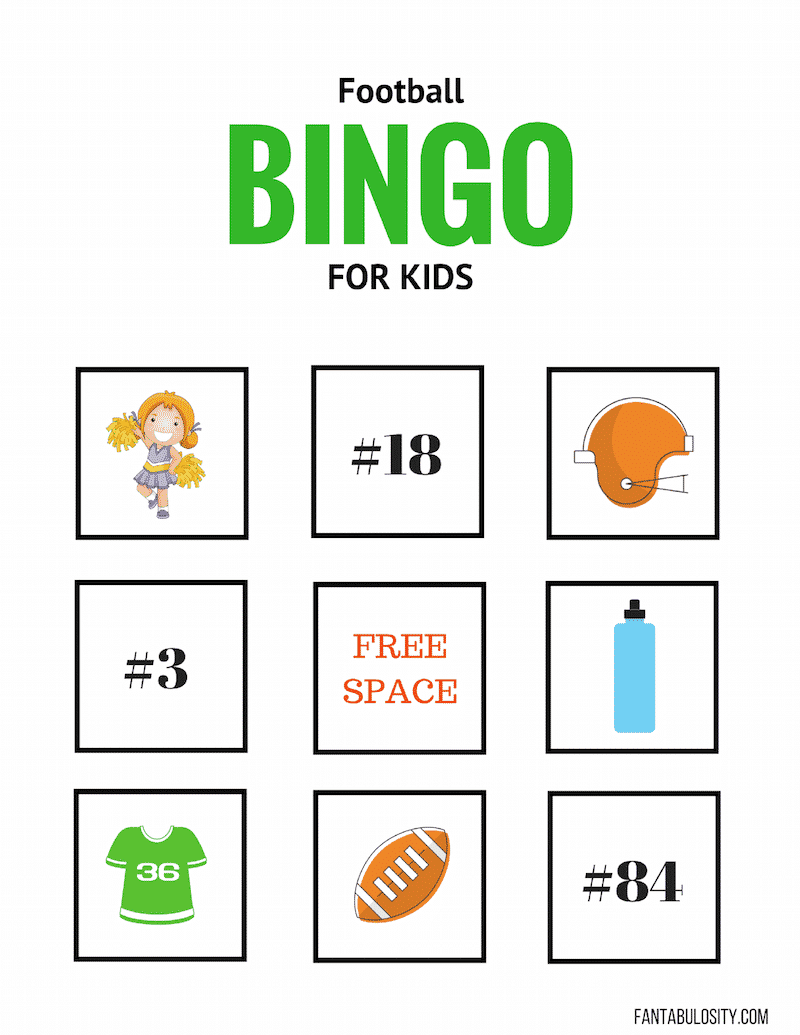 • I've created six (6) different BINGO cards for you to download for free! Download them here:
Simply print the cards, and set out your favorite flavor of

Goldfish

crackers, in small little bowls.
(My favorite, is designating a younger kids table, so they can have their own space to feel EXTRA special.)
When the big game starts, the kids can start watching the TV for the items that they have on their BINGO card.

They can place a

Goldfish

cracker on the squares as they see them, and when they get a BINGO, they can shout "BINGO!"

As with regular BINGO, you can change up the rules of when someone can call "BINGO." In our house, we will do the full card… since some younger kids don't understand what "in a row," means. BUT, if you have older kiddos, you can do all kinds of BINGO patterns. (Corners, three in a row, diagonal, etc.)
The "winner," can just celebrate the fact that they won, OR you can also have small little trinkets for the winners of each round. So fun, right?!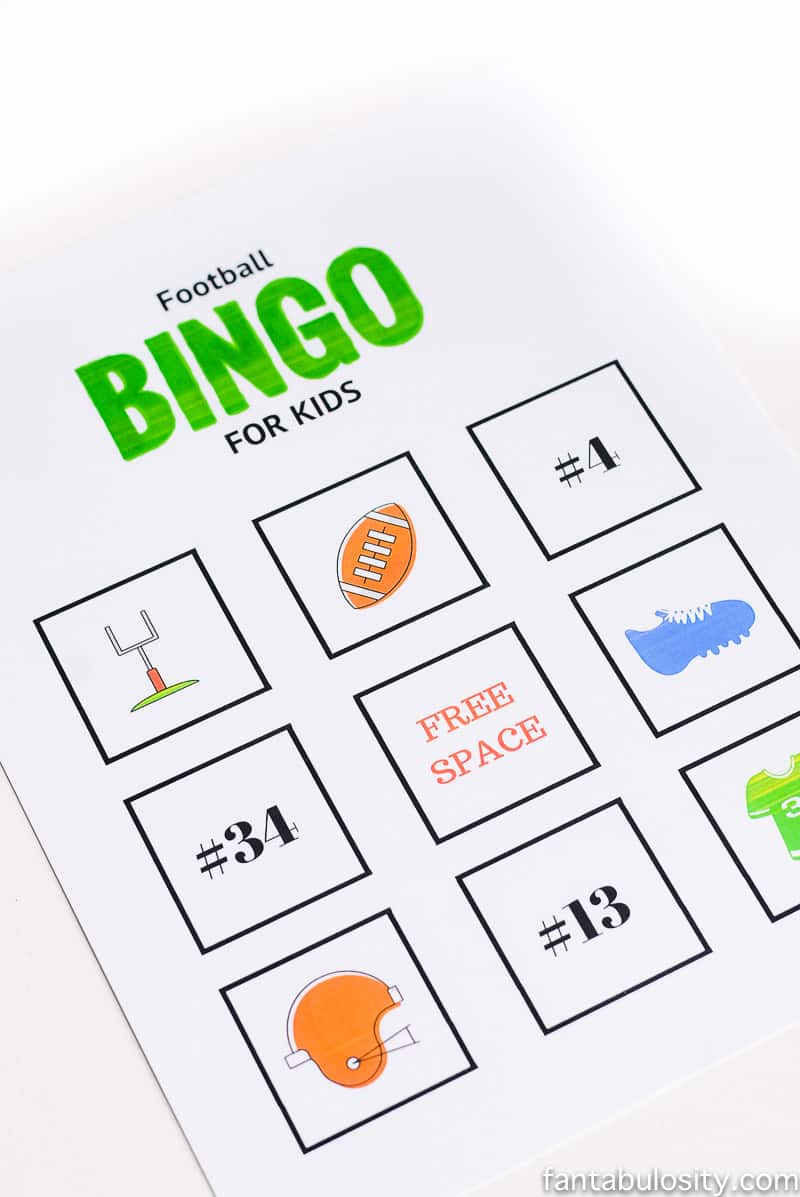 I hope you have so much fun watching the game, and your kiddos enjoy playing Football BINGO!