Toddler Lunch Ideas: A fun collection of foods that I have found that work well for my toddler. Healthy, quick, and FUN!
I have had the PICKIEST eater in the world! Trust me, I could TOTALLY put him in a contest for pickiest eater, and win… hands down. His favorite diet consisted of pb&j's, grilled cheeses, green beans and carrots. Repeat.
After a recent medical scare with him, it was time to change my sons eating habits. One day soon, I'll be sure to share with you the tactics I used to add variety to his favorite food choices.
But for now… I'm sharing the foods that rotate through our house, for normal toddler lunches, in hopes it helps you get through the toddler lunch "funk," that you may be in.
I could make a HUGE list, but I only listed the foods that tend to be great finger foods, and that are quick to make. I'll save the utensil foods, and the more time consuming recipes for a toddler dinner recipes post, that I have in the works. 😉
Toddler Lunch Ideas
First, I found AMAZING results, by using this ice cube tray from Ikea. I had seen this idea on Pinterest, and thought I'd give it a whirl when I found the trays for .99 on a recent IKEA trip. They had a ton of different shapes and styles, but I figured I'd give the squares a try, and if the toddlers approved… I'd go crazy buying the hearts/starts/dinosaurs/etc.
Did he start eating better, because of this "plate?" No… he started way before this, but I noticed his eating habits improved immediately when we started using them.
 Second, I've provided a free printable of toddler lunch ideas, in case you'd like to print this. Keep it handy for those days where your brain is fried and you don't feel like getting creative in the kitchen. Plus… take a look at it, before you make your grocery shopping list, and add the items you need to get.
Download my Toddler Food Ideas Free Printable HERE!
and…
(Download my Free Grocery Shopping List HERE!)
Toddler Food Ideas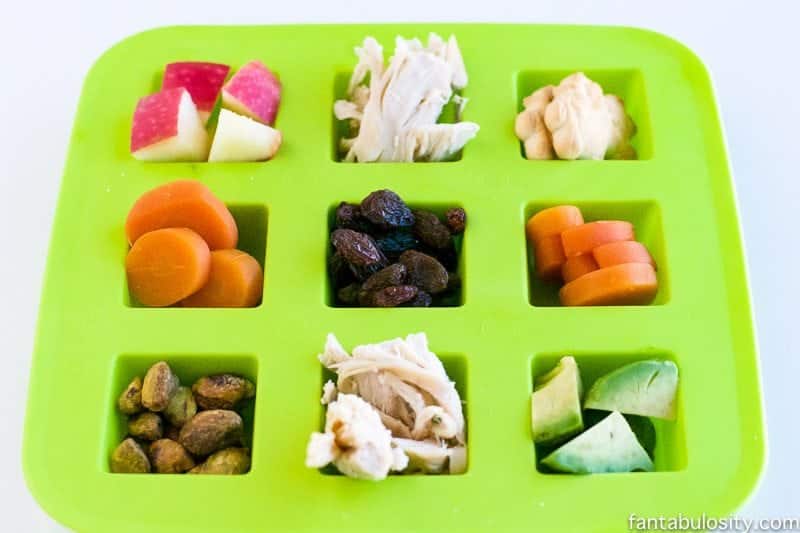 DISCLAIMER: Keep in mind that some of the food items that I mention, may not tickle your fancy. I get that. Before my son was diagnosed with epilepsy, and we took him to a nutritionist, I would have turned my nose up at some of these items as well. For instance… "hot dogs," "lunch meat," etc. But my little 4 year old, chosen vegetarian, was really lacking in the protein department, so I've since then, tried incorporating some meats in to his lunches. I just try to only buy the hot dogs and lunch meat without nitrates, artificial flavorings etc., to do the best that I can.
Eeeek! Look how sweet he is! This is the first time he used the new plate. He ate every bit of his goodies, without a fight. (But he couldn't take his eyes off of his favorite show on tv, long enough for me to get a photo.) 🙂
I couldn't help but mention this new find, during this post too. I'm curious to see if you've tried it, or if your kiddos like it. The other day while grocery shopping, I found this coconut water, and thought it would be a nice "change," to the normal water that we drink, 24-7.
It does have more sugar (natural, but still sugar) than we like… so we just use it for a special treat. I've just heard how many benefits there are to coconut, and was hoping that this would have benefits to it too. I dunno.
Pin it!
So you don't forget what toddler food ideas that I have, "pin the images below," to remember…
 Or this one…