Easy Chili Recipe: Quick and the BEST!: A stovetop or crockpot simple chili recipe that leaves so many asking for the recipe. It's the perfect base to add your favorite chili toppings!
I'm about to let you in on a little secret of mine, frankly because… well… I adore you all, and I know it may change your chili life.
We love chili recipes around here because they can be so versatile, and each person can customize the flavor how they wish! Spicy, sweet, loaded with crunch, simple on flavor and so much more.
You'll Also Love:
Simple & Easy Chili Recipe
My mom has finally conquered the BEST go-to chili recipe, and I sweet-talked her into sharing it with me and letting me share it with you all.
Why? Because any time I make this chili, people rave about how good it is, and you all… it's SO so simple.
It's the perfect basic recipe to use as is or to add your favorite seasonings and toppings to.
Quick Chili Recipe for a Crowd
So I got a call from my husband the other day,
"Hey babe, the whole family is coming over for dinner tonight."
Like…that meant "in a couple of hours".
Normally, I would panic. But I had my "go-to," chili recipe to fall back on, and I was in luck.
Everyday Ingredients for this Chili
I went to the grocery store, grabbed the ingredients I needed, (which I did already have on hand, but I stocked up on more to triple the recipe for this large crowd), and I was golden.
(Full printable recipe card and instructions at the end of this post!)
2 cans of chili beans
1 can tomato sauce
cumin
sliced cheese
ground beef
The ingredients are something that you can have on hand, or literally grab at the grocery store super quick, and come home and throw together in a pinch, in bulk, for a crowd.
Throw some frozen garlic bread in the oven too, or the salad and Caprese grilled cheese I recommend below, and you have the perfect feast for all who gather. And who doesn't love chili?
I've found that chili is one of the best dishes to make for a lot of people because it tends to be loved by many!
Need a Little Extra? How about a Hot Dog Bar?
Have more time and want to do a little extra for a crowd coming over?
Set up a hot dog bar next to your chili and let your guests go to town making the ultimate chili dogs, and see what kind of creations they can come up with!
See my hot dog bar party ideas and toppings list.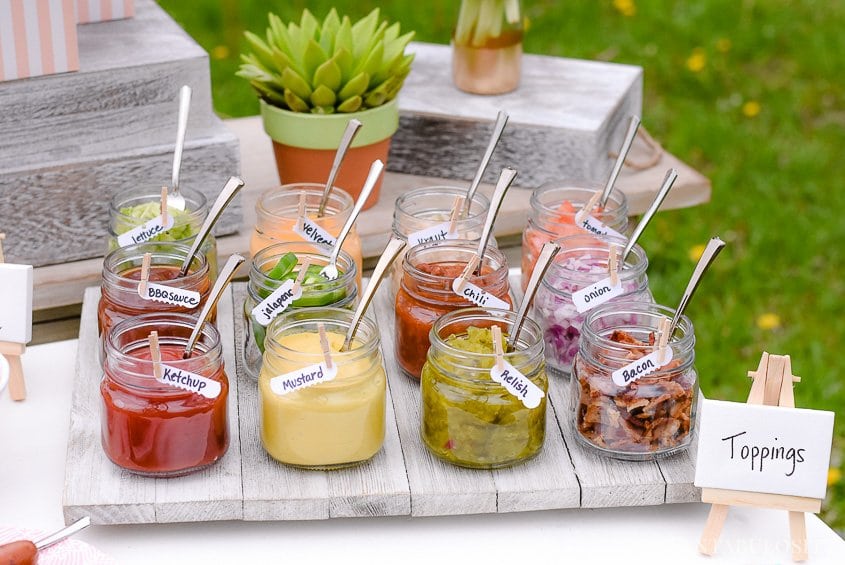 Simple Chili Tips:

Oh dear… wait to you hear what little tricks/hacks I have up my sleeve when I make this chili recipe…
• I usually double or triple this recipe when I make it.
—- I freeze individual serving sizes of the leftovers, for a quick-last minute lunch, or for my hubby to take it to the office with him.
—- I will use the leftovers in different dishes for the next couple of days. (Chili-Cheese Nachos, Chili Dogs, taco salad, etc.)
• Brown your ground beef in the soup pot that you plan to use. Drain if needed, and then return beef to pot. It's a One-Pot Dish!
• Since this chili recipe uses just a few ingredients, that are also affordable… it's a no-brainer. A big pot of affordable ingredients that can be spread out for multiple meals. I'm not good at math, but I at least can figure out that my wallet "won," on this one.
Simple Chili Recipe: Quick and the BEST
This chili recipe is so simple and easy to make and tastes DELICIOUS. The whole family will love it! Pair with some cornbread or pile it onto hot dogs.
Ingredients
1

pound

ground beef

2

14-ounce cans

chili beans

1

14-ounce can

tomato sauce

2

Tablespoons

cumin

3-4

Slices

thick American cheese

or 8 slices of thin
Instructions
In a large pot on medium heat, brown the ground beef, until fully cooked. Drain if needed.

Reduce to low-medium heat.

Add in tomato sauce, chili beans, and cumin; combine.

When heated through, reduce heat to simmer

Add in sliced cheese, and let melt into chili, occasionally stirring to combine. Serve warm.
Nutrition
Serving:
1
serving (1/4 recipe)
Calories:
358
kcal
Carbohydrates:
2
g
Protein:
22
g
Fat:
28
g
Saturated Fat:
11
g
Cholesterol:
96
mg
Sodium:
349
mg
Potassium:
380
mg
Vitamin A:
185
IU
Vitamin C:
0.2
mg
Calcium:
213
mg
Iron:
4.3
mg
Of course, you can always have additional toppings sitting out for your family/friends/guests to add to their individual servings.
Ideas of Toppings to Offer with Chili
Shredded Cheese
Brown Sugar
Peanut Butter
Hot Sauce
Soup Crackers
What to Side Dishes to Serve with Chili
If you're like us, we LOVE to have side dishes with our chili and that usually means we will have something like…
Hot Dogs
Peanut Butter Sandwich
Grilled Cheese Sandwich
Salad to Go with Chili
Now I do love a good peanut butter and jelly to go with my chili, or even a good sandwich (you'll see one below) but when I'm trying to think of a vegetable to fix up as a side dish, I also have the BEST side salad to go with chili!
But warning… it will be your new favorite and you may be in charge of making them for all the upcoming family functions!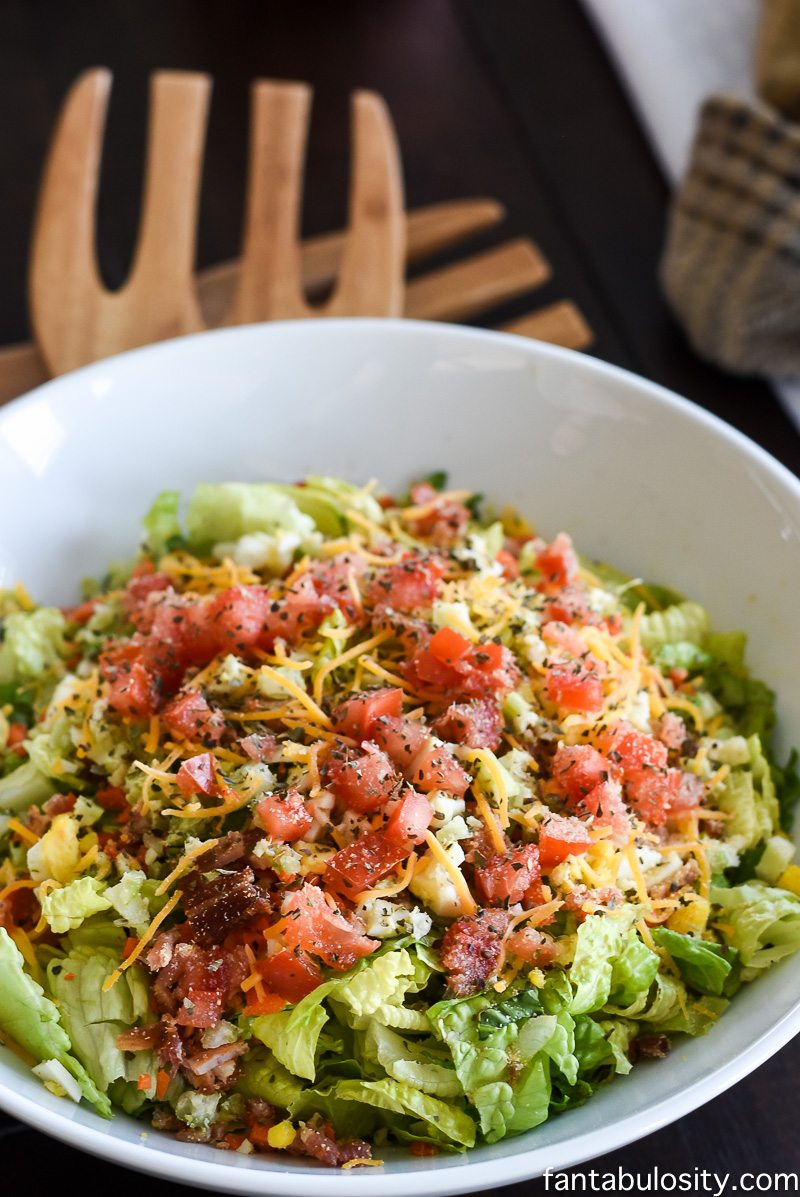 So I mentioned it above, but I also made a little somethin'-somethin' extra, for my guests to eat alongside their chili the other night when they came over, and it went over like a kid in a candy store…
Caprese Grilled Cheese
Get that recipe here: Caprese Grilled Cheese
Let me know below what you add to your chili… or what you eat along beside it… I love hearing how everyone is different.