This Frito Chili Pie is the perfect dish to serve for game day, at a party or for busy weeknights! Top Fritos with this chili recipe, cheese, shredded cheese, green onions, and your favorite toppings!
If you're looking for more chili-related recipes, then you'll love these next! Simple chili recipe, chili mac, vegetarian chili, and white chicken chili!
Frito Chili Pie
If we're having a low-key party, a taco bar or nacho bar is usually the plan. But now, these Frito pies in these food boats are going to be the go-to! The best thing is that it's almost like everyone can have their own little Frito pie casserole and top it with whatever toppings they prefer!
But if I'm being honest, I'll probably make these AND the burgers in the oven since they're both easy party foods that can be made in bulk!
Jump to:
What is a Frito Chili Pie?
It's a layered dish consisting of Fritos Corn Chips, thick chili, and toppings such as shredded cheese, diced onions and more! Such an easy recipe too!
Are chili Frito pies like walking tacos?
Yes! But the difference is that a chili Frito pie would be served right in the small bag of Fritos instead of on a plate, in a bowl or in a food boat.
Ingredients for Frito Pie
What you'll see below, are the ingredients for a basic Frito pie. However, it is so much fun to top the chili pie with your favorite ingredients and I'll give you a great list of topping ideas below as well, so you're prepared and ready for the ultimate Frito pie recipe!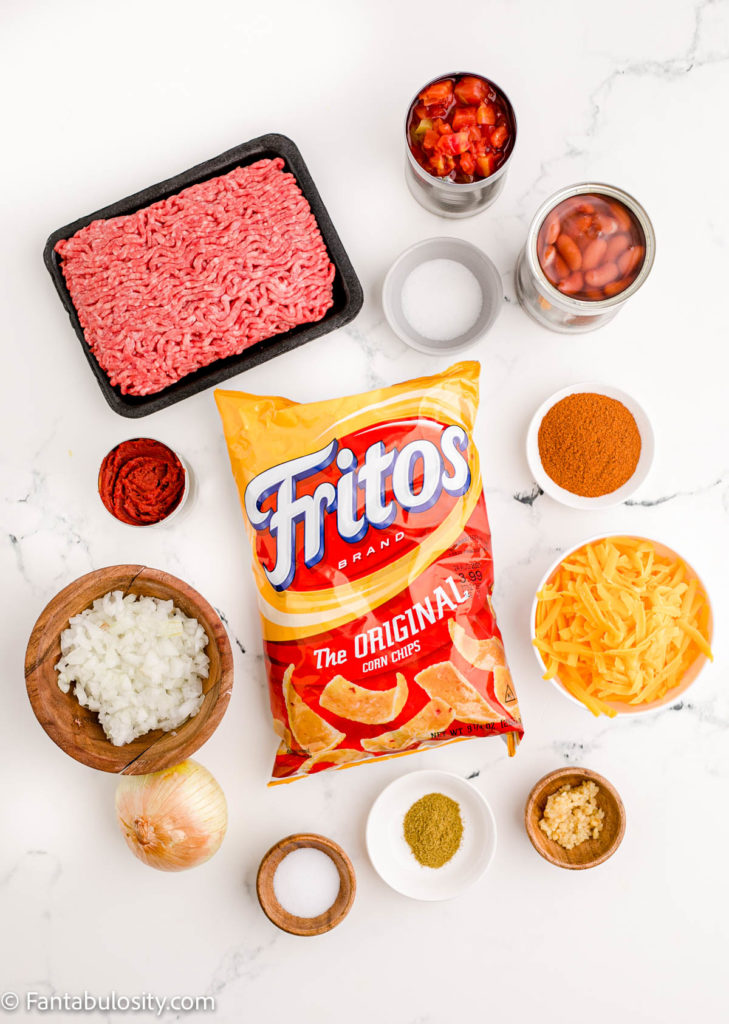 Chili Recipe
You'll want to start by making the chili. You can either follow the chili recipe I've provided below, use this chili recipe or use your own favorite chili which can even be canned chili!
If using the chili recipe included in this post, you'll need the following ingredients:
ground beef (or ground deer meat for venison chili)
onion
garlic
kidney beans
tomato paste
rotel
chili powder
salt
sugar
cumin
Frito Pie Ingredients
To assemble the Frito pie (as pictured), you'll need the following, remaining ingredients:
Fritos
shredded cheese
diced green onions
diced onion (red, white or yellow onions)
See the recipe card for quantities and measurements!
How to make an easy Frito pie with step by step instructions:
In a large skillet or pot, brown the ground beef, onion, and garlic at medium heat. 
Drain excess fat.
Add kidney beans, tomato paste, rotel, chili powder, salt, sugar, and cumin.  Stir together well. Turn the heat down to medium low.  Allow the mixture to simmer uncovered for 20 minutes.  
Pour a bag of frito corn chips onto a serving dish, or pour a single serving of fritos onto each person's plate.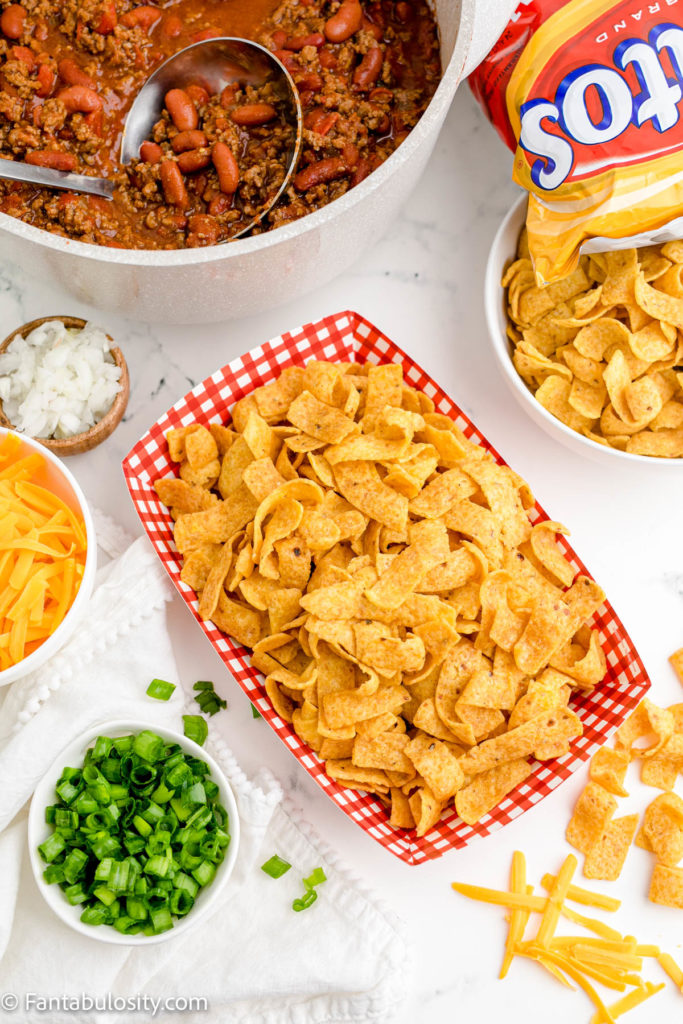 Serve the chili over frito chips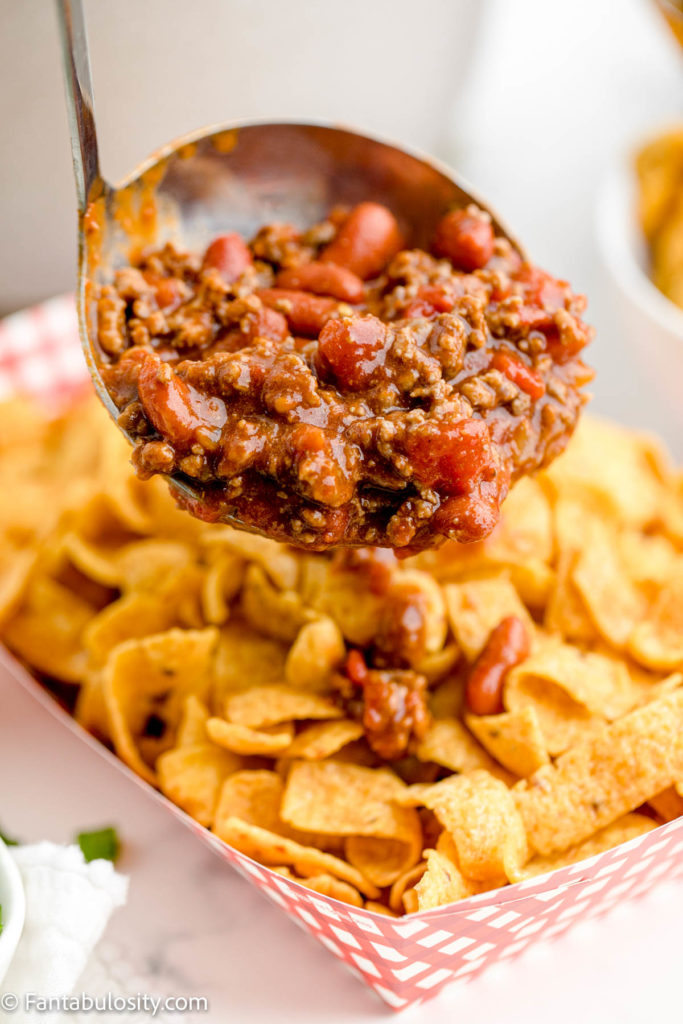 Sprinkle with shredded cheddar cheese, and any additional toppings! (See list of ideas below!)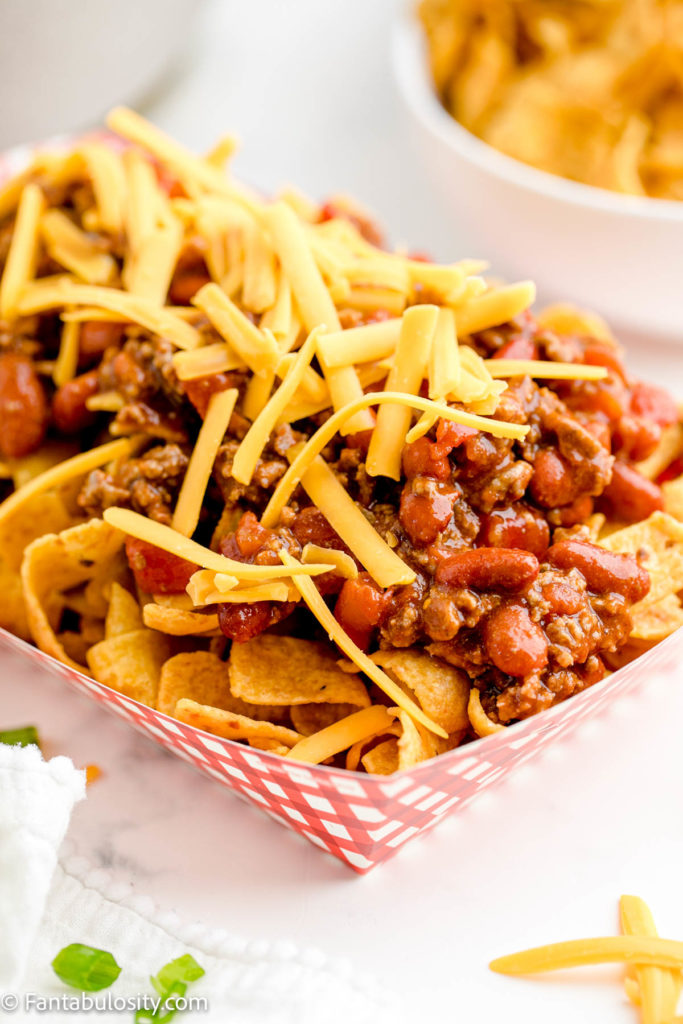 Hint: If your chili is still hot, it should melt the shredded cheese on top. However, if it's not hot enough, you may want to nuke your Frito pie for a few seconds to get the cheese to melt, if desired!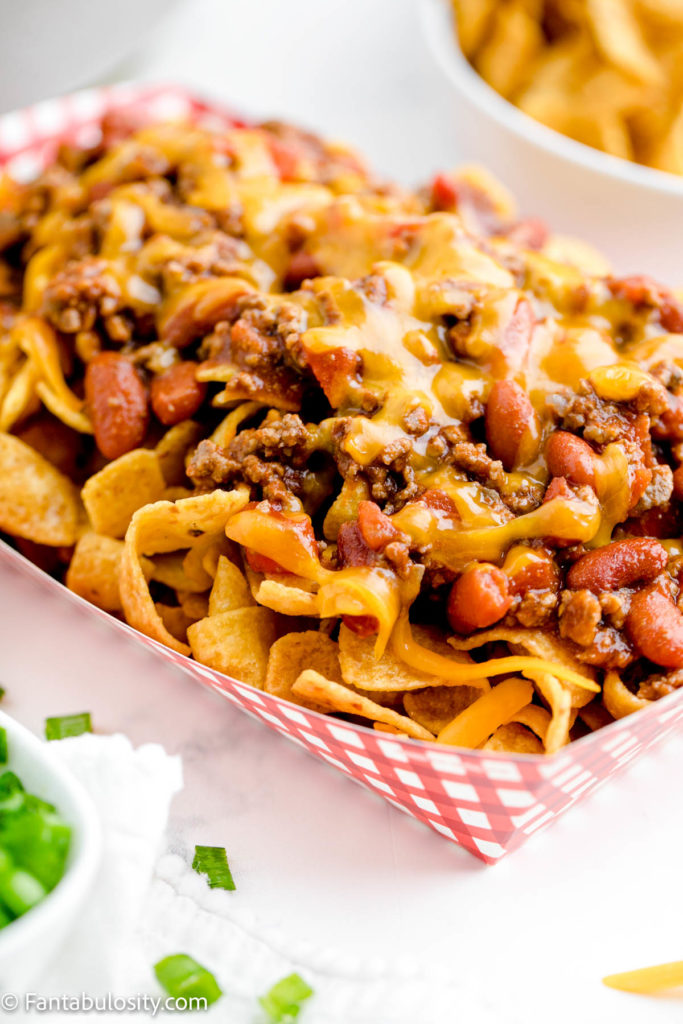 Topping Ideas for Frito Chili Pies
I don't know about you but the more the merrier when it comes to toppings for Frito pies! Here are some ideas that you can put out for your family or guests when hosting so they can make it just how they like it!
shredded lettuce
black olives
taco sauce
sour cream
diced onions
sliced jalapeno peppers
diced tomatoes
chopped bell peppers
hot sauce
ranch dressing or jalapeno ranch dressing
fresh cilantro
rice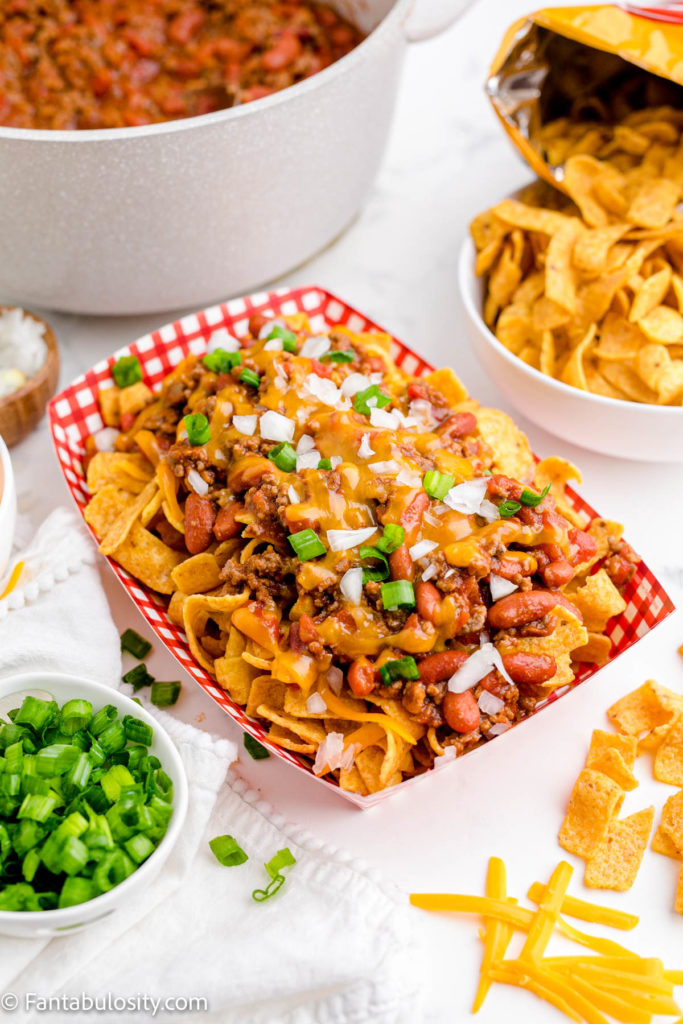 Storage
If you have leftovers, it's best to store the chili, Fritos and toppings, separate so the crunchy corn chips do not get soggy.
How to Store Chili
The chili will keep for 3 days in the fridge, if kept in an airtight container. Or, you can freeze it for up to 3 months.  
How to Store Fritos
If you don't have the original bag the Fritos corn chips came in, you can pour them in to a ziptop plastic bag or a bag that's sealed, in the pantry.
How to Store Toppings
If you have chopped toppings left over, it will depend on the topping; however, it's best to store the toppings separately.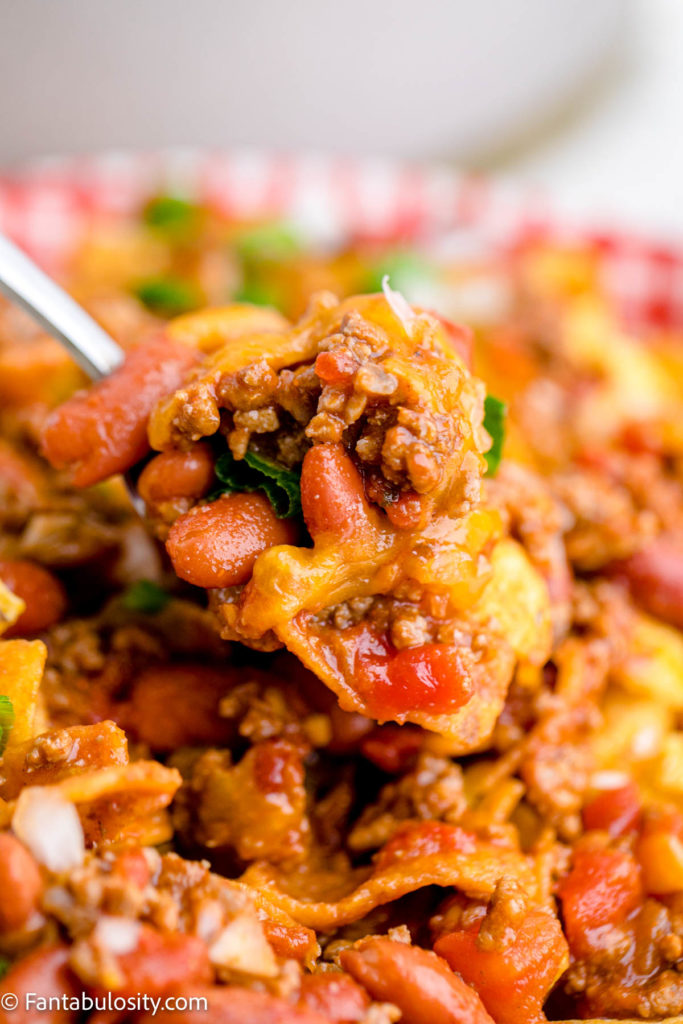 Variations
Love mixing things up? I do too sometimes! Here are answers to some popular questions:
Can I use Chili Cheese Fritos instead?
Absolutely! That's a great substitution! You can also use Nacho Cheese Doritos, Cool Ranch Doritos or your favorite chips!
Can I use my own chili recipe?
Of course! Your chili recipe should work just fine!
Top tips
Make a big batch of chili and freeze it, and keep items like Fritos and shredded cheese on hand so you can make this on a weeknight when you need a fast dinner idea!
Want an even faster recipe?
Use canned chili or store-bought chili to make this in a flash!
Slow Cooker Chili
If you're hosting a party, make the chili and place it in a slow cooker (or Instant Pot if you have one!) to keep on "warm" so guests can make their own chili pies as they please!
What goes well with Frito pie?
A Frito chili pie can be a main dish in itself and pairs really well with light side dishes like spanish rice, a vegetable tray, and corn on the cob.
Could you use other meats for the chili pie instead of beef?
Absolutely. Feel free to substitue the ground beef for ground turkey, chicken, venison or even pork sausage!
Are Frito chili pies spicy?
Not this recipe. However if you use a recipe for a spicy chili, it can be. If you prefer a spicy Frito pie, you can add hot sauce and or spices like chili powder or cayenne pepper.
More Easy Dinner Recipes
If you're a fan of quick and easy dinners, you'll also love these popular dinner recipes: Doritos Chicken Casserole and BBQ Nachos (using leftover meats)!
Then if you really loved this chili pie, you're really going to love this taco dip and pizza monkey bread because they're family favorites!
Frito Chili Pie
This Frito Chili Pie is the perfect dish to serve for game day, at a party or for busy weeknights! Top Fritos with this chili recipe, cheese, shredded cheese, green onions, and your favorite toppings!
Ingredients
1

pound

ground beef

1

medium

onion

diced

1

clove

garlic

minced

14

ounces

can of kidney beans

undrained

5.5

ounces

can tomato paste

10

ounces

can rotel

diced tomatoes and green chilies

2

tablespoons

chili powder

1

teaspoon

salt

1

teaspoon

sugar

1.5

teaspoon

ground cumin

9.25

ounces

bag of Fritos

1

cup

shredded cheddar cheese

if desired
Instructions
In a large skillet or pot, brown the ground beef, onion, and garlic at medium heat.

Add kidney beans, tomato paste, rotel, chili powder, salt, sugar, and cumin and stir until evenly blended.

Turn the heat down to medium-low and allow the mixture to simmer uncovered for 20 minutes.

Pour a bag of fritos onto a serving dish, or pour a single serving of fritos onto each person's plate.  

Serve the chili over Fritos and sprinkle with shredded cheddar cheese, and use desired toppings. (See additional topping ideas in notes!)
Notes
Additional Topping Ideas:
shredded lettuce
black olives
taco sauce
sour cream
diced onions
sliced jalapeno peppers
diced tomatoes
chopped bell peppers
hot sauce
ranch dressing or jalapeno ranch dressing
fresh cilantro
rice
Nutrition
Serving:
1
serving
|
Calories:
597
kcal
|
Carbohydrates:
48
g
|
Protein:
26
g
|
Fat:
35
g
|
Saturated Fat:
12
g
|
Polyunsaturated Fat:
7
g
|
Monounsaturated Fat:
12
g
|
Trans Fat:
1
g
|
Cholesterol:
73
mg
|
Sodium:
1218
mg
|
Potassium:
896
mg
|
Fiber:
9
g
|
Sugar:
8
g
|
Vitamin A:
1438
IU
|
Vitamin C:
12
mg
|
Calcium:
283
mg
|
Iron:
5
mg