This is a sponsored conversation written by me on behalf of my partnership with Macy's. All opinions are mine.
From Work to Play: Little Black Dress at Macy's – Anne Klein Sequined Sheath Dress, classy for work all the way to a holiday party!
From Work to Play: Little Black Dress at Macy's
Chic + Classy
Friends, it's that time of year where holiday parties are in full force, and I've been SMITTEN with the idea of showing you this new Anne Klein dress from Macy's.
It literally screams my style, and has characteristics that you'll absolutely adore.
Fitted and figure flattering.
The chic design is perfect for the office.
Sequins are scattered throughout the fabric that give it a classy touch for an event or holiday party, but not "over the top," for work.
Being able to wear one dress for different occasions throughout the day is perfect for a busy, working mom. If I can put something on in the morning for an important work meeting, and continue to wear it through the evenings festivities without having to take the time to change and plan a whole other outfit… it's GOLDEN.
Cooler Weather Approved
For the first look, I paired this dress with thick black tights that would look great for office-wear, or for those really cold nights. It also has a classic textured finish made out of cotton/polyester that provides a warm cozy feel!
Semi-Faux Pockets
Now you're looking at a gal who LOVES pockets in her dresses. But you know what I don't like? Pockets in dresses that make my mid-section look bulgy. That's why I've decided that this dress is the best of both worlds.
Although they're not full pockets, they still have a small opening, that's perfect for my hands when I'm standing at a cocktail party. (You know, rather than experience the awkward "what do I do with my hands," feeling.)
No full pockets = No midsection bulge. Loving this!
Detail Back + Hidden Zipper
The back on the dress features a hidden zipper, small opening, and a button top. Simple, but gorgeous touches to accent the back!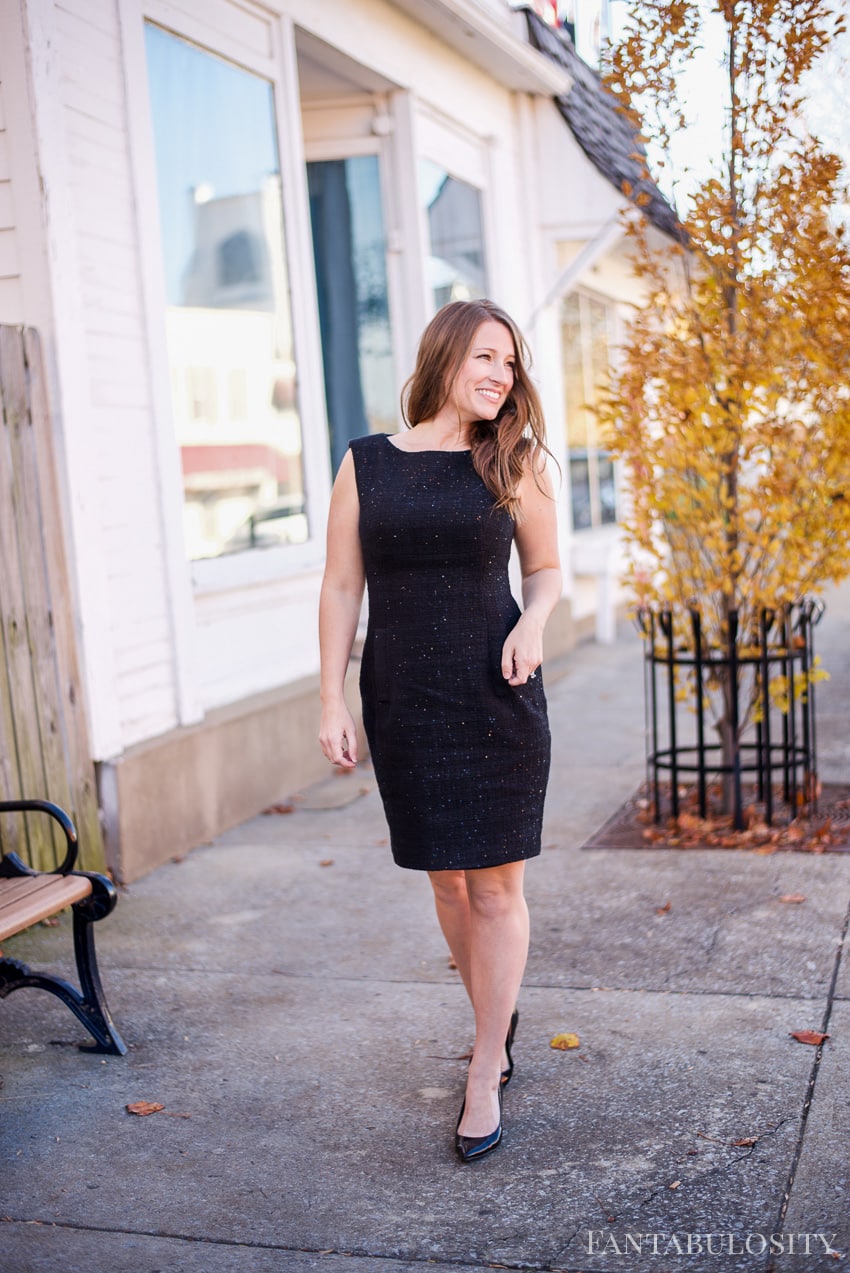 Above the Knee
I absolutely love the length of this dress. It hits right above the knee (I'm 5'4 and in a size 4) so I don't have to worry about it rising up if I bend over to grab something or to pick up one of my kiddos.
For this second look, I decided to forgo the tights to showcase the hem to accent the look of it paired with pumps. I honestly can't decide which look I prefer, but I truly think that's the beauty of it. No matter how I feel like wearing it that day, this Anne Klein Sequined Sheath Dress will still look great!
Where to Buy
If you want to get your hands on this dress, I don't blame you one bit! It's going to look great in your closet, and even better on you… no matter WHERE you wear it. You can shop similar dresses at Macy's!
Thank you SO much for coming by, and thank you to Macy's for this adorable new classic dress that will be timeless and perfect for so many occasions this year!