This post brought to you by Evolution Fresh®. The content and opinions expressed below are that of Fantabulosity. A Healthy Breakfast To-Go: A Sweet Gesture for him. A sweet love note, healthy eats, all wrapped up in a cute little basket can make his day great from the start!
Healthy Breakfast To-Go: A Sweet Gesture for Him
With some deep discussion, (and 17 years under our belt) I've developed a better idea of what my husband's "love language," is. Without getting TOO personal here, I want to share a little "love language," creation that I create for my husband from time to time.
BUT, I've also added a couple of items to it, so it could possibly fit your husband's love language too! Not sure what a "love language," is? At least lightly skim to the bottom of my post on How to Prepare for a Romantic Weekend Away, to get a better idea of what I mean.
Now, before I go any further, please keep in mind that I don't do this ALL of the time, and I'm SOOO not the perfect wife. (We've discussed that topic quite a bit over on Making Your Husband WANT To Come Home.)But I do try to do special things for my husband, so he feels loved, appreciated, and respected from time to time. A healthy breakfast to-go basket can make his day great from the start, and I can't wait to share with you what all I include in it.
Breakfast To-Go:
Usually in a mad dash in the mornings, my husband is OUT-the-door, and we barely get a chance to squeeze in a kiss and a "Have a good day." So having a breakfast basket ready to-go for him in the mornings, he can grab it off of the counter and be out the door. When I fill it with his favorite healthier foods, it's even more appreciated. Sometimes when trying to stay "healthy," on your own, it can result in failure. But when you have the support from someone else in your life, it can be a LOT easier. Making a breakfast, with healthy simple choices for my husband, can get him started on the right foot for the day. For the love language "acts of service," type, this is an excellent way to "DO" something!
Words of Affirmation:
A sweet note included in the breakfast basket can make a "Words of Affirmation," guy blush with appreciation. No, I'm not going to tell you what I write in his, but I will tell you that it's usually something that can make him super excited to come back home that night. 😉
Gift Basket:
If you're dealing with a "gifts," kind of guy, then receiving an unexpected item may speak volumes. My guy wouldn't care if his breakfast basket was in a grocery bag, but putting it in a cute basket with a little ribbon like this, can all of a sudden turn a sweet gesture in to something a "gift-getting," guy loves. It's taking the time to make it special that can really mean the world to some.
Filling it with his favorites:
• Juice
• Fruit
• Bagel
A "Sweet," Gesture:
Ha, you see what I did there? This Evolution Fresh "Sweet Greens and Lemon," is a favorite of my husband's. So I try to make sure that I stock up on beverages, snacks, and quick "eats," that he loves and doesn't feel guilty about. Each time we go to Starbucks, he's grabbing one of the Evolution Fresh green juices for the road, so I stock up on a few to use for quick, to-go style, breakfasts for him.
Then I'll add in a piece of fruit and a bagel. Both items that he can wait to eat a while, if the office is too busy when he first arrives.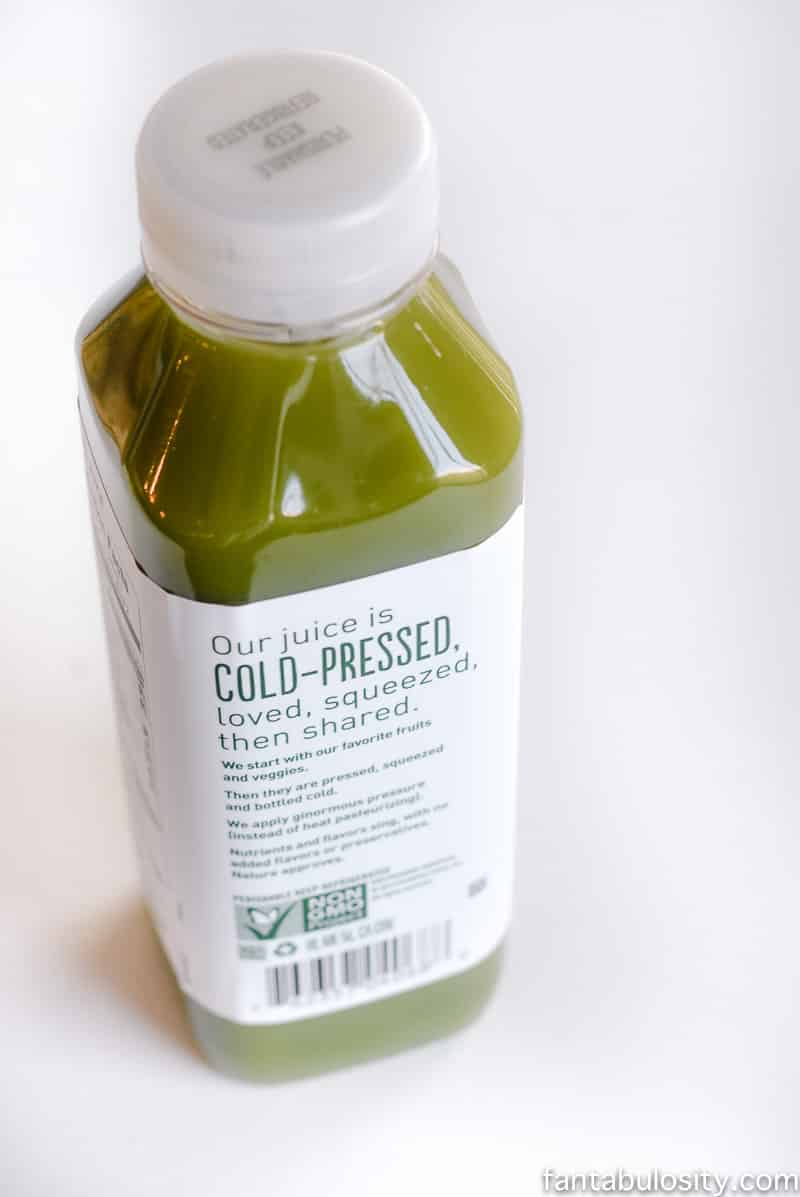 Have you had this yet?
I'll be the first to admit that I fight sitting around eating a ton of raw veggies and fruits throughout the day. (I'm actually worse than a 3 year old some days I'm sure.) So I'll admit, if I can drink my veggies and fruits, I'll at least have a shot of achieving my daily requirements. Just by drinking a green juice, I feel so much better about my choices throughout the day.
Evolution Fresh cold presses their juice using high-pressure processing to help protect nutrients and taste, and contains over a serving of veggies (excluding Super Green and Protein Power Greens). PERFECT for someone like me that resists eating what I should, and perfect for my husband who can grab-and-go in his busy "on-the-go," business life.