It's almost as if there's a feeling of "Now what?" as I reveal my home office makeover. Why? Because I've been teasing promising you for so long, that I'd have it done soon, and it seemed as if I kept finding ONE more thing that would just look PERFECT for the office, so I needed to wait one more week before the photo shoot.
I'm happy to say, I finally found that "ahhhh," moment, and decided it was time to reveal. (You know, the day after my new white Keurig came in the mail. I had to wait for that new beauty.)
I've always been fond of the mint and coral color scheme, that I had in my first office reveal, in our initial home tour, when we moved in. So I left that alone, but maaaaaybe added (and improved) a few items. So now I'm super excited to show you my happy place, that people practically have to pull me out of.
Home Office Makeover Reveal
First, a quick spin through the whole office, and then we will get zoomed in on some of the specs…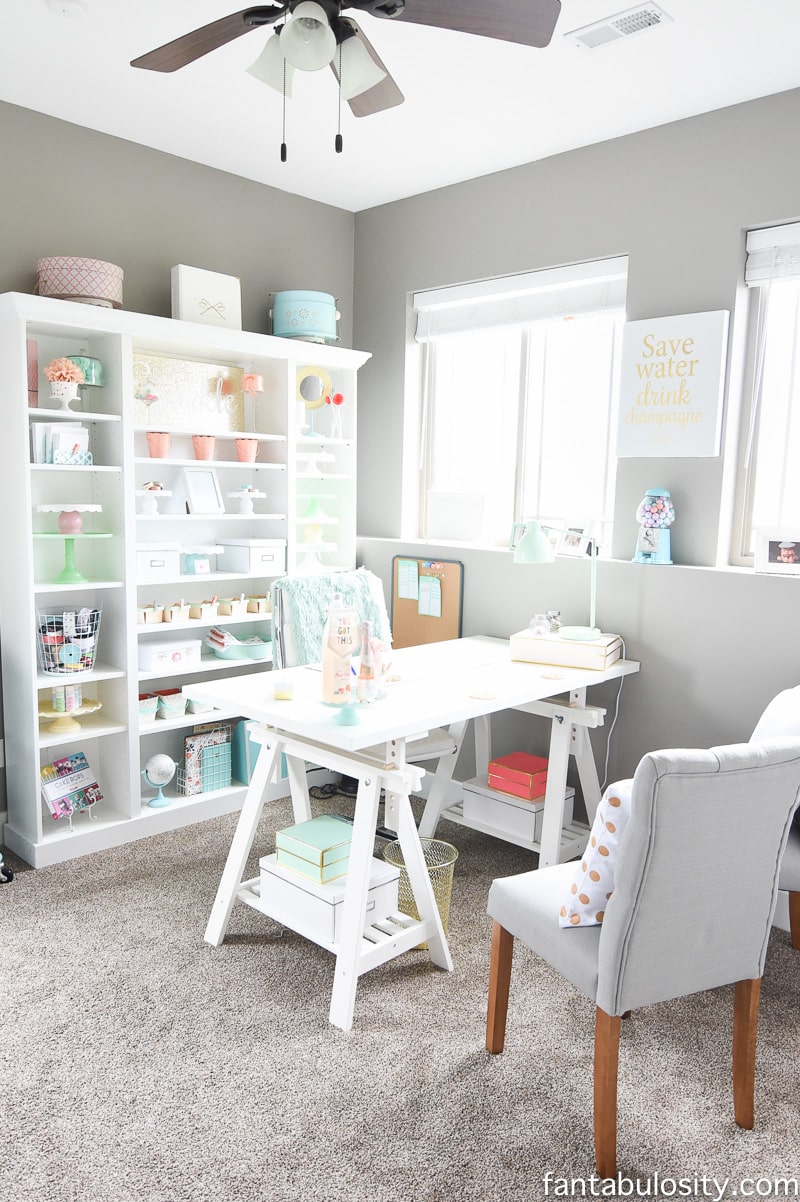 That's a brief little 360 degree tour. Now let's get down to the nitty gritty, and some details.
The Desk: Where the Magic Happens
Ok, I shouldn't say "magic," but it is where I spend a lot of my "let's get down to business," chats. Whether that's on Skype, or Facebook "live." It's also where I do a lot of concentrated work. Such as, finalizing details over a sponsored post, writing an ebook, creating an online course, or anything that needs some serious attention. Regular ole blog posts are typically created on-the-go, or in my living room on the couch, during nap time.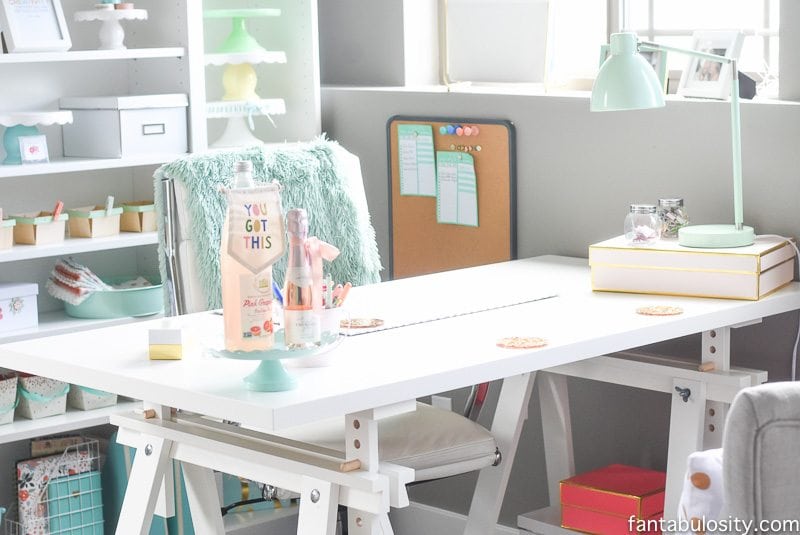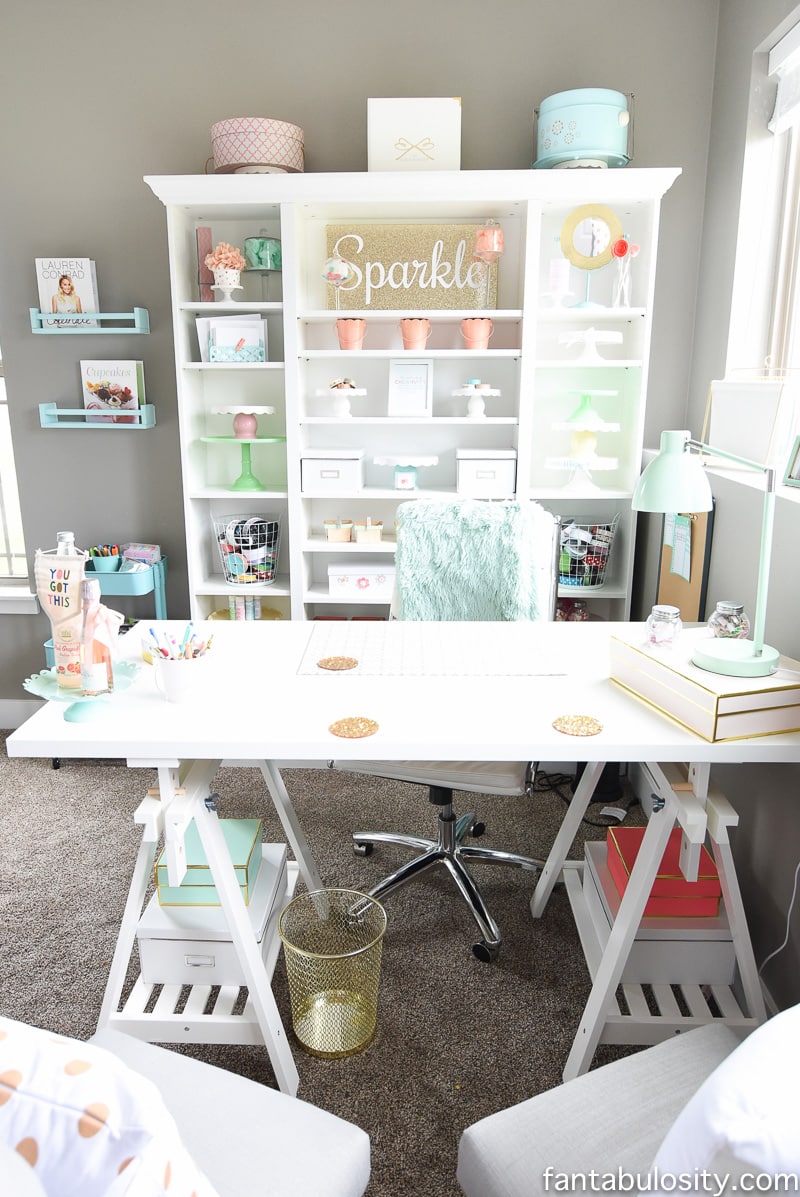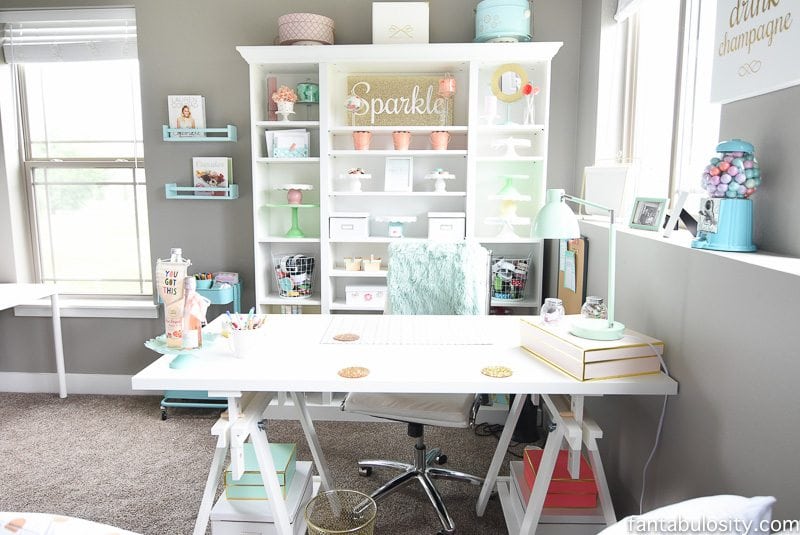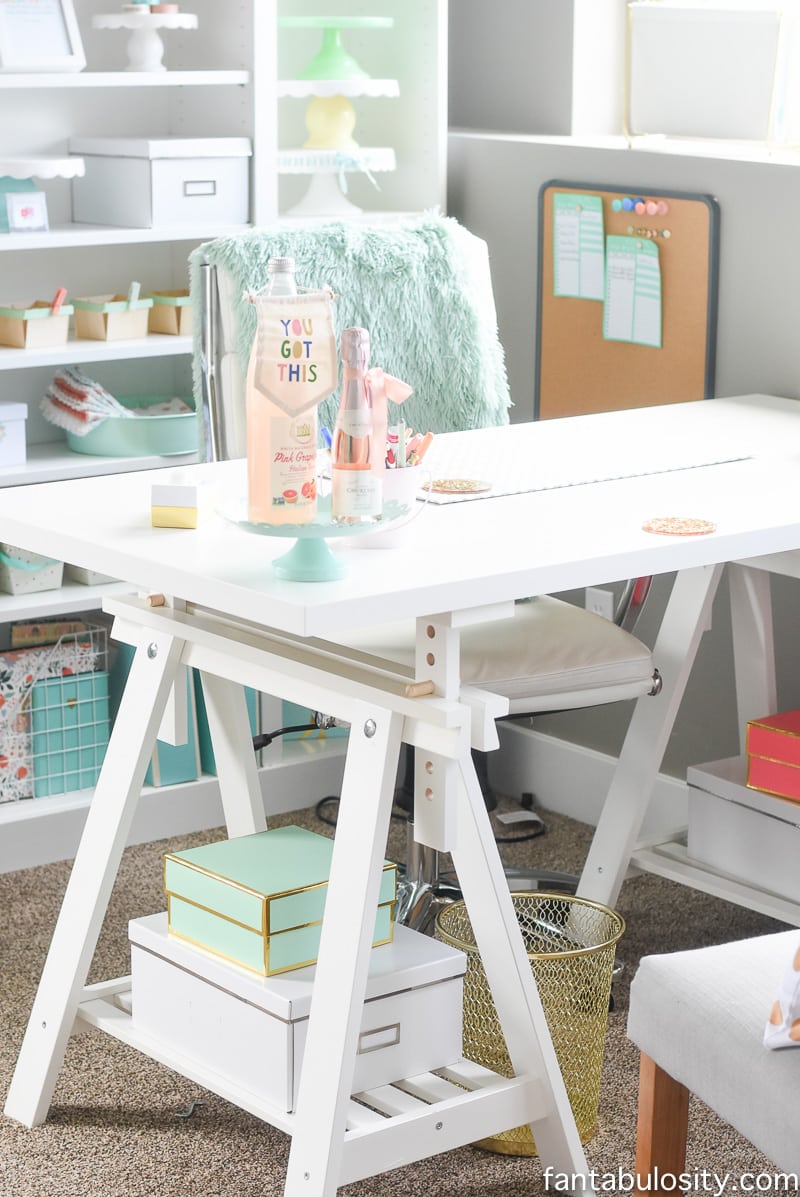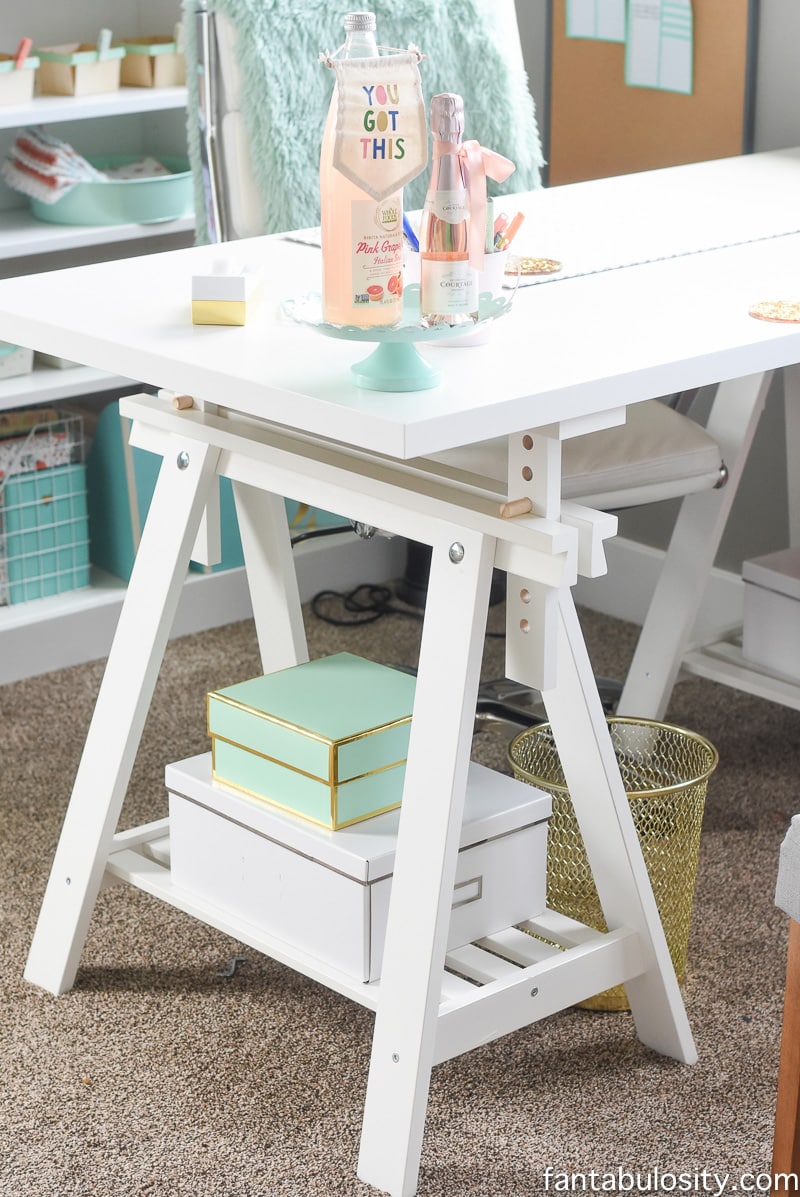 Desk Legs (Buy HERE) // Desk Top (Buy HERE) But double check size of what you'd need! They have multiple sizes.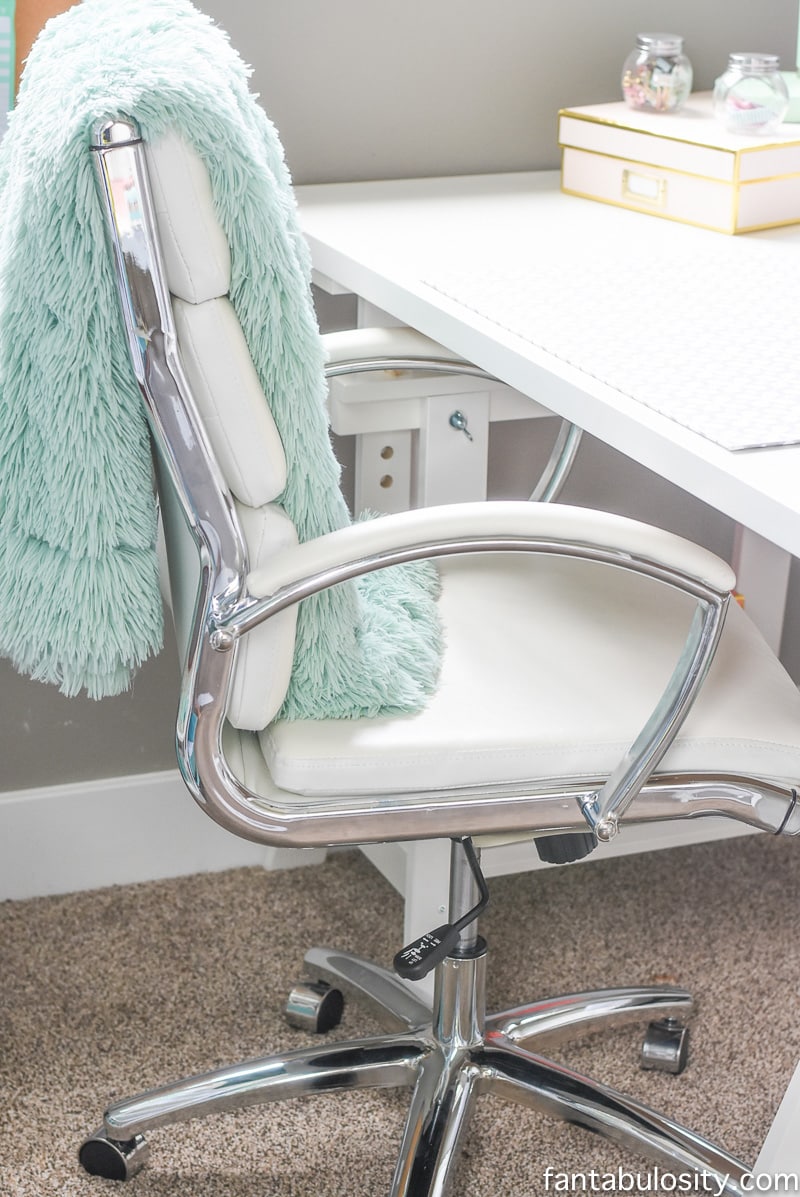 Buy the chair here: White Faux Leather Swivel Chair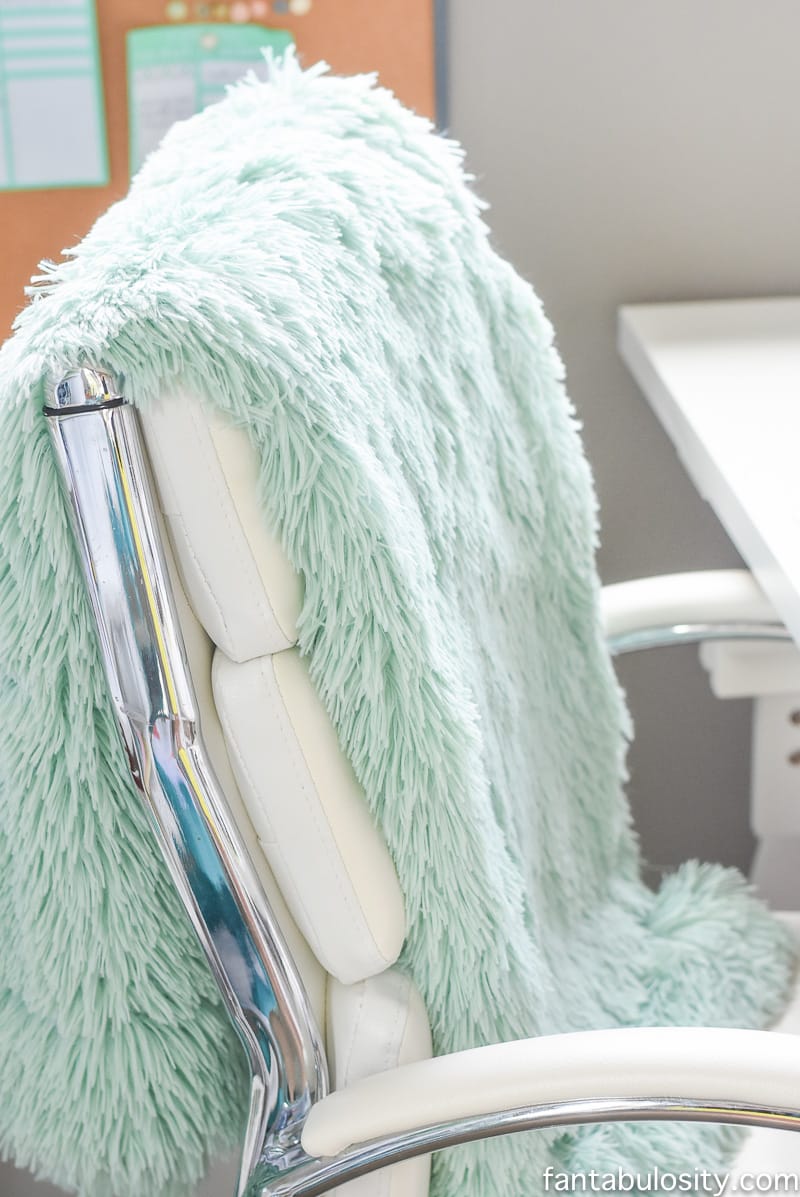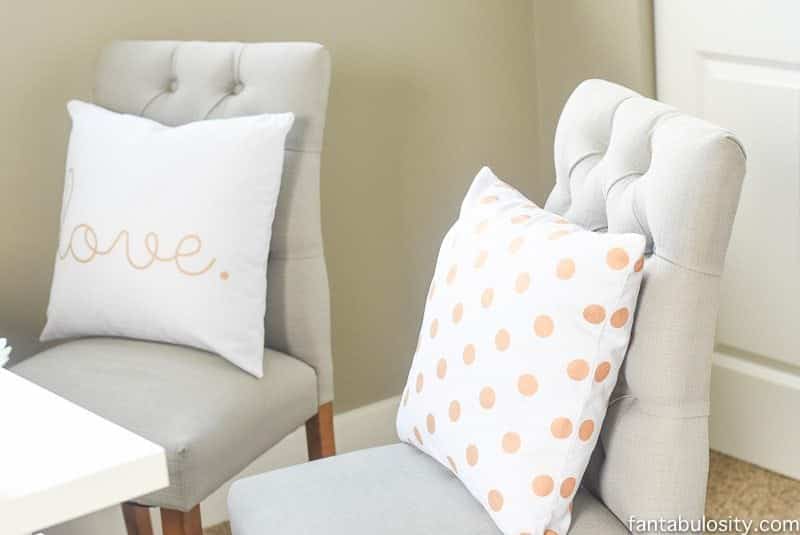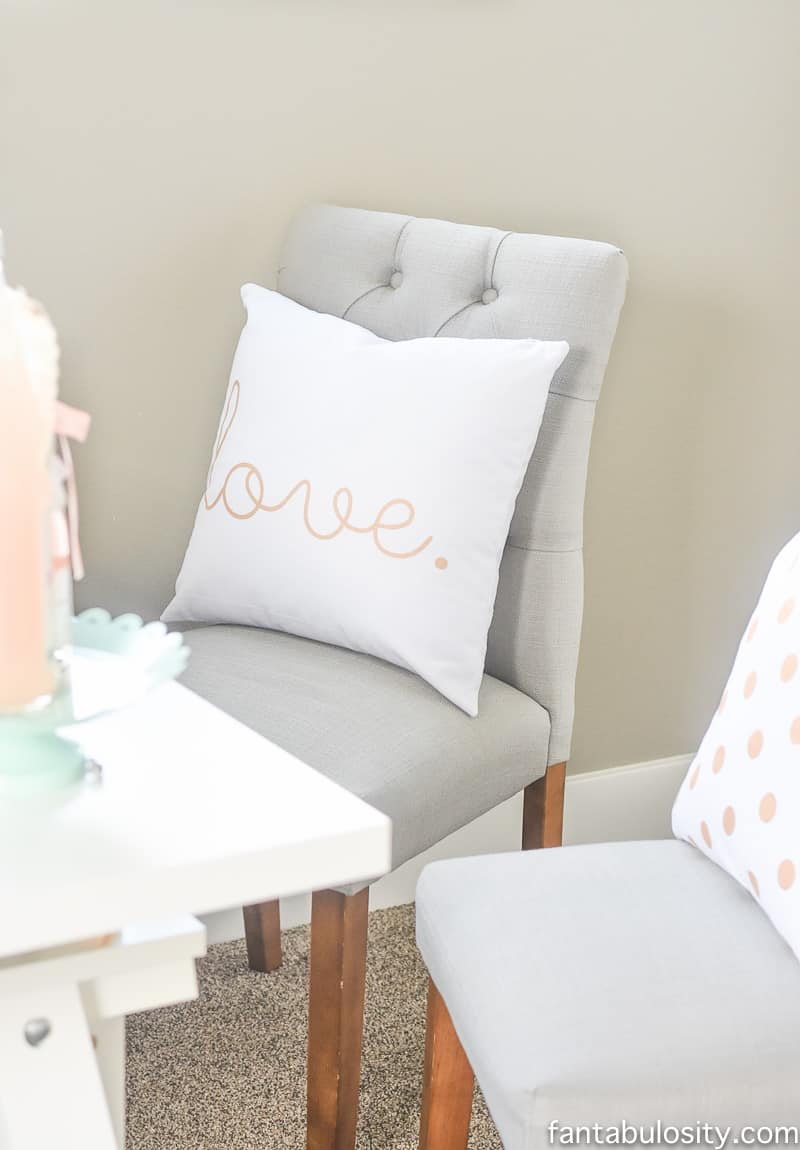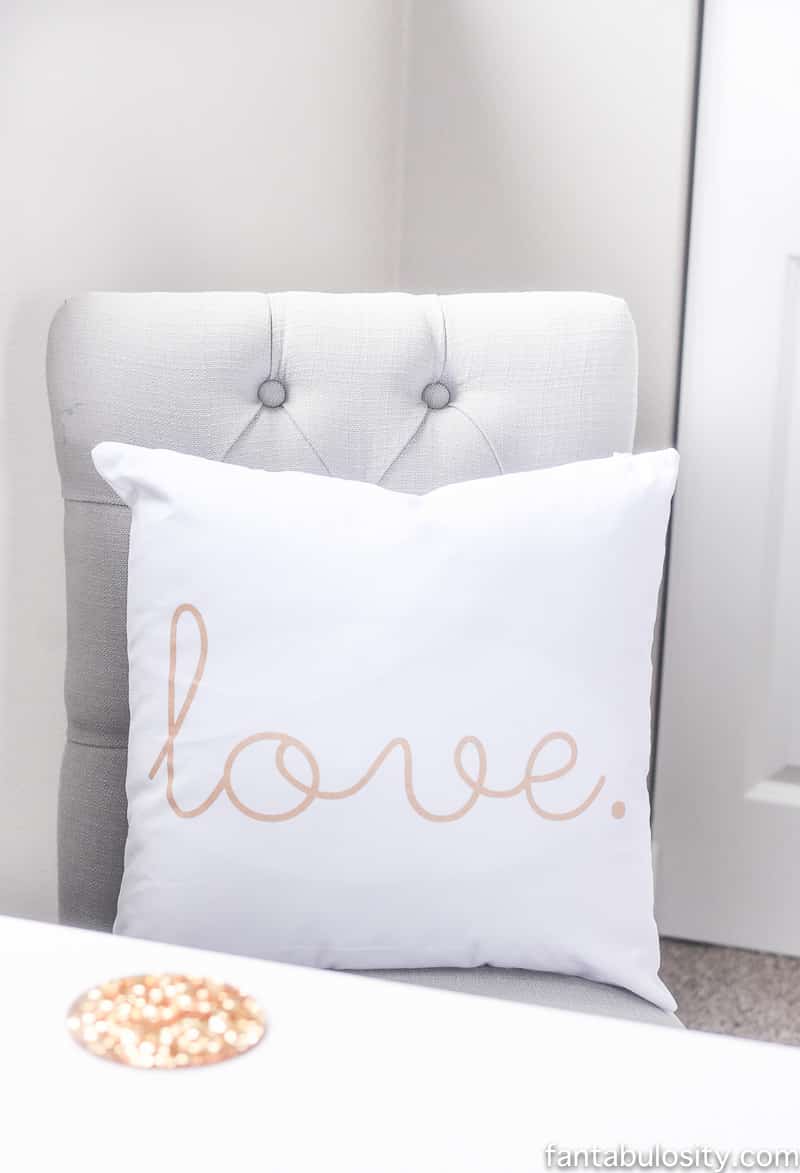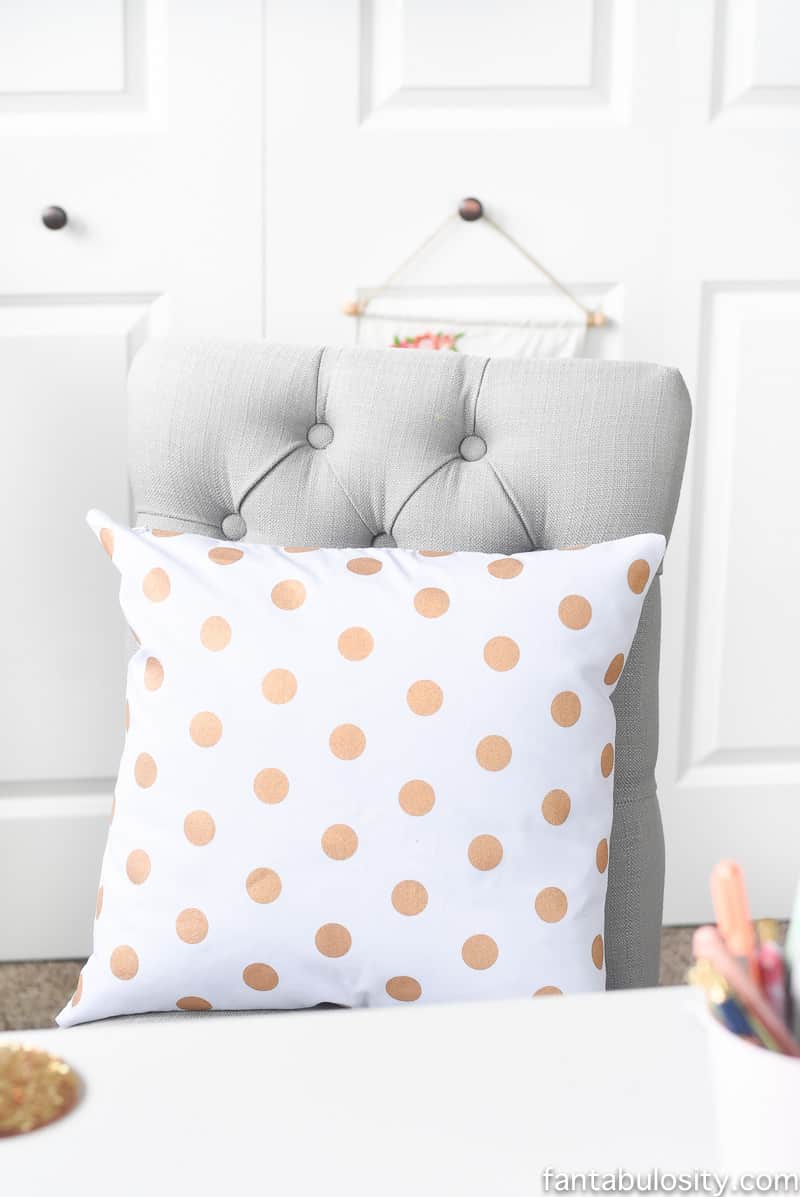 White Desk Chair (Buy HERE) // Gray Client Chairs (find similar HERE) // Mint Blanket (find similar: (TJ Maxx) // Gold Glitter Coasters (Buy HERE
)
Desk Lamp (Target) // Pink Letter Box (Sugar Paper: Target)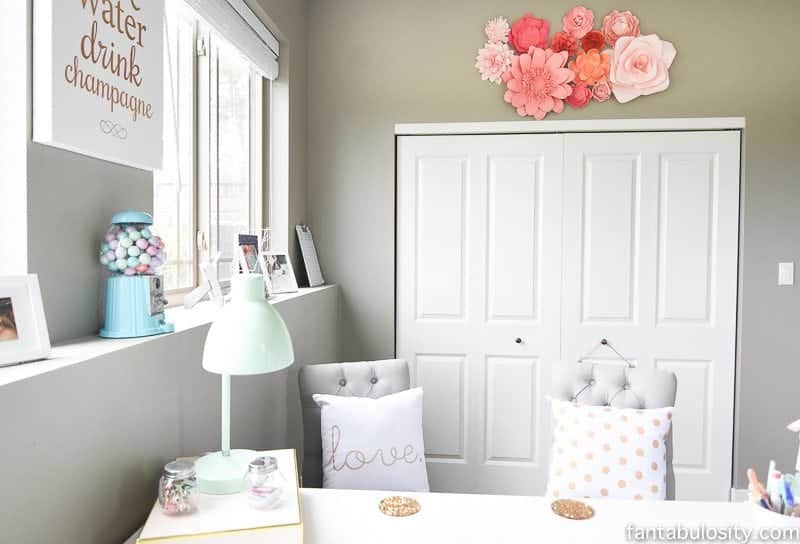 Paper Flowers (Buy HERE, and they'll custom make any color/style you like! Plus, 100% of the funds go to support kiddos in Haiti. So, so cool.)
"Hands On" Area
I'm not quite sure why I call this the "hand on," area… but it is the area where I do most of my crafting, photo-taking, and coffee making. So "hands on," just seems appropriate.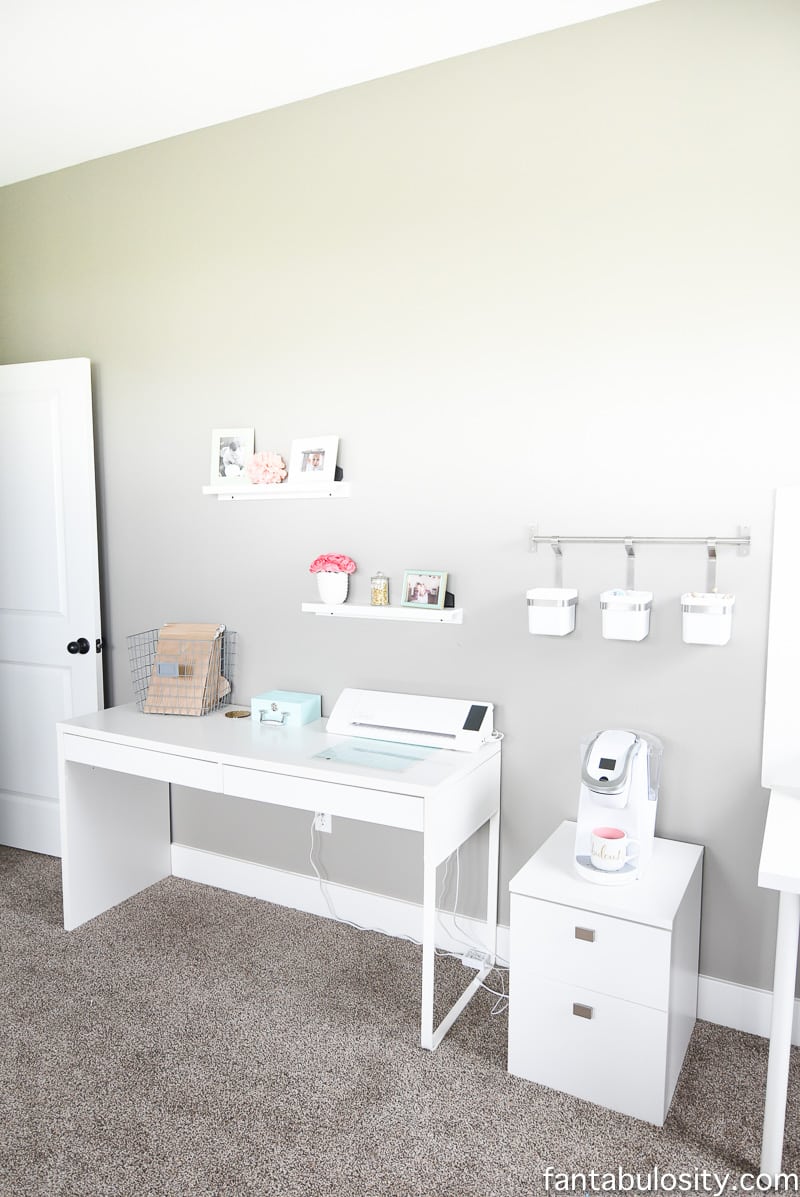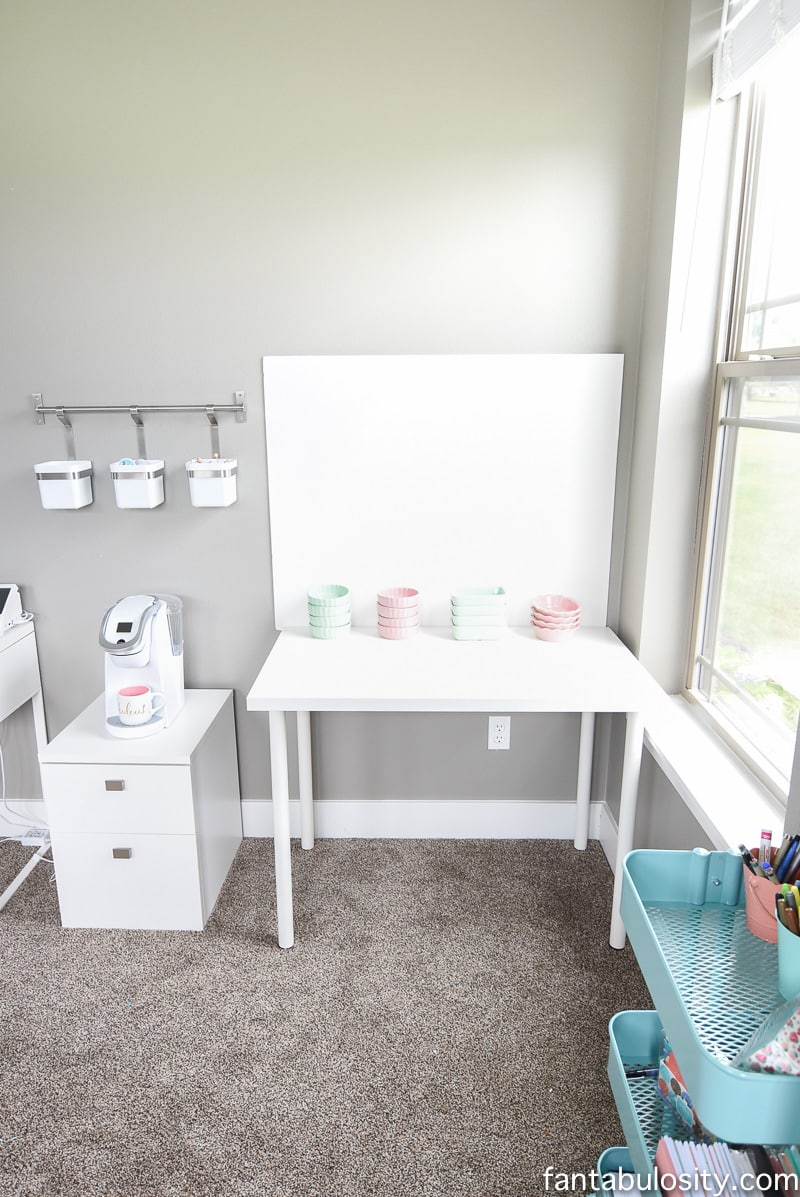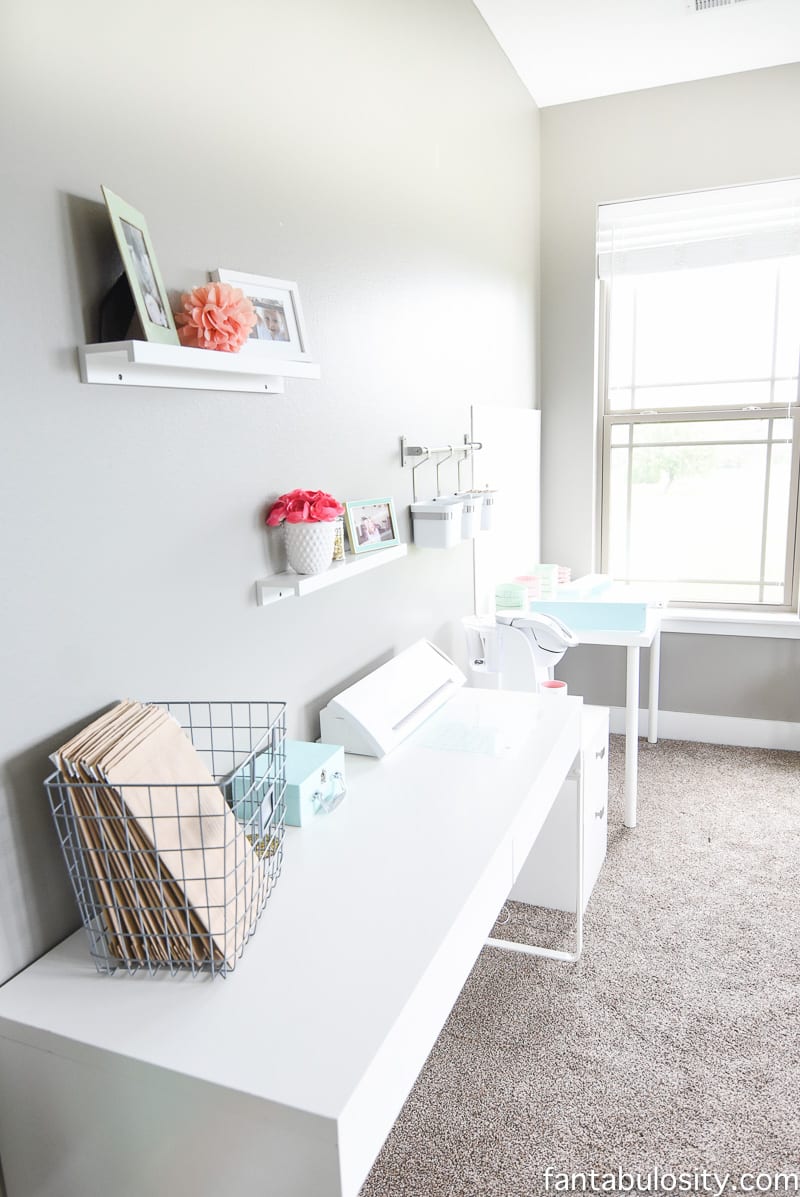 For my "But First Coffee," shirts that I still make occasionally, I have all of my shipping items near my Silhouette Machine
, so I can make the shirt.. and ship it out, all in one place!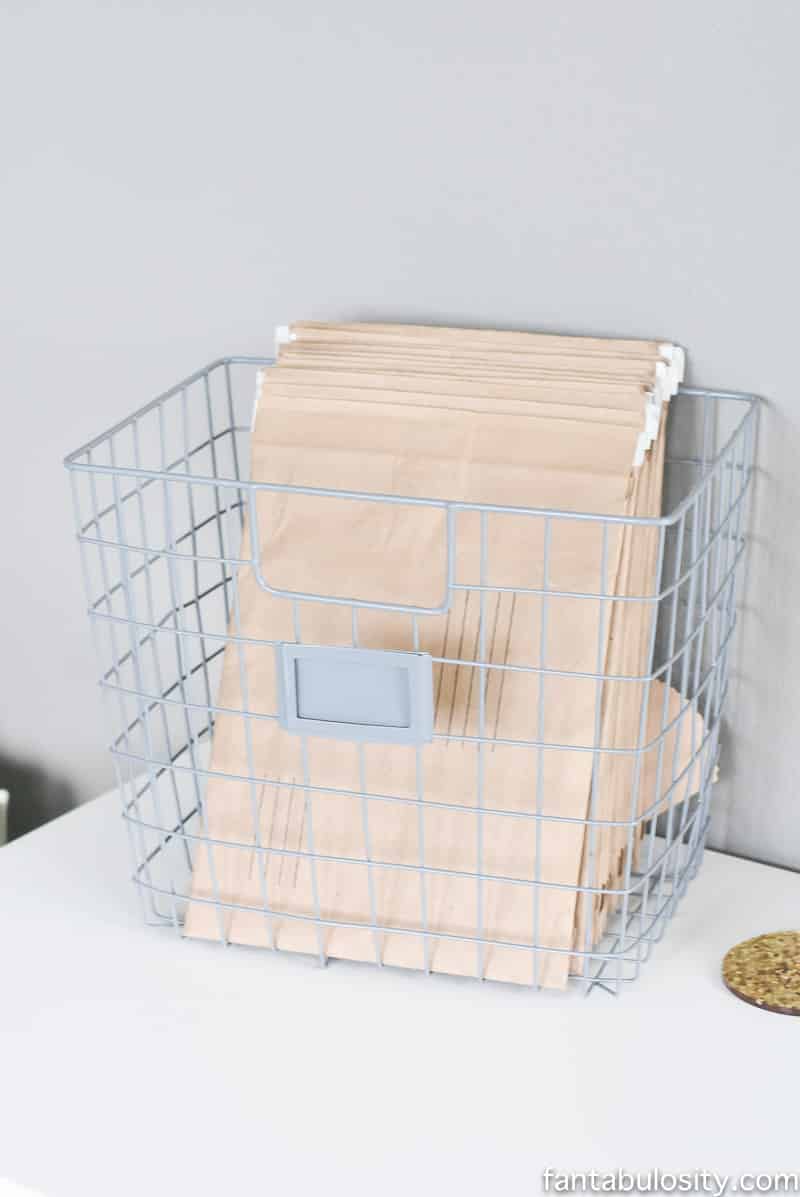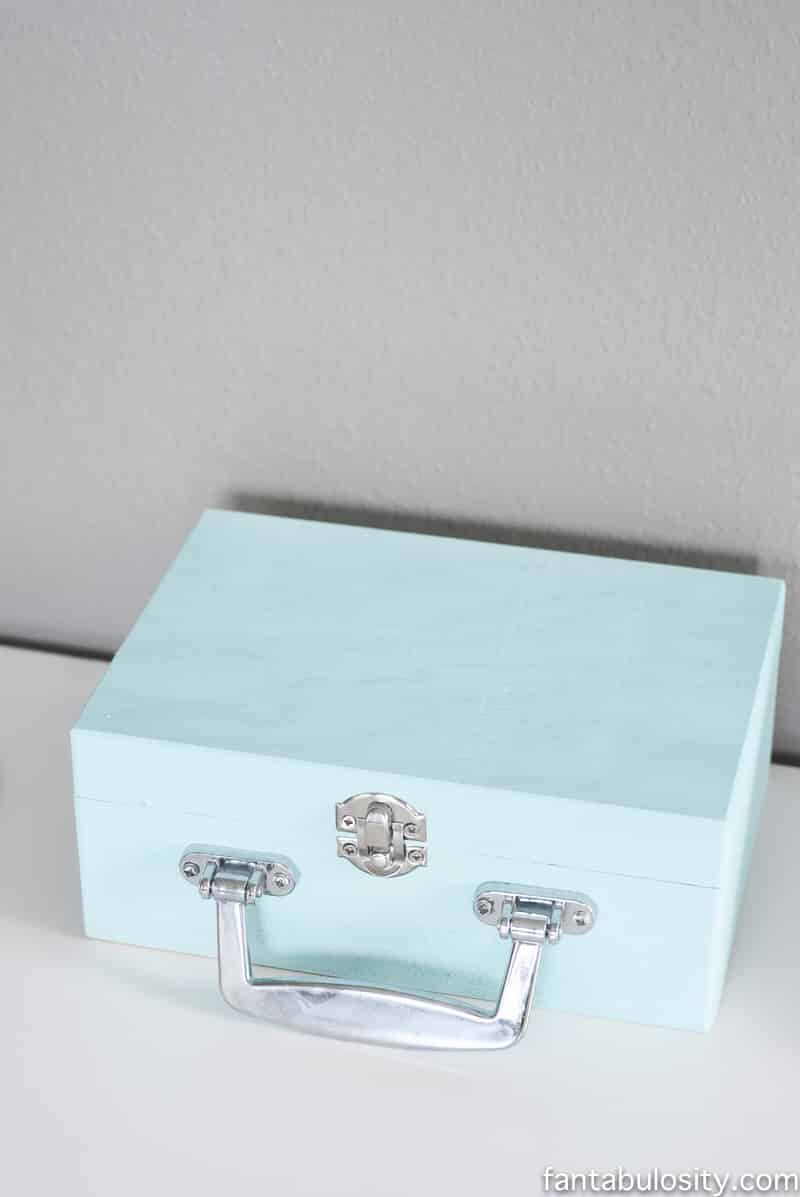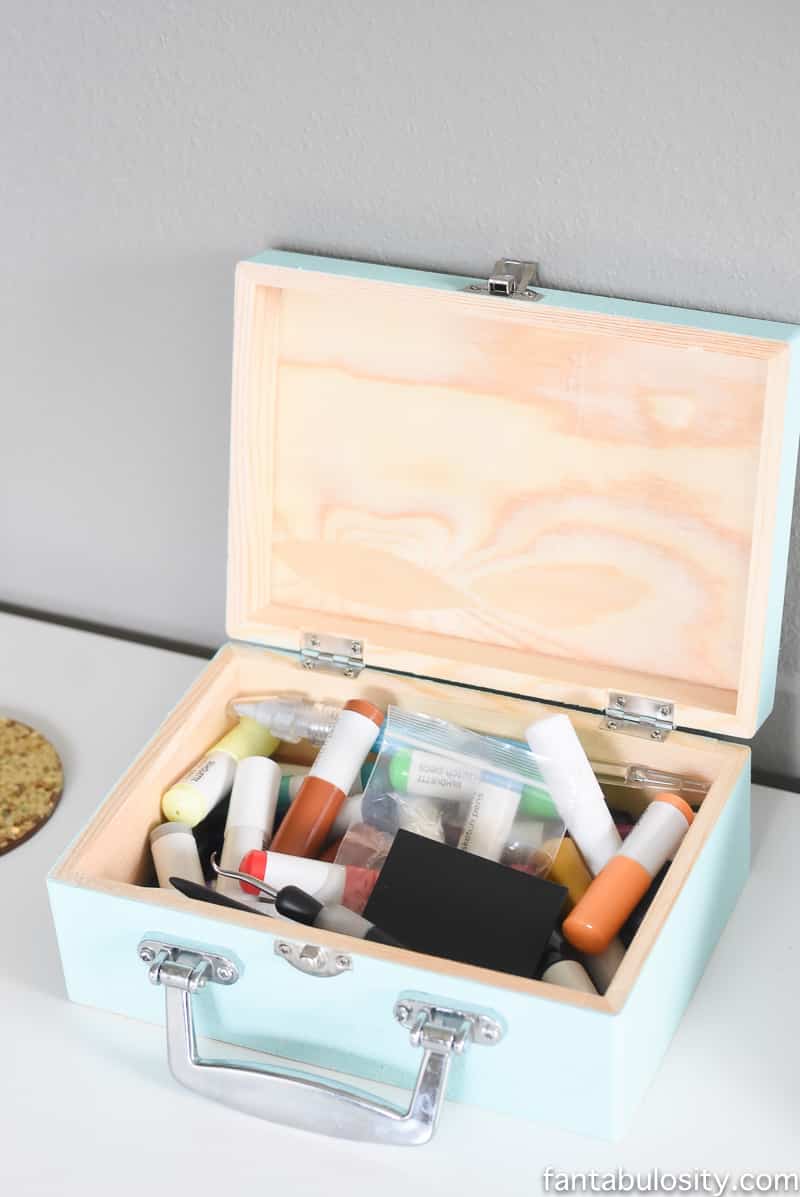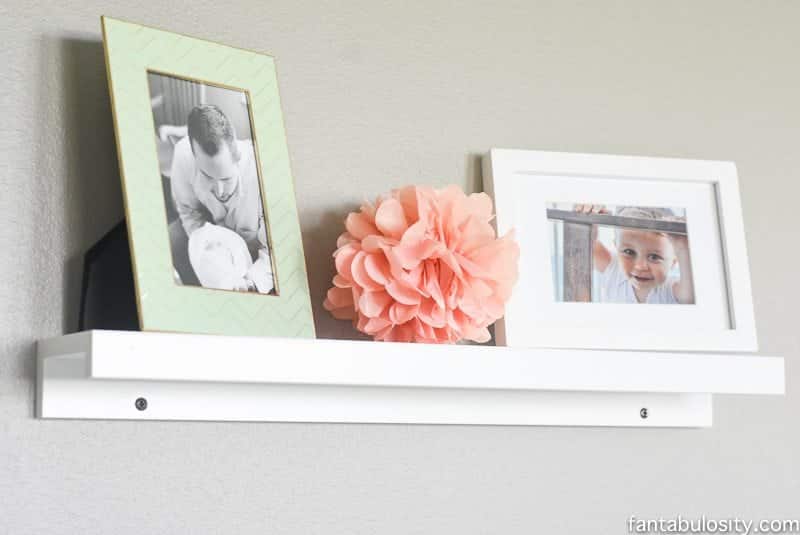 ** See that photo up there? We've been together since our freshman year, and that's our first photo taken together, at the age of 14. I sure don't even remember what life was like before he fell in to it.
Desk with drawers (Buy HERE) // White Shelves (Similar HERE)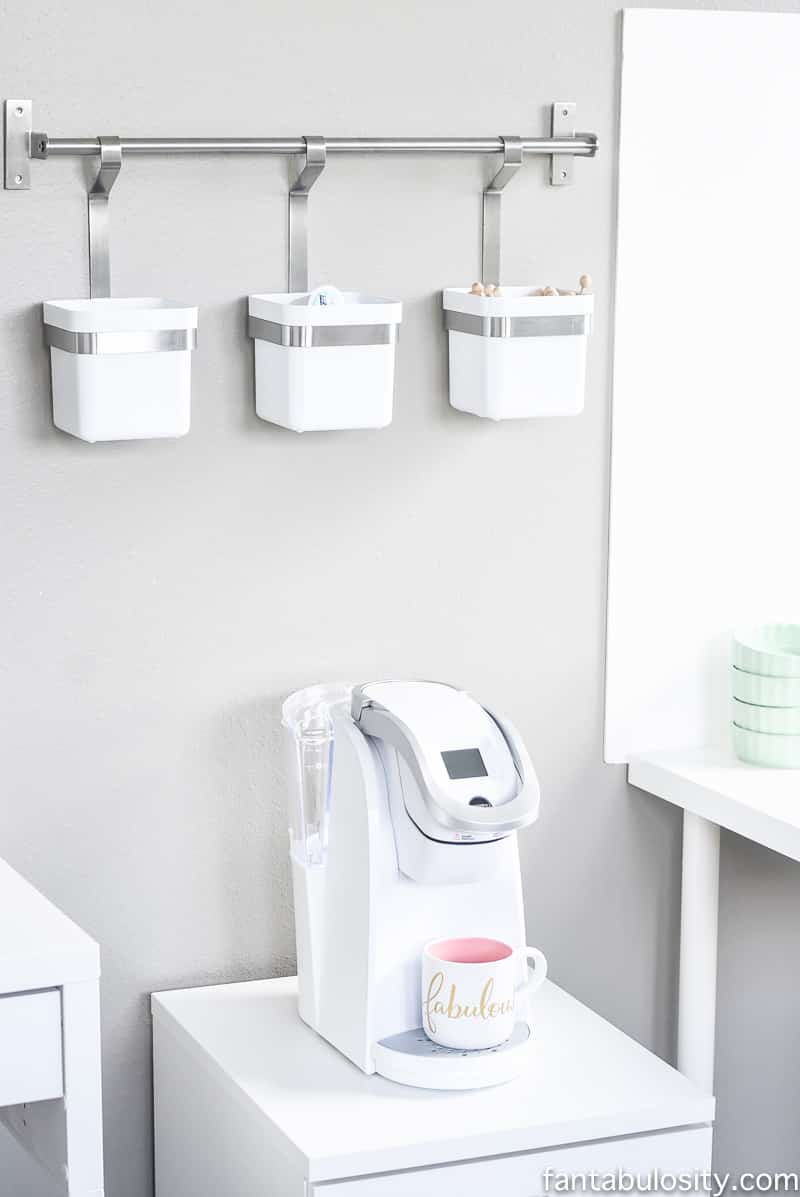 So I can hear some of you now… "Seriously? You have a coffee maker in your office?" You bet. Want to know why? Because if I run out of coffee, and need to run upstairs for a refill, there's a chance I'll get so distracted (either by the kids or dirty dishes), and waste up to 30 minutes of my day, for one trip for a quick cup of coffee. So having it right there by me, guarantees I'll stick to the nitty gritty of gettin' things done.
White Keurig (Buy HERE)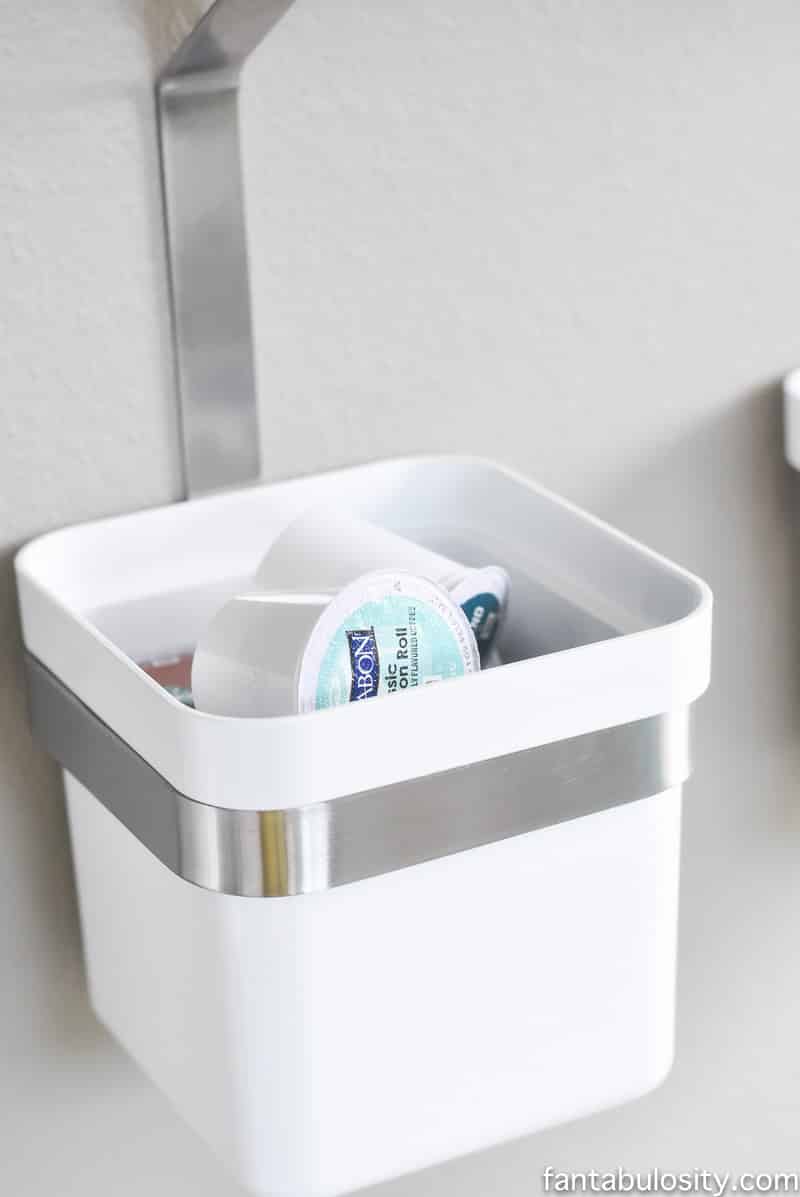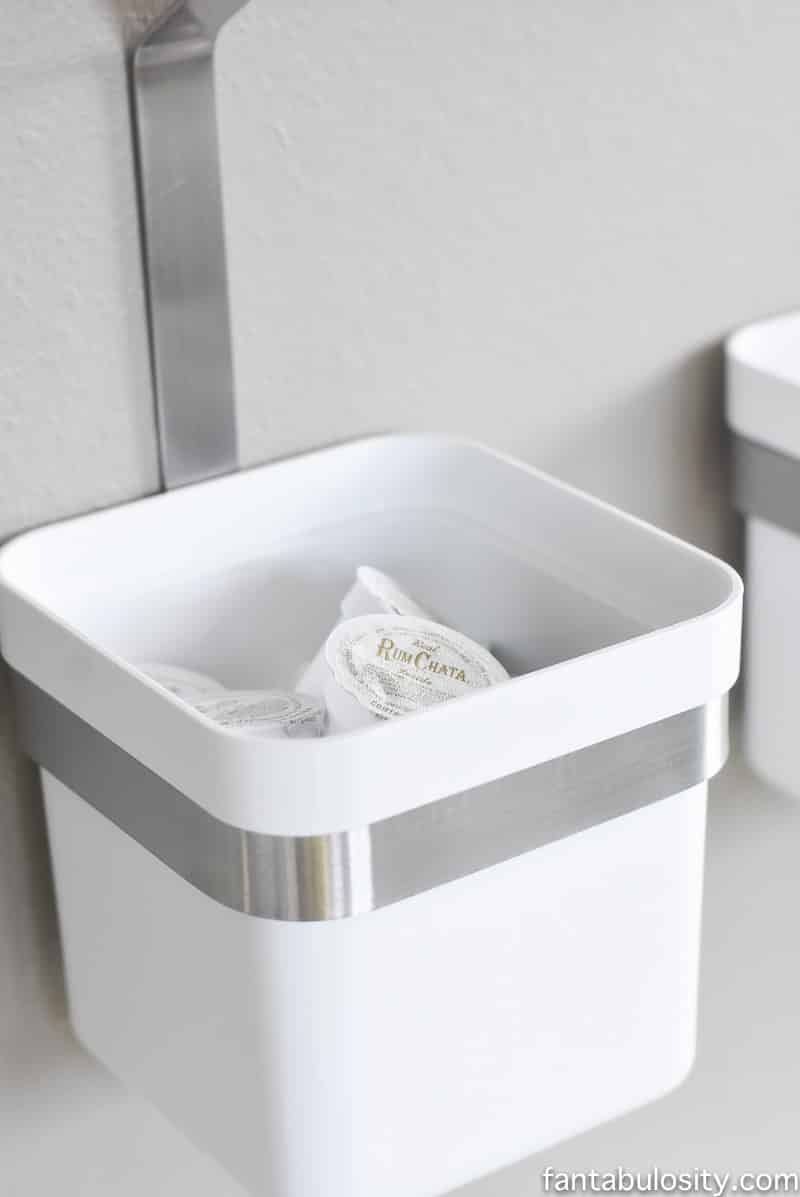 Shhh… Yes, that's RumChata in my coffee bar. How else do you think I get through the work day? Totally kidding. I promise there are other creamer options available. But at times, those RumChata creamers DO break out.
White square bin shelf (IKEA) // White Filing Cabinet (Similar HERE)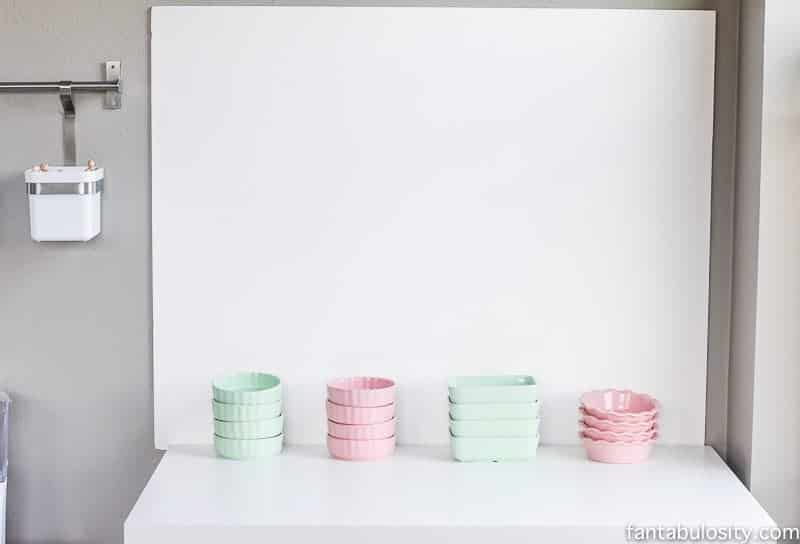 White Table (Buy HERE) // Bakeware (TJ Maxx)
Showcase It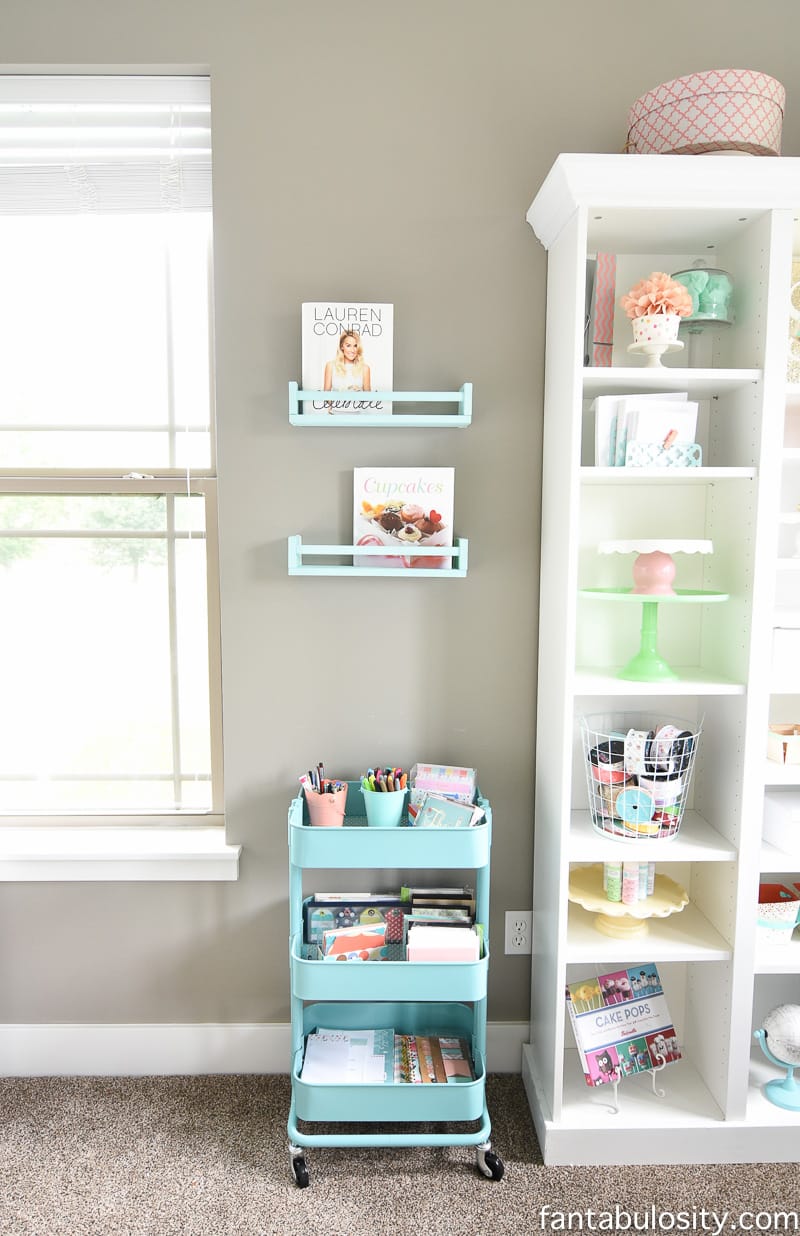 I absolutely ADORE having all of my stationary in one place. This makes it so easy to write up a thank you note, fill out a birthday card, or replenish my planner with notepads!
I have such a crush on those spice racks from IKEA. If you saw my son's room reveal, then you saw that I painted them dark brown to match his room, and used them as book shelves too! They're so perfect for that!
Rolling Cart (Buy HERE) // Book Shelves (Buy HERE) I bought shelves unfinished, and painted myself.
Yes, I have a cake stand addiction. But at least I have a place for them… right!?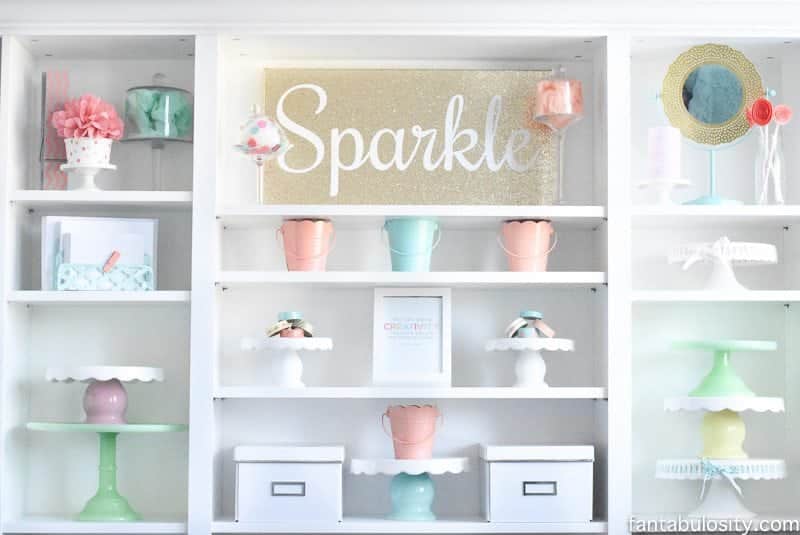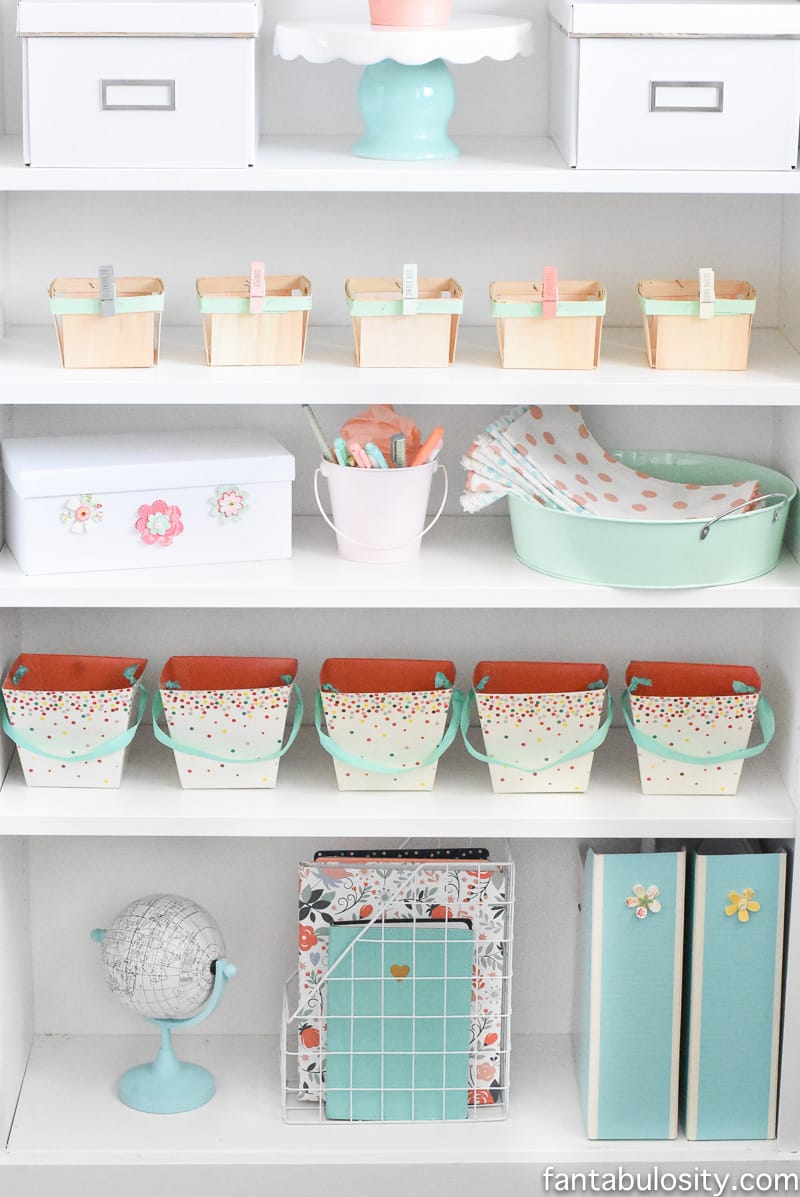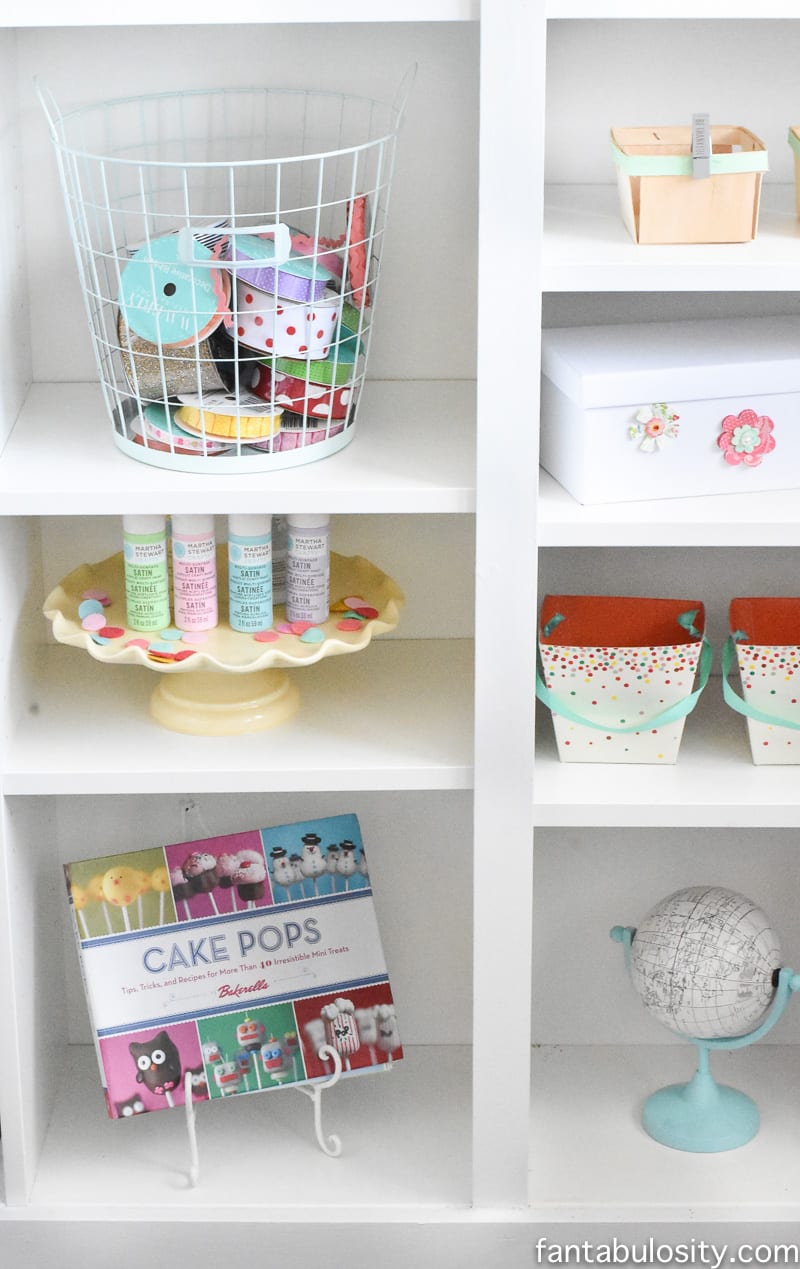 "Custom Built" Bookshelf (Buy the 2 outer book cases HERE & the middle book case HERE)
Inspiration & Full Tutorial from Love. Luck. Kisses. & Cake
Bible Binder from The Preppy Christian – from Jessica McLain
Magazine Holder (Sugar Paper at Target) // Cork board (.25 cents at a yard sale) Woot!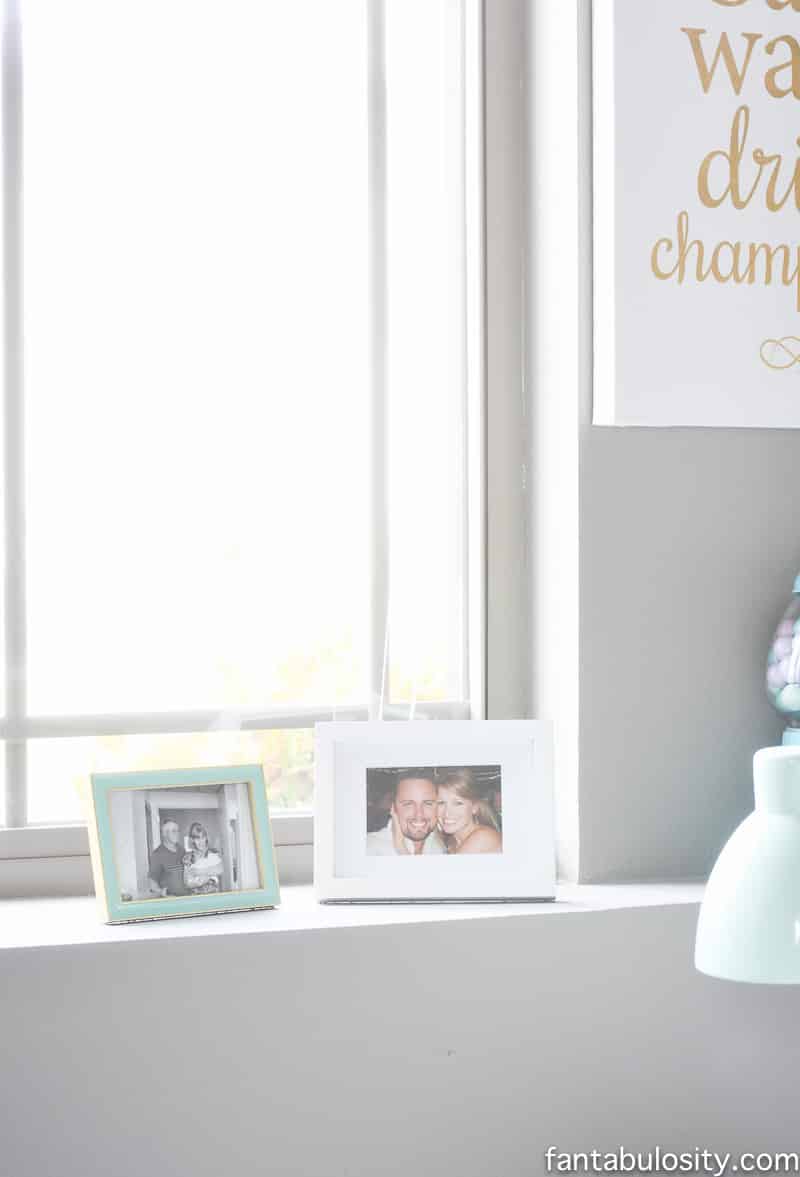 Some days I'll spend 8 hours of uninterrupted time, down in my office. So just like someone that works away from home, I love having photos of my family to stare at, during the day-dreaming minutes. Lining the ledge are pictures from super special moments in my life, from the birth of my babies, to vacations with my hubby.
Champagne Sign (TJ Maxx) // Gumball Machine (Hobby Lobby) // Gumballs (Buy HERE)
So there it is! It's my ultimate happy place! Now please… PLEASE don't let me find something in at least, less than a year, that tempts me to re-do my office all over again! I just don't think the people around me can take it! The curse of a creative mind… always wanting to change something.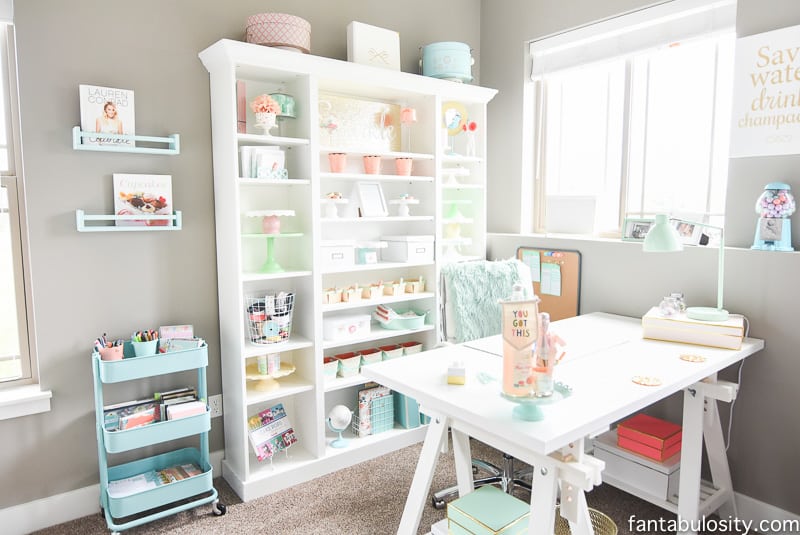 See the other rooms on our home tour:
Part 1: The Exterior
Part 2: The Master Bedroom
Part 3:  The Master Bath
Part 4: The Kitchen
Part 5: The Playroom
Part 6: The Guest Bath
Part 7: The Pantry
Part 8: The Patio/Deck
Part 9: The Nursery
Part 10: *Old* The Office/Craft Room
Part 11: Big Boy Room
Part 12: The NEW Nursery
Part 13: The Dining Room/Foyer
Part 14: The Guest Bedroom
Part 15: The Living Room
Part 16: New Office Reveal