Mini Cake Idea + Tutorial: For Birthdays, Favors & Place Settings. Making individual mini cakes is an adorable idea AND so easy for almost anyone to make!
If you love baking donuts as much as we do, then you'll also love these circus animal cookie donuts and these chocolate donuts too!
Easy Mini Cakes
So I have this little donut pan, and it's the cutest little thing. I use it for multiple recipes, just to add a different shape, for bite-size fun. The other day while staring at a cake mix in my pantry, I thought it would be incredibly fun to make little cake donuts as a surprise for my kiddos.
When the cake "donuts," finished baking, I stared at them for a minute. How adorable would mini donut cakes be, right?! So I did it.
After assembling the mini cakes, my mind started running off with all of the fun ideas that these little sweet things could be used for. Birthdays, favors, place settings, and so.much.more! So I'm sharing this quick and easy tutorial for you, in case you have an adorable idea in mind of how to use them too!
Mini Cake Tutorial
You'll want a donut baking pan that you can get here, if you don't have one already: Donut Baking Pan
For my cake donuts, I just used a boxed cake mix… but feel free to make a cake from scratch. But ain't nobody got time for dat in this house.
I made the cake according to package directions, poured cake batter in to each cavity, filling half-way, and then baked the donuts at 350 for 10 minutes. (BUT cooking times may vary depending on which type of donut pan you use. Dark, non-stick, silicone, etc.) 350 should be a safe bet, but keep an eye on them, and if not quite "done" at the 10 minutes, then check every minute after that to ensure you do not over bake.
TIP: If using a metal donut pan, to help make sure that the donuts do not stick, overspray with cooking spray. If using the silicone pan, the flexibility of the pan can help push the donuts out without damaging.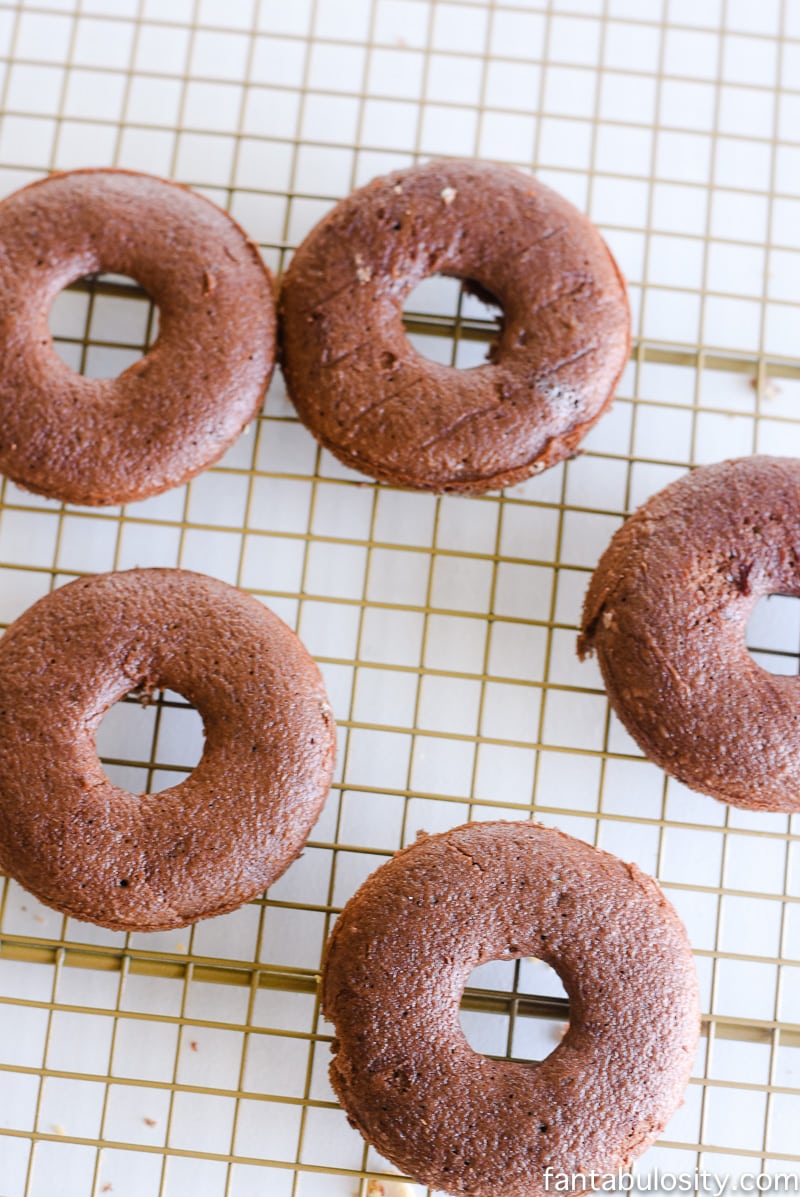 Stack + Frost
Frost the top of one donut, and top with a second cake donut. Frost that donut and stack with one more. (Unless a 4-tier mini cake is desired.)
When you get the 3rd donut stacked on top, frost the top and sides of the mini cake, and decorate any which way you wish!
Birthdays + Party Favors + Place Settings + More…
Birthday – When my boys were itty bitty, "smash cakes," were the HUGE thing to do for their first birthday. Making a mini donut cake like this one would have been perfect for their first birthday parties! So if you're looking for a small cake idea for a first birthday cake, so your little one can rip in to it… a small donut cake like this one, may be a great idea!
Then, frost the tops of the others (not stacking, if you like ) and everyone else can have a frosted donut all to themselves without any cake slicing, or utensils needed!
Party Favors – How adorable would these be as party favors!? You may even be able to find adorable little boxes to put them in at some of my favorite online stores for party supplies.
Place Settings – If you're hosting a baby shower, bridal shower, tea party, or any event where you're looking for a WOW factor in place settings… how stinking adorable would it be to have one of these mini cakes sitting at each place setting, waiting for each guest? Add a personalized touch by topping it with a small cutie-patootie flag, with the guests name on it.
If you're hosting a party soon, feel free to browse our parties for some entertaining inspiration!