This post has been sponsored by Philips Sonicare™ and I have received free product to review. All thoughts and opinions are my own.
Overnight Self Care Kit Gift Idea: A gift idea that keeps on giving, with the makeup bag and other goodies that she'd never buy for herself, who deserves so much!
Overnight Self Care Kit Gift Idea
I am such a sucker for giving gift baskets and gifts that are full of other little gifts. I'm especially a fan of giving gifts that keep on giving, by filling a container or object with something that can be used over and over again! It brings a whole new level to a gift when it's something they can hold on to and use again and again, instead of tossing it in the trash. (i.e. paper gift bag)
Taking Care of the "Carer"
Someone on my gift-giving list, deserves to get a little extra treatment this year. My mom is not only the woman who took care of me from day ONE, but has continued to be someone in my life that I can turn to when I need support, and someone who will celebrate the special things with me.
When I sat and thought about what to get her this year, I knew it was time to repay her (although I'll NEVER be able to repay her fully) for the love, hard work, and CARE that she has given me, all 34 years of my life. I decided to create a gift for her that she could take care of herself with for a change, and filled it with items she may never purchase for herself. With this gift, I'm going to encourage her to take this bag, take an overnight trip with one of her friends, and take some time for herself! I can't wait to show you what all I put in this for her, to give you ideas of how you can create your own for someone too!
Philips Sonicare 2 Series
On my monthly weekly Target run the other day, I started scouting out goodies to include in my mom's self care kit gift. The Philips Sonicare 2 Series is definitely the hero in this gift. (I usually try to include one "wow factor" gift in each "basket" I make, and then surround it with other, smaller goodies.) When I saw that it came in PINK, it was like the gift gods were smiling down on me. Not only would my mom love something like this, but being able to get something for her that she'd normally skip buying for herself, was perfect. Then of course, the fact that it comes in pink is a huge bonus for a gift all about her!
I love how it comes apart, so it fits easily in the overnight bag and looks super classy!
Now, if you're making this gift for someone who's not in to pastel pink, they come in other exclusive colors (only at Target) of blue, steel and aqua, so there's a color for everyone in the whole family! But even if you're not able to make an overnight gift bag for someone, solely giving the Philips Sonicare 2 Series if a brilliant gift idea. Just think… it's another gift that keeps on giving; it gives a healthy smile all year long! I'll fill you in more below on where and how to get one too!
Scented Epsom Salt
One of my favorite gift basket tips: Remove items from the containers, and put it in my own packaging. When it comes to epsom salt, isn't it adorable in this little fabric bag with a cute tag (quickly made with a little stamp set + blank tag) and little scoop, than in the packaged plastic store bag?
It's the little things that can really give your gifts a personal touch, and it's so easy, right? You can also find different scents of epsom salt in the store, or you can make your own with essential oils! This way, Mom can take a hot bath and soak in epsom salts on her night away from home!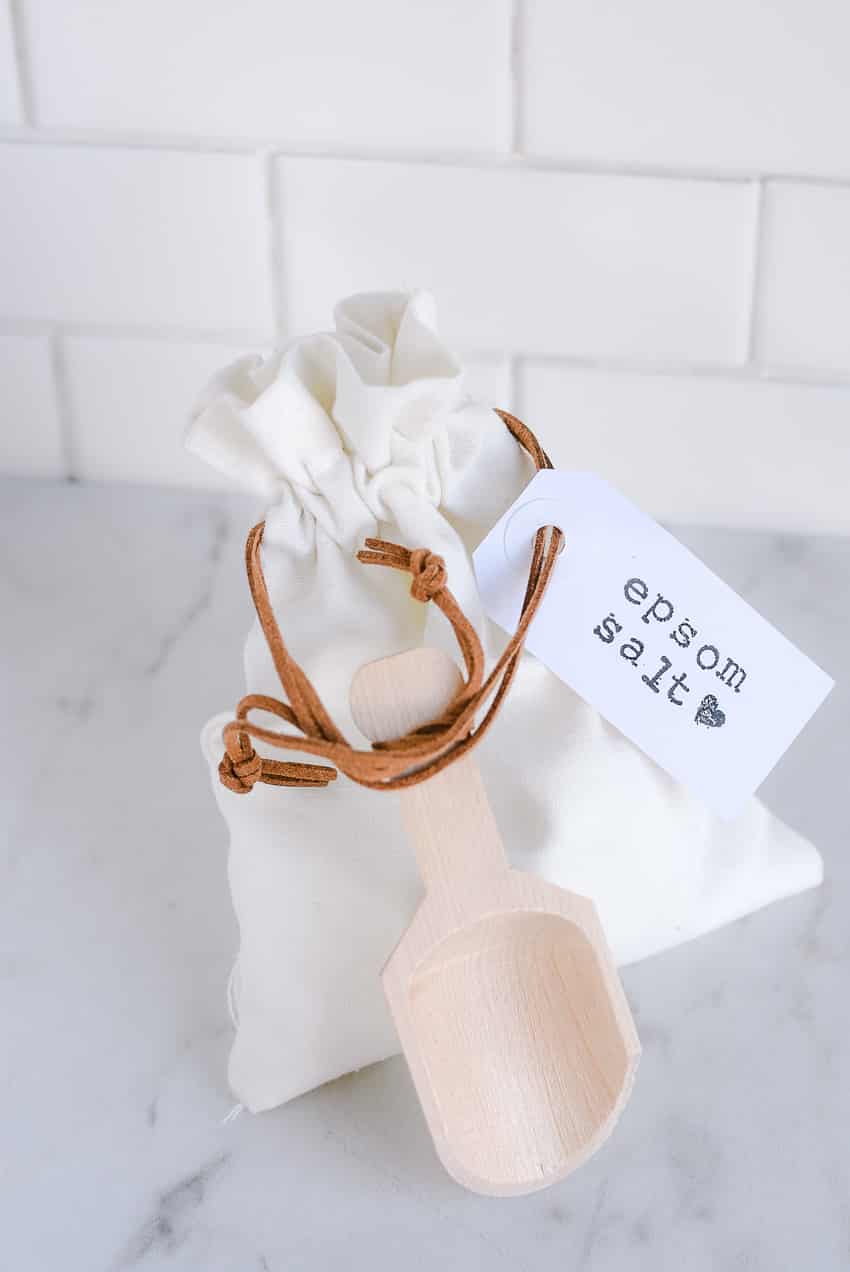 Makeup Remover Wipes
Who wouldn't love makeup remover wipes in their overnight bag? You never know, Mama may stay out late on her night away from home, and she'll need a quick solution to remove her makeup before bed.
Tip: Remember above how I suggested taking items out of it's store packaging before adding it to the gift? Well sometimes it's not the best thing to do. Removing the wipes from this packaging may make the wipes dry out. So to dress up the store packaging a bit, I simply added a matching ribbon to add a little flair!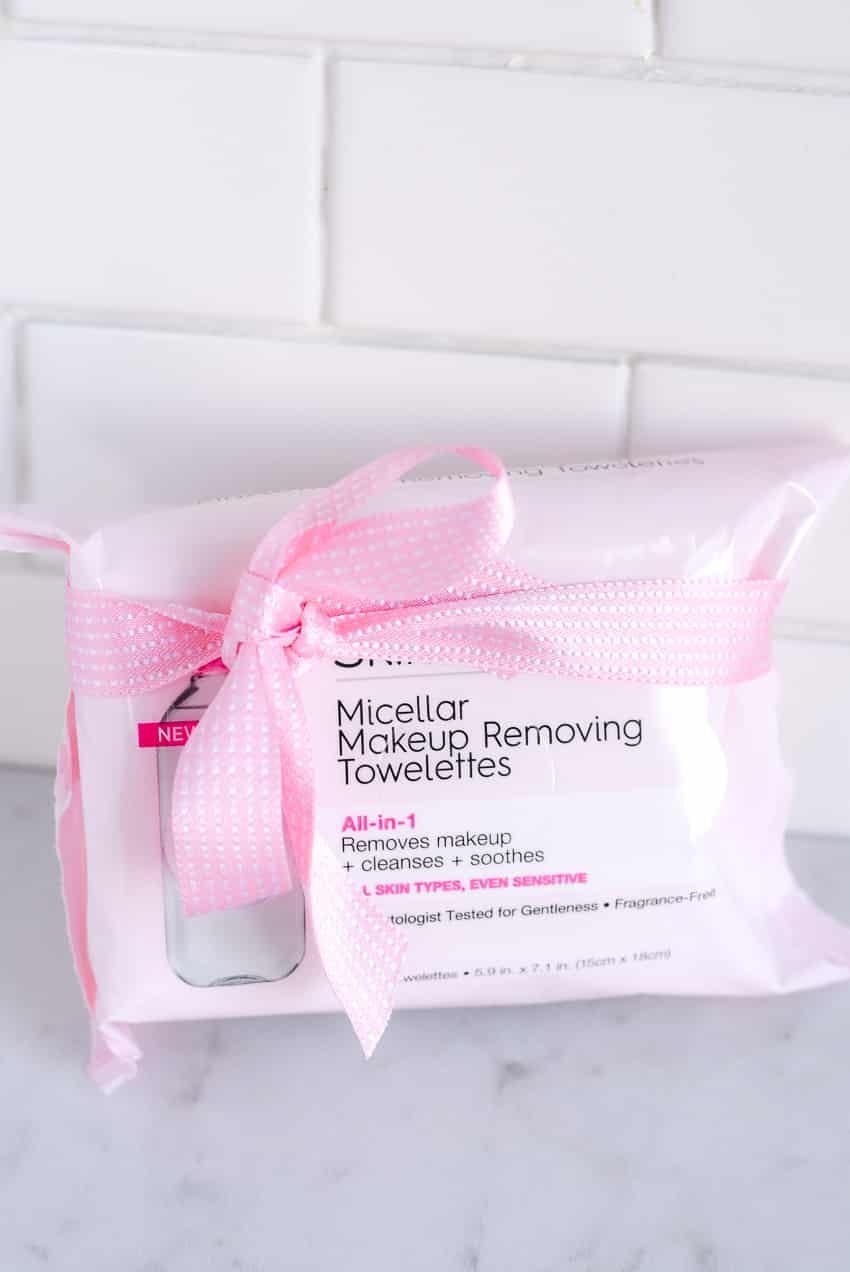 Nail File + Nail Polish
On her night away, she may want to really soak in her "me time," and take care of some things she never gets to do at home. Providing her with the tools like a nail file and polish, to feel a little more pretty and girly is an excellent addition to the gift!
Soak + Sleep
What better way to end an evening of self care with a warm bath and a peaceful night's sleep. A bar of soap infused with relaxing scents and a luffa is an easy way to create a customized bath away from home. Then, she can head off to la-la land with an adorable eye mask to block out any light that may be poking through the curtains.
Make-Up + Toiletries Bag
Once you've rounded up all of the goodies, fill a make-up/toiletries bag with everything and seal it with a cute tag and ribbon. Now, she has a new bag to use over and over again… as well as other fun goodies inside!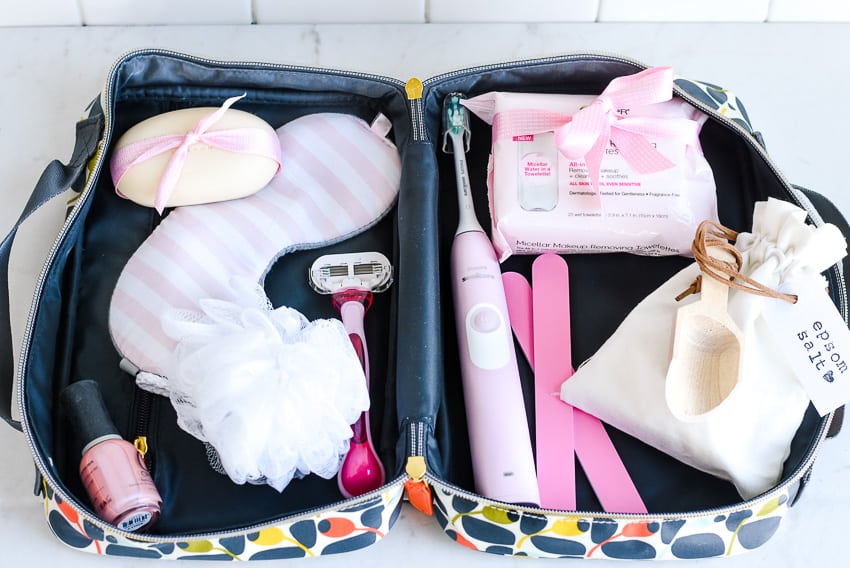 Target for the Win!
We all know how I feel about Target, right? It never let's me down, and it's where I'm going to send you to get thePhilips Sonicare 2 Series too. You can shop in-store or online for it, ESPECIALLY if you're doing some Black Friday shopping for your gifting this year like me, because the Philips Sonicare 2 Series will be automatically discounted on target.com during Black Friday. (no coupon code necessary). You can shop it online by simply clicking the image below!
Thank you SO much for coming by to see my overnight care kit gift idea! I hope you love it, and are inspired to create your own! For more gift ideas, you can see our gift archives HERE!