Crawfish Boil Party Ideas: This party theme was INCREDIBLY fun to style for a birthday party. Reds, burlaps, and casual! The perfect combo, for a great party!
Ya'll… (insert southern accent that I don't have), you HAVE to see how much fun we had throwing our son's crawfish boil party, for his 3rd birthday!
Lucky me, I have a brother-in-law who calls "Louisiana" his "home," and that man can boil some crawfish.
Crawfish Boil Party Ideas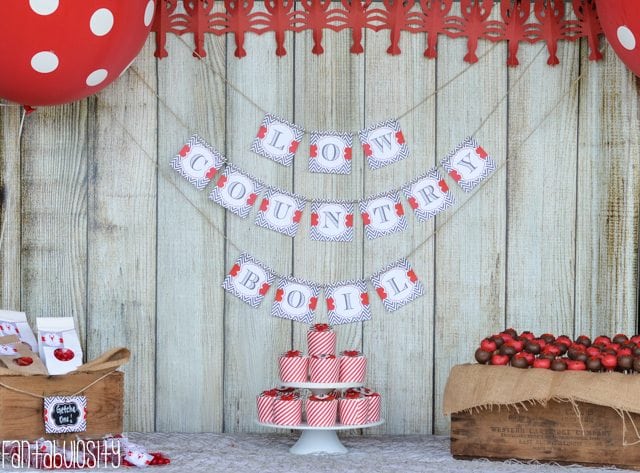 You May Also Love:
When my sister told me that they'd be willing to drive all the way up from the south with crawfish in tow, just for my son's birthday party… I ordered the invitations without looking back. (AND realized again, how awesome of a sister and brother-in-law that I have!)
So sit back, relax (don't eat the straight ones) and I'll take you on a tour of our low country boil.
How to Peel and Eat a Crawfish
Remember that awesome sister I told you about? Well this is her. Yes!!! In this video. She created a video for her church's crawfish boil, and I had to snag the video to share with you all, so you know exactly how the crawfish peeling process works:
Crawfish Boil Invitations:
I knew the party was going to be super fun to plan, when I had the best luck finding these adorable invitations from VivaLaLovely's Etsy Shop. Josie was extremely easy to work with, and did exactly what I asked when it came to party details for the invitations. (Keep in mind the invitations were FLAWLESS, but I "blurred," out my address and phone number on the photo for security reasons.) 😉 They arrived quickly, looked exactly like I expected, and the PERFECT thing to send out to kick-start this shindig. Thanks Josie! 🙂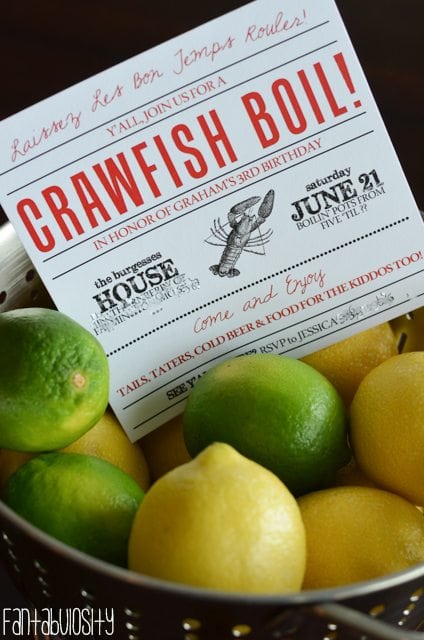 Crawfish Boil Dessert Table and Decorations:
I seriously couldn't have pulled this party off without fantabulous decorations from extra fantabulous vendors.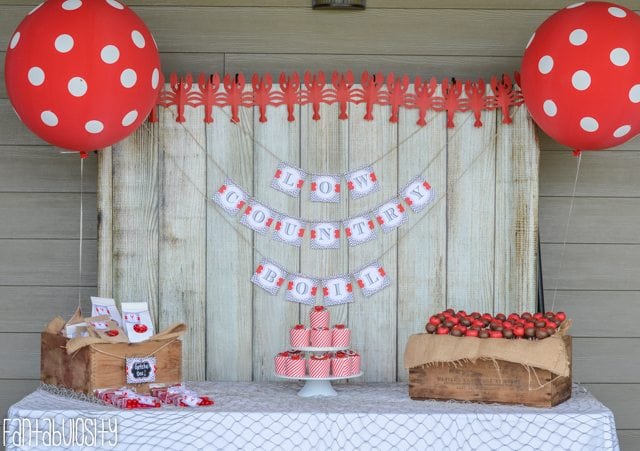 Crawfish Boil Party Printables
I've said it a million times, and I'll say it again. "PARTY PRINTABLES," can MAKE a party, and can easily add some flair to your event. Heather from Notable Affairs Etsy Shop, completely blew my mind with customer service and product quality.
From super fast response, to working with me on exactly what I needed… she get's an A+ all around. Her printables were emailed to me, and I was able to go to my local print shop and have exactly the amount I need printed. (I did add a couple of chalkboard labels to some of the printables, just so I could incorporate the chalkboard theme in to the party a little more. You could easily do this too if you wanted!)
Pay VERY close attention to this detail: Something I LUUUVED, about her printables, was that they were "squares," and "rectangles," that I cut out. Sometimes when ordering printables online, you're forced to cut out circles and odd shapes, which take FOREVER. Take it from someone that has spent night after night, staying up late with cramps in my hands… look for printables that are easy to cut out. What I love about Heather's printables, was that she had so much detail in curves and rounded edges PRINTED on the printables, so cutting them in straight squares and rectangles still looked AH-mazing. Thanks Heather!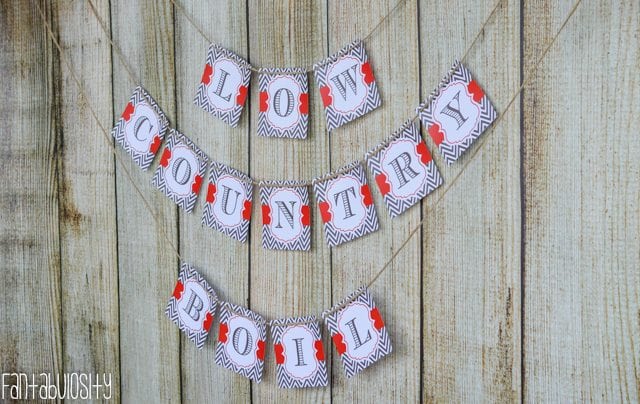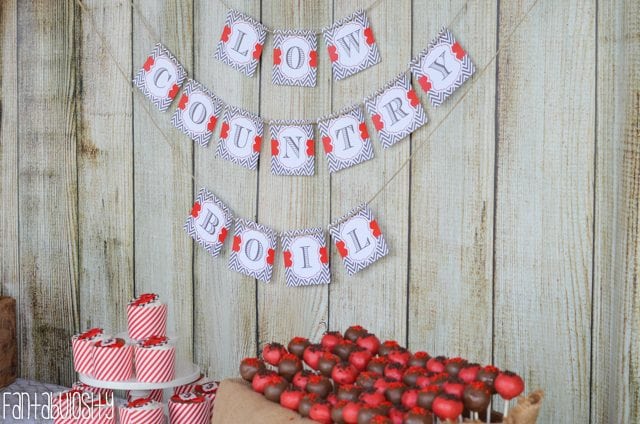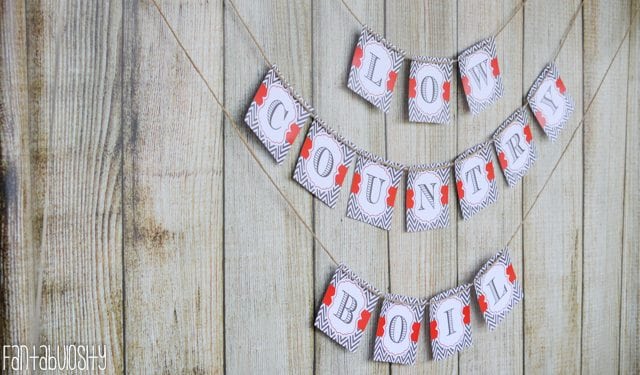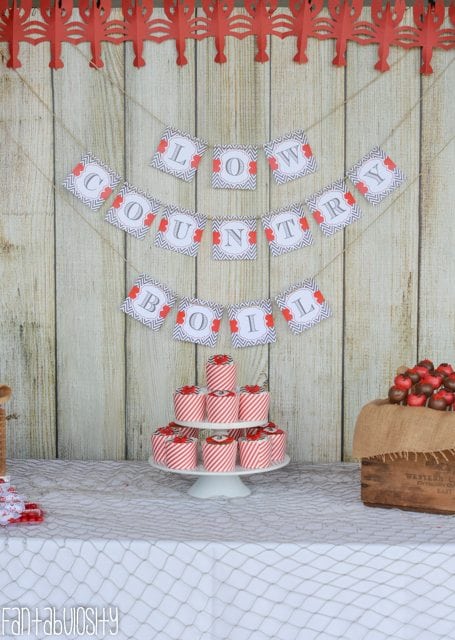 Crawfish Garland
Oh my goodness. If I could wrap my arms around Leslie's neck from Woodie Block Head's Etsy Shop, I'd give her a HUGE hug. (But I can't because she's all the way across the US from where I'm at.) How creative and adorable is this crawfish garland that she made!? She went out of her way to get this garland to me in time for the party, and it couldn't have worked out more perfect. It added the perfect touch to my dessert table backdrop, and arrived in prestige condition. Thanks Leslie!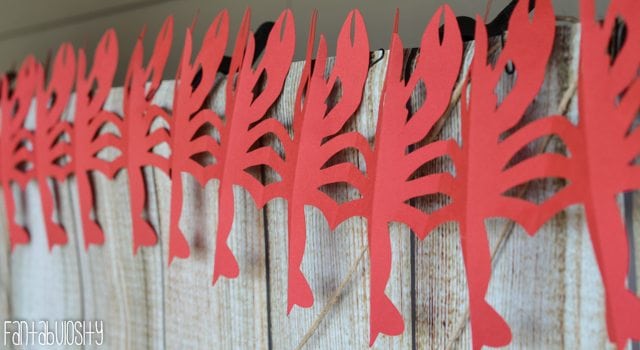 Crawfish Cupcake Toppers
Alright alright alright. Can I BE anymore clear about this?
I swear by Jessica at Cherry Bay Cakes Etsy Shop. I've used her more than once, and I will continue using her as long as I live, or as long as she wants to put up with me. (Which… I would completely understand her if she ever chose to ignore my requests in the future, after this last order. Ha!)
I came to Jessica with a thought in mind of how I would like the crawfish cupcake toppers for this party. Even through email and a vague description on my part… she pulled it off once again, and TOTALLY blew my mind with awesomeness, yet again. Seriously… look at these cupcake toppers that she made. They match the printables exactly, and absolutely stunning.
Would you believe that these are edible? YES! Edible! Two words. "SHE's FANTABULOUS." Go check out her Etsy shop and just look at all of the toppers she has made, and that she can do. Don't see what theme you are looking for? I didn't either, but she made exactly what I needed and all with SUPERIOR customer service.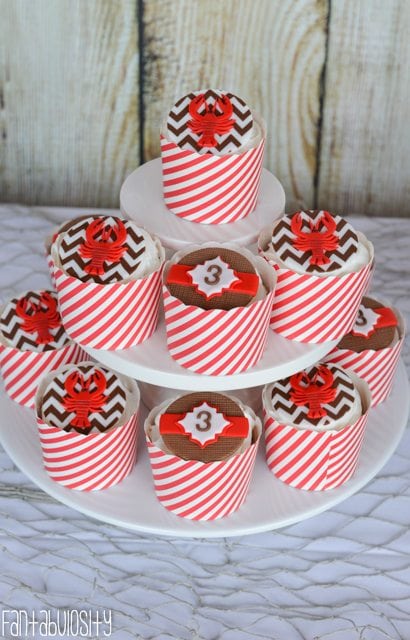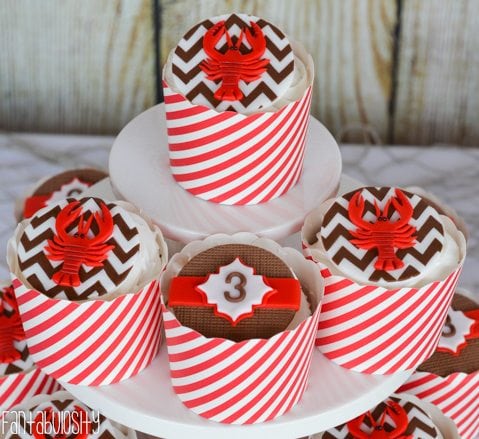 Favorite Tips for Party Styling
Ask me for my advice in party styling? I'll tell you two things right off the bat.
#1, go with party printables, like I said earlier.
#2, go with cake pops or cupcakes instead of cake. To avoid cutting, serving, and using plates/utensils.
(Now… I did go with a cake for my sons 1st birthday party. Why? Because I found an adorable cake idea, and couldn't plan a party without it. 🙂 See that party here: Airplane First Birthday Party.)
Crawfish Boil Cake Pops
My gal at Sweet. Sassy. Pops, came through for me again and made the most DELICIOUS cake pops for this party. They're always requested by our guests, so I always have to deliver and please them! Otherwise… what fun is that!!? This party was no exception. We had cookie dough cake pops and toffee cake pops. Holy yumminess.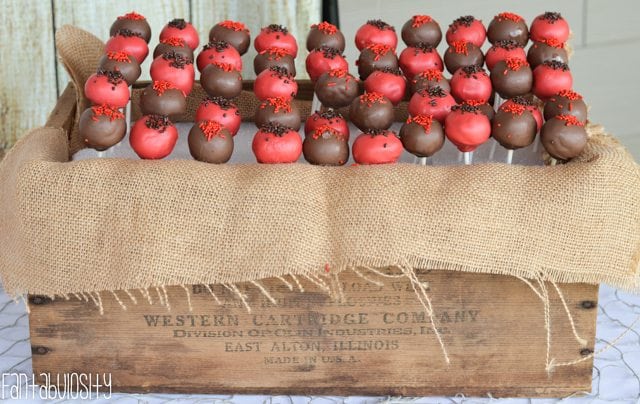 Crawfish Boil Party Favors
We sent home guests with cherry sours as a party favor, and oh my goodness! What great feedback about those little things. Everyone loved them, and they matched the party theme perfectly.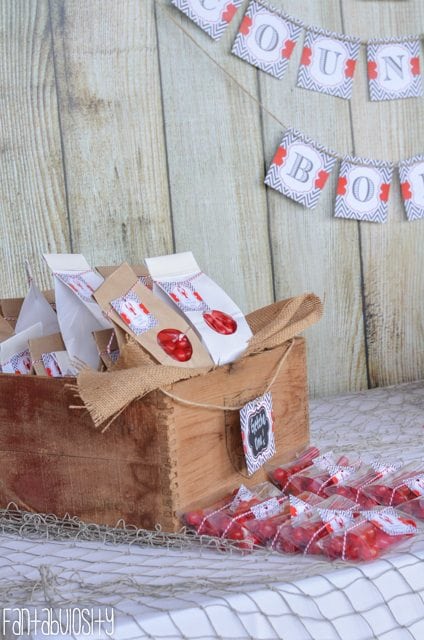 If you follow me on Facebook, you probably saw my post the other day about how brilliant of a Pinterest find this was. On a hot summer day, I love watermelon, and it just so happened to match perfectly with the theme. When I saw that you could cut the watermelon in to wedges, insert a stick in to the rind… it was a no brainer. As many kiddos that we would have running around… this HAD to happen. It went over fantastic. No watermelon left on the dish.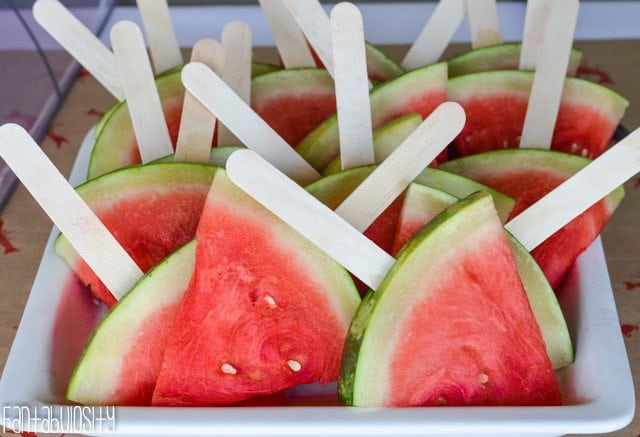 Crawfish Boil Drink Station:.
Ok, first things first. DON'T make fun of my artwork. I'm not an "arteest," for sure… but I had to have a little fun with the party prep.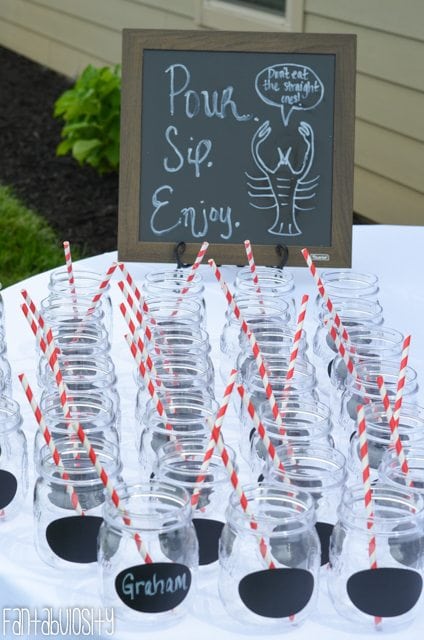 While tackling my two kiddos through Walmart
, doing my routine grocery shopping, I happened across these little PLASTIC mason jars. Needless to say I piled a ton of them on to my 3 year old's lap and we left without any groceries. (I didn't have room, so I had to go back later.) 😉 But I knew I had to have them for this party, and I couldn't risk having them sold out when I went back later.
I ended up adding a chalkboard sticker to my mason jars, and LOVE they way they turned out.
I have a feeling these are only around for "Summer" so you better go buy them now if you want them for later: Plastic Mason Jars
Throw a cute straw in them, and add that "pop" of color to set off your drink table.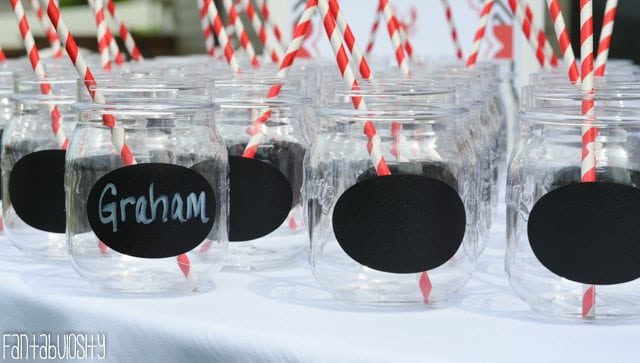 It was a "SOUTHERN" crawfish boil, so I made sure to have SWEET lemonade and EXTRA SWEET tea. 🙂 I also got the large mason jar drink dispensers from Wal-Mart too: Buy similar drink dispensers here: Mason Jar Drink Dispenser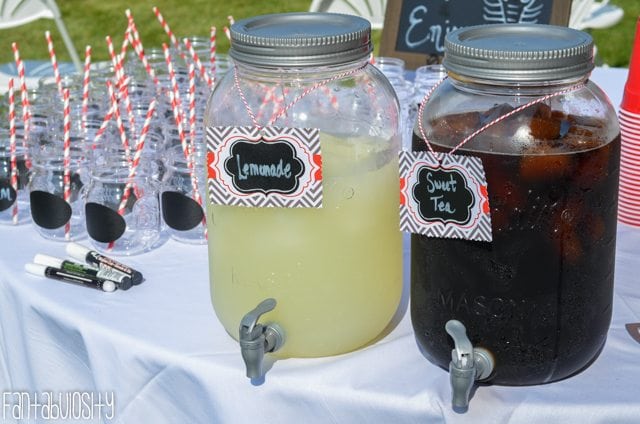 Yes, we had an "adult" drink station too. 😉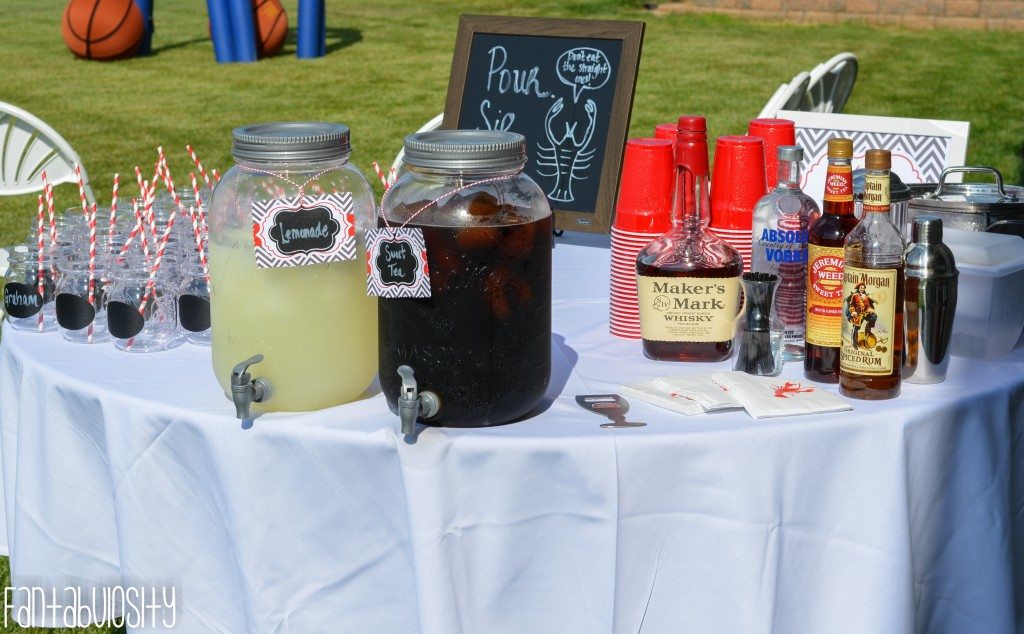 I also wanted to provide bottled water/soda/beer for our guests, and thought by serving them in tubs with ice, would be a super cute touch too. It worked out great! (Until we ran out because I didn't get enough. OMG. Needless to say I had to ask our dear friend to run to the store for me really quick. EMBARRASSING!)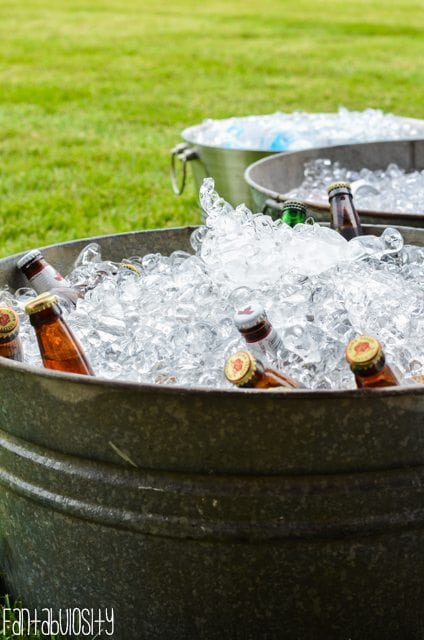 Crawfish Boil Hand Washing Station
Do you know how bad crawfish stinks? It may be delicious, but when you've been peeling it, take a whiff of your hands. Not the best. I created a "Hand Washing Station," for our guests, so they wouldn't have to go all the way inside to get that smell off of their hands. I put out water, (in the same type of drink dispenser from Walmart as above), cut up lemons (to remove smell), and special crawfish soap! Talk about handy!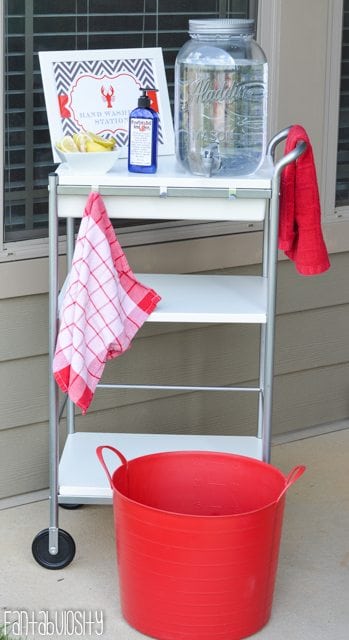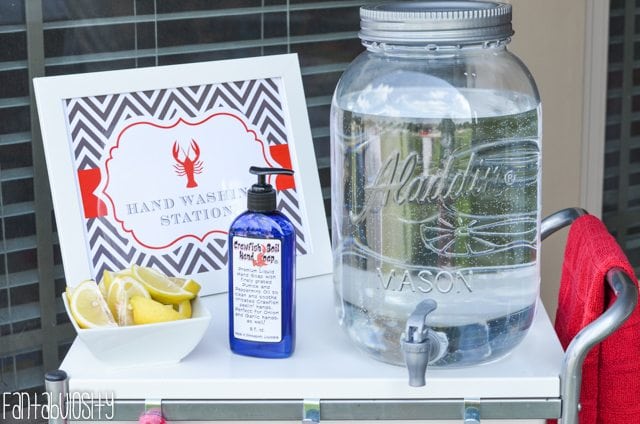 Time to Eat Some Crawfish!
I lined a couple of tables up with paper, paper towels & buckets for the crawfish "shells." Trust me… you don't want pretty table cloths soaked with crawfish "juice." Opt for the paper. 😉 Make sure you have paper towels handy. Those things can get messy. Sit some buckets out, and your guests can just throw the shells in there and move on to the next glorious bite.
Buy similar crawfish table runner paper HERE!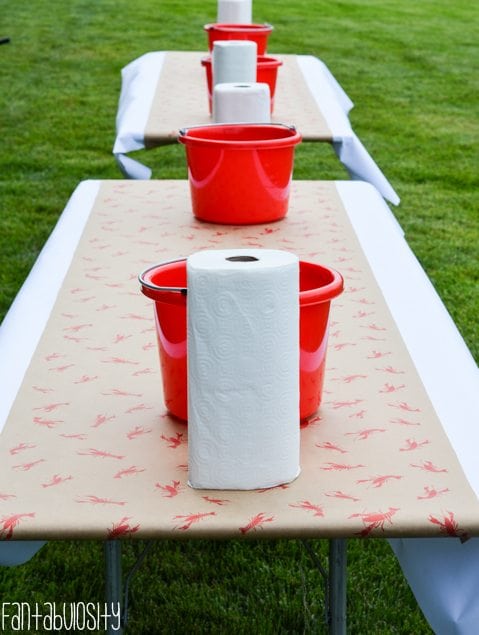 Oh the poor poor, yummy crawfish beforehand. Here they are on ice right before it was time to boil!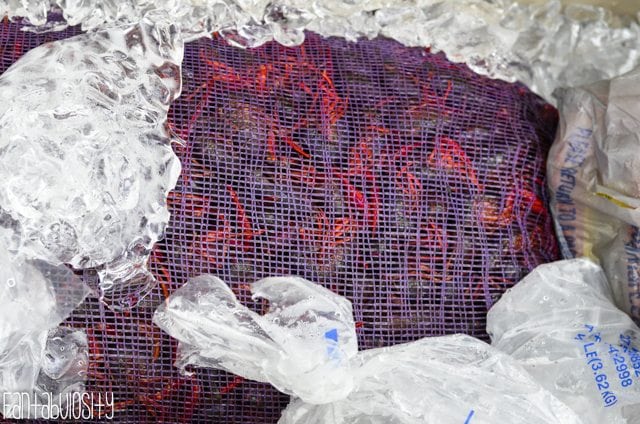 My brother-in-law not only brought up the crawfish, but he brought up all of his cookin' gear too. Seriously. He's (they're) awesome.
The "Master Chef," getting the boil underway. Learning how to boil crawfish, was so fun to watch.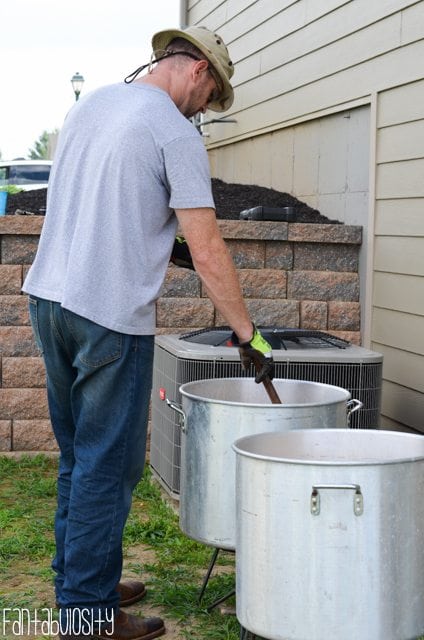 Mmmmm Mmmmm. Tasty, tasty.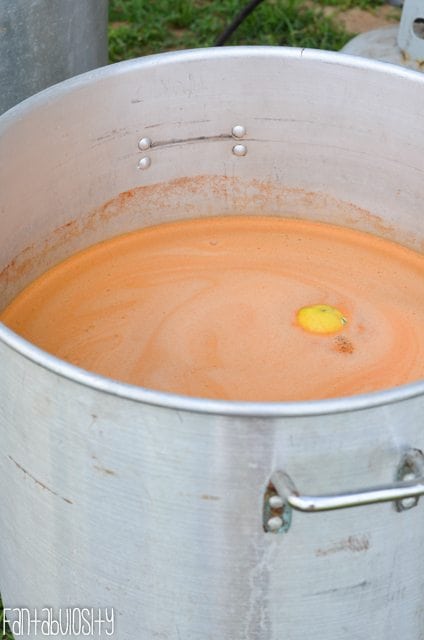 Oh baby, it was done, and it was time to deliver!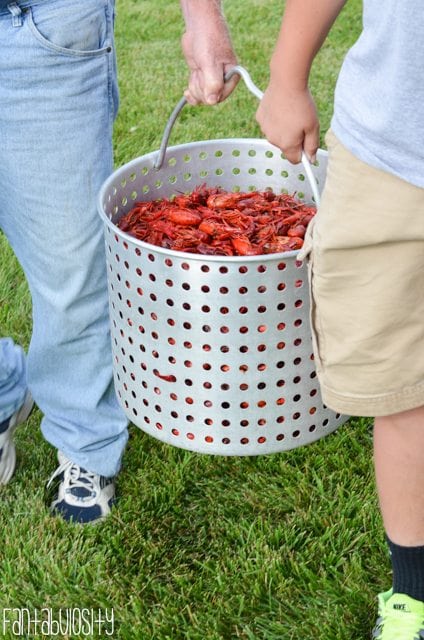 I do believe a moment of silence is in order when this is taking place. Warm crawfish, fresh from the cooker.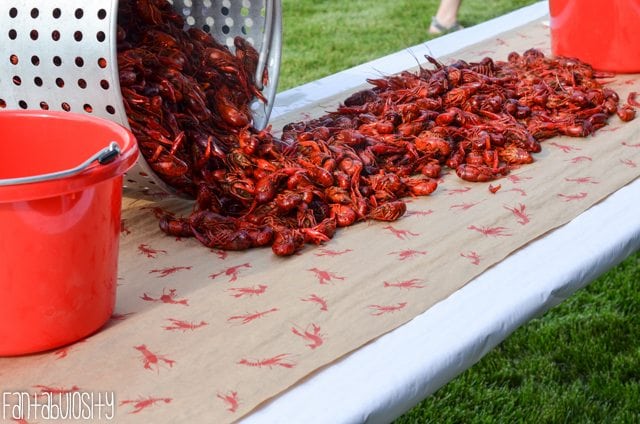 Do NOT forget the corn on the cob, the taters, sausage, and mushrooms. Holy Moly.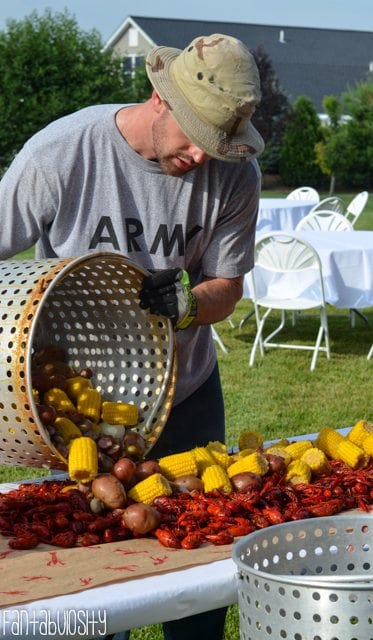 Isn't it BEAUTIFUL!? I could barely take a second to take the photo, because I had to dig-in.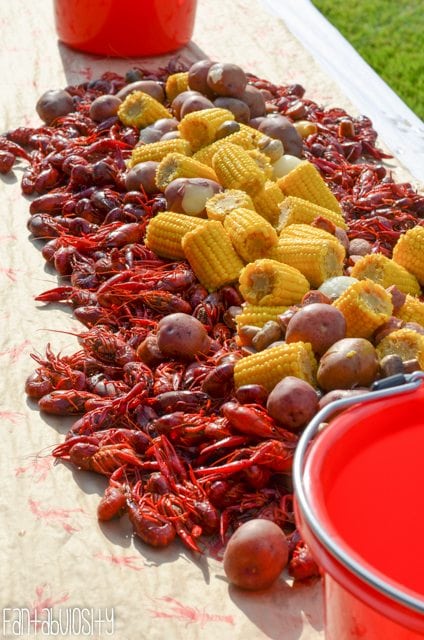 It wasn't long, and our guests were chowin' down. I didn't hear a single bad thing said about this pile of goodness. Excellent job to the master chef.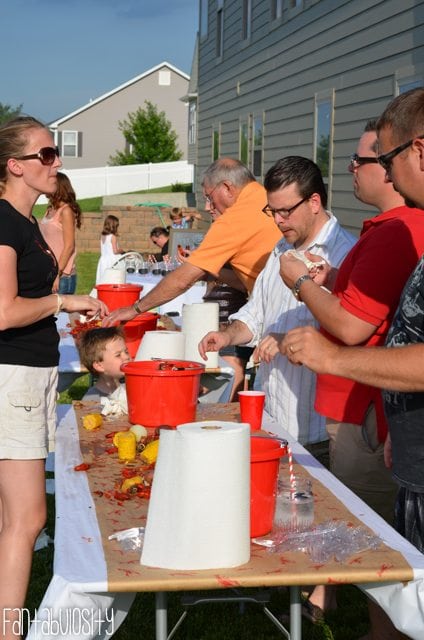 It's a rare occasion that I get to spend time with both of my sisters at the same time. I usually always try to snap a photo, just to see if I've gotten any taller. Nope… not yet. (I'm in the middle if you haven't guessed.)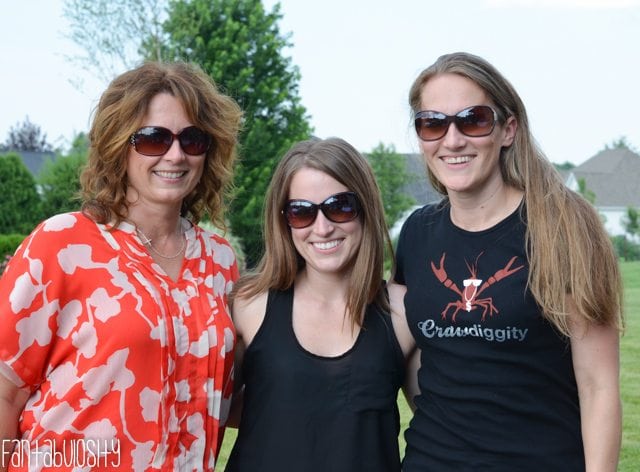 Outdoor Movie Night
SURPRISE! We surprised our guests with an outdoor movie when the sun went down! Popcorn and movie candy was served, and the kiddos were happy happy happy! (That is until it started pouring down rain and we had to move to the garage.) 🙂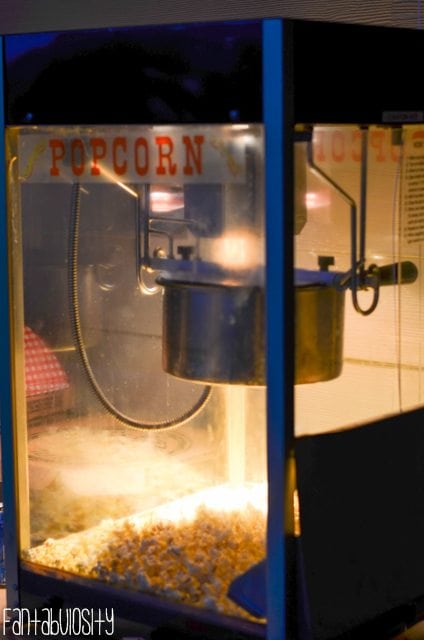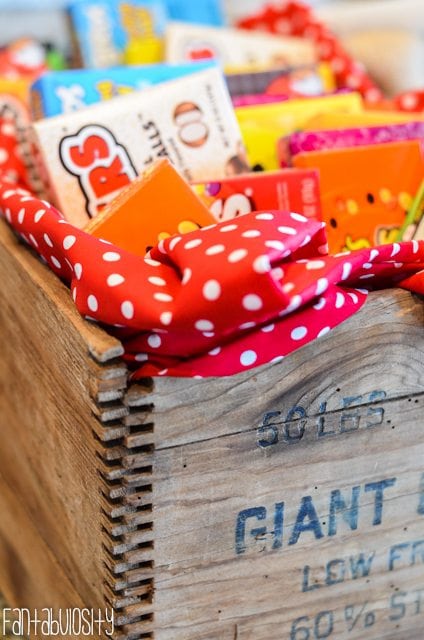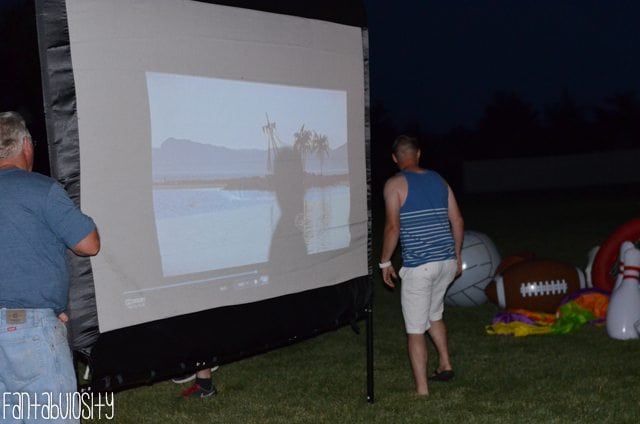 Buy your outdoor movie screen and projector here! Movie Screen & Projector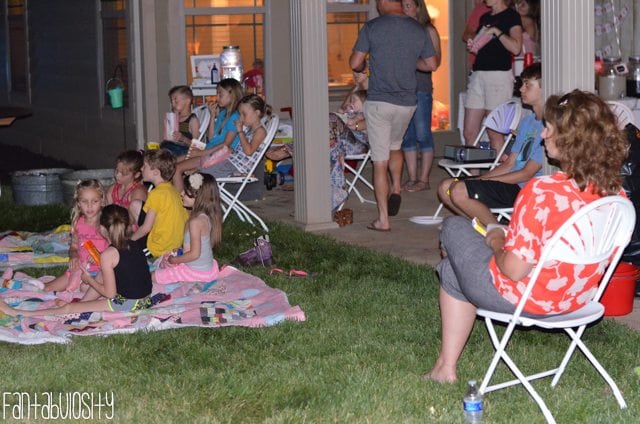 What an awesome turnout we had, with our family and friends. I truly don't think there is anything better than being surrounded by the people you love and have fun with.
Throwing your own Crawfish Boil? See a recap of what Vendors I used below:
Party Credits & Vendors:
If you'd like to purchase some of the items I used for our crawfish boil, I've included links to buy everything that I could find online, by each photo! Make sure to tell them Fantabulosity sent you, so they know what you want! 🙂
Party Design: Fantabulosity
For more party ideas, hop over to my "Parties," page and take a browse:
…and don't forget to download your FREE Party Planning Checklist, before planning that next party: