This shop has been compensated by Collective Bias, Inc. and its advertiser. All opinions are mine alone, promise! #HoopsWithCrunch #CollectiveBias
Whether you're hosting a basketball "viewing," party in your home, or you're wanting to host a basketball birthday party, you can easily throw in a few fun basketball party themed goodies, and celebrate in style. I've styled a few basketball party ideas in this "Basketball Watch Party," that may help you along your party planning journey!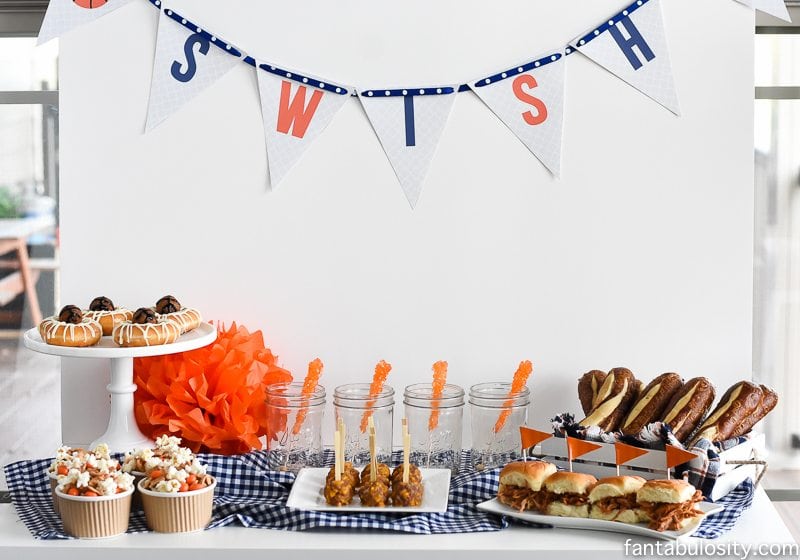 More Party Ideas You'll Love:
Basketball Party Ideas
Have a favorite team? Use their team colors to design your own party, incorporate matching party printables, themed colored fabric (for a table runner), and try to think of foods that match the color scheme you're going for! In no time, you'll have a well-style party set-up, you can't WAIT to show off to your guests.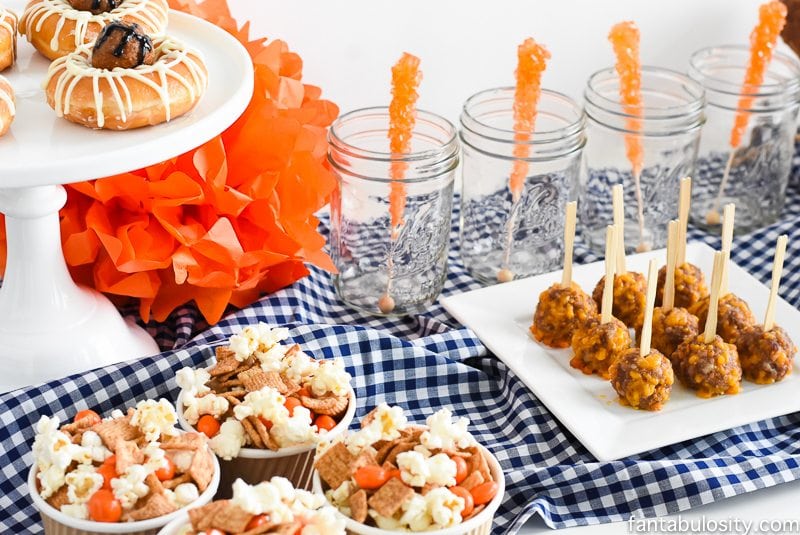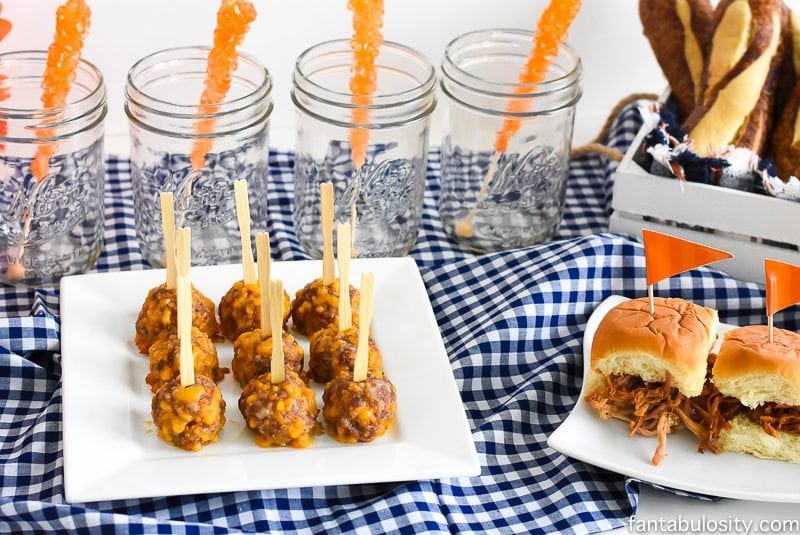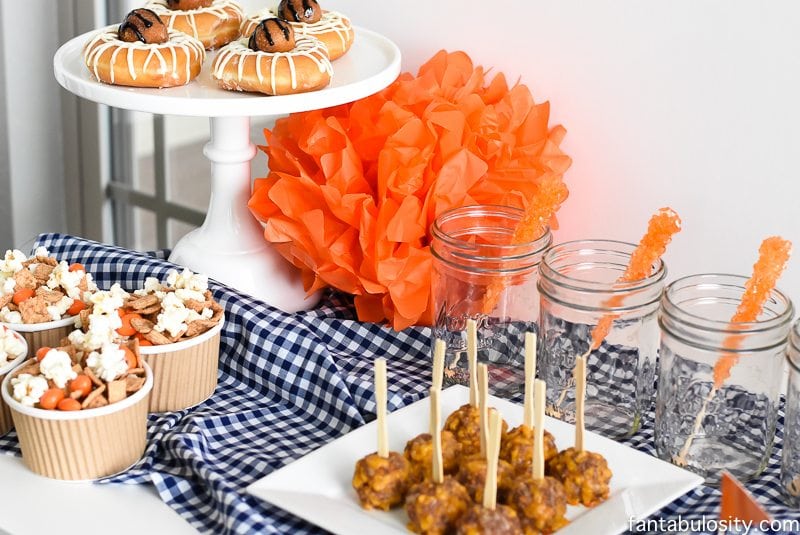 I COMPLETELY fell in love with this "Swish," banner that I found by Yummy Paper, on Etsy. Although the banner caught my eye, there was a WHOLE set of paper printables that they offered, that turned out perfect for the "look," I was going for.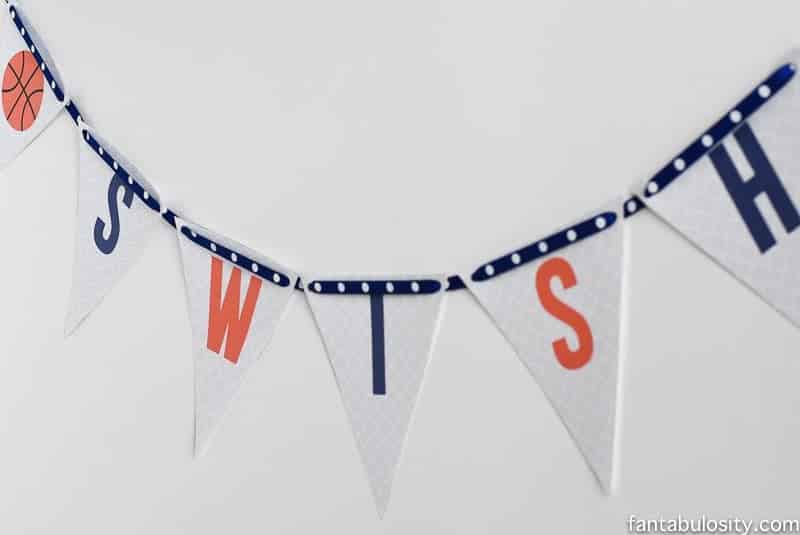 Feeling a bit creative, I thought that I would try to see if I could turn donut holes in to little "basketballs," and somehow turn regular glazed donuts, in to a "net." It may or may not look like it… but hey, it was fun. 😉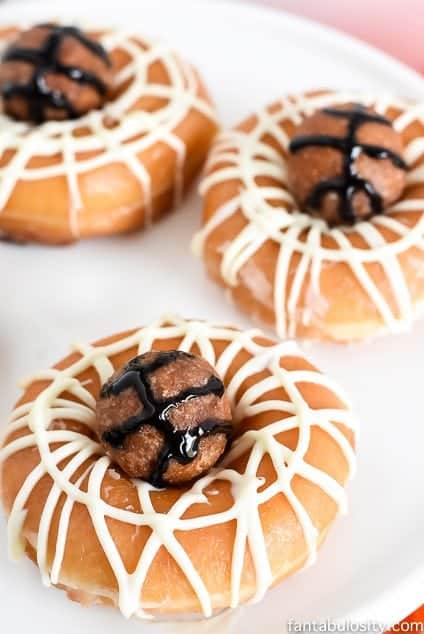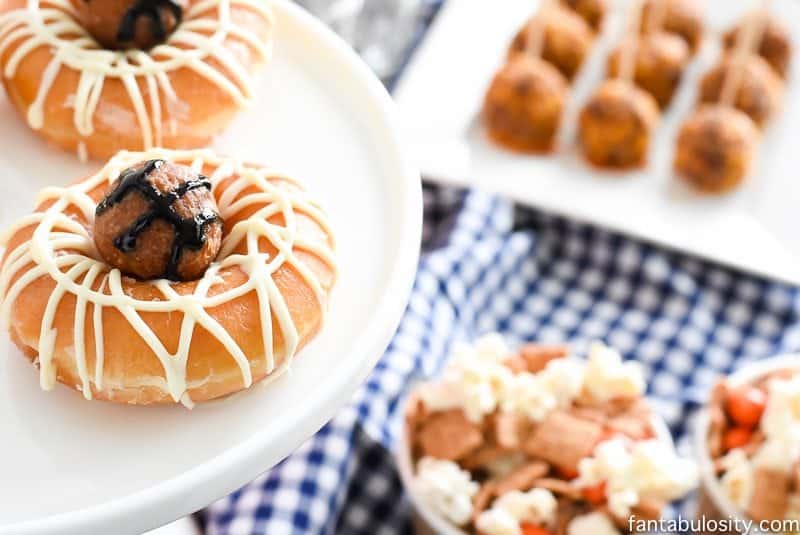 Using rock candy is always an easy way to incorporate your party themed colors, to your table. Even more… use them as drink stirrers, and you've just added a bit of flair to a normal drinking class, mason jar, bottle, etc.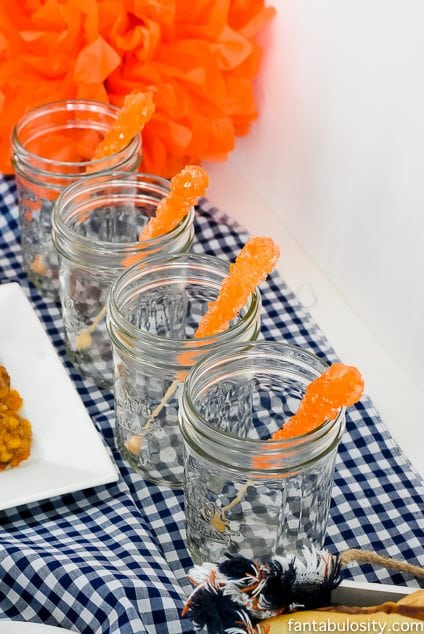 Oh yes… one of my favorite party snacks EVER. A trail mix. The ingredients for a simple snack mix, can be switched out to what you have on hand, or what colors that you want to match your theme. Believe it or not, it's always one of my guests favorites too. They always rave at how much they love a simple snack like this.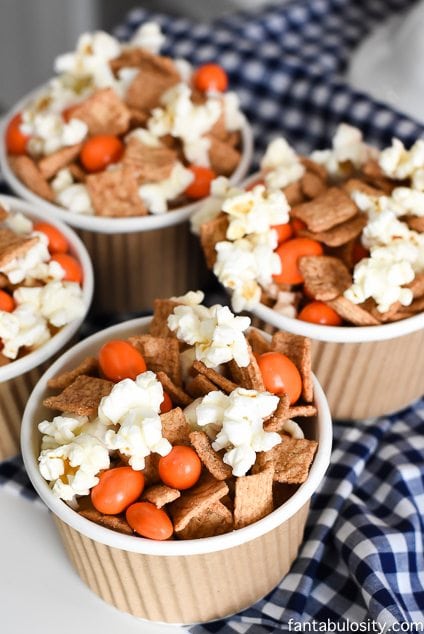 Who wouldn't love soft pretzels at a party snacking station? Serve them with a fun cheese dip, or honey mustard, and your guests may just fall in love with you!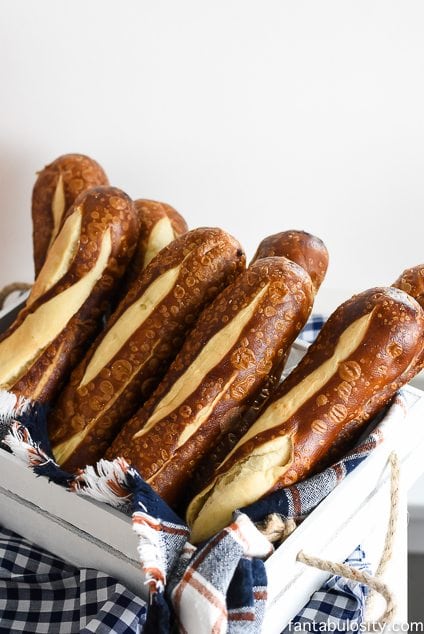 Oh pulled pork sliders. If I'm hosting a party, that's heavy on the "man," side… I always try to make sure to incorporate a type of "slider." They're easy to handle, filled with meat, and the guys love them. Well… ok… I do too. 😉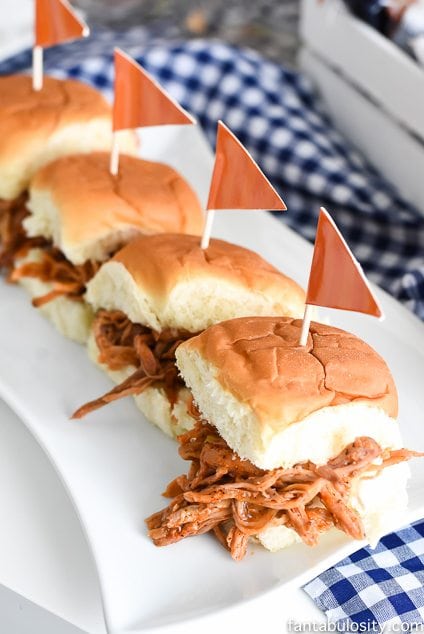 Getting a little creative in the kitchen the other day, I thought I would try to find a way to use a pound of sausage that I had on hand. Knowing that I wanted one more dish for my party table, I thought I would see if I could easily create a "bite size," finger-food. Turns out… it's now one of my FAVORITE appetizer recipes.
Zesty Sausage Bites
Recipe below…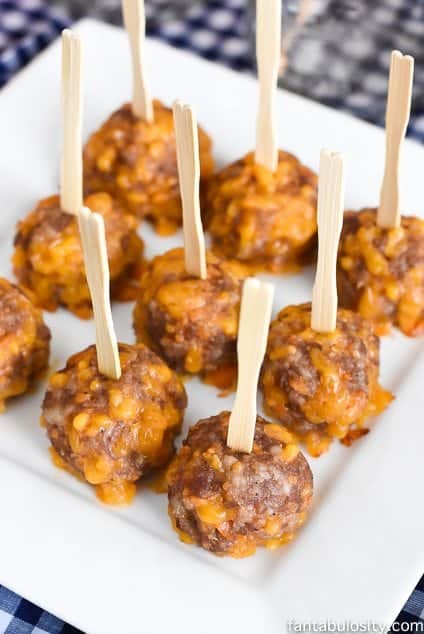 Instead of using plain ole breadcrumbs for the zesty sausage bites, I thought I'd add a little "kick," and use Cheez-It Hot & Spicy Grooves. Why not add a little flavor fun to these? I may or may not have also snacked on the Cheez-It Srirarcha Snack Mix, while doing a little party-prep too. 😉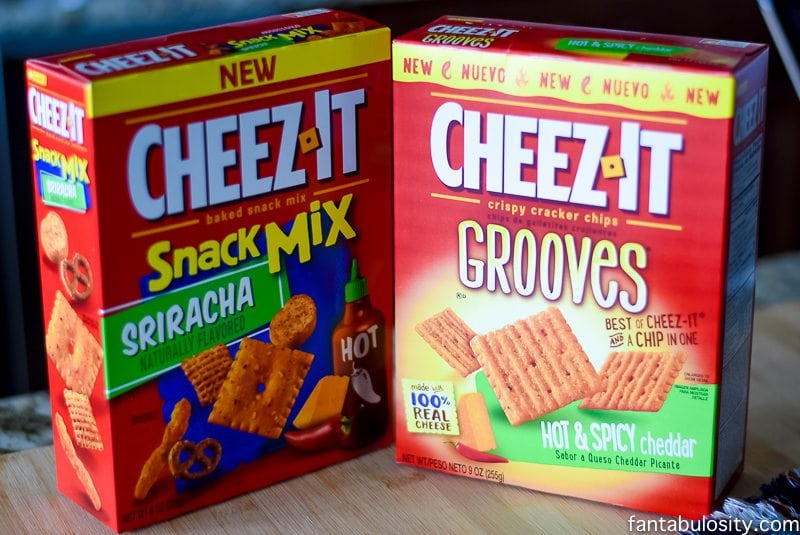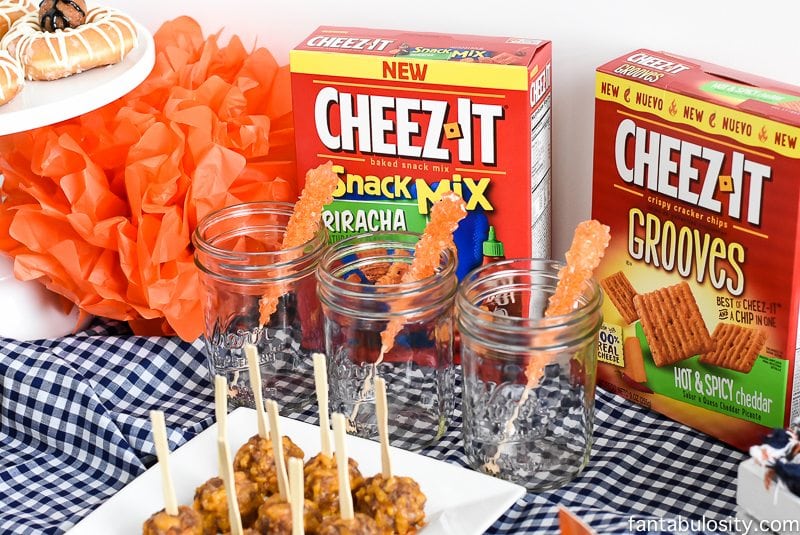 Zesty Sausage Bites Recipe
Ingredients:
• 1 lb ground sasuage, uncooked
• 1 cup shredded cheddar cheese
• 1/2 teaspoon salt
• 1/4 cup crushed Cheez-It Hot & Spicy Grooves
Directions:
Combine all ingredients, and stir until all ingredients are evenly distributed.
Roll sausage mixture, in to 1-in balls, and place (about 1-2 inches apart) on a cookie sheet, covered with parchment paper.
Bake at 350 for 20 minutes.
Serve!
Note: Large boxes of Cheez-It products are 3 for $8 the 3rd week of February – the 1st week of April.
I put my Cheez-It Hot & Spicy crackers in a ziptop back, and crushed them in to a fine consistency.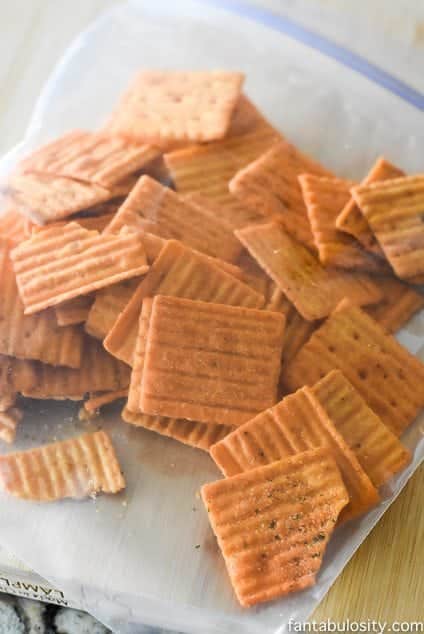 After rolling, before baking…
Baked, and juices running clear and cheese is melted nicely.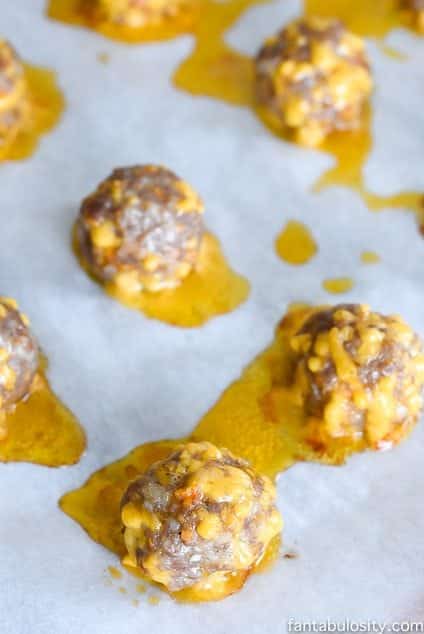 To better serve your guests, adding a toothpick to each zesty sausage bite, makes it easier to pick up and handle. I like grabbing fun toothpicks or food picks, to add a touch of "fancy," if I'm able.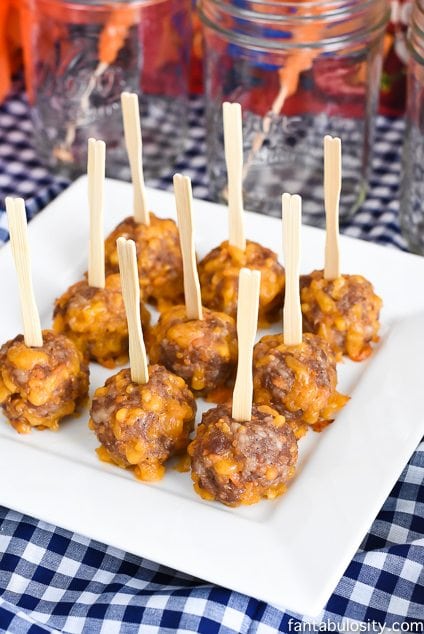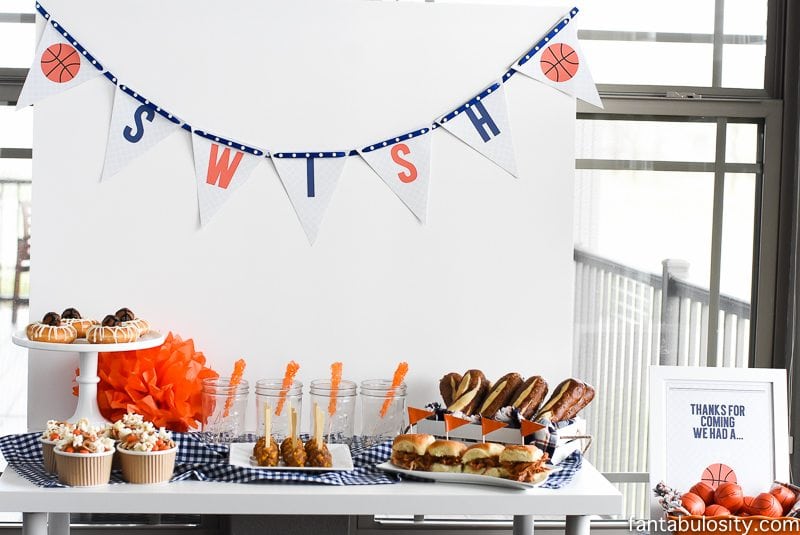 Basketball Party Favor Idea:
Found at almost any party supply store around, are little soft basketballs. These work perfect to giveaway for fun party favors at your basketball party.
Yummy Paper offered so many fun party printable options, and even had a sign that I could edit and write in whatever I wanted. I decided that I would make one of the signs read, "Thanks for coming, we had a …" and it had a little image of a basketball underneath.
I placed a container full of small basketballs, and placed it by the sign, so guests would know to take one home with them, as they left!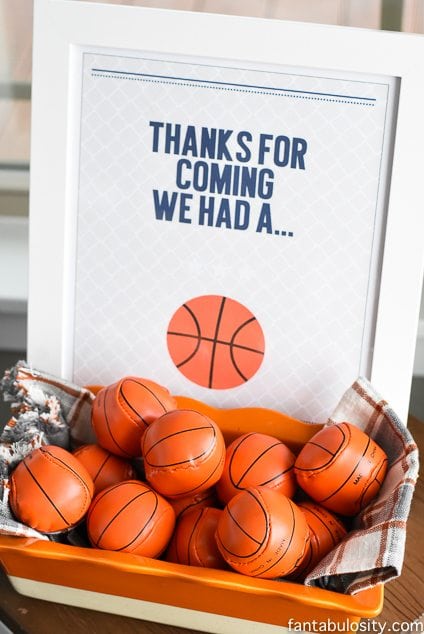 Of course if you're not hosting a basketball party, you could always incorporate these fun ideas in whatever basketball plans that you have. When I shared a sneak peek of this party on my Facebook and Instagram the other day, I had a mom say that she couldn't WAIT to make these basketball donuts for her sons basketball team. What a FUN treat that would be for the kiddos!
Party Credits:
Party Styling: Fantabulosity
Photography: Fantabulosity
Party Printables: Yummy Paper