Camping Birthday Party Ideas for Indoors: Grab a few tents, and celebrate the outdoors, indoors with a "camp-in," sleepover party and activities for kids!
I am THRILLED to share with you, one of my latest party themes…a Camping Birthday Party for indoors, inspired by Pottery Barn Kids!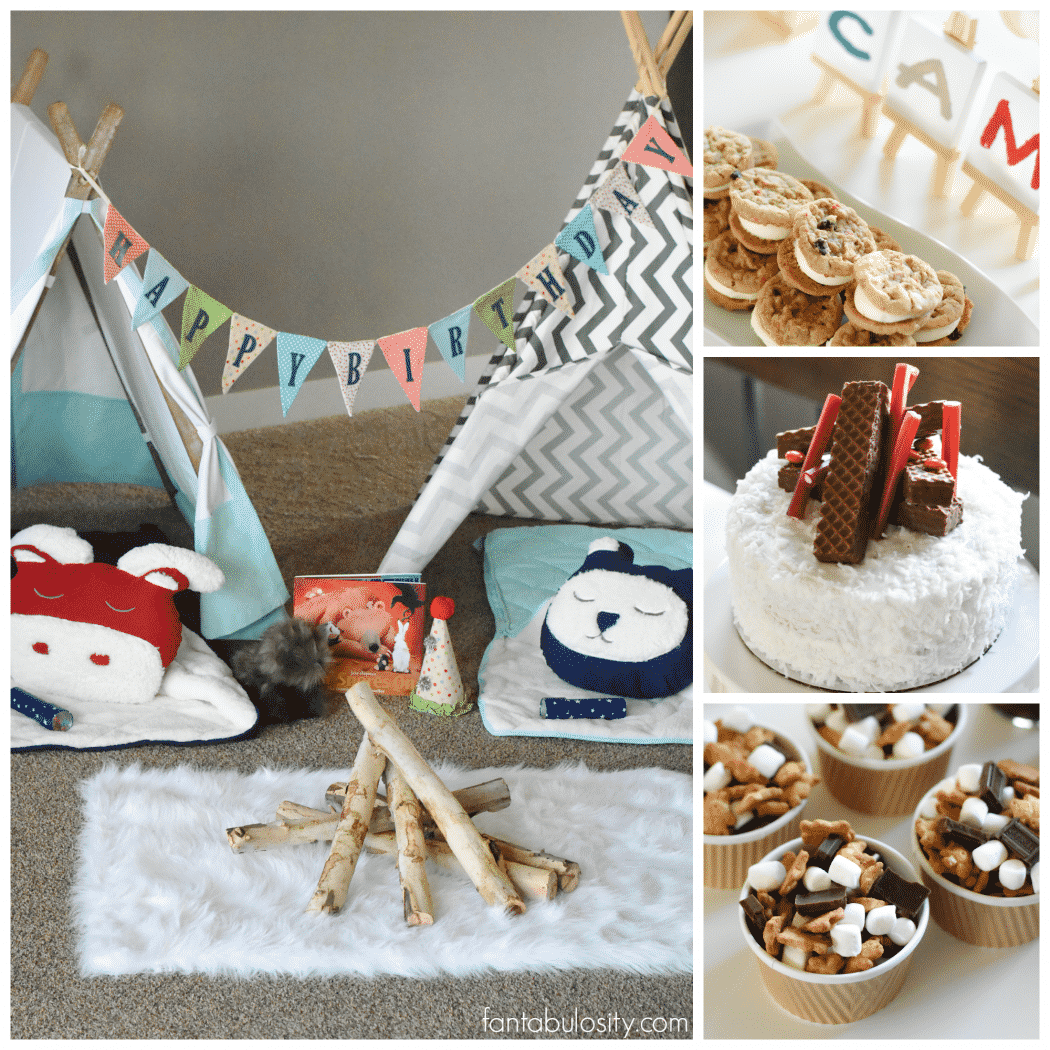 Camping Birthday Party Ideas for Indoors
This theme is ideal for any age boy or girl… because you can really turn it in to a sleepover, or you can just "pretend," it's a sleepover, with the younger little guys and gals.  Can you imagine how excited the kiddos would be if they were able to wear their pj's to a birthday party!?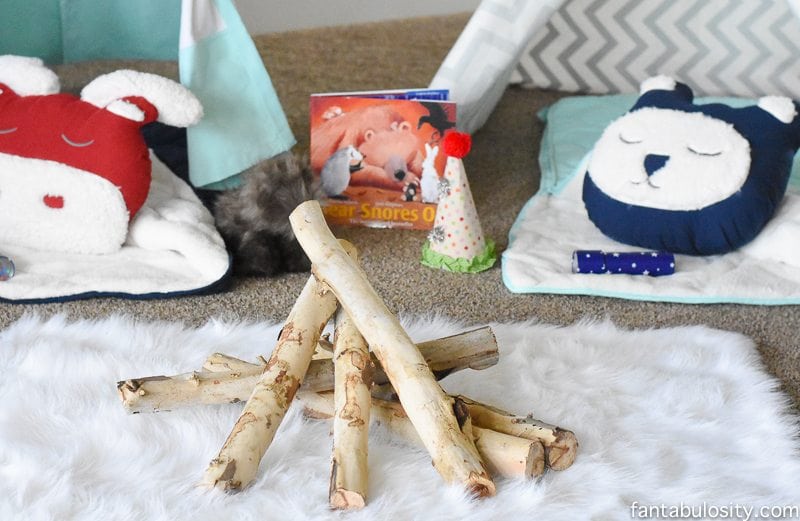 Shopping online the other day, I fell in LOVE with Pottery Barn Kids, tents and sleeping bags, and I knew a camp-in sleepover HAD to be my next styled party theme.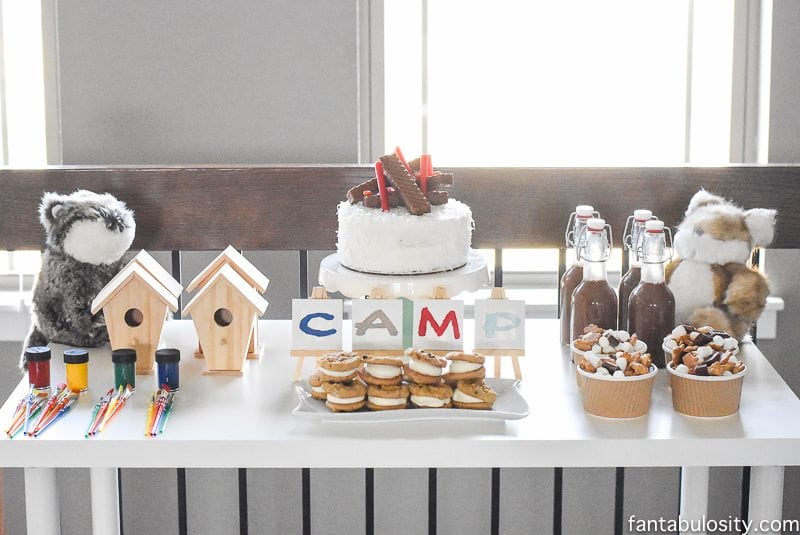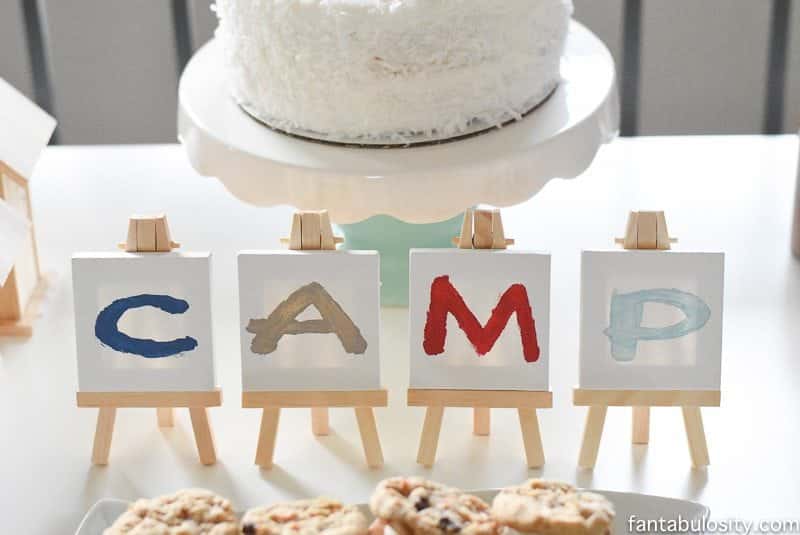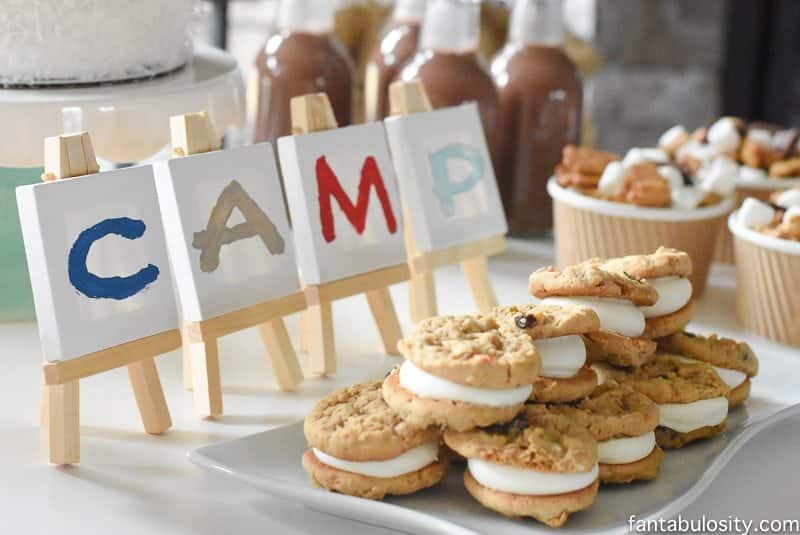 My creative juices started flowing, and I knew I wanted to create a "fire," as a cake topper, to carry on with the camping theme.  Various candies and sweets made a yummy, perfect topper.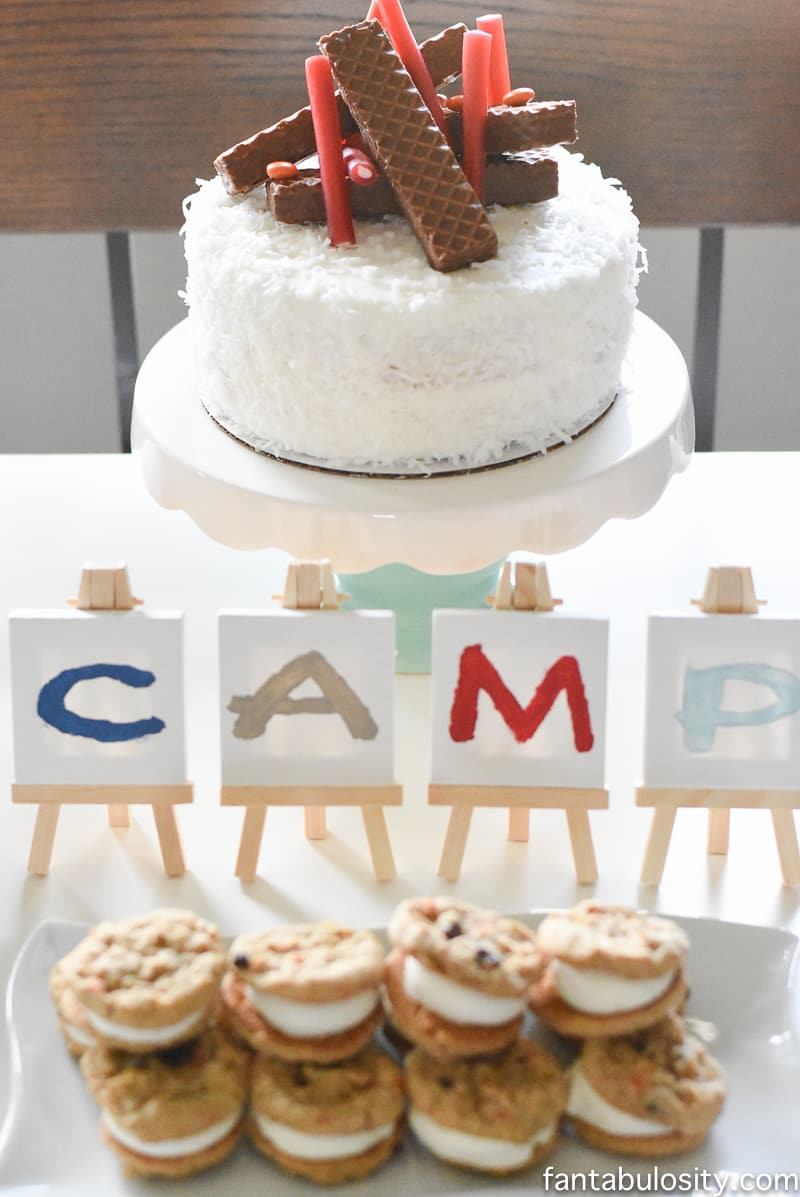 I found these mini easels and set them up to inspire the kids when it was time for them to paint on theirs!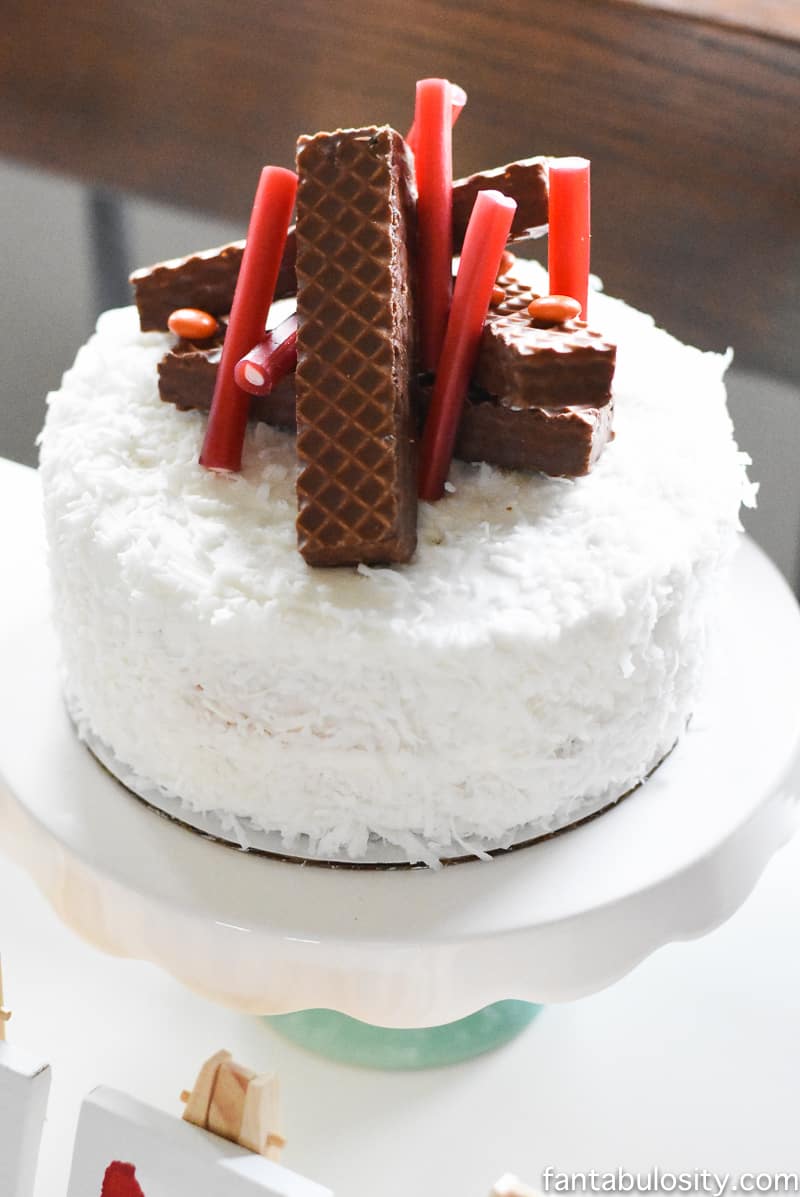 The kids loved (and maybe fought over?) they yummy logs and fire I built all by myself!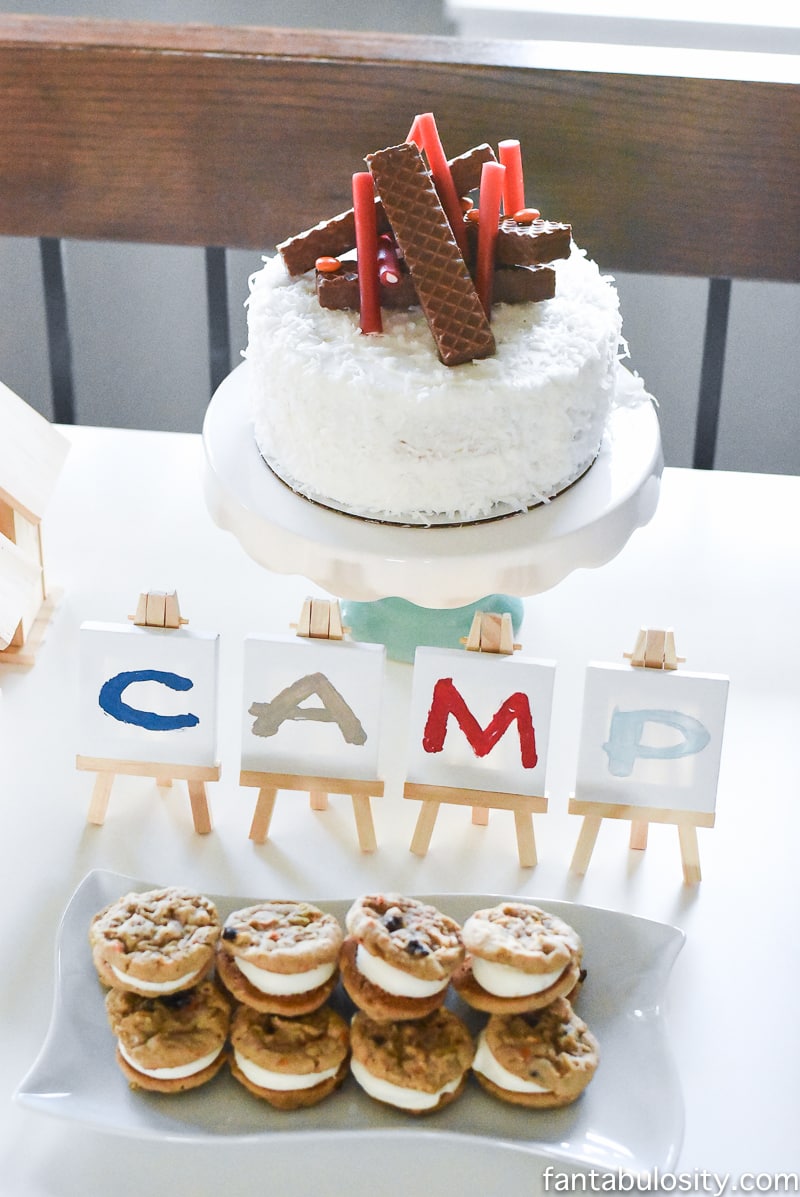 Carrot Cake Cookies, stuffed with vanilla icing perfectly complimented the sugar rush I was well on my way to creating… but hey, you have to have cookies at a camp-in, right?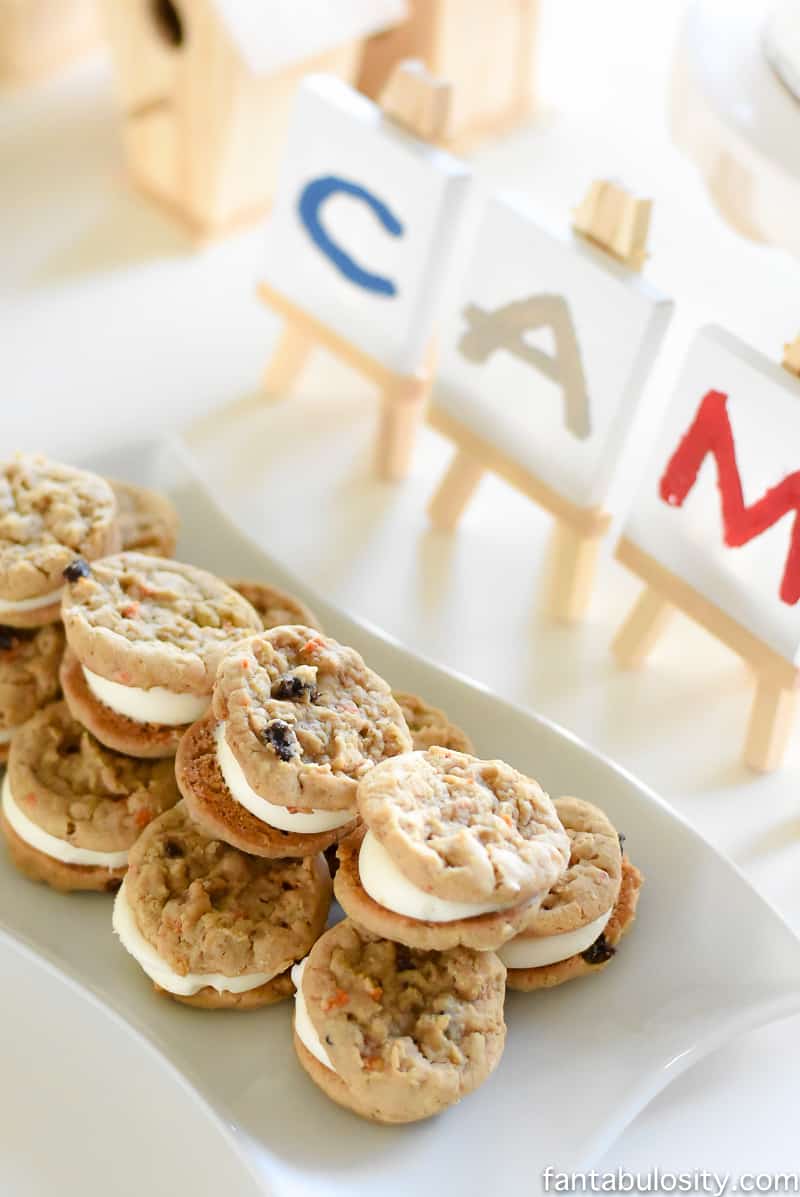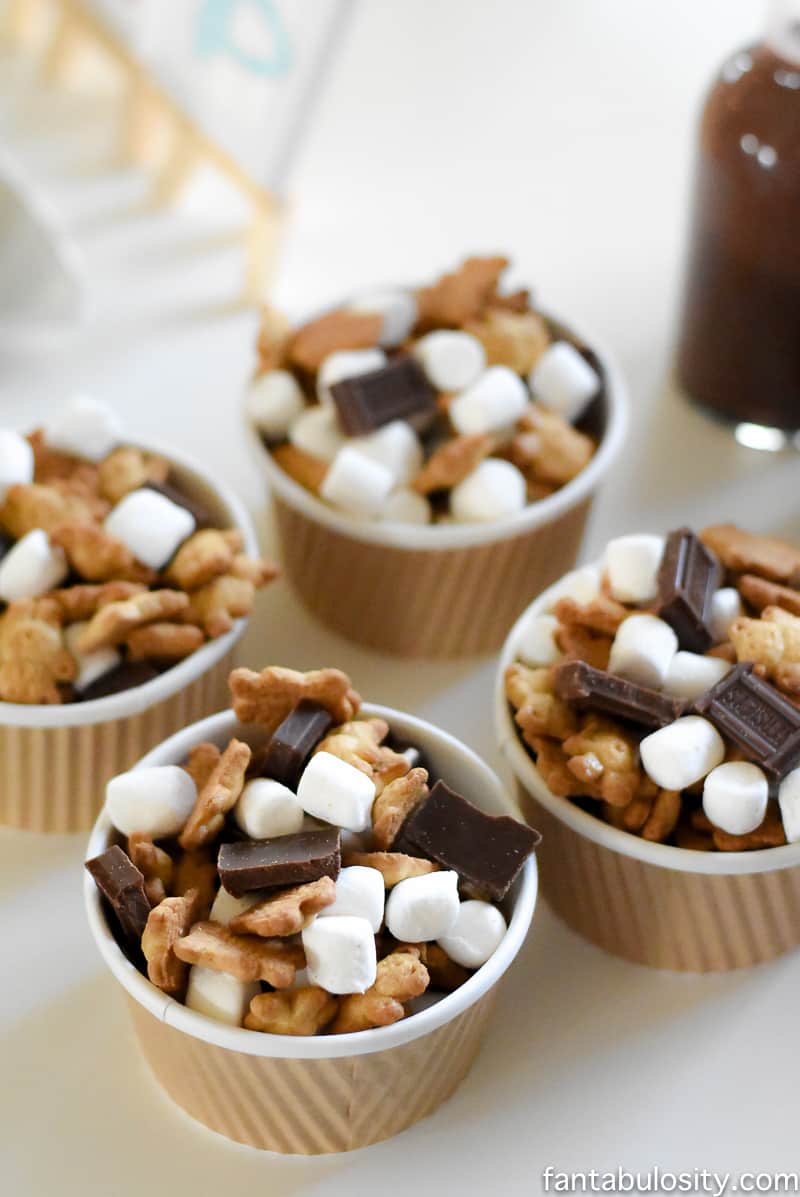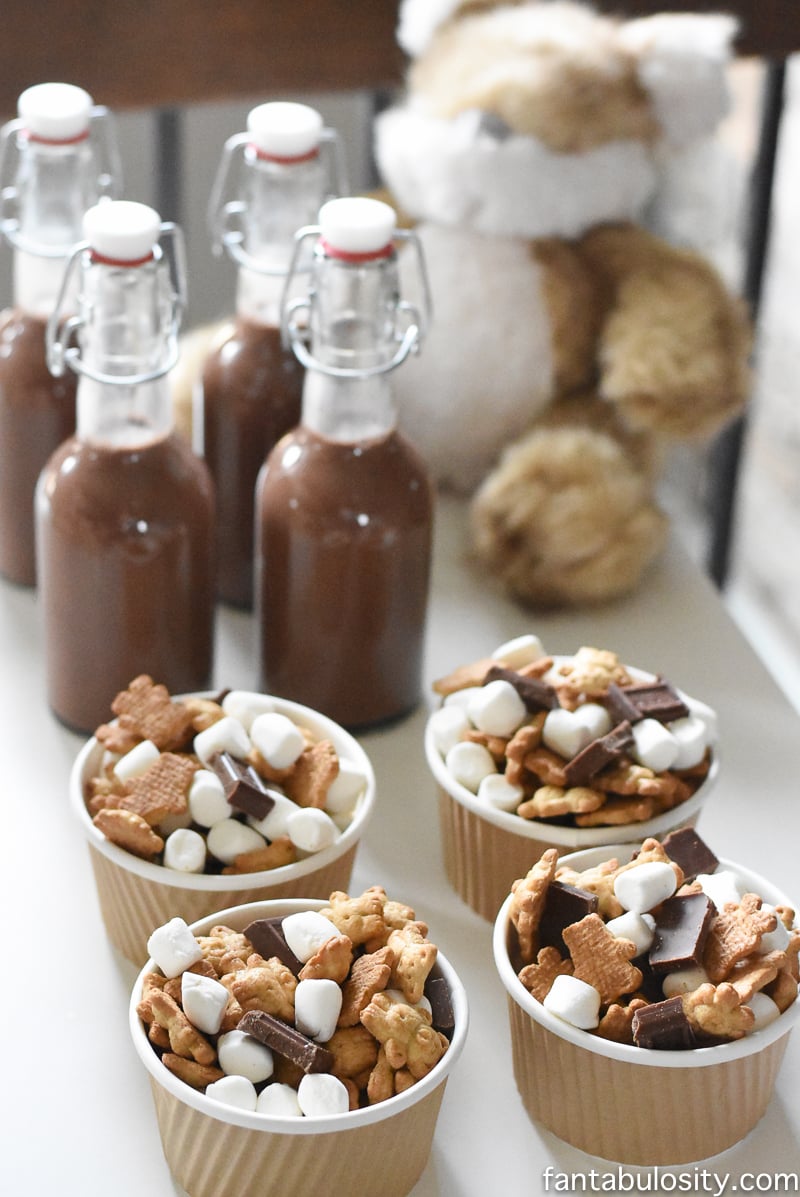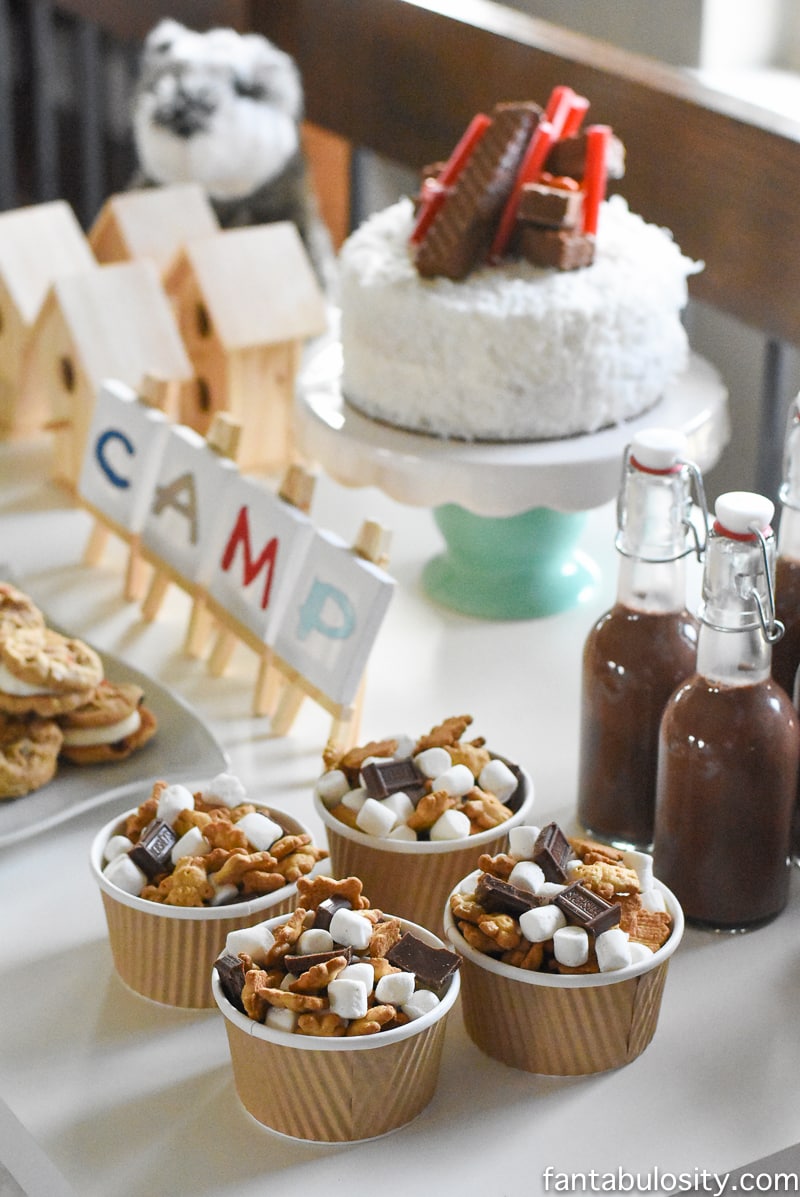 Right when the kids were coming down from the thrill of "TENTS! TENTS in the living room!" I brought out these s'mores cups with teddy grahams, chocolate and marshmallows.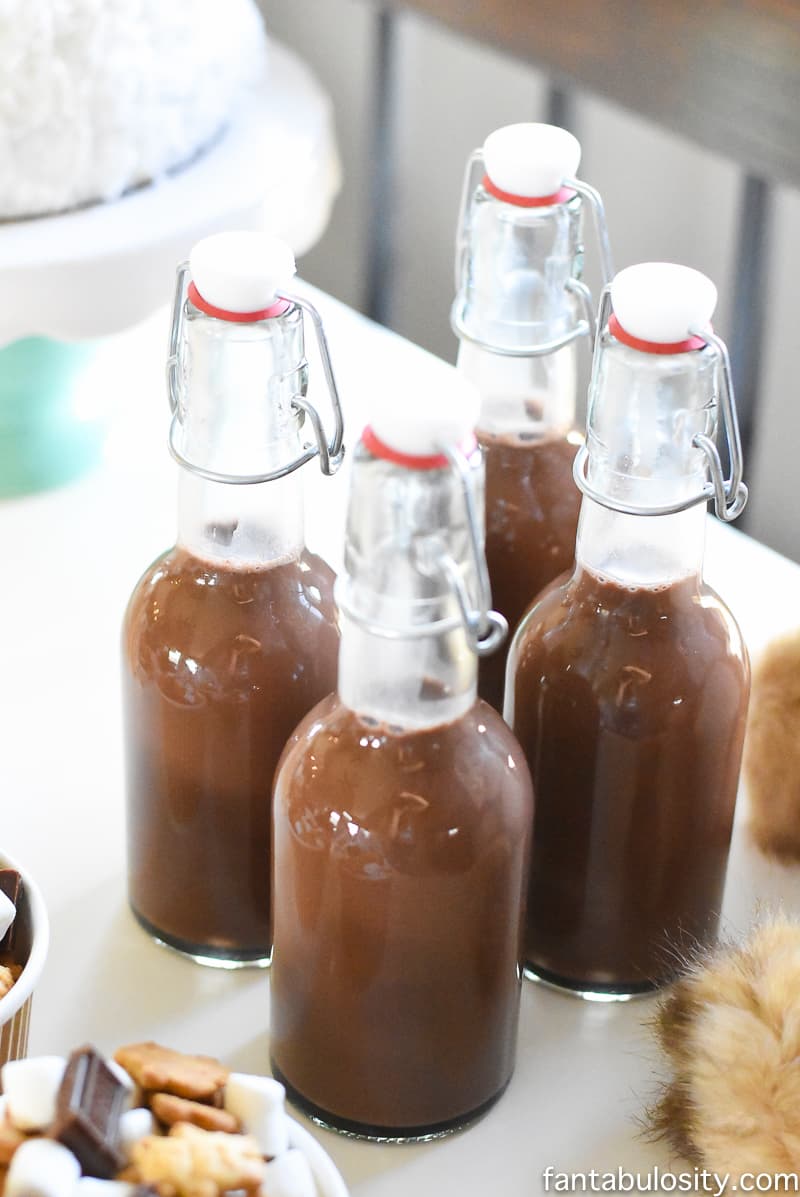 And see this deliciousness? The kids had a blast mixing chocolate milk, which I quickly zapped in the microwave and turned in to hot chocolate, perfect telling (and reading) stories around the campfire!
Every party needs a little hands-on activity, right?  But turning a hands-on activity in to a party favor, works even better! Allowing the guests to paint their own bird houses, and take home, is the perfect all-around party idea!
A room FULL of tents, can lead to a crazy amount of fun for the kids.  Hours and hours of Hide and Seek, getting cozy in the sleeping bags, and cuddling up around the "fire," for story time, is a kids DREAM of pretend camping!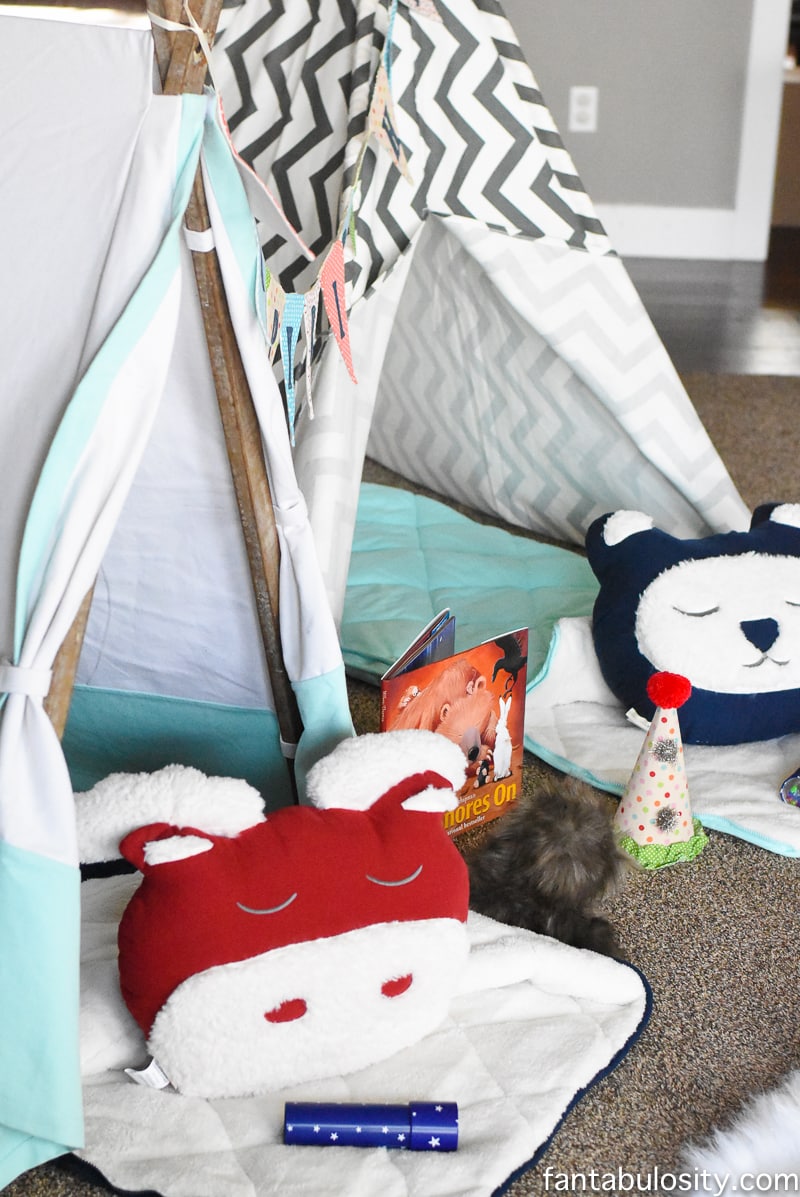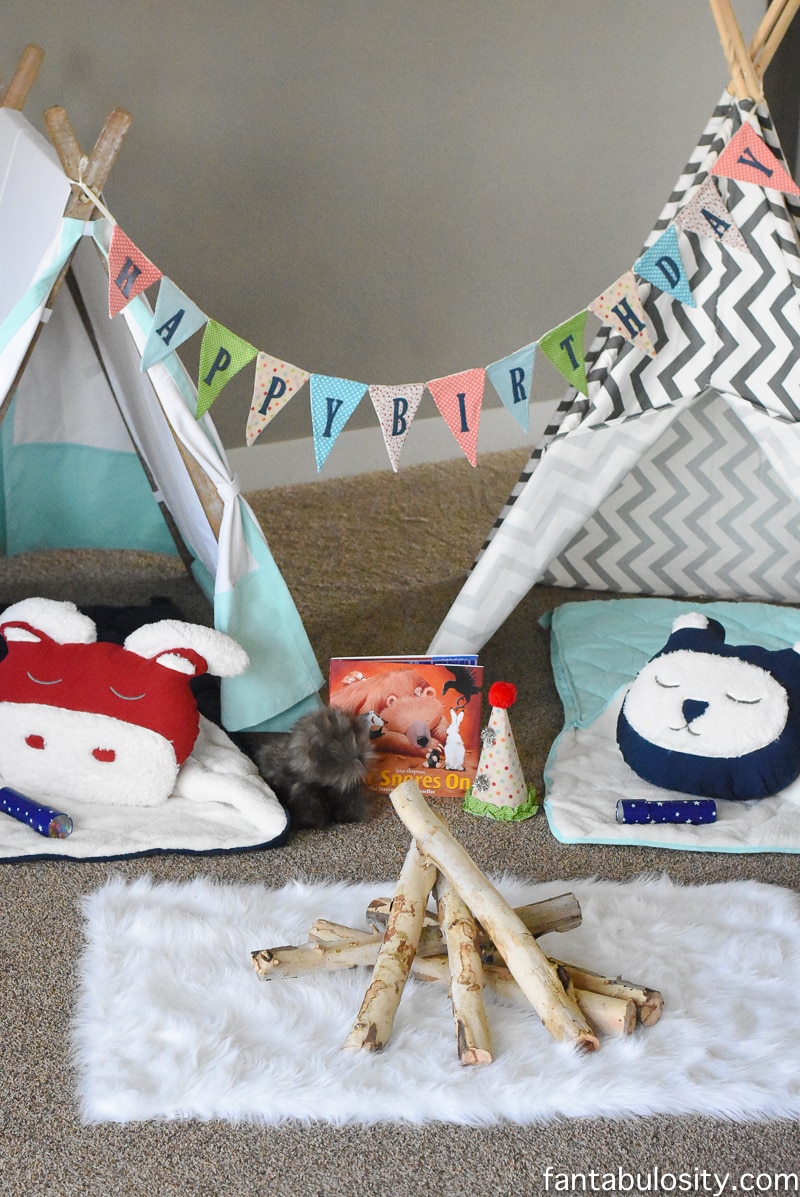 Shop Pottery Barn Kids Sleeping Bags HERE!
You can't forget the ADORABLE "Happy Birthday," banner from Pottery Barn Kids.  Not only cute, it simply looped around the tent poles, and was ready for display!  The mix of bright and cheery colors, went PERFECTLY with the other miscellaneous goodies that I collected from Pottery Barn Kids.
We get SOOO many compliments on this fun tent from Pottery Barn Kids.  The color, the window, the tent poles… they all go crazy over it!  Talk about hour and hours of entertainment for the kids.  (During the party, and stored in the playroom, after the party!)
While shopping at Pottery Barn Kids, for extra goodies, I found the cutest (and perfect camping themed book, I might add), "Bear Snores on." The kids LOVE listening to a woodland story, while "camping."
Browse their books here!
The bear.  I couldn't resist, THE BEAR.  The kids went NUTS over how big he was, and loved wrestling him!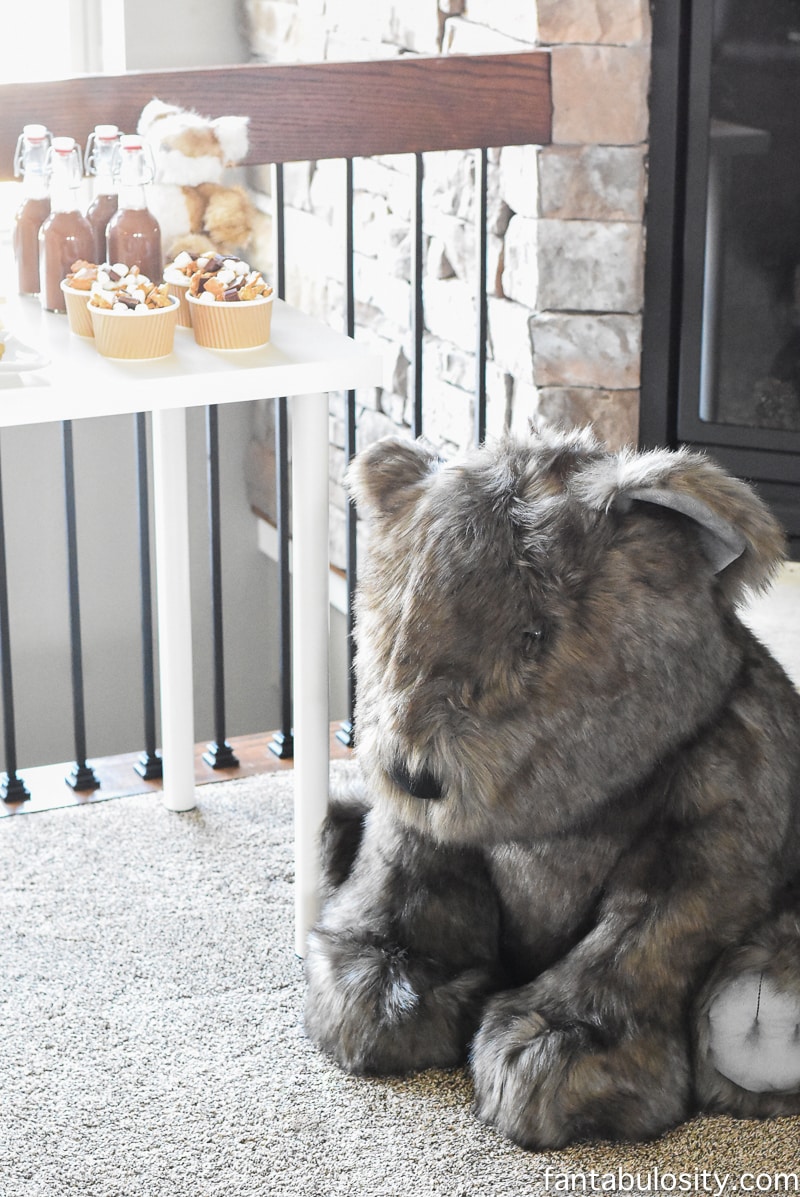 Who knew a camp-in sleepover, would make it so easy for the kiddos to get ready for bed?!
And these Pottery Barn Kids PJ's, made star gazing indoors a breeze and went perfectly with the theme…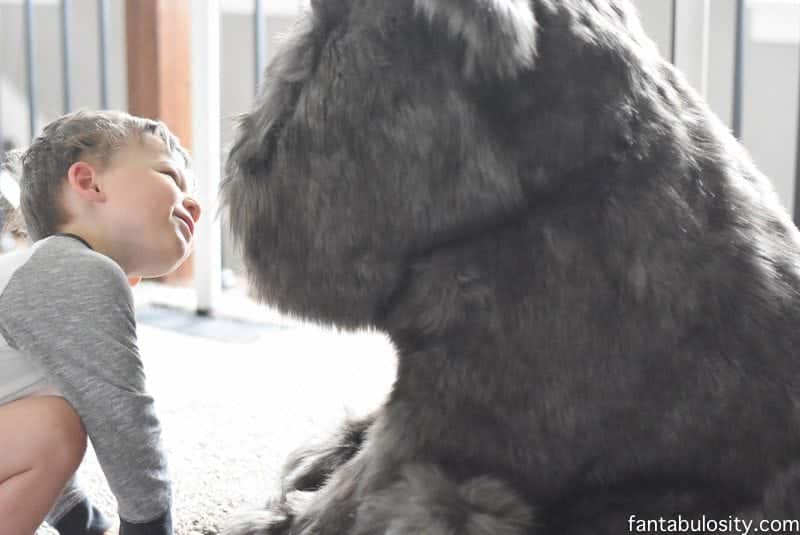 Party Styling: Fantabulosity
Party Photography: Fantabulosity

MORE ABOUT JESSICA AND FANTABULOSITY
WHAT IS FANTABULOSITY? Fantabulosity is a lifestyle blog that features party planning ideas, do-it-yourself projects, crafts, recipes, fashion, and a slew of other top-secret superwoman tips. It is also a creative and conversational outlet  for its creator, Jessica Burgess, a married 30-something gal with two young sons. What Fantabulosity is not: A blog to make you feel bad about yourself. Seriously. Jessica blogs about her reality—and it is not picture-perfect. At its core, Fantabulosity provides access to a 24-hour, relatable best friend with whom you can discuss life.
Fantabulosity has become a place where moms and other  gals (and some men too) come to see what Jessica is up to  and get valuable tips. As Fantabulosity's reader base grew, drawing more than 100,000 visitors per month, Jessica's hobby turned into a business. Fantabulosity now commands the advertising attention (and dollars) of worldwide brands in a variety of industries, including Coca-Cola, Oreo, Walgreens, Cheerios, and Nestlé.
Who is Jessica Burgess? Jessica Burgess is a small town girl with big city style—the perfect combination of sweet and sassy. Growing up on  a farm in Farmington, MO, Jessica married her high school sweetheart and has two sons, ages 4 and 2. She loves organizing, decorating, and entertaining, and is a stay-at-home-working mom which can sometimes (always) pose a variety  of challenges.
After Jessica had her first son, she decided she needed  something of her own—something to take her mind off of  diapers and feedings. One day during naptime, she sat down at the computer with a cup of coffee and Fantabulosity was born. Her enthusiasm, wit, honesty, and relatability set her apart from others in her industry. With not one ounce of ego, Jessica pours her heart and soul into her blog and Fantabulosity's cadre of loyal readers and followers. It is Jessica's authenticity that has accelerated Fantabulosity's growth.
How Can I Connect with Jessica and Fantabulosity? As you might have guessed, Jessica loves making new friends! Connect with her, and acquaint yourself with Fantabulosity.
EMAIL: jessica@fantabulosity.com
WEBSITE: www.fantabulosity.com/contact-me/
FACEBOOK: www.facebook.com/fantabulosityblog
YOUTUBE: www.youtube.com/c/JessicaBurgess
INSTAGRAM: www.instagram.com/fantabulosityjb
PINTEREST: www.pinterest.com/jbfantabulosity
How Can My Product, Service, or Business Be Featured on Fantabulosity? Fantabulosity features fantabulous content that attracts  fantabulous readers. If you own a business, Jessica would  love to chat. Opportunities include advertising space on  fantabulosity.com and a variety of sponsored blog posts. Contact Jessica for specific offerings and associated pricing. Coca-Cola, Oreo, Walgreens, Cheerios, Nestlé, Clorox, Famous Footwear, Wet Naps, Mars Candy, Blue Bunny Ice Cream,  and Big Lots are just some of the brands that have leveraged Fantabulosity's growing reader base. Jessica would love to  add your company to that list!