I've been antsy, wanting to style and host a milk and cookies party, and I found the perfect opportunity to make it happen. Usually, around once a month, a group of us will bring the kiddos together for a play date, and I wanted to put a little spin on the most recent, for Christmas time.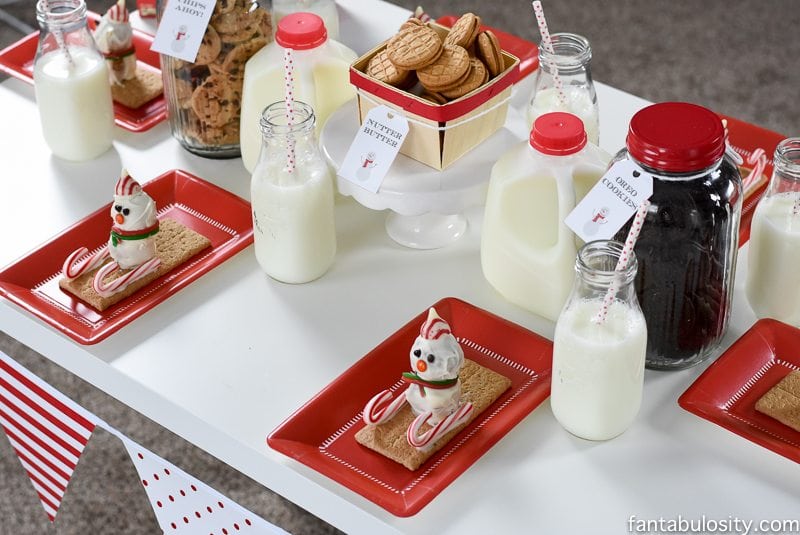 Milk and Cookies Party: Play Date
I'm a kid at heart when it comes to milk and cookies. If you come to my house, you can always bet that you'll see OREO Cookies in my cookie jar. After the kiddos sneak off to bed, I grab my small glass of milk, 4 cookies, and the couch is callin' my name.
Jessica… then did you throw this milk and cookies play date for the kids, or you?
I know that's what you're thinking. So instead of trying to think of a creative answer… Fine, I hosted it for both. Hey, I love cookies… what can I say?
Milk and Cookie Party Ideas:
I filled the table with cookies, styled them in adorable little jars and baskets, and then it was time to get to creating. I also created little snowman tags, listing which cookie was in each container.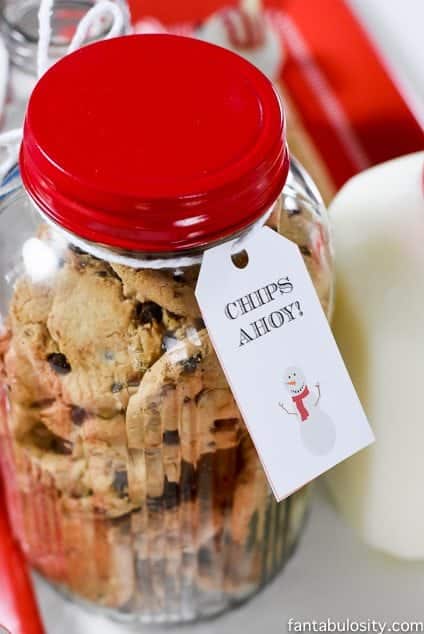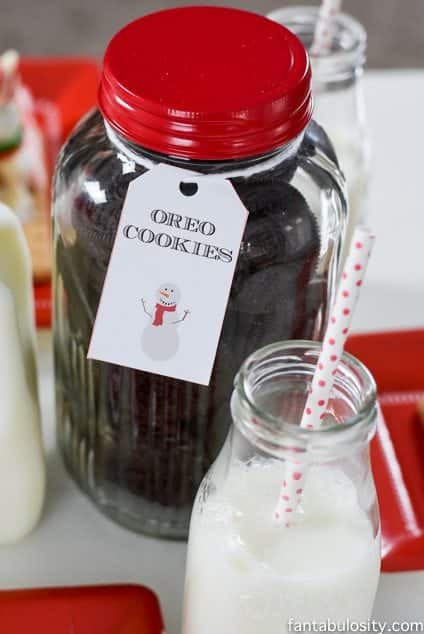 In a "sweet" mood, I had some time to create a little special treat for each kiddo that was coming. Snowman Nutter Butter Truffles. I wasn't sure if they'd work out like I had pictured in my head… but to my surprise, they turned out quite darling! (And were actually VERY easy.)
The kids went NUTS when they saw their own personal snowmen.
Snowman Nutter Butter Truffles
I'll give you the full tutorial & recipe below, and show you how to make the No-Bake Nutter Butter Truffles AND also show you how to create your own Snowman truffle! (I even made a video, if you're more of a "see-it and do-it," kind of person like myself.)
I think the desire to throw a milk and cookies party, started when I found these adorable mini milk jugs. Why is everything cuter when they're mini…
…and everything is more adorable when it's in a milk bottle, with a cute colorful paper straw.
Milk & Cookies Party Favors
I can't host a party without having party favors. Big or small, I can't help but send a little something out the door with our guests.
I created little snowman favor tags, to tie on to the polka dot bags, that were filled with snack size cookie packs. You could also make these DIY gingerbread ornaments for a fun party favor.

What little kiddo wouldn't love a milk and cookies play date? These little guys sure did, and my son is ready for another one already.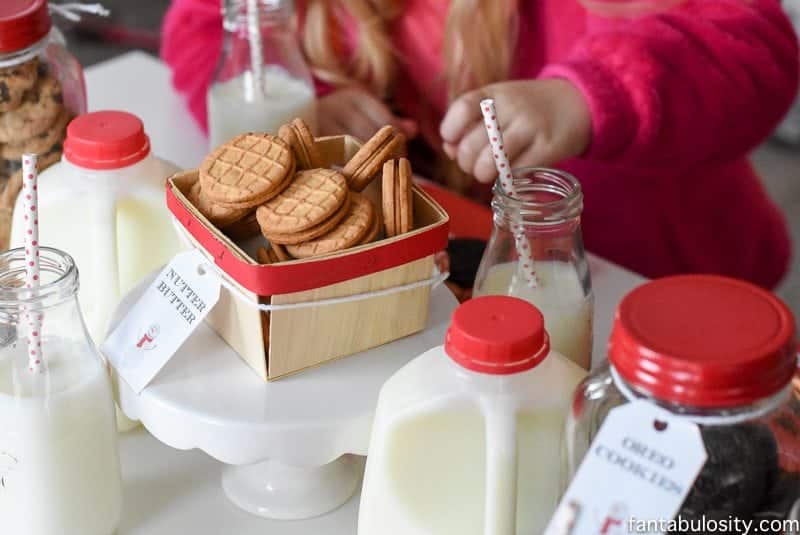 I love using the little snack boxes of cookies that I used for this milk and cookies playdate party. They're the perfect size for stocking stuffers, and you could even tie a precious little tag around the box and hand them out as gifts!
No-Bake Nutter Butter Truffle Recipe:
Found original recipe idea on High Heels & Grills.
Ingredients:

• 16 oz. Nutter Butter Cookies
• 1 8 oz. package of softened cream cheese
• 1 16 oz. package of white almond bark, or white chocolate
Instructions:

1. Crush your Nutter Butter cookies, either with a food processor, or place in a zip-top bag, crushing the cookies using a mallet.
2. Pour crushed Nutter Butter cookies in to a bowl.
3. Add in your cream cheese, and mix. (You can use a hand mixer, or I used my stand mixer.)
4. Mix until evenly combined.
5. Begin rolling the mixture in to small, round balls, placing them on a cookie sheet, covered with wax or parchment paper.
6. If making my snowman truffles, place truffles in the refrigerator for at least 30 minutes until hardened. If just serving truffles like they are, you can cover in white chocolate immediately.
7. Melt white chocolate or almond bark, according to package directions.
8. Dip each truffle in to the white chocolate, covering them evenly.
9. Store in the refrigerator, if not serving immediately.
Snowman Truffle Tutorial: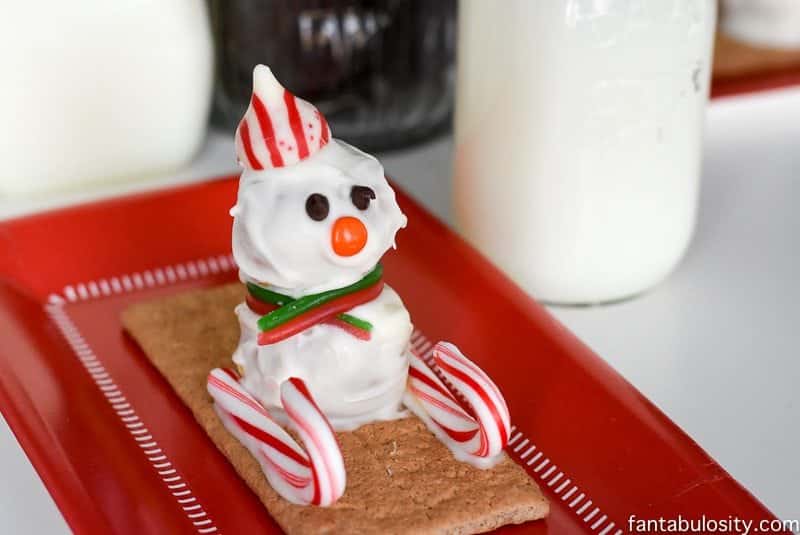 Step by Step Snowman Truffles…
• Complete steps 1-7 above, to make the Nutter Butter Truffles.
• Pull truffles from refrigerator, grabbing two truffles to work with.
• With one truffle, gently flatten the bottom, where it will allow the snowman to balance more easily.
• Dip one end of a toothpick into the melted white chocolate, and place into the top of the truffle you just made for the base of the snowman. (When the chocolate hardens, this will secure the truffle on the toothpick, more securely.)
• Dip the other end of the toothpick into the melted chocolate, placing the 2nd truffle on to the toothpick, making your snowman, and set aside.
• Place a small dollop of the melted chocolate in the center of a graham cracker. (This will help secure the snowman to the graham cracker.)
• Moving quickly, dunk your snowman into the melted chocolate, letting as much excess chocolate drip off of the snowman, before standing it up on to the graham cracker.
Turn them into Snowmen!
Begin applying all of the snowman's features, gently but quickly, before the chocolate hardens.
– Hershey Kisses (Hat)
– Mini Candy Canes (Sled)
– Mini Choc. Chips (Eyes)
– Mini M&M's (Orange nose)
– Peel-a-Part Candy (Scarf)
– Graham Crackers (Sled)
To make the sleigh, place a small amount of melted chocolate on to the bottom of two mini candy canes, placing them on the sides.
Repeat until you've reached the desired amount of sleigh-riding snowmen!
IMPORTANT: Since the toothpick is hidden inside the snowmen, make sure your guests know to be cautious when eating!
Snowman Truffle Video Tutorial:
Tip
If you have leftover or extra candy from making these, save them and make this holiday snack mix with them!
Thank you so much for coming by! I hope you love making these and the kids swoon over them! For other holiday related ideas, make sure to see our "Christmas" archives HERE!
Pin this Image to Remember: