This post was sponsored by Playtex® Simply Gentle Glide™. All thoughts and opinions are my own.
Purse Organization: How to Organize the Inside of your Handbag – Keeping related items in one spot, in a designated pouch can help you say "goodbye" to purse digging!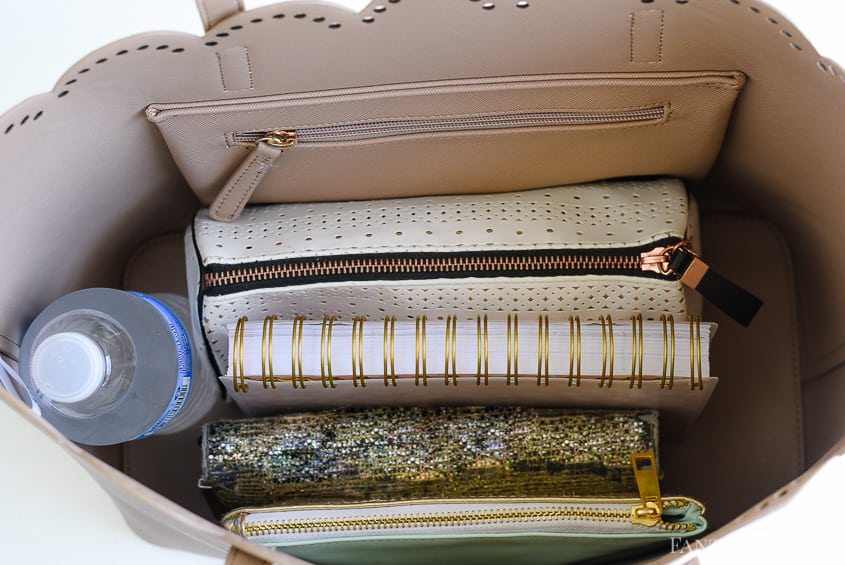 Purse Organization
Oh how excited I am to finally be sharing with you, my purse organization strategy.
As you know, when it comes to organizing, I owe all of my natural organizing "skillz" to my momma. She is a genius when it comes to making sure that everything has a "home," and growing up seeing that… I've developed SOME of the same tendencies when it comes to organization.
How to Organize the Inside of your Handbag
What I'm sharing today isn't a certain organization product that you have to purchase at the store, but rather a system that you can implement and create in your own handbag, for exactly what YOU need!
The purse I decided to use today for this tutorial is a larger handbag, without dividers, because I feel that these are a major culprit of where things tend to disappear into the big black "hole."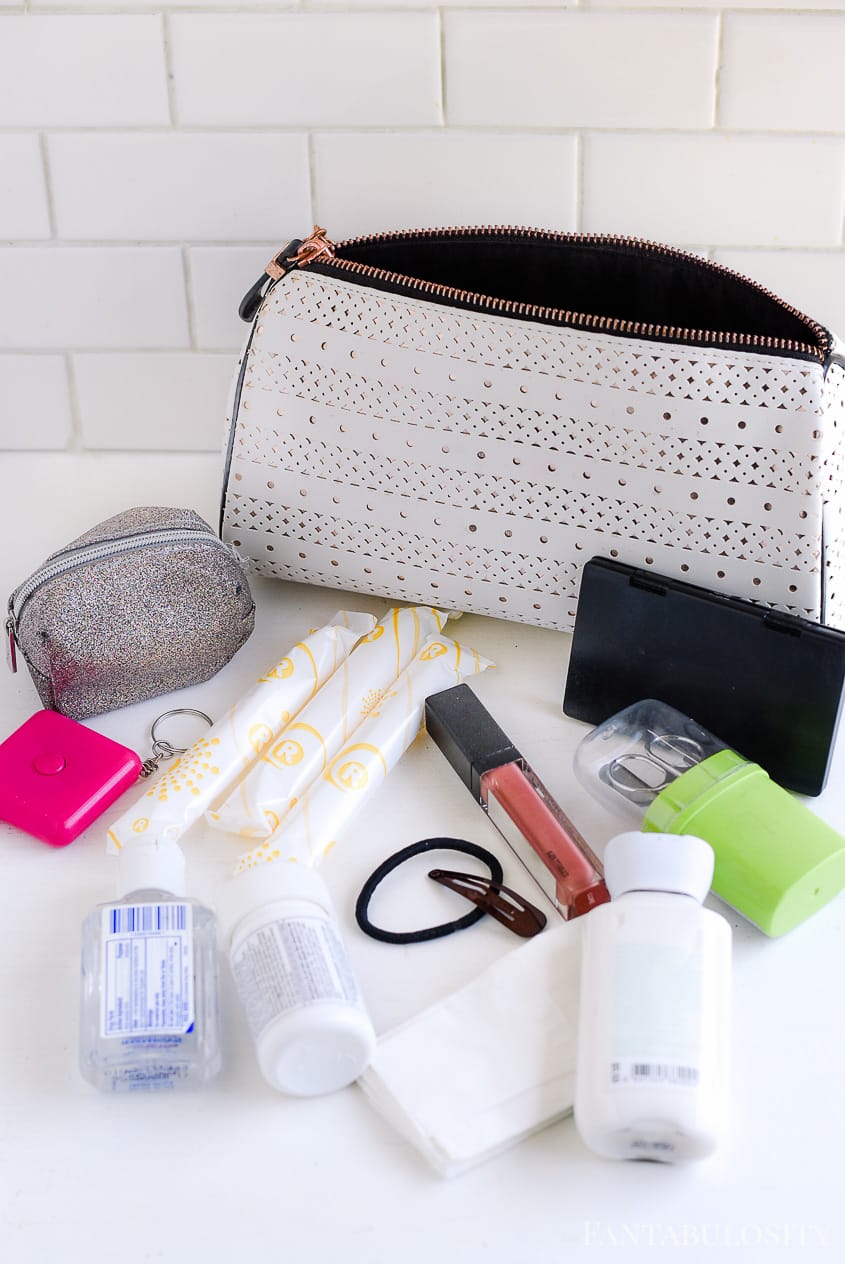 1. Health + Beauty Pouch
I start organizing by categorizing the items in my purse, and since my health and beauty items tend to take up most of the space, I start organizing these.
Using a small makeup bag, I place items in it like:
Playtex® Simply Gentle Glide™ Tampons
Mirror
Nail Kit
Lotion
Facial Tissues
Lip Gloss
Hair Tie + Hair Pins
Pain Reliever
Hand Sanitizer
I also include a smaller pouch that includes teeny tiny beauty "emergency" items like:
Deodorant Wipes
Needle + Thread
Fingernail File
Mouthwash
Fabric Tape
Lip Balm
Then, I just slip the little pouch into the makeup bag, and it's all contained in one spot! No more digging and fumbling around looking for what you need, when you need it.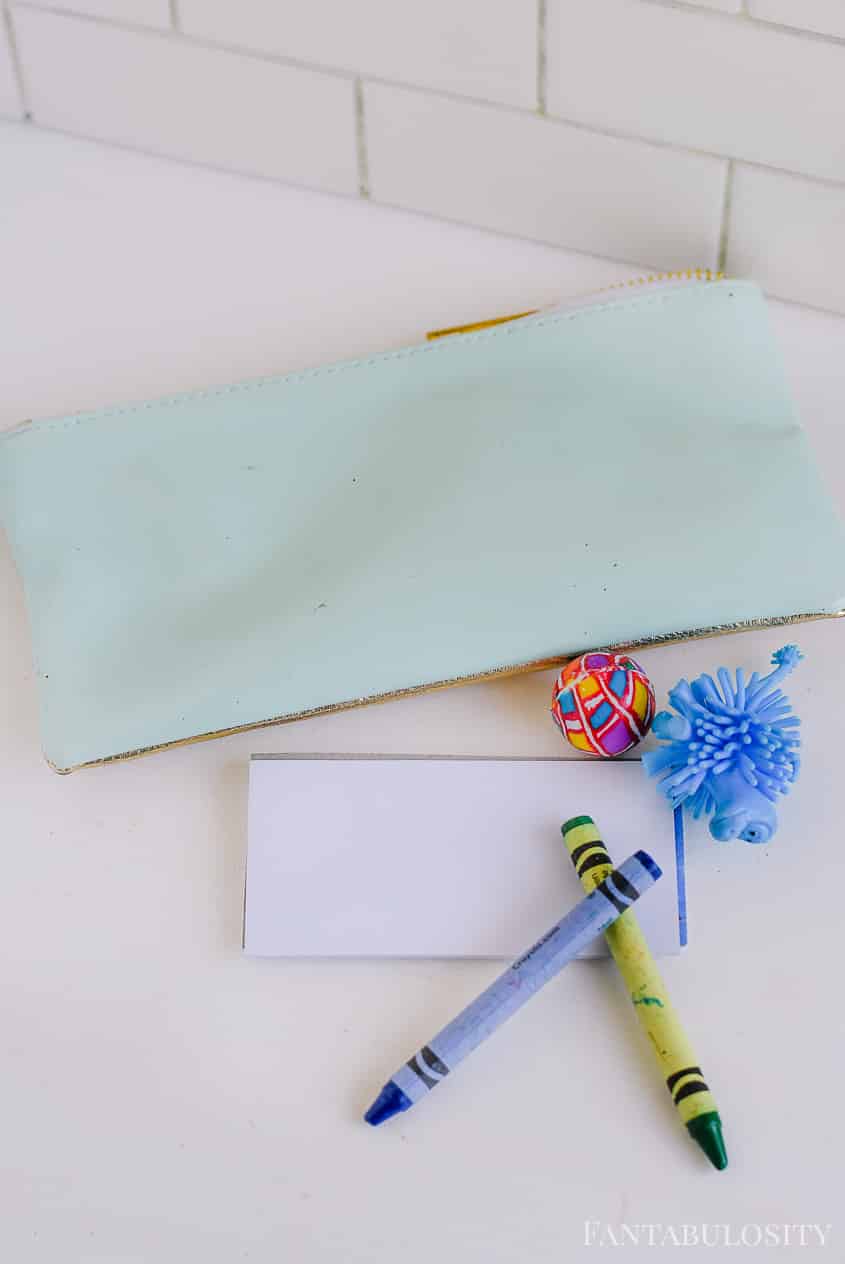 2. Kid Zone
If you're not a mom then this may not pertain to you… but I'm going to go out on a limb and say you can use this idea for your own stationery needs though too.
I'd much rather have any items that my kids may want or need while out in public, all in one spot. Usually, when they want or ask for something out of my purse, it's because we need it in a hurry.
You know what I'm talking about. The moments in the store when you just want to get grocery shopping done and they're so over sitting in the cart, or when you're out to dinner with friends and they're getting antsy?
It's like you can't get something out fast enough to hopefully entertain them so you can finish.
This pouch (which is typically another small makeup bag, or a pencil bag will work) is where I keep things like colored pencils, small notepads, and small little toys. Then, when I need to grab something for them, I can easily grab this bag and everything I need for them is right there, super handy.
3. Convenience Pocket
You know what pocket I'm talking about… the one that almost every.single.purse has. Friends, don't fall in to the trap of slipping everything into this pocket.
Save this little handy feature for ONLY the items that you need to access often. Things like:
Keys
Phone
Sunglasses
Pen
Gum
It may be hard at first to get used to placing those items in to that pocket only, but after a while, it will become second nature to slip your keys and other important items in that handy spot.
What a world of peace you have when you actually find something that you need quickly.
File Them In
After the small items are organized into bigger items, it's time to start placing them inside your purse.
During this, I don't so much worry about where things go, because this part typically moves around quite a bit and that's not a big deal when the pouches are big enough to see and grab when needed.
TIP: Now although it doesn't really matter how and where you place your items in to your purse, I DO typically try and place the biggest item in first if I have more of a narrow handbag, so I'm not having to pull big things out to find the smaller items.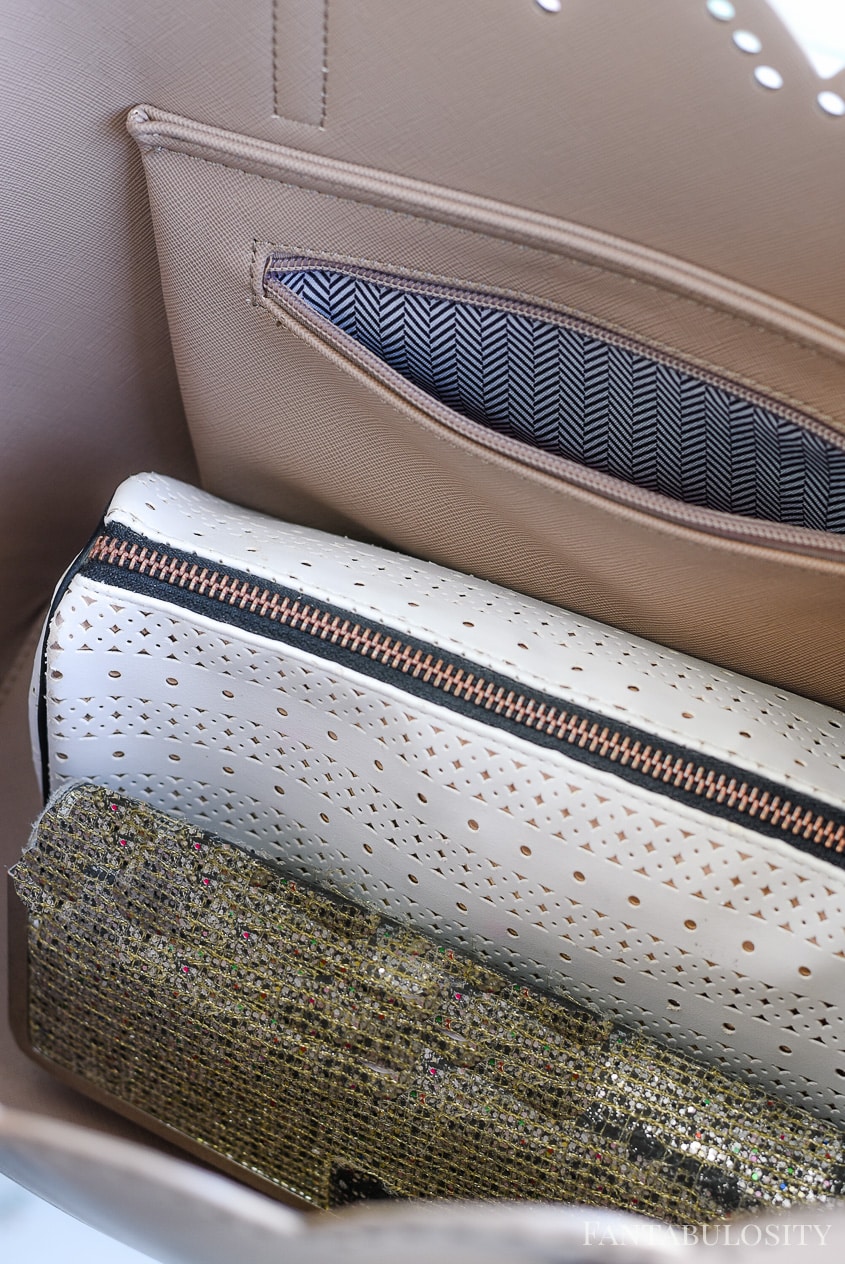 My Purse Contents:
In my bag, you'll find my makeup bag and wallet, and kid zone bag…
…then depending on the handbag, if I have room for my planner, that is DEFINITELY going with me. Odds are, when I don't have it on me, I need it.
In this specific handbag, I love how I also have room for a bottle of water to take along.
Not Pictured:
I do also keep my son's emergency epilepsy medicine in the right-hand side, of this purse, which comes in a large plastic box… but I knew that this doesn't apply to a lot of you, so I purposely left it out.
Although, I still have room for that on the other end of my purse! So if you have things like epi-pens, or other medical items to carry around with you, then you can totally relate! If it's smaller medicine, then keeping it in the health and beauty pouch would work perfectly for this!
When you need something in a hurry, especially a medical emergency, what a life-saver (literally) having it all organized, can be. Right?
Final Thoughts
In a nutshell, keep it simple, use what you have on hand and your purse can quickly be something that's no longer a black hole where things disappear.
So as you can see, you don't need a lot of extras or a big fancy organization system for your purse. In today's world, sometimes there's just too much extra! Just like when it comes to your tampons, you want them to work with the things you need – comfort, protection, and none of the "extra" bells and whistles you don't.
What Did I Miss?
What do you keep in your purse? I'd love to hear. Did I forget anything? Let me know in the comments below, and share this post with your friends to help them snag some purse organization sanity too!