This post has been sponsored by Kleenex®, Danimals, and NABISCO. All thoughts and opinions are my own.
I have some picky eaters AND I'm pretty selective about what I want them to eat, so packing school lunches can become a chore if I let it be.
However, I've come up with some of my favorite lunch packing solutions and I'm sharing them with you today, in case you're looking to save your sanity during the school year.
Planning Starts at the Grocery Store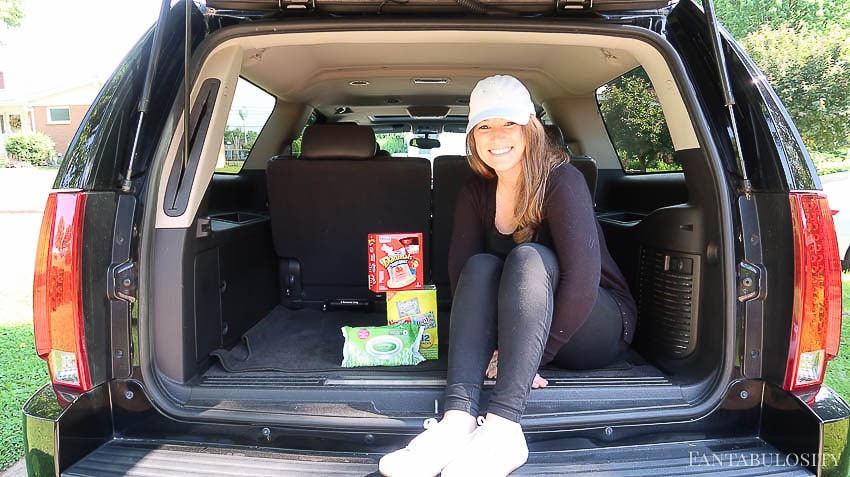 You all KNOW how I feel about Target.
Well it's no different when it comes to picking up school lunch items from there… especially when Target has their order pickup and I can just back on up and pop the hatch!
Convenience + Variety of Products
At the store, (or if ordering online) my eyes are always open for products that offer convenience because let's face it… if I haven't had my coffee yet in the morning, this mama needs quick and easy.
Our Current Favorites
---
Danimals® Squeezables Kids' Yogurt
Not only are my kids obsessed with these, I love using them as an additional "ice pack" for their lunches, since you can freeze them and they thaw by lunchtime!
Plus, if you've been following me lately, you know I'm paying attention more and more about what I feed them. So the fact that these do not have high fructose corn syrup and have no colors from artificial sources… gives it an A+ in my book!
Mini CHIPS AHOY! Cookies
So I get voted "the BEST mom" when I slip these into their lunch boxes, and I have to say that I get pretty excited about that.
The NABISCO multipack also comes with NUTTER BUTTER Bites and OREO Mini Cookies so the kids love a variety of lunch-time treats.
They get something they love and it doesn't take much for me to pack them each morning!
Kleenex® Wet Wipes
So a newer favorite lunch box hack of mine, is to grab a wet wipe or two, and place them in a small plastic bag so they can wipe their hands off before/after lunch.
I know they are "supposed" to wash their hands before lunchtime, but I feel better about sending these in, just in case they need a wipe down right before and after eating too.
---
So if you love strolling the Target aisles as much as I do, keep your eyes open for school lunch ideas that would provide a great level of variety and convenience for your kid's lunches, like these do!
School Lunch Box Packing Tips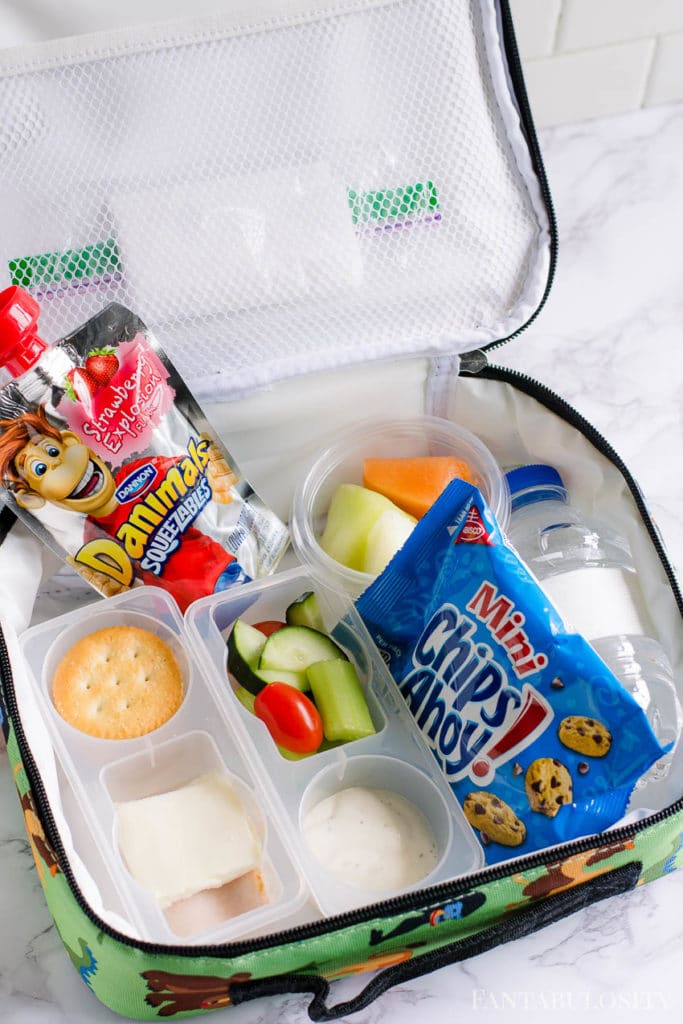 Each year, I let my boy's pick out their own lunch box, but I make sure it's a LOGICAL lunch box.
Ideally I want it to have a pocket or two for storing items and I want it to be big enough to fit everything that I like to pack.
Pockets
I really love the pockets inside for storing things like the Kleenex® Wet Wipes, so it keeps them separate from the food and so they don't slip out when they open their lunch boxes.
Straps
Straps aren't a MUST in a lunchbox, but when they have them, I get super excited. I like to send a bottle of water with my boys, so when I can secure it to the side, I don't have to worry about it rolling around and mashing goodies inside.
Small Containers
I'm a BIG fan of small containers. This way we can send things like veggies and dips easily and keep fragile things protected that could otherwise get mashed.
Fun Notes + Lunch Box Jokes
You don't have to have fancy stickers or professionally created prints outs… but including a sweet note or a joke goes a LONG way with my boys and in a lunchroom cafeteria.
My son said that the jokes in his lunch box every day are a HIT and his friends can't wait to hear them.
I just love being able to play a small part in the middle of his day with either a funny joke or a quick "I hope your day is SUPER! – Love Mom" note. I just hope he continues to think it's cool for a while. Visit www.backtolunch.com for more tips and tricks for back to school!
Want to pack this lunch idea? See below…
FREE School Lunch Planner Printable
Want to make things even easier and feel TOTALLY on your game?
I've created a free school lunch planner printable (actually two, so you can choose which colors you want!), to help plan ahead and keep track of things for the school week ahead.
Simply print out this planner each week when you're doing your grocery shopping online or filling out your meal planner, and plan out what you (or your kids) will pack each day for the upcoming week.
The more you can plan ahead and know exactly what to have on hand and what to pack, will streamline your mornings and save so much of your sanity!
What are YOUR favorite school lunch hacks?
I would love to hear your favorites, or what your kiddo thinks is a MUST have in his/her lunch box each day!
Drop a note below and let me know!
Homemade Lunchable
A school lunch idea – Homemade Lunchable with veggies and dip, along with fruit and favorite snacks!
Ingredients
1

oz.

1 slice cheese


any flavor

3

1.5 oz.

slices turkey deli meat

or other meat you can substitute

5

Ritz crackers

1/2

cup

mixed vegetables

grape tomatoes, sliced cucumber, celery sticks)

1

Tbsp.

ranch dressing

1/2

cup

mixed melon cubes

Mini Cookies

Yogurt

Bottled Water

Wet Wipes
Nutrition
Nutritional information is based on third-party calculations and should be considered estimates. Actual nutritional content will vary with brands used, measuring methods, portion sizes and more.