Trunk Club September 2017 – Try On Video and Photos: Fall pieces with florals, ruffles, a handbag (crossover), mules, booties, and more!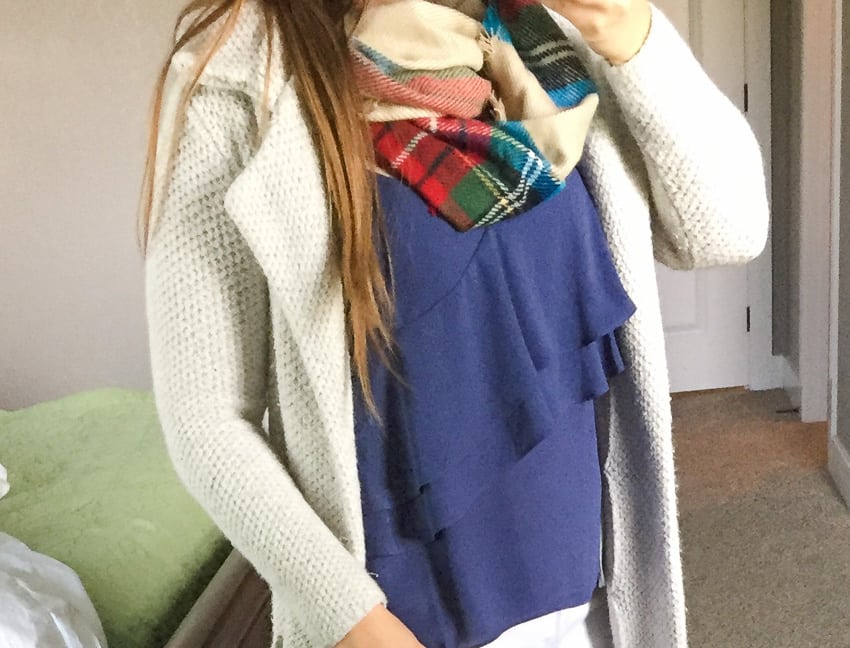 Trunk Club Try On – September 2017
Whew this month was a doozy! I came down with a nasty head cold (from what I hear that's part of my kiddo going off to school for the first time.)
So if you watched my unboxing video, you may have wondered what took me so long to get this one up! Well, you'll hear in the video that my voice isn't quite back to normal just yet, but I still wanted to get this out for you!
Full photos and links to each item are also below!
Trunk Club Photos
In case you aren't in a good place to watch the video, I always like to include photos and details in the review too…
Floral Top + Denim + Mules
Surprisingly, the floral top and jeans look better on than I thought they would. I'm crushing on the nude mules… they're adorable for this Fall and they're super comfy too!
Mock Neck Top
This burgundy mock neck top would look cute under a cardigan, but it's not usually a color I'd purchase for myself. I have just never been drawn to the color burgundy.
Cardigan + Tee + Olive Pants + Booties
Now it's no surprise that the blue cardigan is the comfiest sweater I've ever worn in my life. In the unboxing video, I got a little carried away with how soft it is.
I also know that this next outfit may not look the best all together… but I wanted to put on as much as I could, to show you each piece.
Now, I'm not a huge fan of the white tee, but I may have just needed to give it a good steaming with my steamer. (I wasn't feeling the best though, so I totally slacked on that part.)
Then the jeans… the olive jeans. I just don't think they're that flattering on my body type. They were too long for booties, so I had to roll them up. I thought about wearing my knee-high boots, but the color of the boots wouldn't have meshed well with the olive green color I don't believe. Plus, I didn't like the way that they looked on my rear. So I'll probably be sending these back.
The gray booties are super cute. I have a similar pair though, so I'll be sending these back.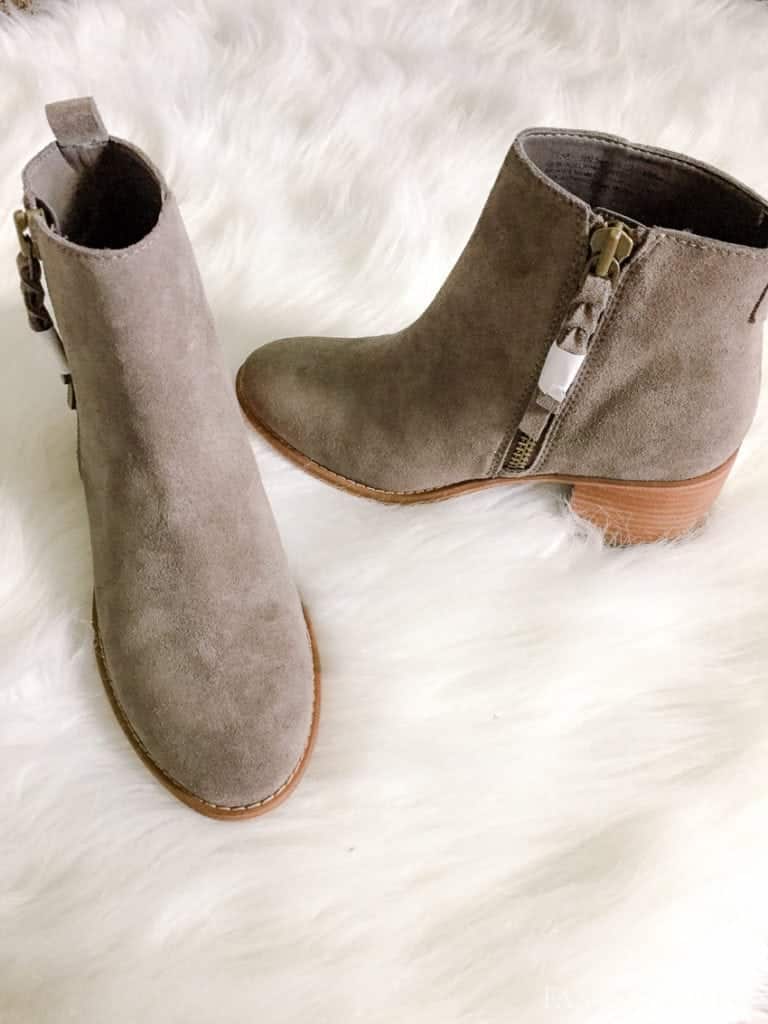 J. Crew Blue Camisole
This blue camisole is my favorite from the whole shipment. It fits wonderfully, and has an adorable flowy (but controlled) style to it.
With Fall coming though, I wanted to think rationally and find a way that I could wear it in the colder months. Throwing a cardigan over the top of the camisole is a great way to wear it all year long.
Add a scarf and cute handbag to help the colors pop, and it looks great!
Shop the Items in my Trunk:

Thank you so much for coming by and taking a look at my September Trunk Club shipment. I'd love to hear what you think below!