BEST Leggings EVER + Red Buffalo Plaid: Without a doubt, this is my favorite Winter outfit this season. I didn't know what I was missing until a friend recommended these leggings to me!
You know that I NEVER recommend anything to you, that I TRULY don't recommend, right?
See my CURRENT favorite fashion finds, and shop my Instagram HERE!
I hope you do know that, but I felt super compelled to tell you that again today because I'm getting ready to use a term that can be taken lightly. What term? "BEST."
BEST Leggings EVER + Red Buffalo Plaid
Holy.Smokes. After doing Stitch Fix and Trunk Club for some time now, I can STILL even comfortably say that these tights are my favorite fashion find EVER. But the thing is, I didn't get these leggings in a subscription box. I went shopping with my "personal stylist," friend last month, and she literally told me,
You HAVE to get these leggings. They're the best you'll ever find.
Leggings (No Muffin-Top, No "See-Through," No Adjusting)
I'll admit, I took what she said with a grain of salt, and even put them in the bottom of my closet and forgot they were in there for a few weeks. I mean, tights and leggings are all the same, right? Ummm… No. My leggings world has forever been changed.
Muffin-Top
The minute I put these on, I stood in front of my mirror… amazed. Where was my muffin-top? I always have a muffin-top when I wear tights or leggings. But not with these.
See-Through
Even talking to some of my friends, we've hesitated wearing leggings out in public because we were afraid you could see-through our leggings because of the thin fabric. Not with these.
Adjusting
Along with a muffin-top, I always assumed all leggings were constantly having to be pulled up over the "pooch," and felt loose-fitting throughout the thigh. Not with these.
The Best: They stay in place, are fleece-lined (but not thick), and flatter my waistline in a way that I haven't seen before having my first kiddo.
UPDATE: I have some bad news friends. Victoria Secret sold these, my favorite leggings, and they no longer carry them. WHY VS, WHY!?
So what I've done, is found similar leggings online that I HOPE will be just as good. They're fleece, have the wider band, and even better news… way cheaper than the Victoria Secret leggings. You can buy them HERE!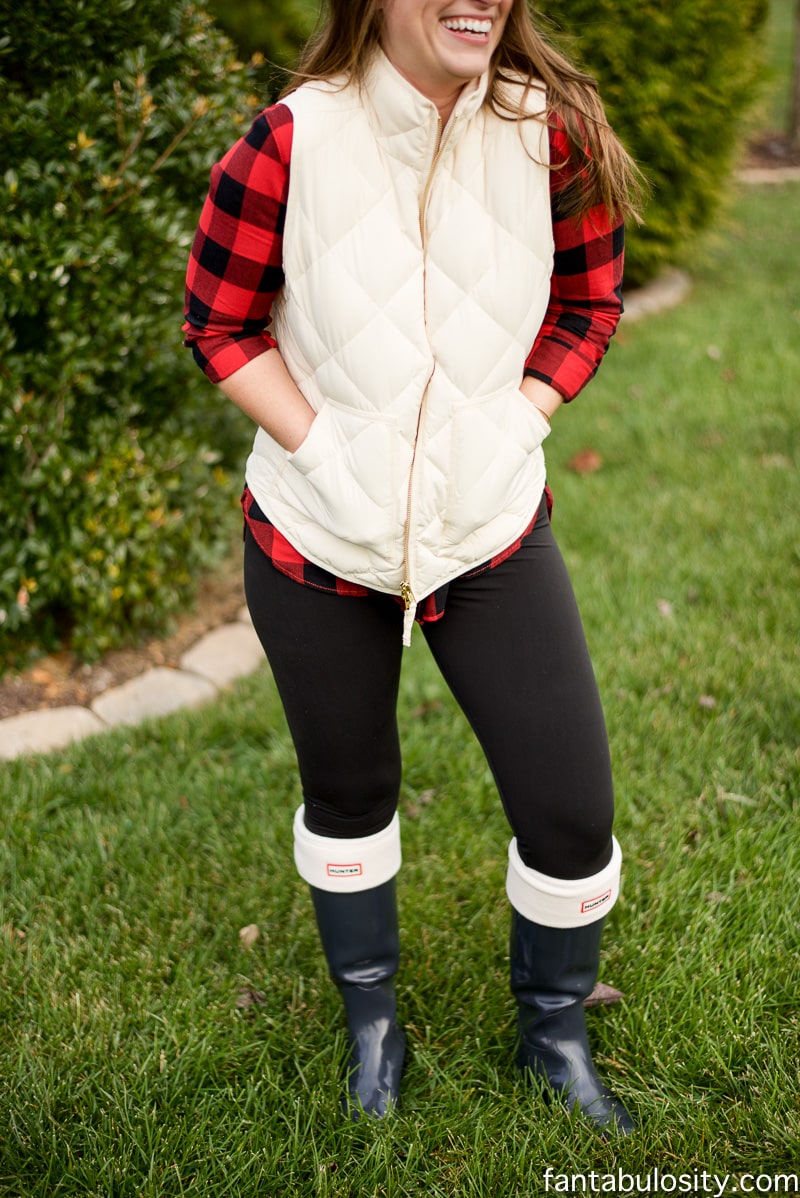 Leggings // Buy similar HERE since Victoria Secret no longer carries this style.
The vest is a staple in my closet that you've seen before in my Trunk Club Review – Try On Video. I kind of like it, a lot. It goes with a ton of outfits and is great to have for those chilly days that I don't want to throw on a big coat.
Cream Vest // But it HERE, although the pockets have changed a little, but I prefer the updated pocket-look!
This shirt quickly became a favorite of mine too, simply because my eye is drawn to buffalo plaid this time of year. Heck, I styled a whole stinking party in buffalo plaid last year around the holidays. See that "Favorite Things Party" HERE.
This red plaid flannel shirt is SOOO amazing on, but it's showing sold out on H&M right now. BUT… I've found a similar red flannel button-up tops for you in case you've been looking for one too! You can see them on Amazon HERE!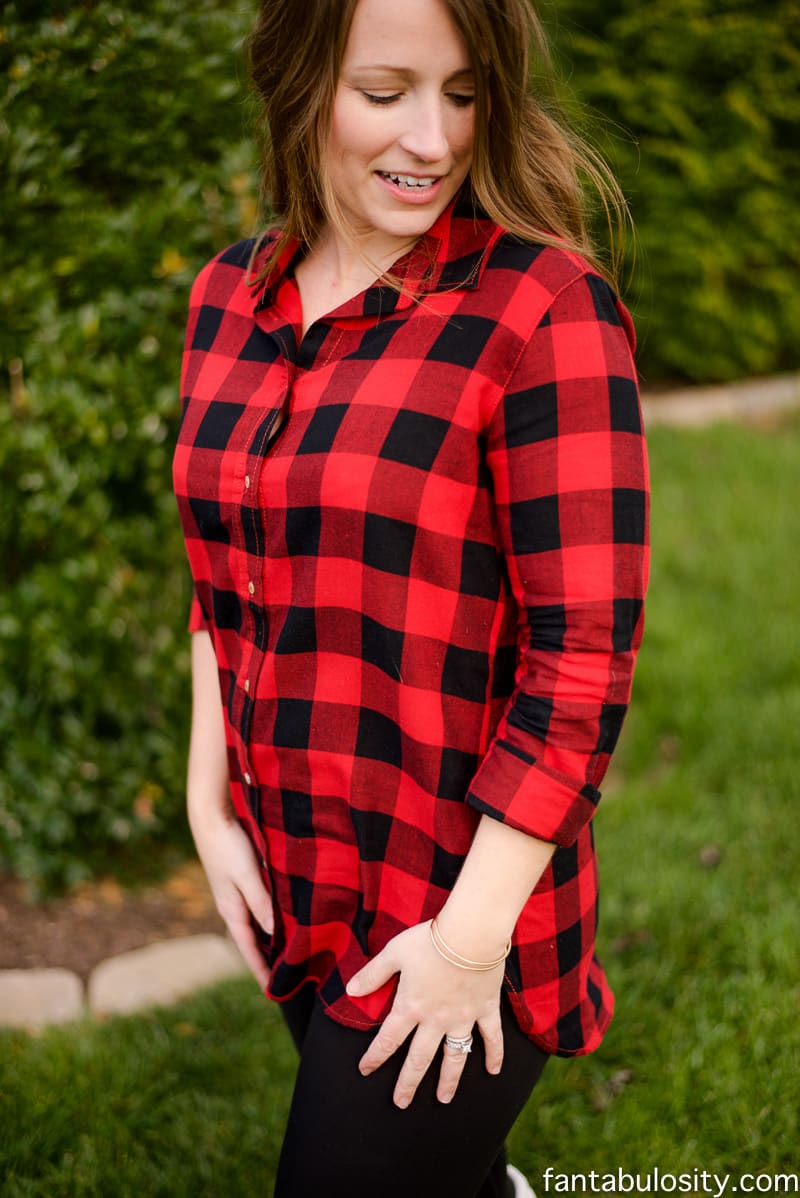 Similar Red Buffalo Plaid Shirts // Buy HERE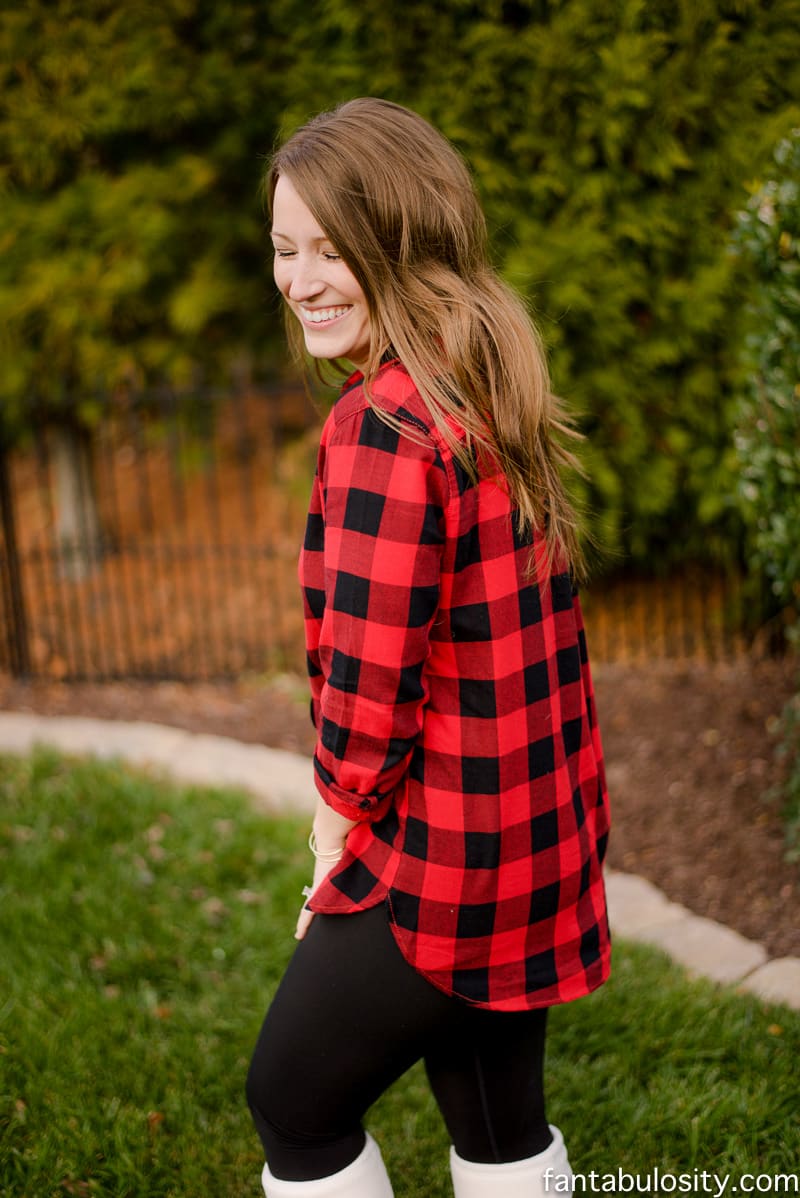 The BOOTS! I sooo love these Hunter Boots. Even if I never wore them again, I'd still be able to say that I've gotten my "money's worth," with these. They're the new Hunter Boot design, with a sleek style and lighter than the original boot.
When I pair them with the Hunter socks, my toes are so comfy cozy that I feel like never taking them off.
Hunter Boots // Buy HERE | Hunter Socks // Buy HERE
See my CURRENT favorite fashion finds, and shop my Instagram HERE!