Debt Payoff Tracker Printable: A free printable to help you grasp the big picture and breakdown of your current loans! Digital version also available!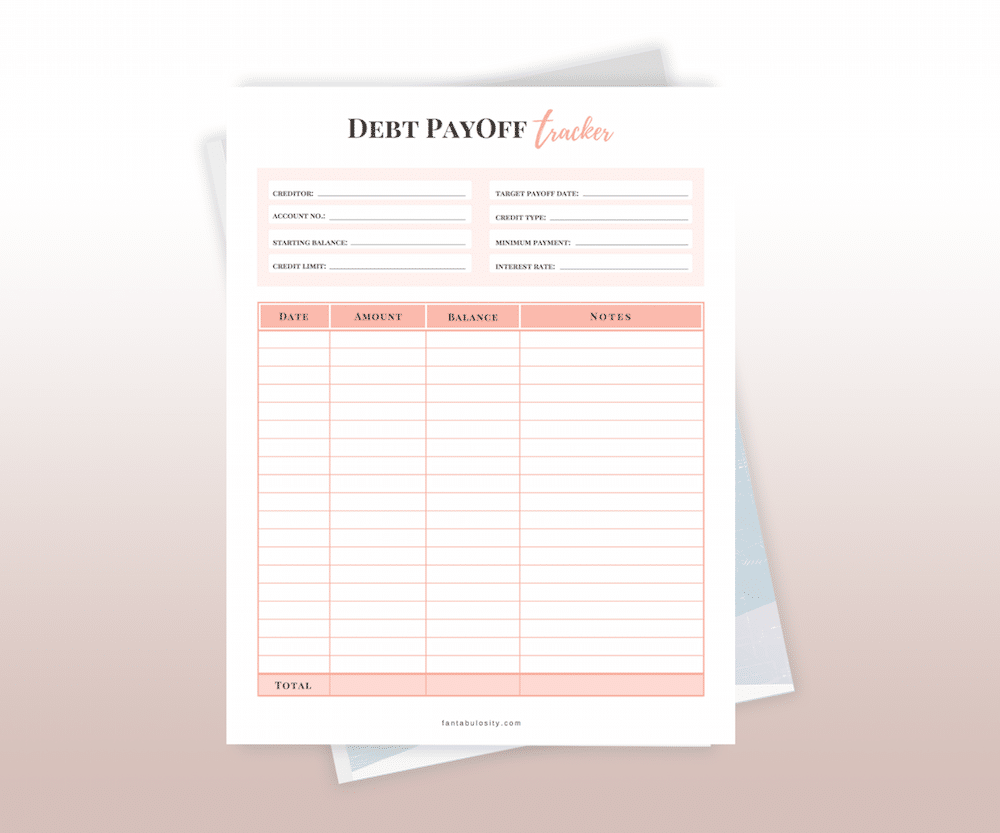 If you're like me, the words "finances", "loans" or "bills" can make you cringe. I mean, who loves getting a bill in the mail? Or even more… thinking about what is owed on something?
But that's part of life and we have to face it, right? Right. So we might as well make it as easy on ourselves as we can and do the best that we can to make it a little more enjoyable.
Have you read my post or watched the video on My Home Finance Routine and the Tools I can't Live Without yet? You're sure to find tips to help make your home finance life a little easier there too!
Debt Payoff Tracker Printable
The other day, I asked you all on Facebook and Instagram what printable you'd LOVE to have next and I have to tell you… you all have some AMAZING ideas!
So now I have a whole list of printables to have created for you and I'll be rolling them out as soon as they're finished! (But feel free to keep messaging me, letting me know what you'd like to see. I'm a printable junkie so I'm always happy to add to the list!)
One Fantabulosity reader suggested that we create a "debt payoff or loan payoff" printable and I thought that was GENIUS!
Being able to see the "big picture" of what is owed, all across the board, reduces my stress level and anxiety, like crazy! Because not knowing exactly what is owed, by when, and how much, can create this panic feeling that is so unnecessary!
So having a debt payoff printable to help keep track of this is exactly what I needed and I couldn't wait to share it with you all too!
How to Use the Debt Payoff Printable
This printable is designed to focus on one loan, so you can keep track of it for months!
There are sections on the printable to also help with quick-reference items, like:
creditor
account number
starting balance
interest rate
credit limit
minimum payment
interest rate
target payoff date
I don't know about you but I often find myself needing those items, whether it's for tax purposes or updating documents… so having them handy on this printable is something that I can quickly check and refer to as needed! (Rather than digging in my file folders, trying to find the original loan paperwork.)
How to Use the Free Version:
If printing this free copy, simply save and print out as many copies as you need, for as many loans that you want to keep track of.
Have a finance binder or file folder?
Simply 3-hole punch the copies and insert them in to your binder or slip each copy in to your folder.
Then, each month you can turn to, or pull out the printable and add to the list!
Fillable PDF Option
If you'd prefer a digital version immediately, where you can save it to your computer and TYPE in your info every month instead, then you'll want to get your hands on the "Fantabulous Home" Home Management Binder that also includes 50+ printables to help you organize your life and home!