This shop has been compensated by Collective Bias, Inc. and its advertiser. All opinions are mine alone. #PurexCrystalFresh #CollectiveBias
DIY Housewarming Gift Basket: A bright and cheery basket filled with goodies that anyone moving in to a new home will love!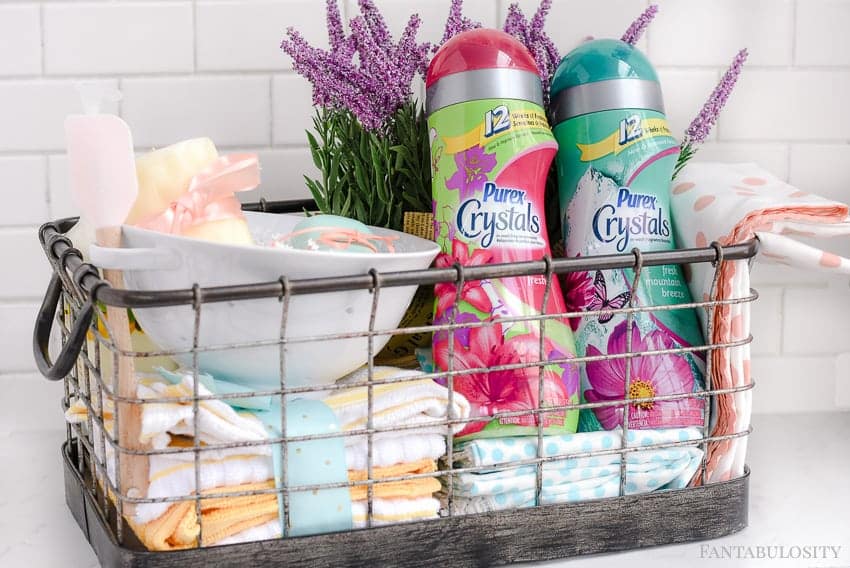 DIY Housewarming Gift Basket
It's Spring, and that means if I can cram as much pastel and bright, beautiful colors in to just about everything I wear, create, and cook… then I'm a happy girl.
Recently, we had friends move in to a new home, and I wanted to make them a gift basket of goodies to help celebrate the big move, and that could hopefully help them until they unpack everything.
When I went to Walmart to find the goodies to build the basket with, I found the prettiest bottles of Purex® Crystals, and KNEW they'd look adorable in the gift with their bright colors! Plus, it would be a perfect item to help our friends with laundry in case they hadn't quite unpacked their laundry supplies yet!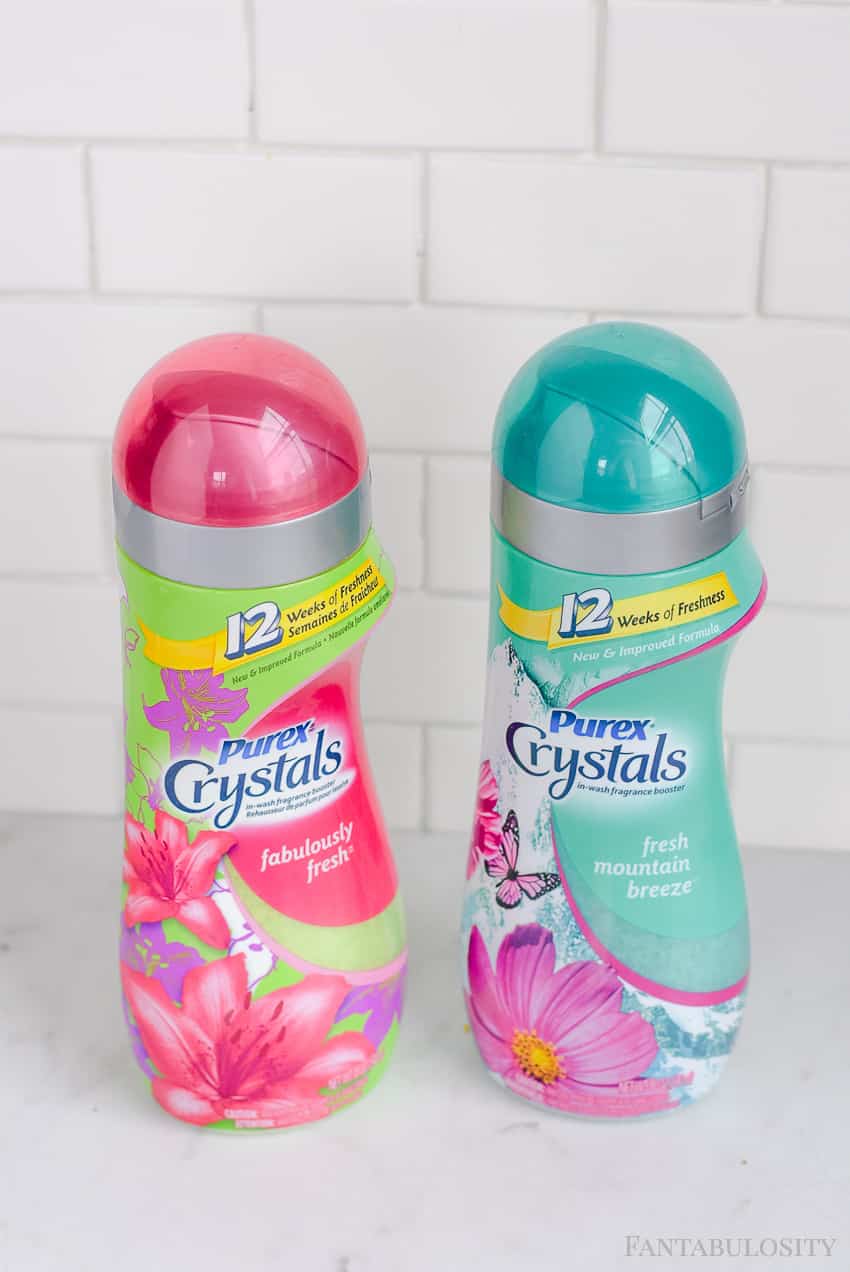 I bought the Purex Crystals Fabulously Fresh (and we all know that I had to buy that one since it had the word "fabulous," in it) and the scent Purex Crystals Fresh Mountain Breeze.If you've seen my home office tour, then you KNOW why I loved these two colors the most!
(Then… I kind of bought one for myself. Yes, I'm one of those. I usually like the gift I'm buying someone so much, that I think I have to have one too.)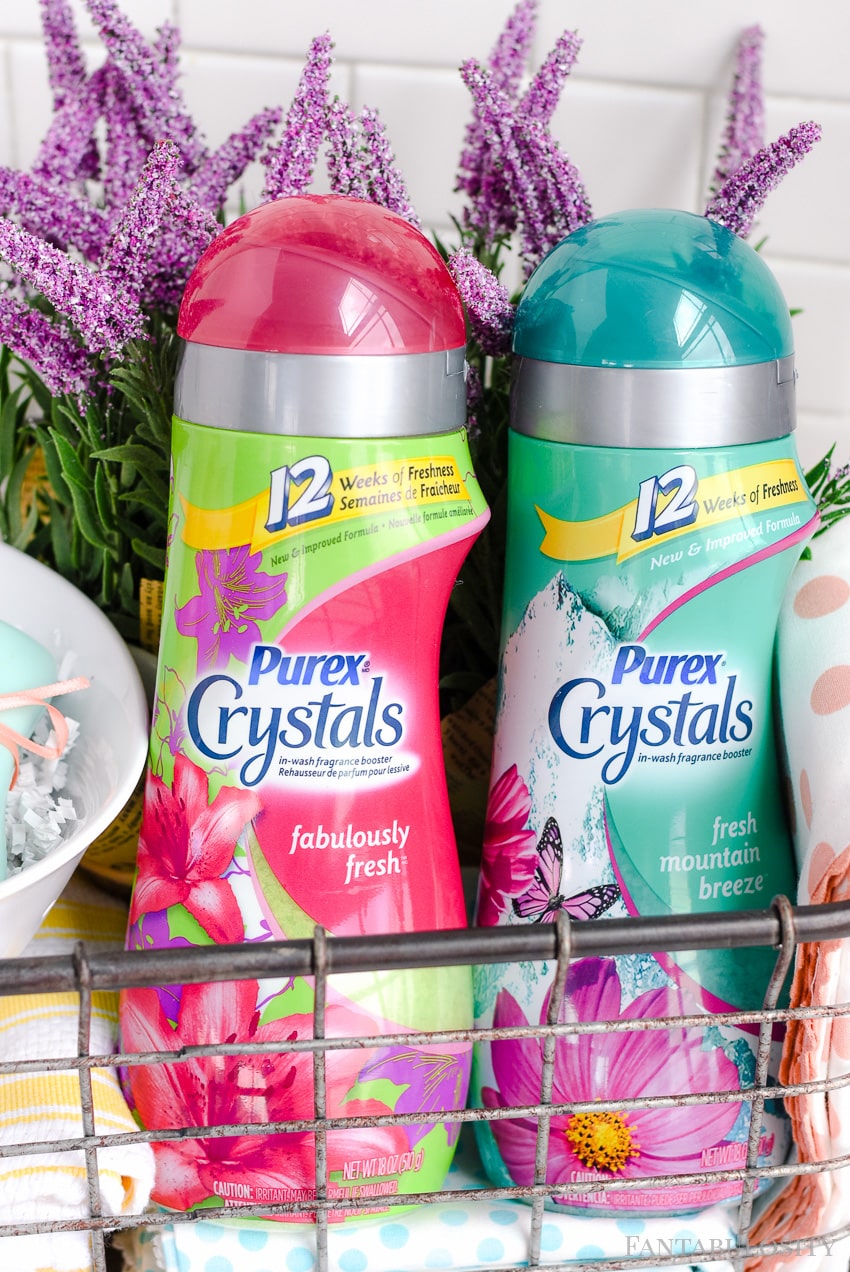 Gift Basket Building Tips:
If you haven't been around here very long, then you may not know my obsession with making DIY gift baskets, when it comes to gift-giving. They just seem so personal, and full of thought. So in most of my other DIY gift basket tutorials, I explain how my two main techniques for making a gift basket look great, is:
Say "NO" to Tissue Paper:
• Using something other than tissue paper, for the fluff. Of course it's ok anytime to use it. I just prefer to use something else if it's going to be visible. Now, I do shove it down inside a basket to give it some "umph," if you can't see it. But using something like dishtowels or baby blankets, work great! Plus, it adds to the gift!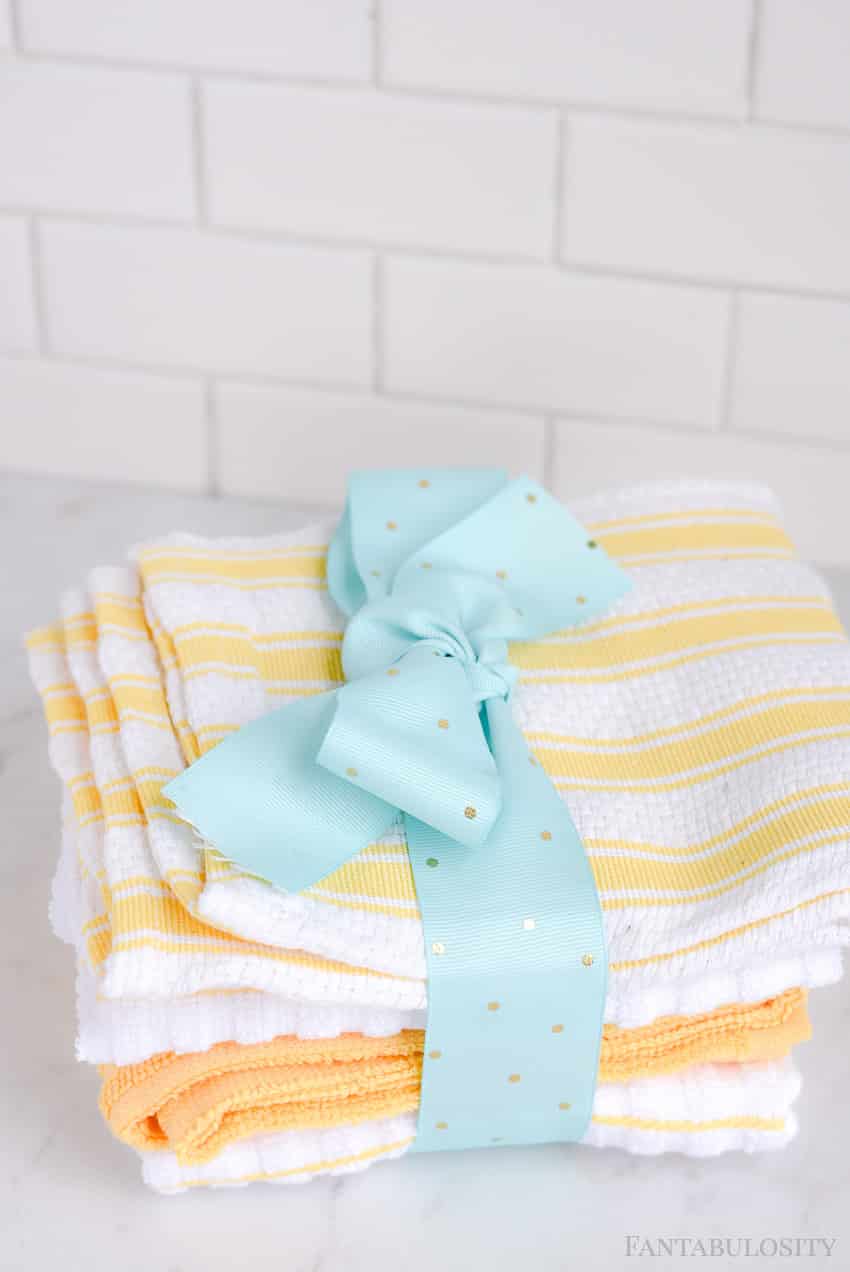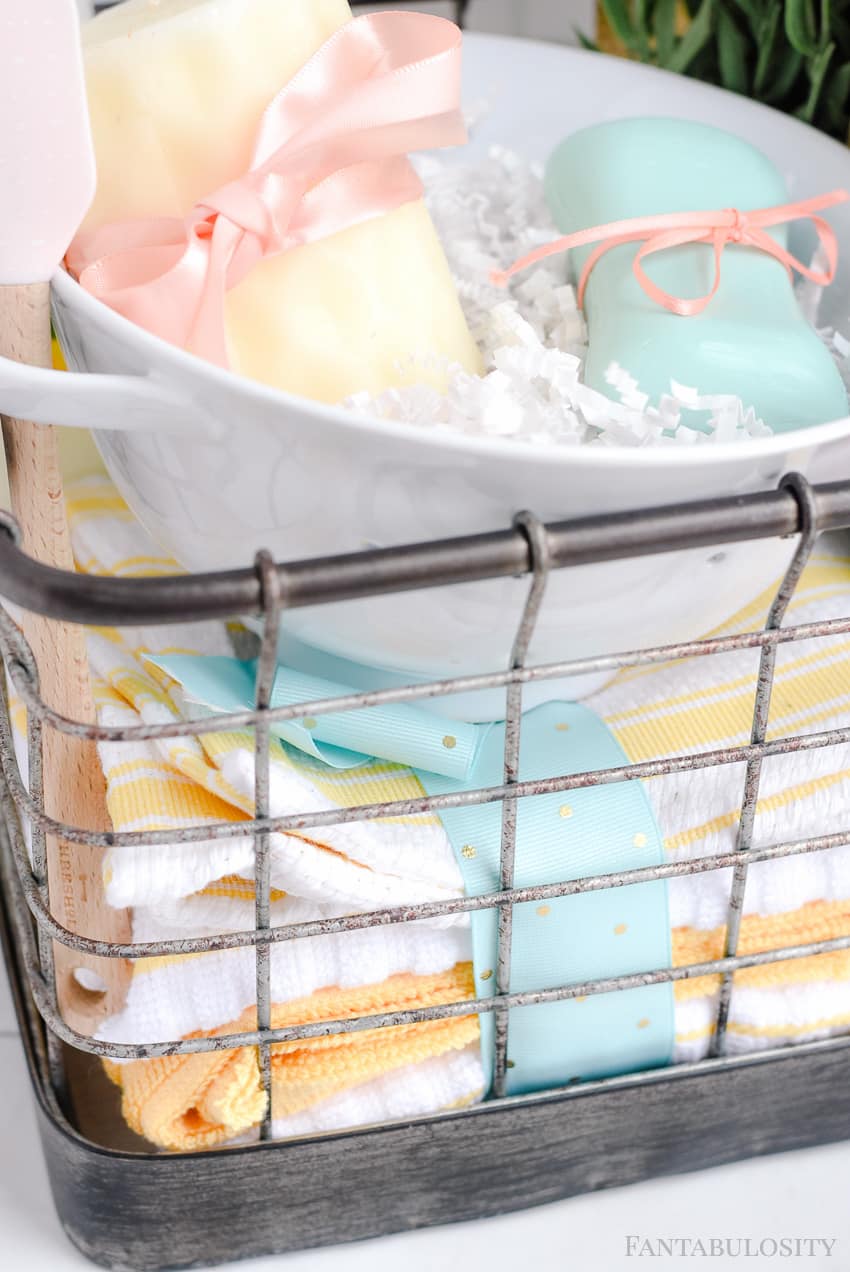 Trash the Trash:
• Take items out of the "boxey," boring, packaging that it comes in, and remove the tags. Removing the "store-bought," look of items can really add a "cleaner," touch to the gift basket. But when the packaging is as adorable and decorative like the Purex Crystals… leave it! I think these made the gift basket POP with color.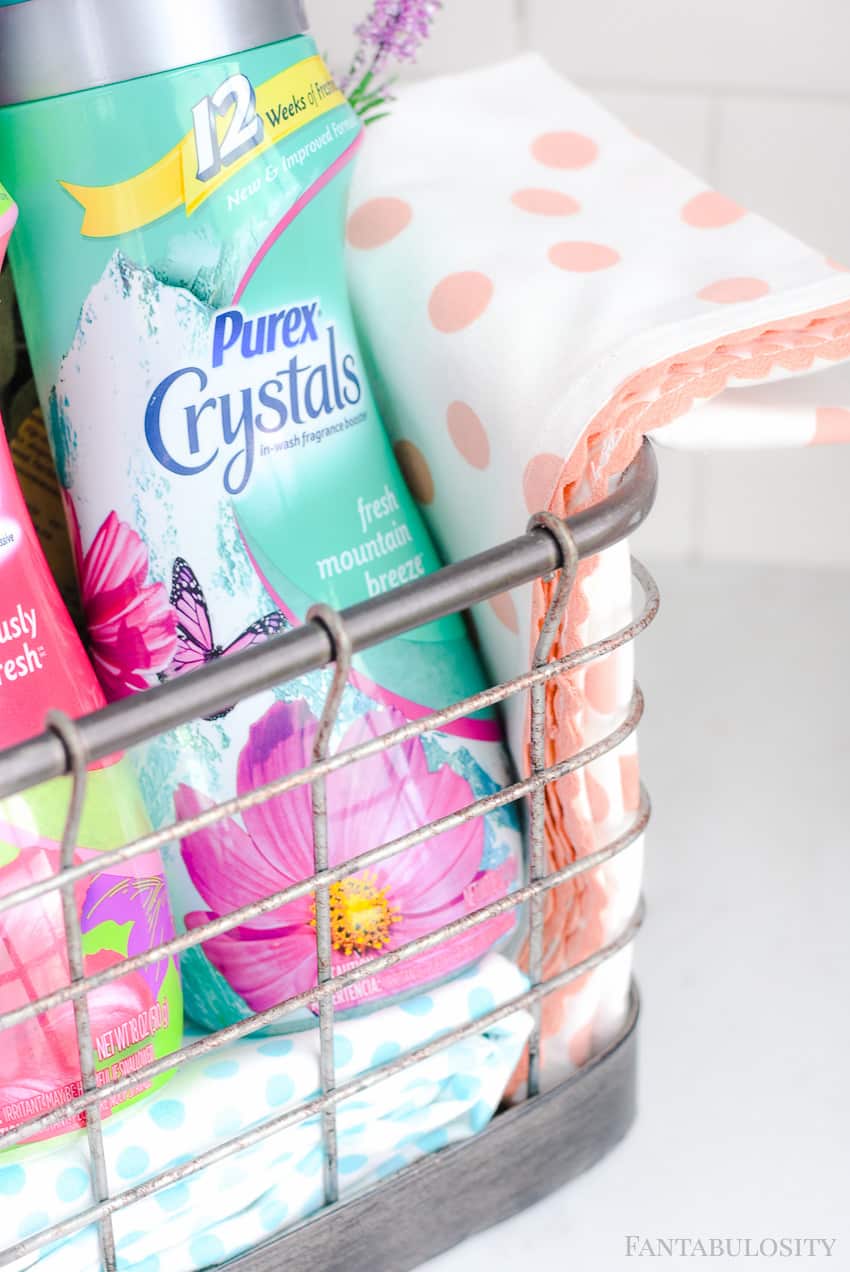 A Little Decor:
As part of the housewarming gift, it's always really nice to add a small element of "home decor." Being able to put something decorative out in their new home, right away, can be JUST what a corner or shelf needs to make it feel homey, until they get all unpacked. Items like a small floral accent, (something seasonal, or neutral, so odds are it will fit the decor theme they're going with) are a great choice.
Incorporate Multiple Rooms
Well this little colander, spatula, candle and soap could be it's own little housewarming gift if you ask me. But when making a gift basket full of all kinds of items, adding in a few items for different rooms of the home, like the kitchen, laundry room, bathroom, living, etc. is always a good move.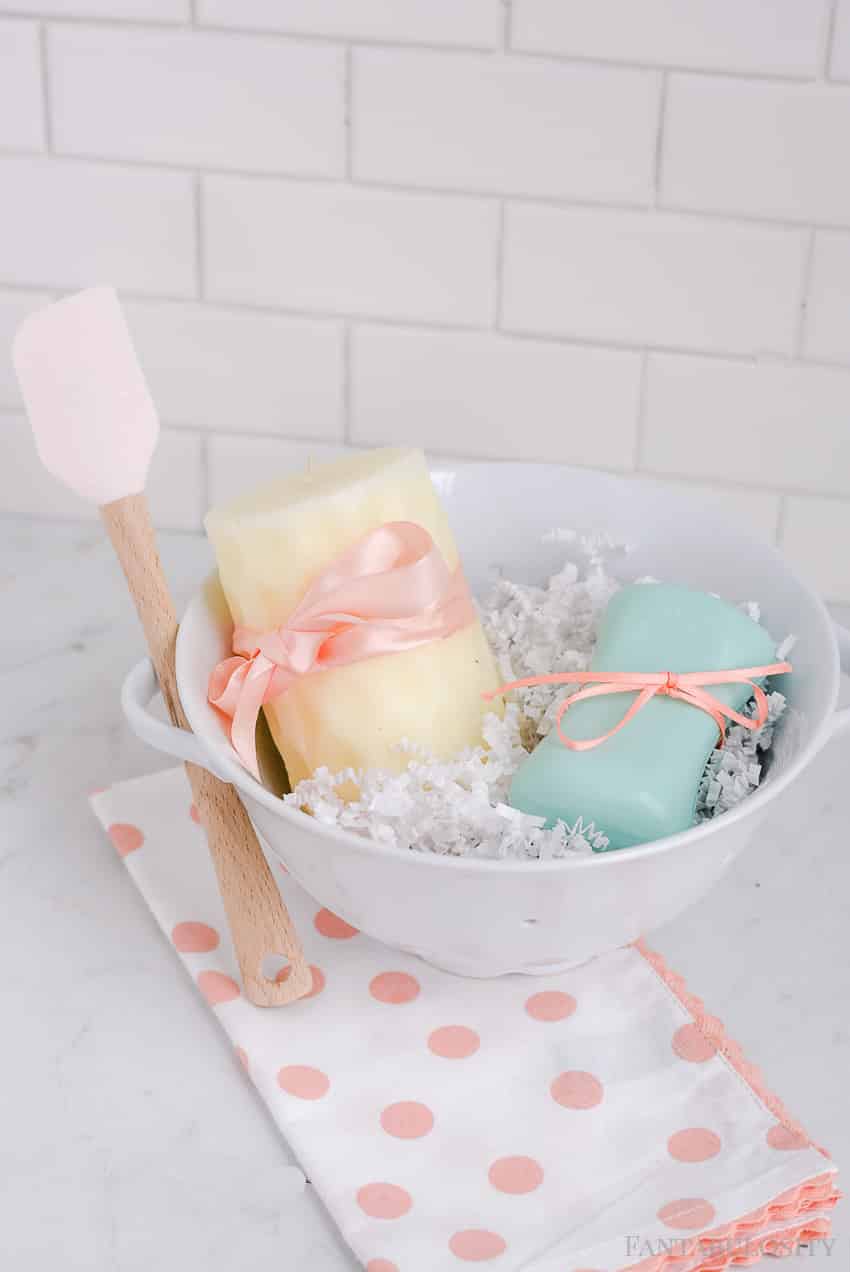 Plus, who wouldn't love a mini colander, and an adorable little spatula?
Adding Flair…
Sure, items in a gift basket are cute anyway. But when you can add things like ribbon around some of the items to add a little flair… it can make it THAT much cuter. Here, we simply wrapped a ribbon around the candle to give it a little more pop of color.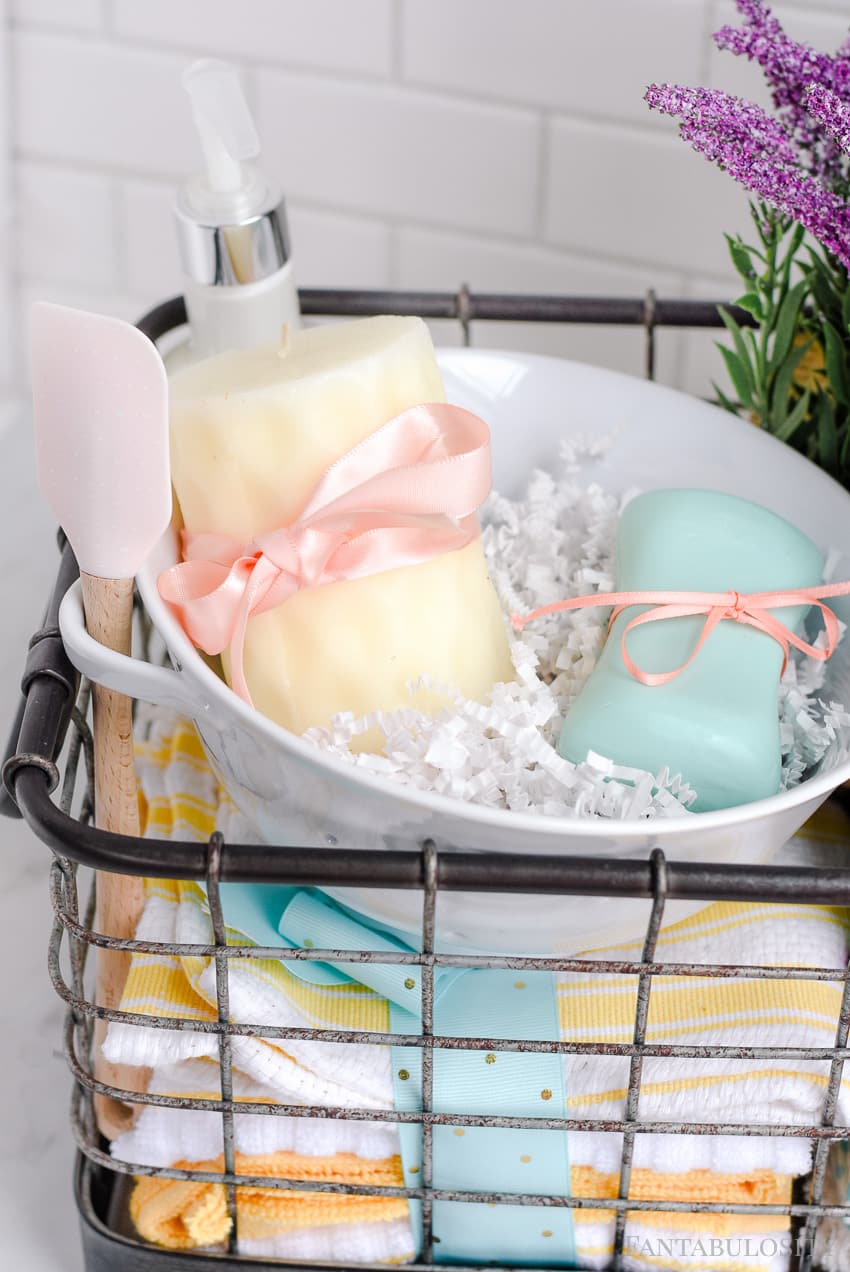 In the back corner, we tucked a bottle of hand lotion that they can keep in their bathroom on the sink, for guests visiting to see the new home. Functional, AND pretty!
Basket Buying:
Then of course shopping for the basket that you put it all in, can be just as fun as finding the items to put in it. But here's my basket-buying tip: Buy a basket or container that has open sides like this one. That way, the recipient can see right in to the basket, and not have to dig through to see what's in there!
Making sure the items are visible right away, when you hand it to them, can add such a "wow," factor to the overall gift!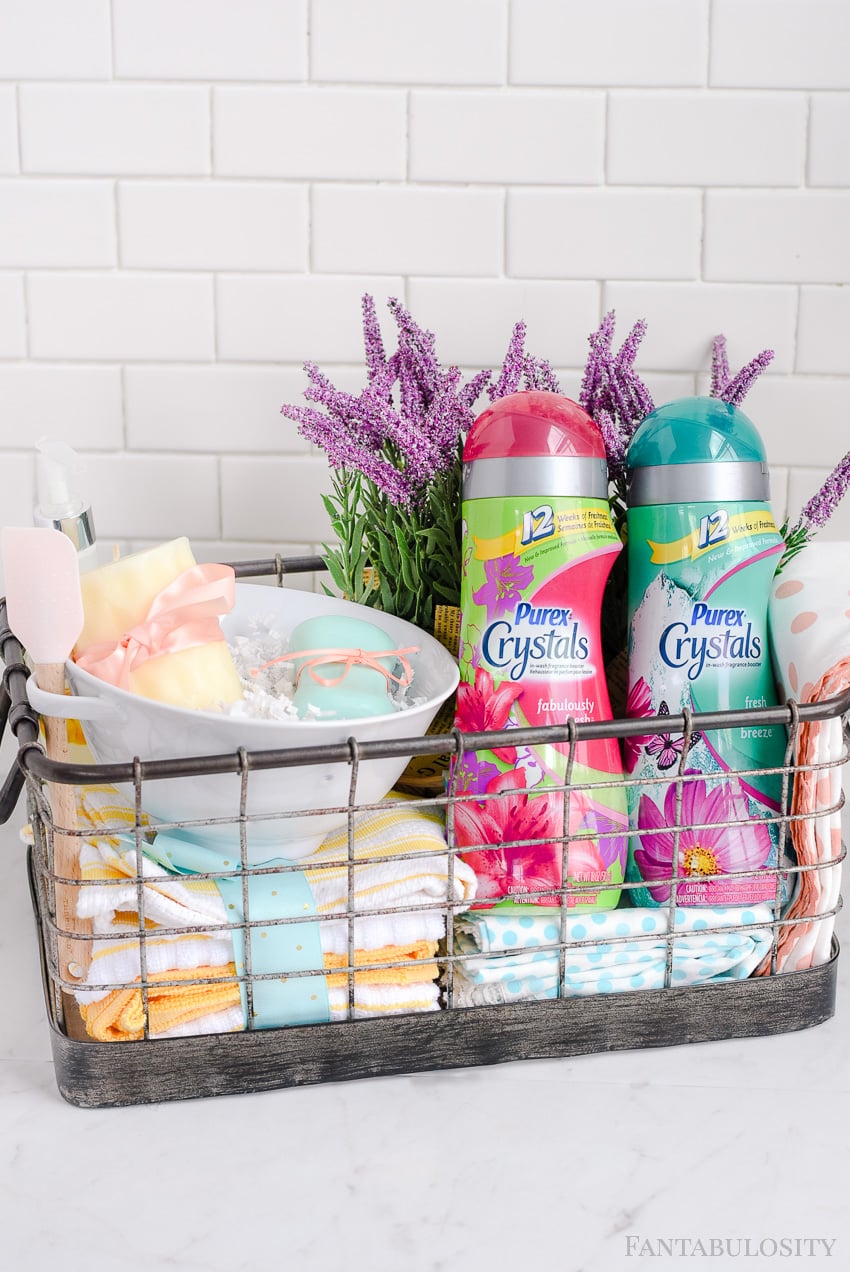 Thank you Purex Crystals:
I want to thank Purex Crystals SO much for sponsoring this post. I fell in love with the new "12 Weeks of Freshness," scents that they offer. It actually makes doing laundry a little fun, because it makes everything smell so good!
If you're wanting to snag some too, it's actually a great price and now on Rollback at your local Walmart! This is where I found it in my store, just in case you need some help locating it. Purex Crystals provide a great scent at a great price!
If you love making gift basket's as much as I do, then you may want to see the other gifts I've created for friends and family recently: