DIY Patio Curtain Tie Backs: How to make patio curtain ties for your patio, affordably and easily!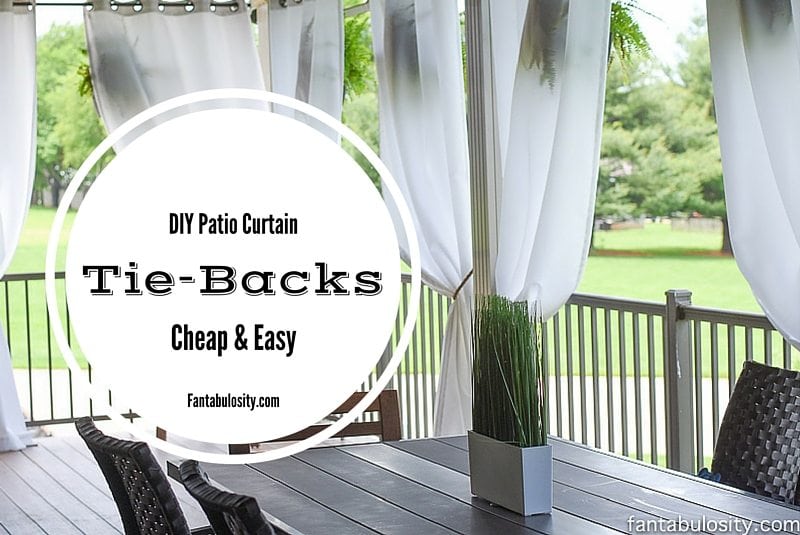 If you've been following along on my Facebook page or Instagram, you've probably noticed the talk about my new DIY Patio Curtain Tie-Backs that I've hinted around about. You know me, and when I find a good thing, I can't keep it to myself. So this time it was no different, and I have been keeping you updated on the whereabouts of this project. Some of you have asked for me to share a tutorial, so you can do it too! So here we are:
DIY Patio Curtain Tie Backs
Like with anything else, I headed to Etsy, the minute I needed something. I found EXACTLY the look that I was going for. A natural rope, (with a modern touch). Friends, I almost paid $50 for a pair of curtain tie-backs. I was trying to prepare myself to spend that much, when I realized that I may be able to make them myself.
I started "Pinteresting" and found that someone had already tackled the DIY brainstorming part, for me! (Call that COMPLETE luck.) Crazy Wonderful had created a tutorial on curtain tie-backs that looked very similar to what I wanted, so I was able to play around with it, and make a trip to Home Depot to score the exact goods that I wanted. You all, I was able to make these for $5.00 a piece! That's a HUGE savings, compared to what I was preparing to pay!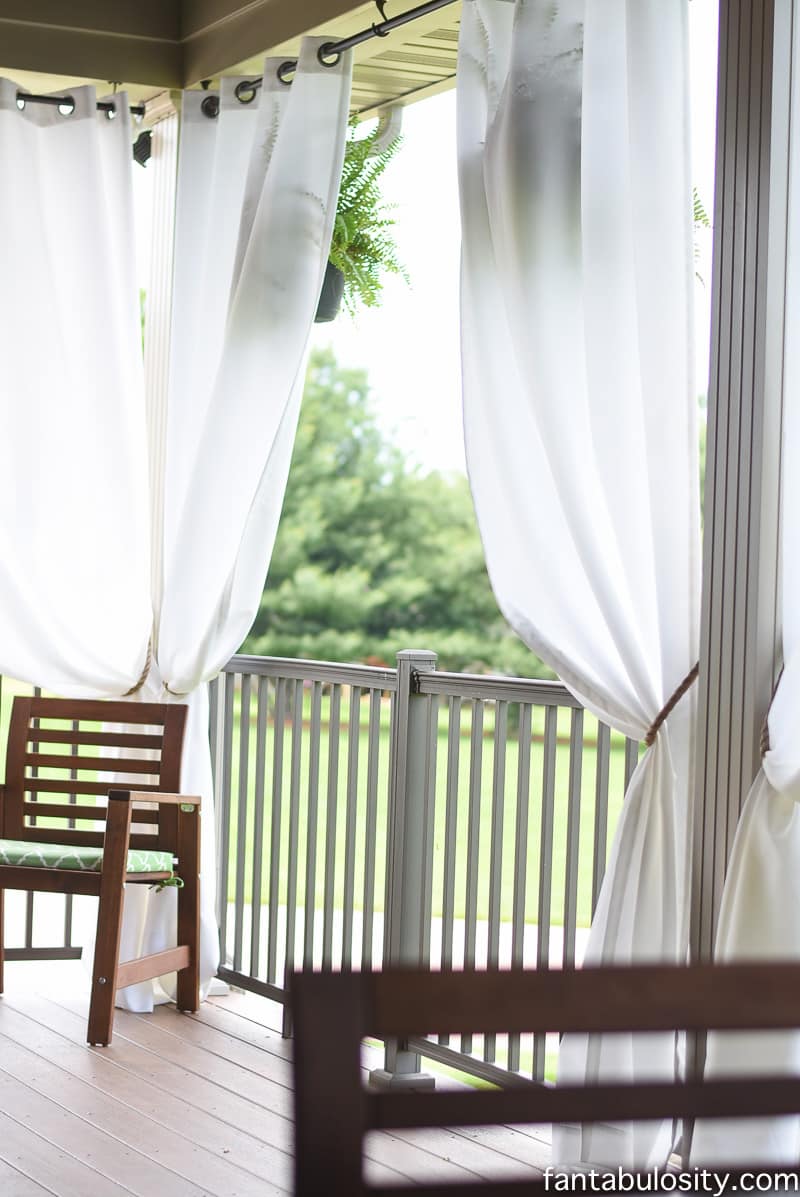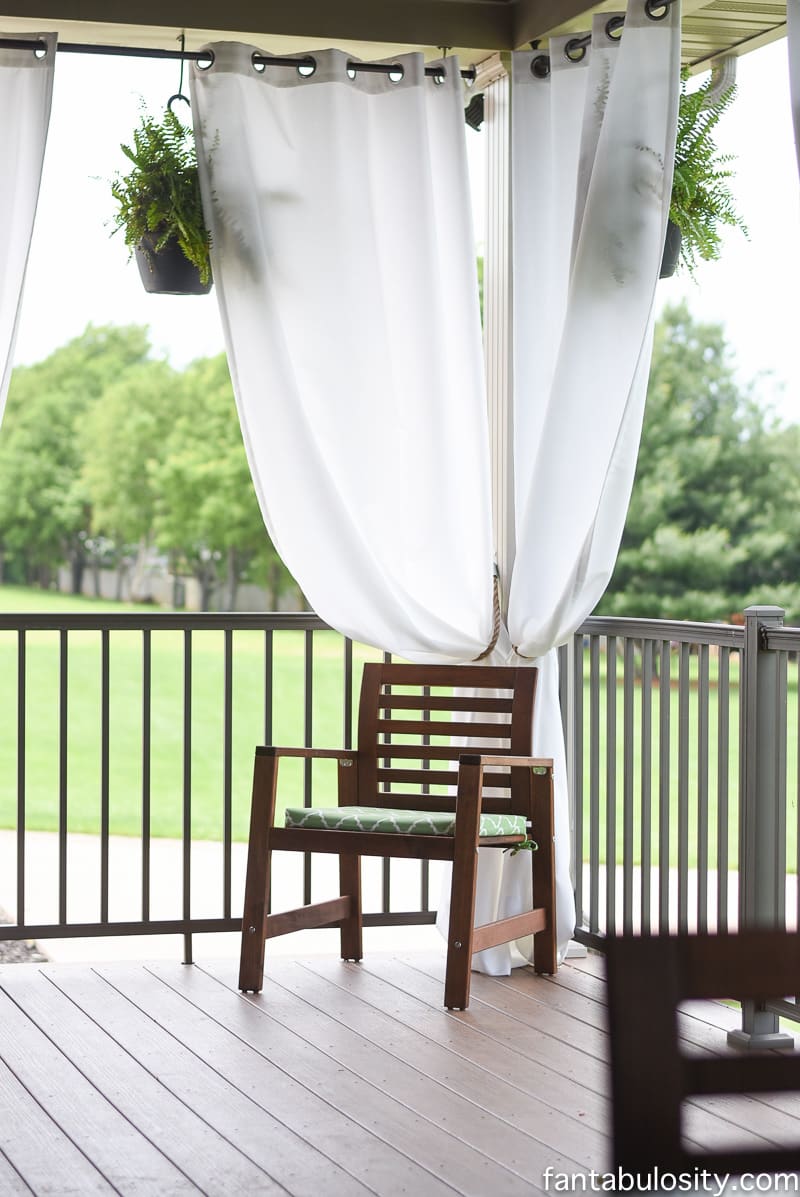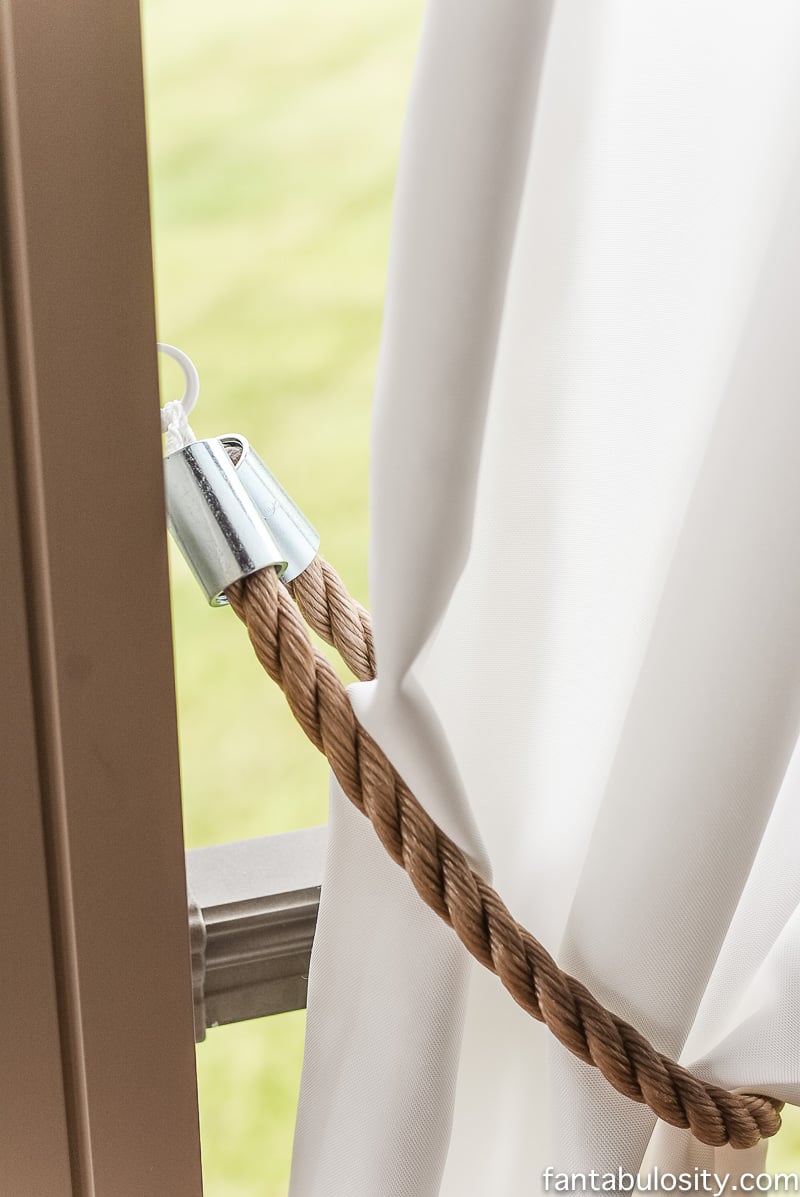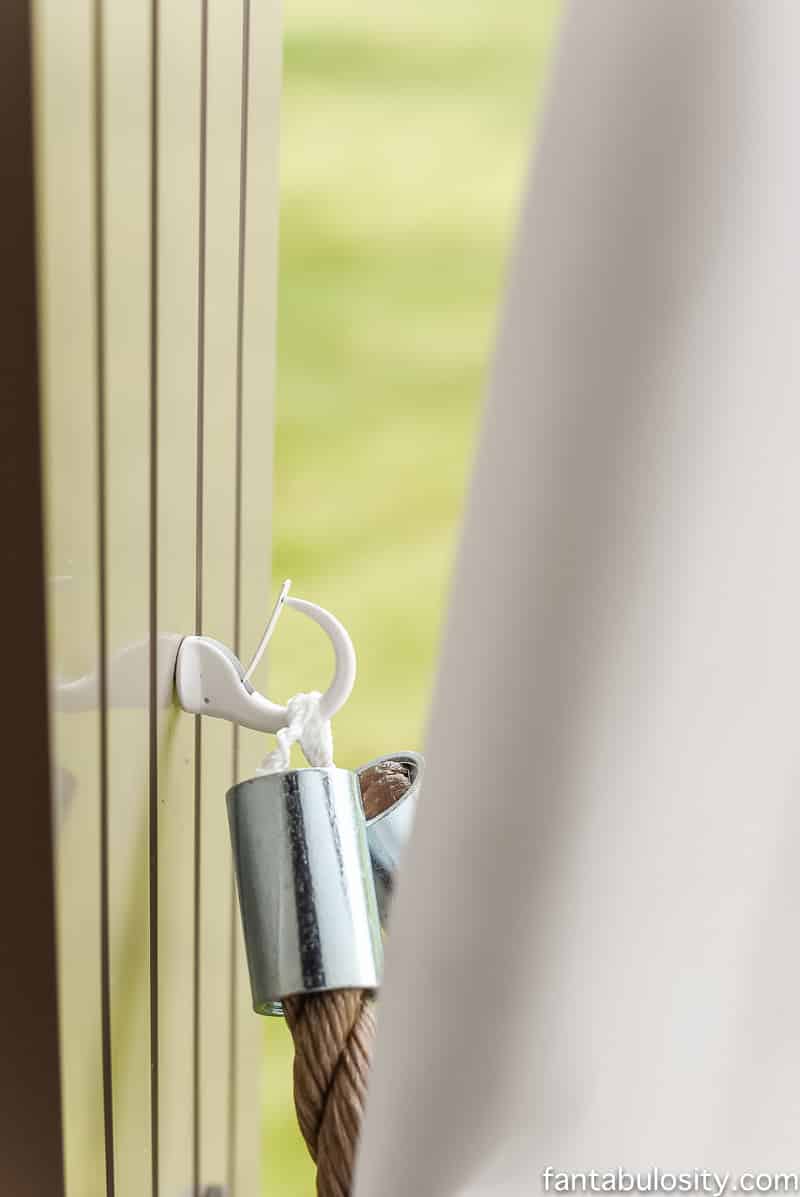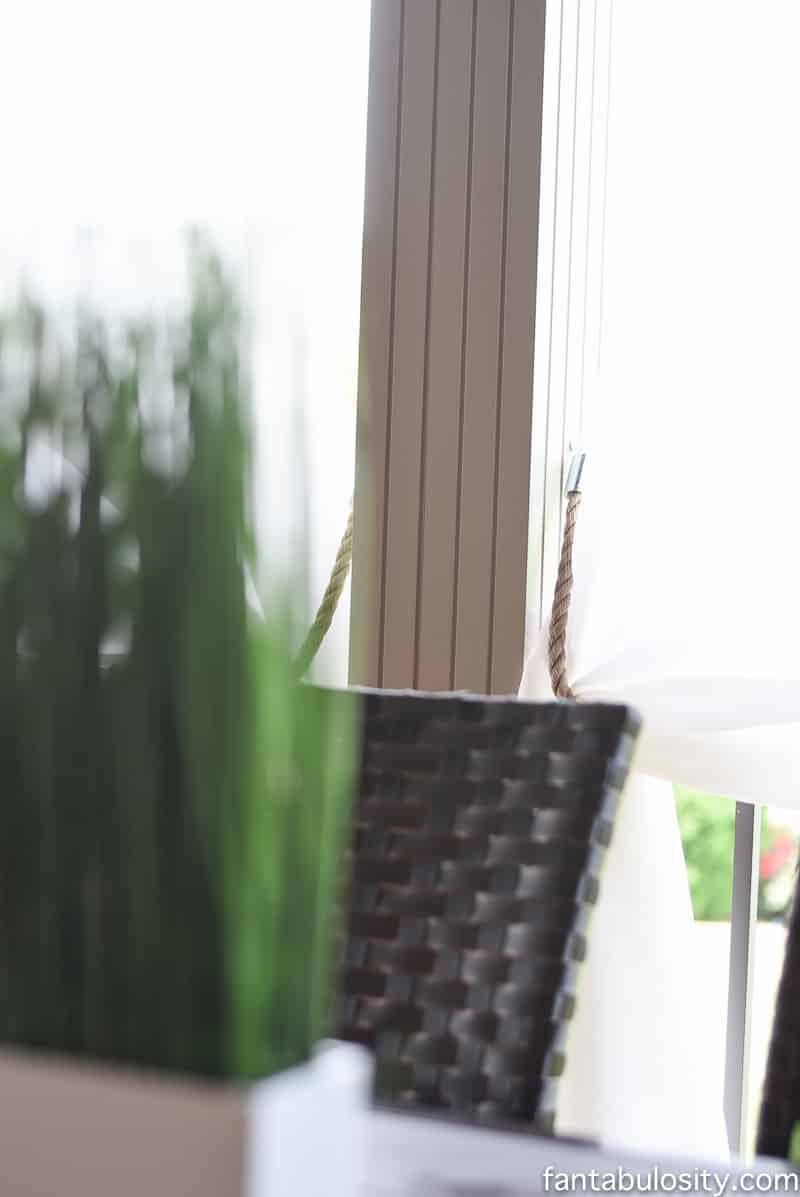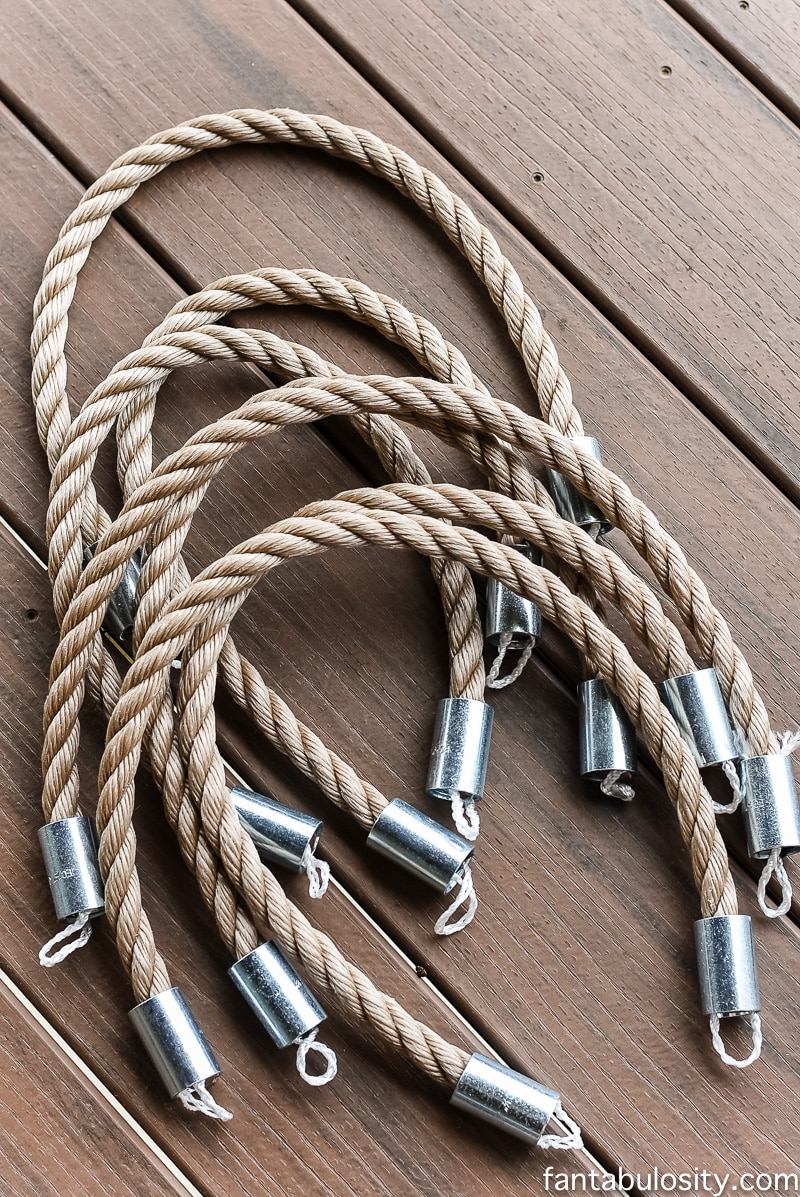 DIY Tutorial Curtain Patio Curtain Tie-Backs
I called my momma when I had the supplies, and told her what my plan was. Thankfully, she invited us down for dinner and to have a little "craft session," so she could help me assemble them. I thought it was going to be so much harder than it looked. Turns out, it was super easy… but the helping hand was nice, to get them finished sooner than I would have by myself!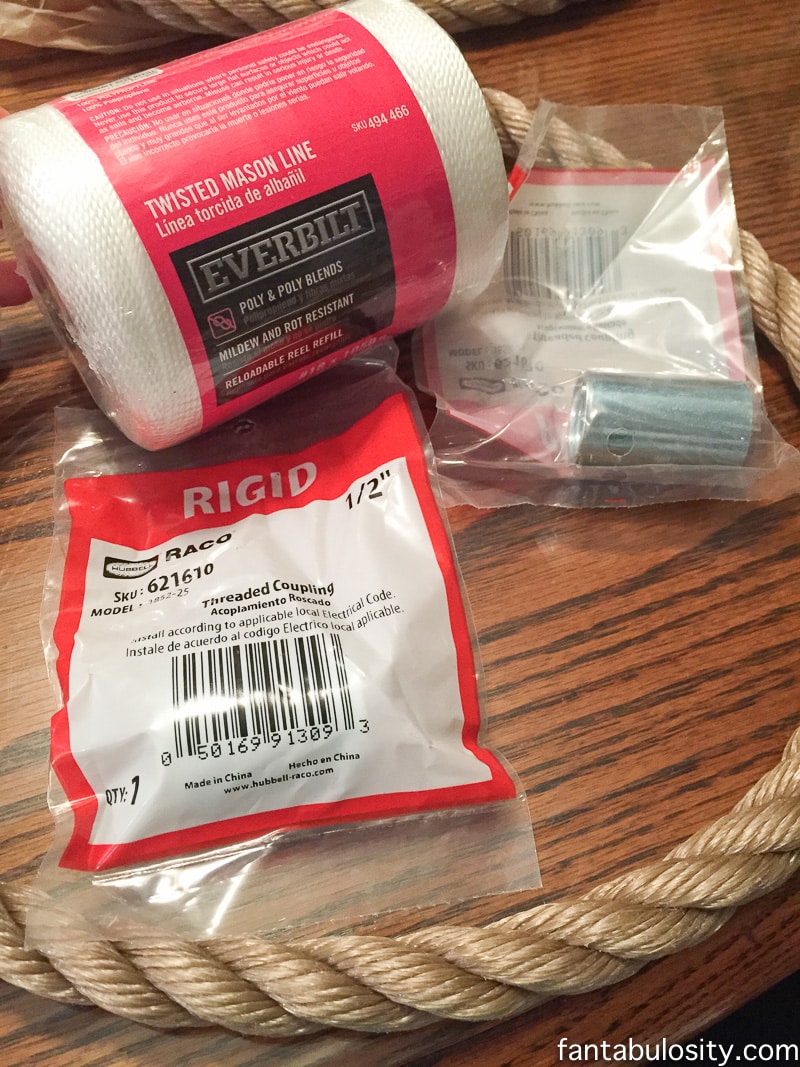 Type of String: The tutorial that I found, used twine to create the hooks. However I found this Twisted Mason Line, and thought that it may work better for my white curtains. Plus… I was hoping that this would hold up better outside in the rain, than twine would.
Type of Rope: I almost used manilla rope like she had used in her tutorial as well, but decided to go with a coated rope. I was a little nervous using regular rope, afraid that it could stain my white curtains. Plus, I'm hoping the coated rope and line will hold up better outside in the rain. She used a 3/4 rope, but the coated type that I used was a bit different (close) in size, but not much. It still worked! I also had the super nice man from Home Depot, cut the rope in to 2 ft. sections. He then "burned," the edges for me, to keep them from shredding.
P.S. My friend told me about a product called "Neverwet," that I should use on my patio furniture and curtains. It keeps it from getting wet, and literally shoves the water right off of it. So I sprayed this on my patio curtains, hoping it would keep them from getting soaked and staining. Not sure if it will work with the "staining," aspect, but it's worth a chance!
Metal Couplings: I needed 9 curtain tie-backs, so I grabbed 18 1/2″ Rigid Threaded Couplings, to use for the ends of the ties. (2 on each one.)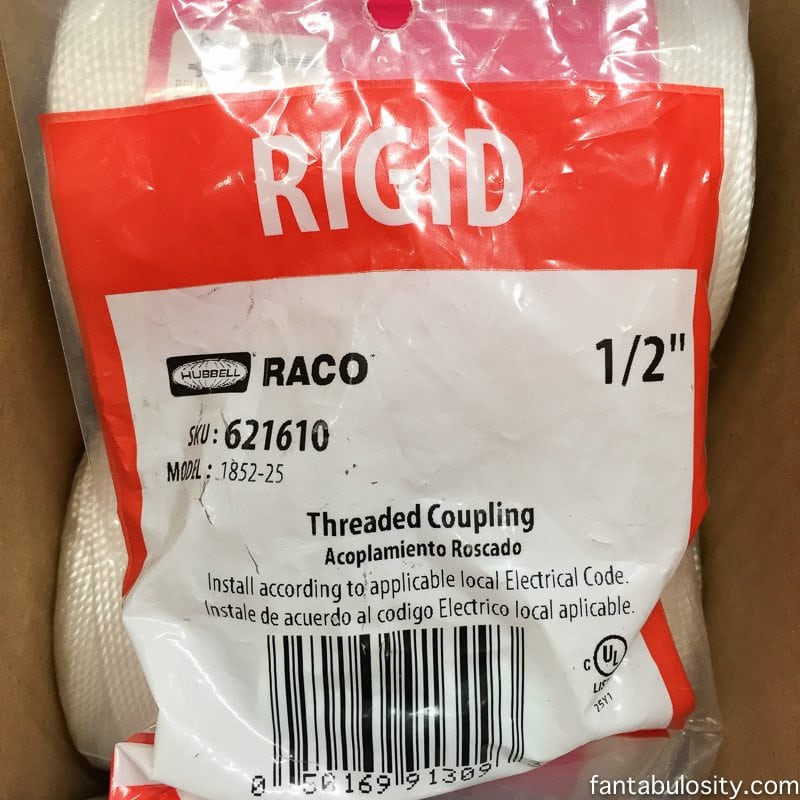 Start with cutting 3 strands of Twisted Mason Line, about 6 inches long. (The size can depend on how big you want your "hook," to be.)
Using electrical tape, tape one end of the strings to one side, & one end of the rope.
Braid the three strands together, and tape the other end, (making a loop) to the other side of the rope with electrical tape.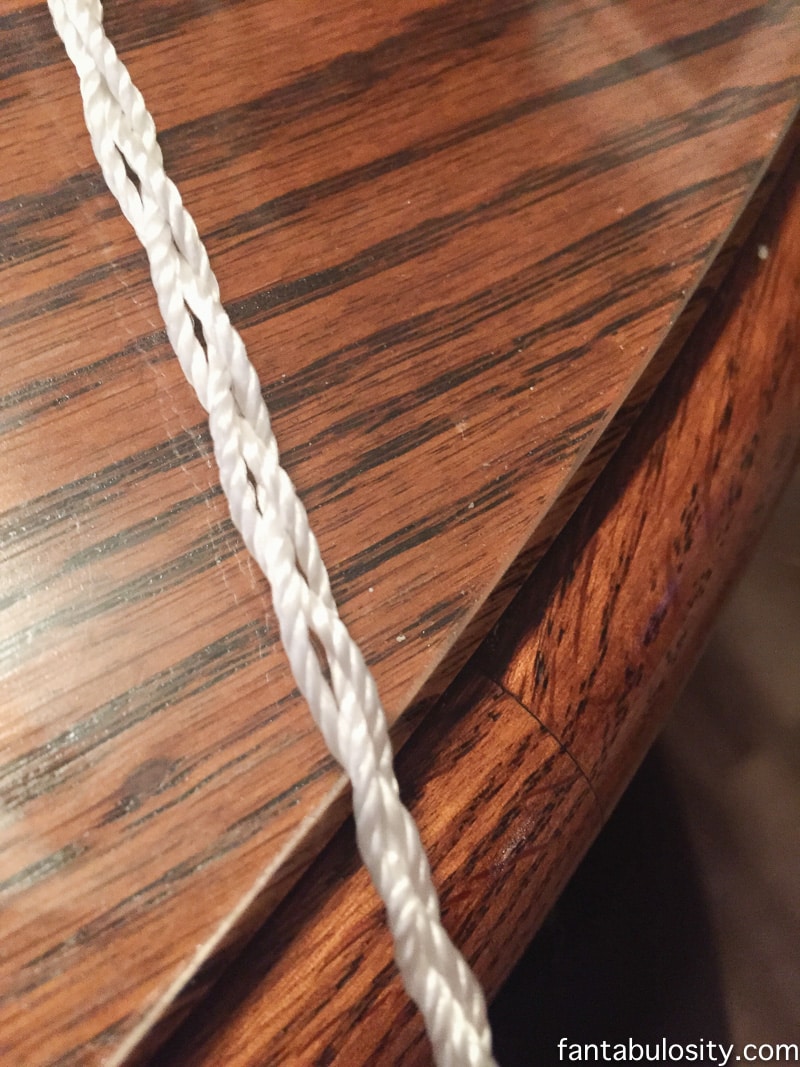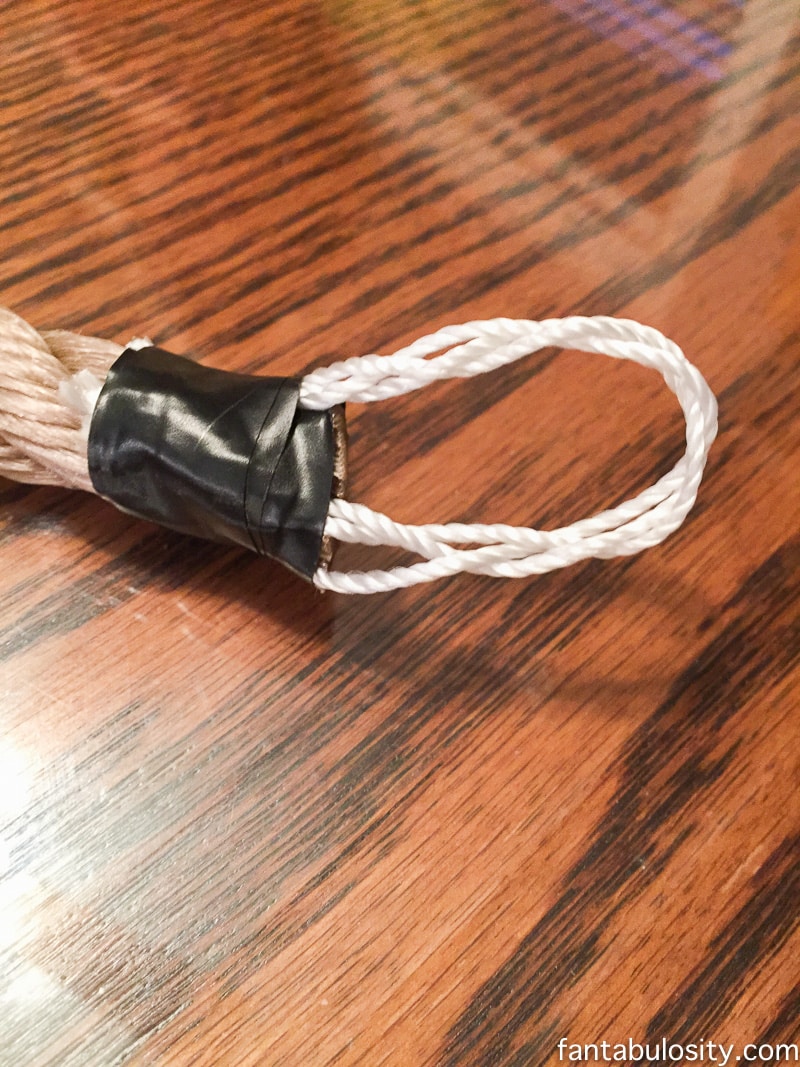 Slide a coupling over the end of the rope, covering the tape and the extra stings, if any. Note: Since the couplings are rigid, it secures it on the rope a bit more! If you have trouble slipping the coupling on the rope, try "twisting," it on. That seemed to work best for us.
The DIY patio curtain tie backs are done!
Then they were all ready to tie my new curtains back! Plus… I saved a TON of money doing it! It cost me $48 to make all 9, when I was going to have to pay $50 to receive two. That's around $5 a piece! Woot! Success!!!
Pin this DIY Patio Curtain Tie Backs tutorial on Pinterest so you don't forget!