This shop has been compensated by Collective Bias, Inc. and its advertiser. All opinions are mine alone, promise! #MARVELSnackBar #CollectiveBias
Sometimes I wonder what in the heck we were thinking when we decided to go out to eat with two little boys. Forcing them to sit still for a long period of time, is almost a cruel joke.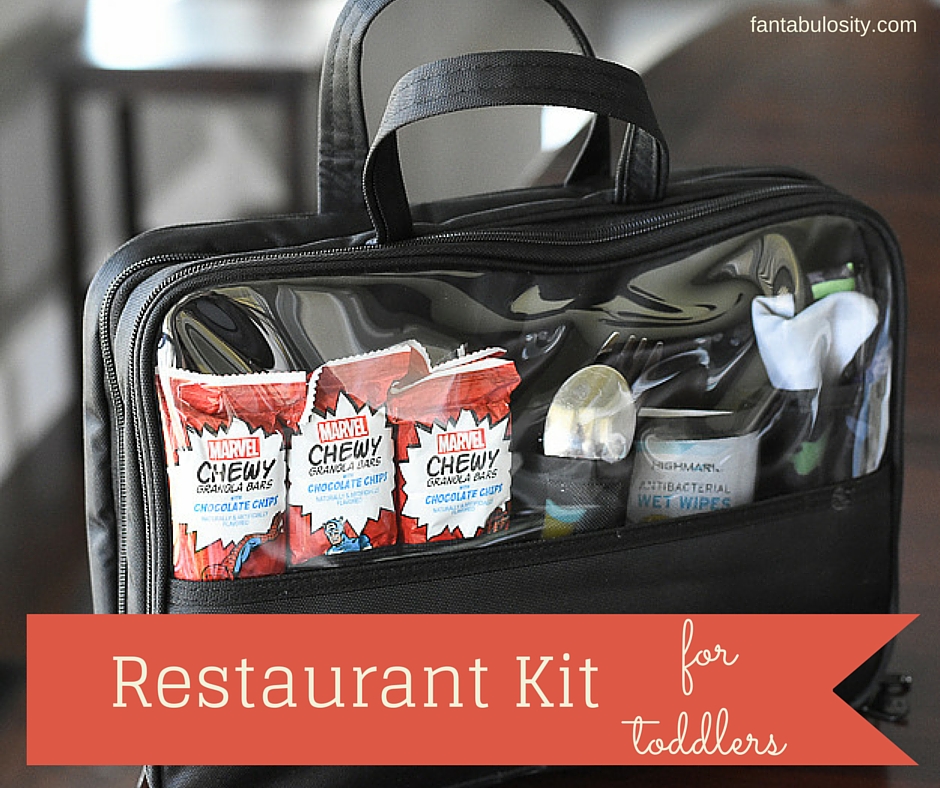 Since the majority of the time, we decide to eat out at the last minute, I may not have time to round up toys & snacks for a restaurant trip. So the new trick up my sleeve, (thanks to Blue I Style) is my "Restaurant Kit." My toddler busy bag is always ready to go, whenever we decide to head out the door.
Restaurant Kit
The restaurant kit is FULL of goodies that I think will help keep my children occupied. By only bringing out the kit during… you guess it… restaurant trips, the toys, and goodies are "new,"(since they haven't played with them already that day) and they can't wait to see what's in it.
So what do I use for the bag?
A makeup bag! It has a handle and little compartments. Perfect to store the goodies.
But a similar makeup bag HERE!
So what do I put in the restaurant kit?
Restaurant Toddler Busy Bag Contents:
• Small Figurines. (Like THESE!) I don't know what it is, but my children LOVE playing with small figurines. Probably because it's easy for their little hands to hold on to.
• Plastic Eggs. The small figurines usually end up going inside the small plastic eggs, and the constant open and shutting of the plastic eggs, REALLY hold their attention span… quietly. Buy plastic eggs HERE!
• Triangular Crayons. (Buy them HERE!) Have you ever heard of these? Yes? Oh… I guess I've lived in a cave. They're triangular crayons, so they won't roll off of the table at the restaurant, and since they're larger… my youngest child can grip on easier. (Not like those itty bitty crayons the restaurants usually hand out.)
I usually keep a small notebook in the restaurant kit too, because even though some restaurants give my children a coloring sheet, it's like there's never really anything to color? It's all crowded up with menu items, pictures of characters, etc. A blank sheet of paper is a free for all!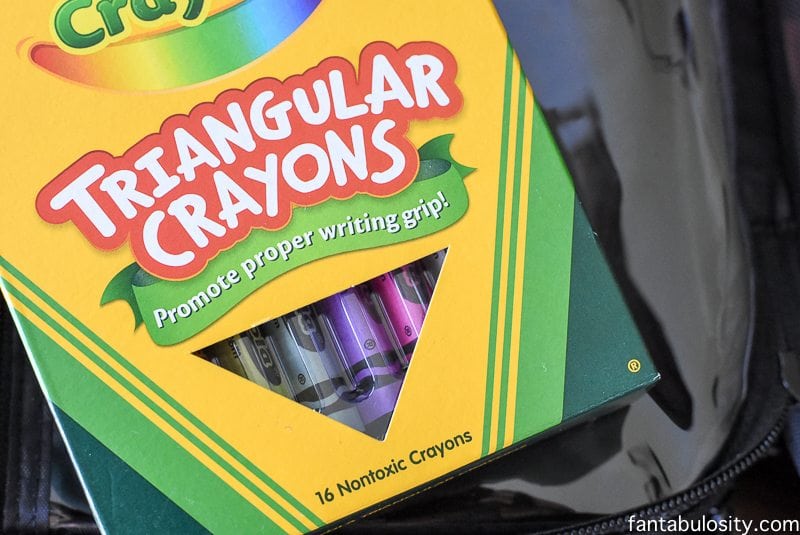 • Play Dough. (Buy the small containers HERE!)I'll admit. I'm totally that mom that tries to do everything from having to entertain with play dough. It's messy, get's all over my floors at home, etc. But it DOES hold their attention span really well at a restaurant, and totally worth it sometimes.
(I will try and pick any up off of the floor before we leave because I don't want to be "that," customer, that makes the restaurant workers have to clean it up.)
• Sticker/Coloring Book. Stickers are a FAVE in our house. I think I have stickers on every chair in my house, at the moment. Peeling each sticker off, and sticking it on to a sheet of paper requires concentration for those little hands. (A.K.A quiet time.)
• Utensils. (Buy my favorites HERE!)There are times we visit a restaurant, and the spoons for the kid meals are gigantic! In case that happens, I like to keep an extra set of utensils in the restaurant kit for a backup.
• Bib. (Buy the thin bibs that fit well inside, HERE!)Let's get real. Kids menus are full of dishes that contain red sauce, ketchup, and other messy colors. Plus, when we are going "out," my kids are usually wearing their "better," clothes. Nothing irks me more than to see a big red stain on a new little toddler shirt. Keeping a bib in the restaurant kit comes in VERY handy. Wipe it off with my next item below, and it's good to go for next time.
• Wet Wipes. (Buy the small individual packages HERE!)Oh wet wipes can serve so many purposes. Clean those little hands. Wipe off the table of the germies. Clean the bib after use. Wipe up the spill on the table. They're super handy for everything. Stock up. You'll use them.
• Granola Bars. (Buy them HERE!) I also always keep a "bar," (what my children call it), in the restaurant kit, in case the food takes a little long getting to the table… so they can have a snack to hold them over. If a snack wasn't needed… they are the PERFECT dessert, that I can negotiate with, so they'll eat their veggies.
Take it from a mom that knows… get your restaurant kit put together today. You won't regret it!