Tips for an All-Inclusive Resort Vacation in Mexico: The things I wish I knew before going the first time and bonus tips just for fun!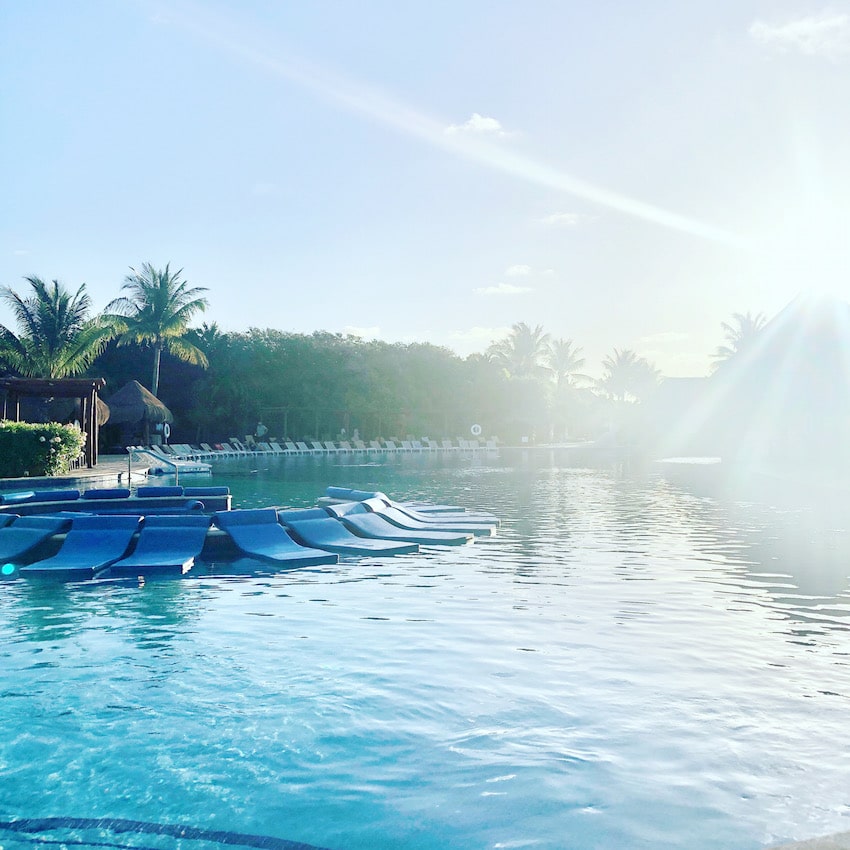 Heading to Mexico for an all-inclusive vacation can be SUPER exciting. But it can also be super nerve-wracking if you've never been because you're unsure of what to expect.
Luckily, my first time in Mexico for a vacation at an all-inclusive resort, I traveled with a friend who had been multiple times, so she knew what to expect and knew the ins and outs.
But if you're heading there for the first time and you're not sure what to pack or what to expect upon arriving, consider me your virtual best friend that can help! (Plus, get my free printable, Mexico Packing List to help make the planning process even easier!)
I may not have all the answers for a perfect trip to Mexico but I do have tips that can make your trip more enjoyable and hopefully spare you some trouble.
NOTE: I'll be referring to taking an adults only, all-inclusive vacation to a resort where you fly in to the Cancun aiport (CUN). So if you're arriving elsewhere, some of the tips may differ but this should still be very helpful!
How do you get the most out of an all-inclusive resort?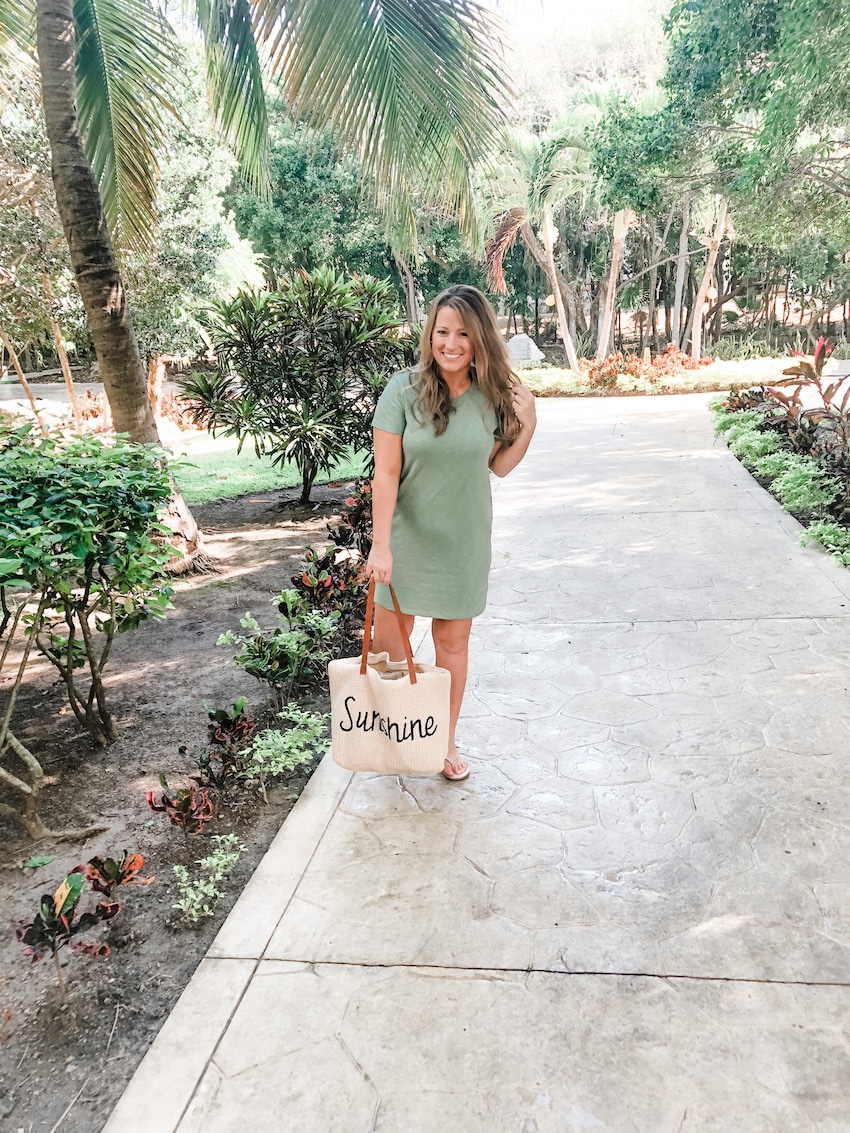 I've broken the tips up in to "must-know" tips (or highly suggested tips) and "just for fun" tips to help you get the most out of your all-inclusive vacation. The first set will be those tips that I wish I would have known or so glad that I knew when traveling there for the first time.
The "just for fun" tips are… well… just that. Fun tips that I've learned along the way that make things even better or more enjoyable. Definitely not necessary but are nice perks and things to remember!
MUST-KNOW or Highly Suggested Tips:
Travel minimally! (Unless you're a fashion blogger. Haha!) But even as a blogger knowing that I could get some crazy fun photos on the beach of any new outfits… I end up wearing a swimming suit and swimsuit cover-up most days. I feel like day clothes are overrated unless you're going on an excursion. So for someone like us, who never leaves the resort, I only take one day outfit (cute shorts/top) just in case we decide on a whim to do some exploring. The same goes for jewelry… I take one pair of earrings that can go with anything and just wear those every night.
Call your phone carrier to check on the International phone plan before leaving. Some phone plans will charge roaming fees when traveling to Mexico. Or, you may be able to get a specific, temporary package to cover roaming charges.
Print out your itinerary before leaving home so you can reference it in case your phone goes dead at all in the airport or on your way to the resort. It's also handy to have this when filling out the customs form and you need flight number information as well as the resort's address.
We love booking EARLY flights to Cancun. (Like, 6 or 7 am flights.) Knowing we have a few days to nap when we get there, we don't mind waking early, catching a flight and arriving at the resort around 11 am to still enjoy most of the day!
Fly out mid-day if possible on the way home. (Sleep in…at least more than you did on the way there.) You don't want to be stressed on your way back home and it's recommended that you arrive to the airport 3 hours early anyway and your resort may be quite a distance from the airport as well. So a 9:00 am flight may sound doable, but just keep in mind how early you may just have to start your day for that kind of flight. Plus, having one more all-inclusive breakfast before you leave is always a nice way to start your day to travel back home. (For instance, on our last trip, we met a couple who had to leave the resort at 2:30 in the morning to catch an early 6 am flight. Yuck.
Filling out forms. You will fill out a customs form while on the plan to Mexico. You will then give this form to the person in the "customs" area in the Cancun airport. The form will ask how you're arriving in to Cancun… flight/boat… what airline you used, what hotel/address you're staying at, etc.)
Going through customs. When you go through customs on arrival, they'll give you a little slip of paper from the customs form on the plane that you'll need to hang on to and bring back to the airport with you. So don't throw this away! The last time I ran in to a problem with this though (someone was traveling with me that lost theirs) we found out that an Immigration form replacement is $30, and it's cash only.
Ink pens – Sounds crazy right? But you'll be so glad that you brought one or two for filling out the customs form on the plane.
Having a pen on you so you can fill this out is so much nicer than having to wait and ask a stranger to use theirs and share the same pen with 20 other people.
Use a beach bag as a purse for the flight! I LOVE doing this because I love to pack minimalistic. If my beach bag is small enough to qualify and slide under the chair in front of me and big enough to hold my laptop, wallet, passport, small jacket, etc. then I don't have to pack a beach bag in my check-in and I don't need to take my big giant purse that I use every day.
Smile, be cooperative and be kind to the airport workers. You'd be surprised how far this can get you if a problem arises. (Check-in bag too heavy, etc.)
Room service. Don't feel like going to dinner every night? A lot of resorts have room service 24 hours a day. Order in and relax!
Dress codes. Check with the resort for any dress code at the restaurants. Some restaurants have requirements that you'll want to know about before packing. (i.e. elegant dress codes, casual, etc. and what types of clothes fit the different codes.)
Sunscreen – Pack that sunscreen! I know it sounds obvious but buying at the resort can be me a lot more expensive. Same for aloe vera gel. That's fantastic to have for a sunburn.
How much should you tip at an all inclusive resort? Take $1's for tips – Some resorts will say "please don't tip" or "we don't accept tips" But I'll tell you that I've yet to find one where the employees don't accept them and I've also found that tipping a couple of dollars here and there to waiters/waitresses, bellhops, concierge, etc. can make their day and sometimes even get you superstar service!
Take cash. If I were you, I'd still take a bit of cash with you, other than just dollar bills. Our debit card gave us problems while there, so we were thankful we took enough cash to cover emergency purchases or even purchases that we made at the resort.
USD and Pesos. Remember that you'll be dealing with pesos while you're there, but using USD is just fine! If you visit the spa or purchase something while there, don't panic when you see what looks like your total is thousands of dollars. That is in pesos and they'll be able to convert it to USD for you.
First aid. Pack items like Motrin, Tylenol, Advil, hangover relief, digestive, heartburn relief, etc. for those "Ooops, I drank too much" moments or if the food/water doesn't settle well with you.
Bug spray – sometimes the mosquitos can be an issue, so I always like to bring that with me in case it's heavy mosquito season.
Small crossover handbags are super handy for going out for dinner at the resorts if you want to carry your phone or other small belongings with you. This is an adorable, similar nude crossover handbag that I use!
I recommend a crossover if you do want to take things with you, so it's easier to carry if you decide to stay out afterward for the entertainment, and it's less likely you'll sit the purse down and walk off from it. However… I get to where I don't even take my phone or any belongings with me to dinner and just leave everything in the room. So freeing! But grab that room key… and slip it in to your pocket if you have one!
Jewelry. Leave your wedding rings at home or wear a fake ring! The last thing you want is to have a great time and then lose something so special and important!
Credit Card. Be prepared to take a credit card with you for extra charges or let your bank know you're traveling if you bank with a small local bank and using a debit card.
Phone safety. If you like to have your phone out in the pool/beach area, grab a waterproof case. But surprisingly (even as addicted as I am to my phone/computer) I leave my phone in the room almost all day. If you can, use this time to detox from your phone.
Shoes. Take one pair of dress shoes that you can wear with multiple outfits for dinner. (Nude heels are a great color for me because they go with just about anything, and my husband usually takes black/brown dress shoes.)
Do I need to bring a beach towel to an all inclusive resort? Beach towels usually aren't necessary to bring with you. You may check with your resort, but don't waste the space in your luggage if your resort provides them.
Hairdryer – check with your resort to see if they provide one. Less you have to take, the better.
Use the safe in your room. You just never know. When you get to the room, place your passports (and car keys if applicable) in the safe, as well as any other travel documents that you want to keep safe while you're on the trip.
Don't forget to get your things out of the safe when you leave. If it helps, set a reminder on your phone the night before or morning of departure so you don't get to the airport and realize you've left it behind an hour away at the resort!
Pack a swimming suit in your carry-on or purse (beach bag) when flying. This is smart in case your luggage gets lost, or if you arrive at the resort before you can check-in. If your room isn't ready, go to the bathroom, change in to your swimming suit and hit up the pool or beach while you wait for your room to be ready!
Books/Magazines – not only are these handy for the airplane ride there when you can't play on the internet to pass the time, but they come in handy for when you need to get up and go somewhere and need something to show that your pool chair/cabana is taken. (I actually prefer to buy magazines in the airport when heading to the resort, so I can leave the magazines behind once I've read them and not have to drag them back home like I would a book.)
Digital reads. Not interested in taking books/magazines? Save books/podcasts on to your device before going. It's lucky to fly with an airline that has Wi-Fi so don't assume they all do.
Book a shuttle service ahead of time that can pick you up from the Cancun airport and take you to your resort. When you arrive at the airport, there will be a TON of employees for various shuttle services trying to talk you in to riding with them. It's much easier to bypass them and look for the shuttle company you booked. They're expecting you and know exactly where to take you!
Arrival expectations. Arriving at the airport in Cancun, you'll have to go through something called "customs". This is where they check your passport, and may ask you a couple of questions of why you're coming in. (i.e. What is your name, where are you staying? How many days will you be visiting, etc.) Once through customs, you'll walk to the baggage claim and pick up any luggage you checked in.
Most of the time, you then take your luggage through an area where they scan the luggage or even physically open it up and take a look through it to make sure you're not bringing anything illegal in.
Then, you head outside and soak in that beautiful weather and sunshine to catch a ride to your resort.
If you can swing it, book a private shuttle. Sometimes it's not that much bigger of a cost. Sharing a shuttle or transportation ride with strangers can result in stopping at multiple other resorts before getting to yours, taking a lot of time away from your day of vacation!
Departure shuttle. While at the resort, confirm your shuttle service back to the airport to know what time to leave the resort on the day of.
Departure airport trip. On the way back home (if you live in USA) you'll go through the flight check-in at Cancun airport like normal, go through security and then board your flight. When arriving at your layover (if you don't have a direct flight) you may have to get your luggage at baggage claim, go through security again and go through customs at that airport before boarding your next flight home.
For instance, if you live in Montana and are flying home from Cancun, but you have a layover in Dallas… you may have to go to Dallas' baggage claim area when laying over to get your luggage and take it through customs so they can check to make sure you didn't bring anything illegal in to the USA. Then, once you're good to go, you can board your plane to your final destination.
Have a direct flight? Customs will just check your baggage after you have picked it up from the baggage claim at your home airport. Direct flights are definitely a better option if you are able to get one, but isn't as crazy as it may sound unless a flight is delayed.
Dry shampoo. Ladies, dry shampoo may be your new best friend if it isn't already! I love being able to use that instead of having to get completely ready for dinner if I've stayed at the pool bar/beach longer than planned.
Beach chairs. Most people will tell you to get up early while there if you can or if it's worth it to you, to reserve a pool chair. Some people think it's rude to reserve chairs and some resorts don't even allow it.
My opinion? I like to get up early some mornings, head down by the pool and pick a place. I put my things down (sometimes sit for a bit and soak up the sun) and then I go to breakfast, leaving my magazines and sunscreen on the chair. This way if something happens to them, it's not the end of the world, but most of the time someone will see that it is taken and they won't sit there. Then, after breakfast, I can come right back and enjoy the chair again. Just be kind. Don't reserve a chair in the morning just in case you want it hours later and leave for an excursion for the day.
Don't try to bring back meats, fruits, etc. from your trip. Customs won't allow most of these items.
Drink the water? Have you ever heard someone say "Don't drink the water in Mexico?!" We have too. But we always drink the water at the restaurants and in the bottles that are in the hotel minibar. But I've also heard stories of others struggling with drinking water that's not bottled or even brushing your teeth with the sink water. I'm sure it depends on where you go and what resort you stay at, but we have never had problems with this, at four different resorts.
Use the "do not disturb" door tag if you have one, for when you're in the room. The housekeepers can make multiple trips to your room in one day to clean and even come in for turndown service. You don't want to get woken up from that precious nap you've been craving!
JUST FOR FUN:
Can you bring your own cup to all inclusive resort? Some love to take yeti cups for drinking in the pool so their drinks stay colder longer. We prefer to just get a new drink at the bar rather than keep up with a cup and feel like we have to clean it every day.
Leave a tip for the housekeeper – sometimes you can get little extras, or possibly your room cleaned sooner
Have airline miles or want to go big or go home? Book first class for your flight if you can. There's nothing like going to Cancun and starting your vacation out early by hopping on the flight with ease and enjoying tons of legroom, comfy seats, and cocktails.
Nightly entertainment. A lot of resorts have nightly entertainment. Anything from magic shows, dancing, live bands, etc. The pools usually close around 6 in the evening to allow guests to go back to their rooms and get ready for dinner.
Spa prep. If going to the spa, a cocktail or two beforehand can help you get extra relaxed.
Making a spa appointment on the resort? See if you can go to the spa early and take advantage of their steam room/sauna beforehand!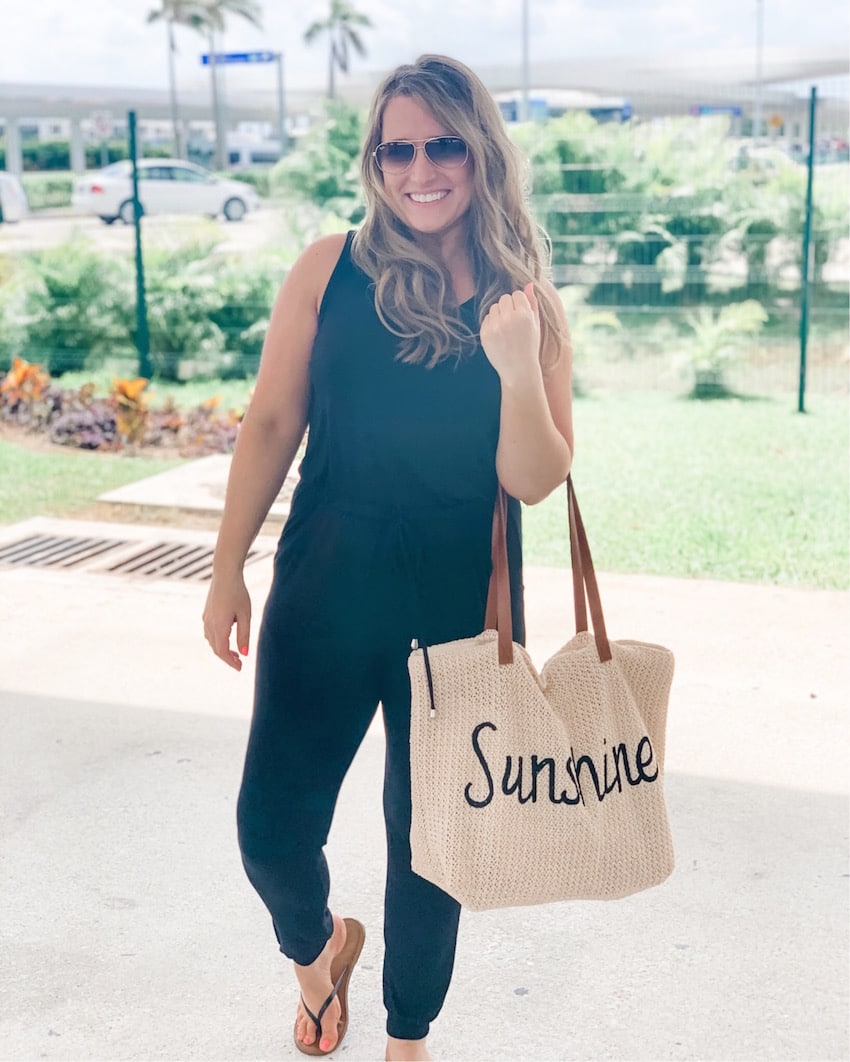 Where are you going? I'd love to hear!
I've been to a small handful of different resorts, but I've been to the same resorts multiple times! (When you find one that you like it's hard to try a new one! At least for us!)
Or if you haven't booked one yet, this is where I love to book all-inclusive trips as a package with the flight to save money!
I've been to:
Excellence Riviera Maya – Our favorite! Also check out how I surprised my husband for his 30th birthday at this resort!
El Dorado Casitas and Royale – Both casitas and the royale side
Valentin Imperial Riviera Maya
….and another (not all-inclusive) in downtown Cancun that was a timeshare.
But I'd LOVE to hear where you've been and what your favorite is. Or, if you haven't been yet… let me know where you're going!