Surprise 30th Birthday Ideas for Him: A trip full of little surprises, and secret missions for my husband's 30th birthday! A celebration we will NEVER forget!
When it comes to gift ideas for your husband's 30th birthday, this was the ULTIMATE gift for my husband.
After visiting all-inclusive resorts in Mexico, quite a few times, and falling in love with them, I planned a surprise trip along with other fun secret surprises, so you'll want to keep reading about what I did to surprise the special guy!
You may find it hard to believe that I kept all of this a secret for a year.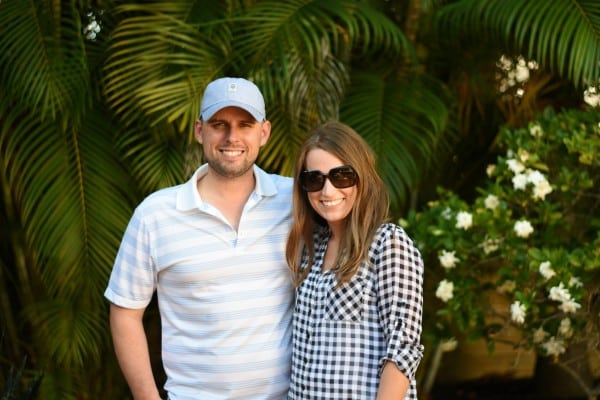 Surprise 30th Birthday Trip for Him
We LOVE to travel. Even though we recently visited Avon Colorado, and now live in Montana, we have a major love for warm tropical places. So when my husband's "dirty 30", was starting to approach us, swimsuits and flip flops were on the mind.
My husband turned 30 over the weekend, and I've had a 30th birthday surprise trip planned for him, for over a year. Yes, I kept a secret from him for over a year, and it was one of the most difficult things I've ever done.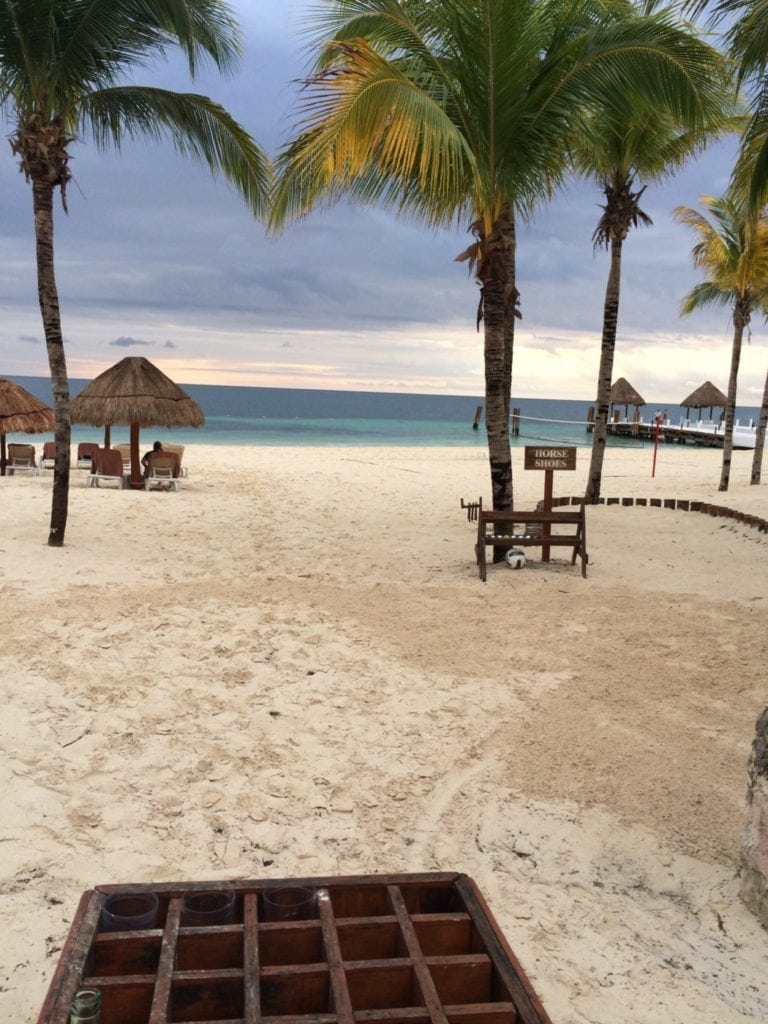 The trip wasn't the only surprise. There were little surprises along the way that made this trip extra special!
Planning the Trip
First, I told my husband two months ago that he needed to block off his schedule between certain dates, because I was planning to take him somewhere for his milestone of a birthday. His response?
"Are friends going with us?"

"Nope, just a trip you and I are taking together."
Well… I know my extrovert of a husband, and his love for being around people, so that was a total lie. (It's ok to have a white lie if it's for a birthday surprise, right?) If he only knew I had invited friends a year ago, and he was about to be in for the surprise of his life.
The day came, and my husband knew we were leaving town. "Are we flying? Going by train? Are we going out of the country?" Those were the major questions I kept hearing him repeat to me. However, my answer to all of them were, "Well… we'll see."
#1 Surprise: Friends are coming too!!!???
That evening before we had left, I had arranged to have our friends show up at our house, right before we were to head out of the door.
"Surprise! We're going with you!"
Our friends totally shocked my husband, as he opened the door thinking the babysitter had a pizza delivered, only to see our friends standing there toting some serious luggage.
Driving or Flying?
We all got in the car, and my husband with a puzzled (yet excited) look on his face said,
"Ok… where we going?"

"Sorry babe, not ready to tell you yet."
Now… me, the planner and organizer in the family, would probably be freaking about not having control in this moment if the roles were reversed. But my husband's a trooper and loved the suspense.
About after an hour and a half of driving in the car, we stopped at a hotel that was near the airport, and my husband immediately knew we were flying out somewhere the next morning.
#2: A "Yearbook" T-Shirt Gift
The next morning we all woke up early, and I surprised my husband with a custom shirt that I had made for him, that had
"Warning: Matt's 30th Birthday in Progress,"
printed on the front; then on the back,
"Matt's 30 Year Old Yearbook,"
with "one-liners," 30 friends and family had to say about Matt.
This was absolutely one of the most hilarious, and interesting things I could have done. I learned nick-names that my husband had, and I heard stories about what my husband had done in the past that were hysterical!
Most importantly, my husband felt the love from 30 awesome people. (Totally recommend doing something like this for someone that you love.)
It's time to fly!!!
We shuttled to the airport, and it was time to check-in for our flight. My husband was so excited to find out where we were going. Ohhhhh… but only if it were that simple. I made him hand over his drivers license (only to throw him off, because I already had, and only needed his passport) and made him stand back, as I whispered to the flight receptionist,
"Ok, it's my husband's birthday, and he has no idea where we are going, and I'd love it if you could help me out by not telling him."
To my surprise the receptionist was totally cool, and played along. (God bless that man for being friendly and fun at 6:00 in the morning.)
Boarding passes in hand (hidden in my purse) we proceeded to our gate. Arriving at the correct gate, my husband sees "Dallas Texas," on the TV screen at our departure gate.
"Really honey? Dallas?"
I wanna say I had him fooled for about 10 minutes that we were actually taking him to Dallas to celebrate his big 30th. Nothing against Dallas, but the poor guy couldn't get his mind wrapped around celebrating there.
So then started the "Hmm… where would Dallas be a layover for?" His mind began to wonder.
Then… almost like I had planned it myself, on our flight, the stewardess announced the connecting cities for our layover.
"San Francisco, Honolulu, Miami, Cancun, Cabo,"
and the list went on. This was absolutely perfect. My husband all of a sudden knew that a layover in Dallas meant NOTHING, as the connecting cities were so scattered around the world. PERFECTION!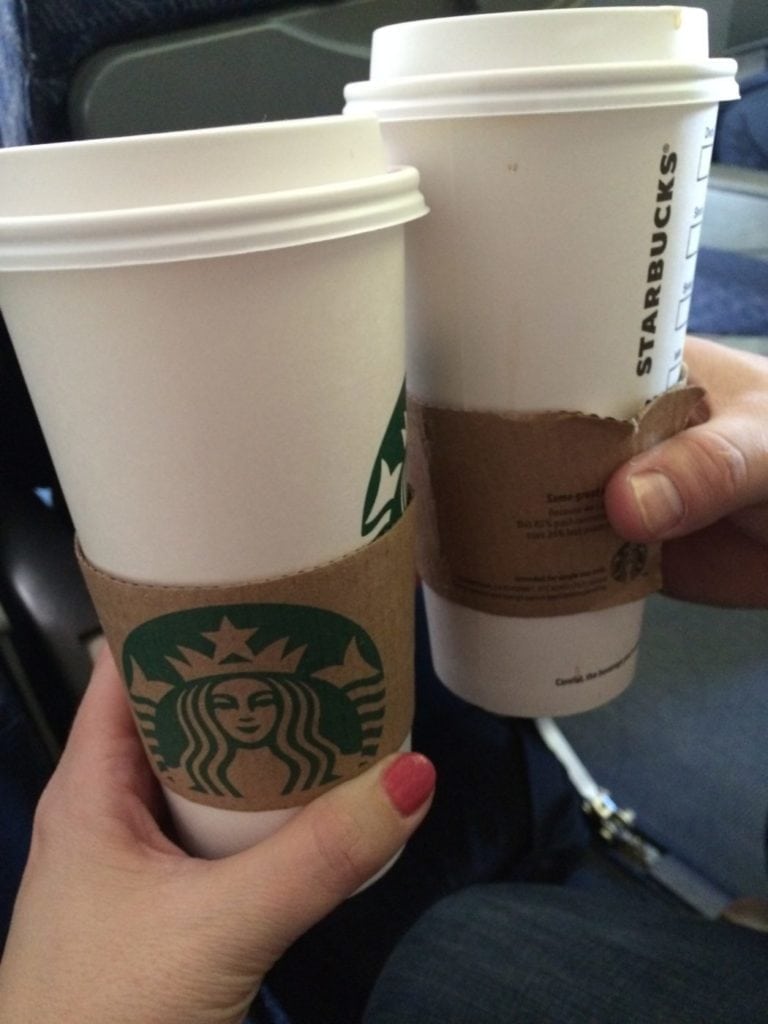 MEXICO!!!???
As we departed the plane in Dallas, we neared the connecting gate, and there it was on the big screen, "Departing to Cancun, Mexico." My husband was ecstatic! Totally caught him off guard, and the wheels were turning.
"How did you arrange this? Do you have my passport? Where in Mexico are we going? Is it an all-inclusive?"
We arrived!
He was excited. I was excited. Our friends were excited. It was one of the most awesome feelings. I then looked at my best friend, and said,
"You know you love someone, when you get complete joy out of his own happiness."
One More Surprise
When we arrived to the resort in Mexico, we walked in to the lobby and my husband couldn't BELIEVE it when he saw the backs of what looked like more friends there waiting for us!
Other friends had arrived on a different flight and were ready to party… all with matching shirts!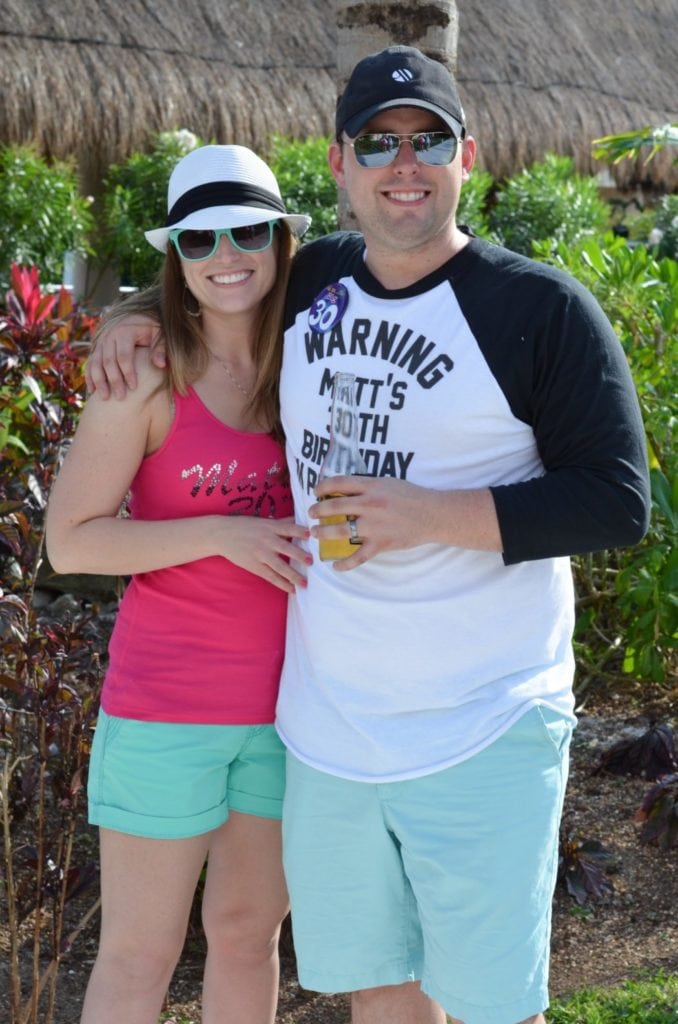 An Incredible Weekend
We spent my husband's actual birthday, celebrating with a special dinner on the beach, right next to the water. Sure wish I could have gotten a better photo in the dark, but I wouldn't have traded seeing the sunset while drinking a pina colada for anything! 😉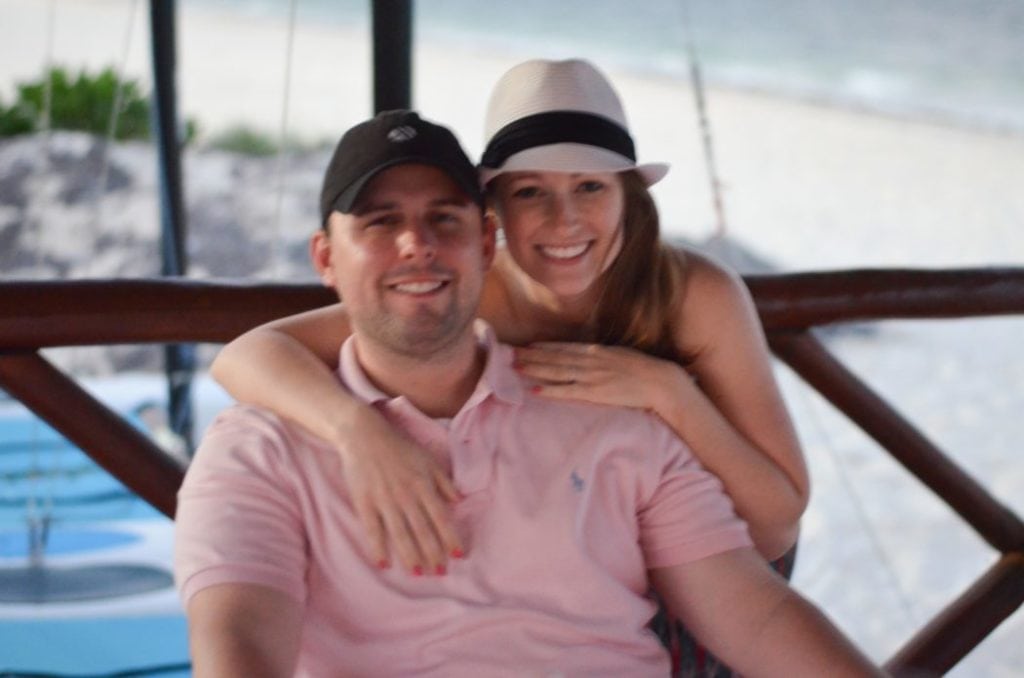 The next 5 days were some of the most awesome, crazy, relaxing, days we had-had in a loooongg time.
We couldn't imagine spending his 30th anywhere different, nor with anyone different. I HIGHLY recommend getting "away," with the one you love if you can. What an experience, and what an amazing man… father… husband… and person.
If you're looking for 30th birthday ideas for your husband, fiancé, or boyfriend, but aren't quite ready for a trip, then you'll LOVE my post on 30th Birthday Ideas for Him, where I surveyed and polled a ton of men to get REAL ideas and those that they'd absolutely love!
Thinking of planning an all-inclusive vacation for a special day? I've compiled all of my favorite tips for staying at an all-inclusive resort, that you DON'T want to miss, along with a packing list that will help you know what to take with you!