30th birthday party ideas: When he turns 30, it's a milestone to celebrate! Here are the BEST themes and ideas for the big celebration!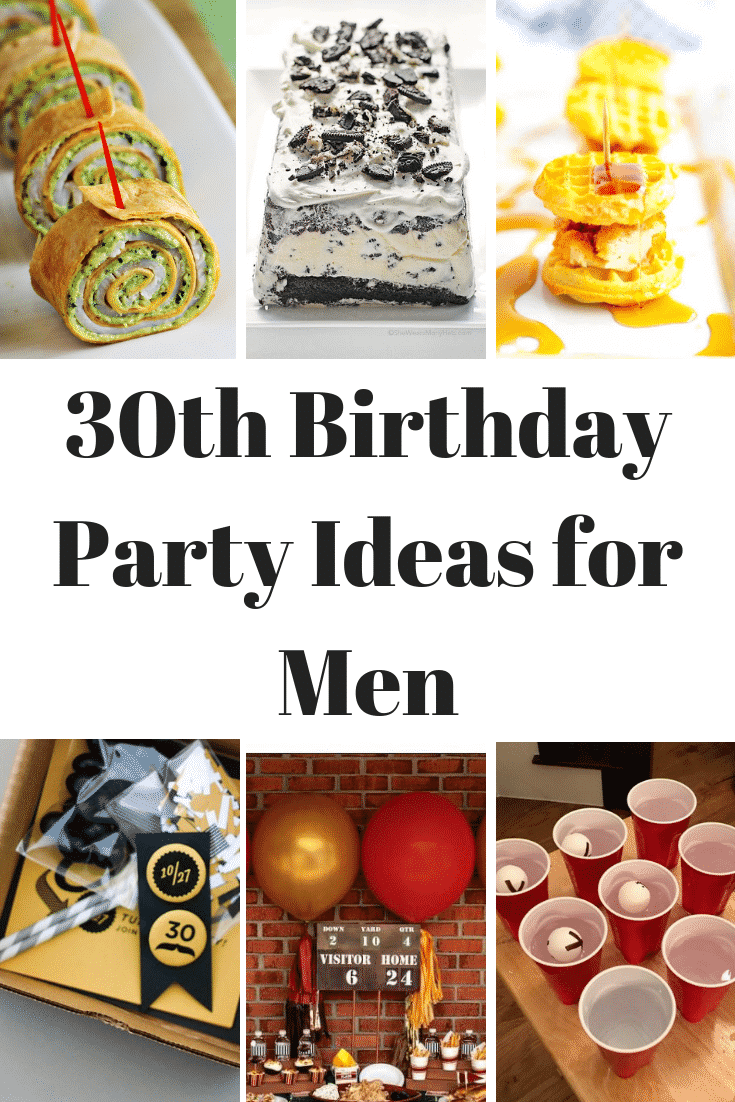 30th Birthday Party Ideas
Birthday parties are such a fun way to celebrate milestones in our lives. If you are looking for some great party ideas for that special man in your life, these 30th birthday party ideas for men are perfect!
Here you'll find 30th birthday party ideas for men that you can use for any special man in your life to throw the perfect party.
These ideas work great for friends, spouses, in-laws, or other family members you may be planning a party for.
30th Birthday Party Themes & Decor Ideas
Favorite Things Party: Who says a Favorite Things party has to be for women? I know a LOT of men who would love to receive their guests "favorite things"! Tell your guests if they wish to bring a gift, bring a $5 or $10 item that they consider one of their favorite things! The birthday boy may just end up of a collection of new favorite things of his own!
This 30th Party in a Box is perfect for taking your party on the go or to celebrate with those from far away! The Sweetest Occasion
These fun Confetti Balloons would be a fun way to decorate your space. Modge Podge Rocks
If your special guy is a football fan, they are going to love these easy football party food ideas from right here at Fantabulosity!
Looking for a great baseball themed party? Then you will love this Baseball themed 30th Party idea. The Sweetest Occasion
Then we can't forget about basketball party ideas!
These Party Cups Dipped in Confetti are a fun way to dress up your cups for a party. Modge Podge Rocks
30th Birthday Party Games
These fun Minute to Win it Party Games will keep your guests entertained for hours! Happiness is Homemade
This fun Tic Tac Toe Beer Pong game is great for a family or adult party! Frugal Fun for Boys
This Saran Wrap Party Game is a great game for adults or kids to play. Must Have Mom
Don't forget the simple and classic games like poker, darts, or even fun board games like:
30th Birthday Food Ideas
With so many recipes and party food ideas out there, I'm breakin' it down to different types to make your party planning easier!
Food Bar Ideas
Food bars at parties are ALWAYS a good idea. Guests can eat off of it as they wish, and food bars are super forgiving when it comes to different types and flavors of food for a broad variety!
Hot Dog Bar: 30 or not, he's going to love it! Complete with the typical toppings and super fun "out-of-the-box" topping ideas to boot!
Nacho Bar: I don't know a guest who wouldn't love having chips, cheese and endless amounts of Mexican food favorite at their fingertips!
Taco Bar: Now if you set up a taco bar AND a nacho bar, I'd be in heaven! Here are taco bar and topping ideas for you to make it even easier!
Coffee Bar: Looking for an early morning or lowkey celebration? Hosting a coffee bar full of different coffee flavors and pastries to go along with it may be just what he wants!
Yogurt Bar: If the man of honor is keeping things on the healthy side, setting up a yogurt bar full of healthy choices can help satisfy the birthday sweet cravings, but keeping things on track too! Add pudding to it for kids and/or those who aren't fans of yogurt!
Dip Bar: When it comes to parties, I LOVE a good buffet full of different dips. Which gave the idea of why a dip bar is such a good idea. Set out different kinds of dips, with a variety of "dippers" and guests can munch all night!
"Man Food" Ideas
Although I'm not a man, I LOVE these typical "man food" ideas, so the birthday boy and guests will love these! Serve these up buffet style and guests can graze as they wish!
Appetizers
Chipotle Apple Butter Ribs: A spicy and sweet combo on ribs, adds a flavor combination that will ignite tastebuds!
Grilled Shrimp: Whip up a batch of shrimp and watch it disappear in a flash!
I know a lot of men who'd like fried deer meat at their birthday party! Amiright?!
If you're looking for a classy appetizer, keep it easy and make these no-bake pesto kabobs!
This Pesto Tortilla Pinwheel from Homecooking Memories or Taco Pinwheels are recipes that are a quick and easy party food you can throw together in minutes.
These tasty Pepperoni Rolls are a great party snack for any party and will be a hit with your guests. Dancing Through the Rain
Meatballs are always a big hit at parties, and these Sweet and Sour Meatballs will have your guests wanting more. Wondermom Wannabe
This quick and easy Crab Ball recipe is the perfect appetizer for your party. Homemade Interest
If you are looking for a delicious appetizer that will be a huge hit at your party, these Chicken and Waffle Sliders will do the trick. Food Folks and Fun
These Mini Monte Cristo Sandwiches would be a great recipe to serve if you are looking for a heavier meal for your guests. The Soccer Mom Blog
Desserts
Chocolate and Peanut Butter just go together right? Well in this birthday cake, combining it with toffee and caramel just made it even better!
This Cookies and Cream Ice Cream Cake would be the perfect cake for your party! She Wears Many Hats
These delicious Hot Chocolate Muddy Buddies are a great party snack, especially in the colder months!
This No-Bake Brownie Peanut Butter Cup Cheesecake Trifle is full of all the things that he will love!
Drinks
A non-alcoholic option is my favorite party punch that we make at least once a year!
These Homemade Bottled Cocktails are perfect for party favors or to serve to your guests. The Sweetest Occasion
This Tropical Rum Punch would be great for a beach themed party or a summer party. The Soccer Mom Blog
Beer Tasting: If the man of honor is a beer drinker, having a beer tasting may just be what he wants! Head to the liquor store and see if they offer a mix and match option for bottled and/or canned beer where you can get many different kinds of beer for your guests to try!
Have a Favorite 30th Birthday Party Idea?
What are your favorite party ideas for men? Share them right here in the comments below! I'd love to hear it!