Birthday Party Games for Adults: Indoor and Outdoor fun adult game ideas for birthdays or any type of party that will keep guests entertained!
Next to party foods, fun games are the first thing I get excited about when I'm planning for party guests.
Whether it's for a themed party like the annual Favorite Things Party, a Pop-Up Dinner Party, Rustic Wine Party, Fiesta Housewarming or a Dirty Cupid party, they ALL could use some good ole adult games to play.
Adult Birthday Party Games
But birthday parties??? Those are the PERFECT reason to play fun party games with all of your adult friends and family members!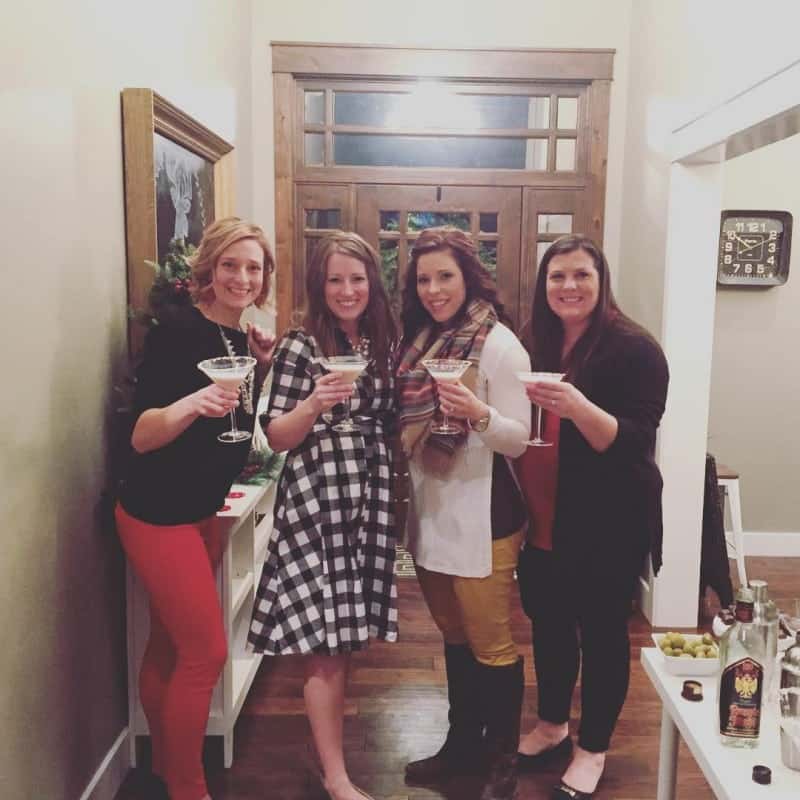 Above is from my Favorite Things Party 2015! These are some of the gals who know how to have a good time!
Fun Adult Indoor Games
When Winter strikes, there's nothing better than planning a game night with friends, but we must keep things indoors because it gets pretty nasty out. It's a great way for a large group to stay entertained as well, and a great idea for just about any occasion!
Here are some of our favorite games to play indoors!
---
"Alias"
Quite possibly our favorite adult party game and it's a simple game! (Aaaaannnnddd… it's DIY!)
Instructions:
Cut small slips of paper, and hand out one piece per guest, along with a pen.
Each person takes a second to write down something. (For example, a famous person's name, something funny about another person in the group, etc.) You want to keep it fairly short.
When everyone has completed writing, have them fold their piece of paper, and put it in a bowl, cup, etc. Pick one person to read aloud each saying on the pieces of paper. Tell everyone to make sure they pay really good attention because they will only be read once.
Start with the person to the right of the reader, (this will be the first player) to guess who in the room wrote which saying.
If the guesser correctly picks the person who wrote the saying, they get to guess again. If they guess the wrong person, the guessing goes to the next person.
When someone guesses what you wrote, you are "out."
The last person who never has someone guess what they wrote, they are declared the winner!
P.S. We have found if there are alcoholic beverages involved, and it becomes a drinking game… the sayings get hilarious, and it gets harder to remember what the sayings were, that were read in the beginning!
---
"Price Is Right"
This is such a great game! Who doesn't love to walk away with a gift from a party? Make your own "Price Is Right" game, and incorporate your own small prizes to give away. What kind of items?
Here are a list of items that would be great for this:
small bottle of tequila
wine glasses
lotion
candles
jerky/nuts/snacks
house shoes
hit up TJMaxx to score some GREAT items for this!
Supplies Needed:
Pieces of paper or small dry erase boards (1 per guest)
Pens/Pencils, or Dry Erase Markers
Items your guests will be price guessing
To Play:
Hold an item up, and have your guests write down the price they think the item you are holding, cost new. The person who gets the closest to the price, is considered the "correct answer" and they win the prize.
That person can either be out, or let them stay in to keep playing. Up to you! Someone could walk away with all of the items, or everyone could walk away with something!
---
Minute-To-Win-It
I don't know if you remember the show "Minute-To-Win-It", but it was a game show where contestants had to accomplish difficult tasks in under a minute, without messing up!
These types of games make me anxious, but I do have a lot of friends who love games like this, and
I found a GREAT tutorial on how to play Minute To Win It!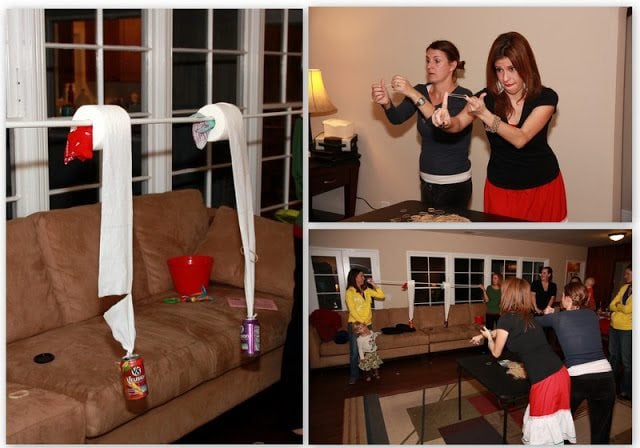 ---
Board Games and Card Games
You can never go wrong with board games and a good ole card game! But to make sure I grabbed the proven BEST board games, I asked my Facebook audience what they thought and here are their votes!
Click the links if you need to grab one for your game night! (Remember, if you're planning this at the last minute, Amazon has FREE 2-day shipping if you're a Prime member!)
---
Fun Adult Outdoor Games
When it's summertime, it's a lot more fun to get out for some fresh air. Here are some of our favorite outdoor adult party games!
---
Cornhole
This game has become SUPER popular in our area and it's so much fun. I do know a lot of people who DIY cornhole bags and boards, but you can grab a cornhole set HERE, to make things super easy!
---
Giant Jenga
I REALLY, REALLY want this just for an everyday game to play outside! I can't wait to host my next adult party so we can play Giant Jenga!
---
Jumbo Connect Four
Alright, might as well get the Jumbo Connect Four if you're getting the Giant Jenga! A yard full over oversized childhood favorites is going to be a HIT at your party!
---
Water Balloon Dodgeball
It's as fun as it sounds. Fill up a ton of water balloons ahead of time, and pick your teams!
Grab the "Fill in 60 Seconds" water balloons to make this MUCH easier to prep for!
---
Scavenger Hunt
Have your guests get involved with a scavenger hunt, and have them running all over town looking for tons of things, all racing to the end to win!
Click here to find TONS of scavenger hunts to send them on!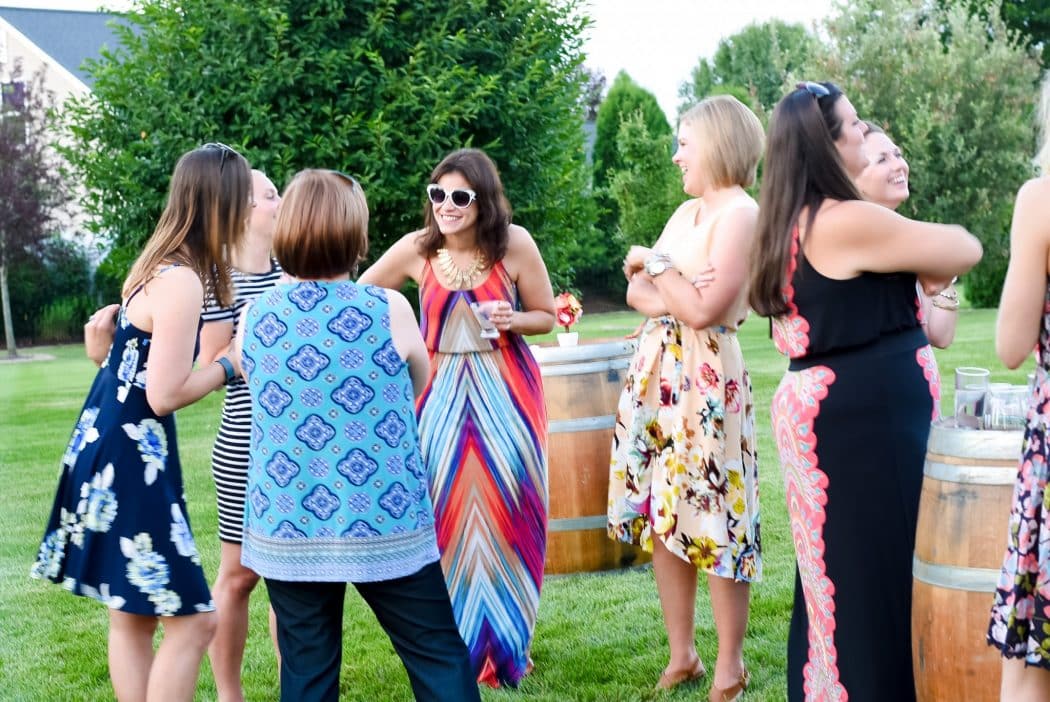 Above photo is from the Favorite Things Party 2016: Summer Edition!
More Party Game Ideas?
I hope you found a game that will work for your adult birthday party! I could honestly go on and on with more party games for adults, but I don't want to overwhelm you, so I picked my favorites!
If you have a favorite that's not on the list, please share it below in the comments so we can all have fun with it too!
FREE Party Planning Checklist
If you're hosting, you'll want to get your hands on my party planning checklist to help you make sure you don't forget anything!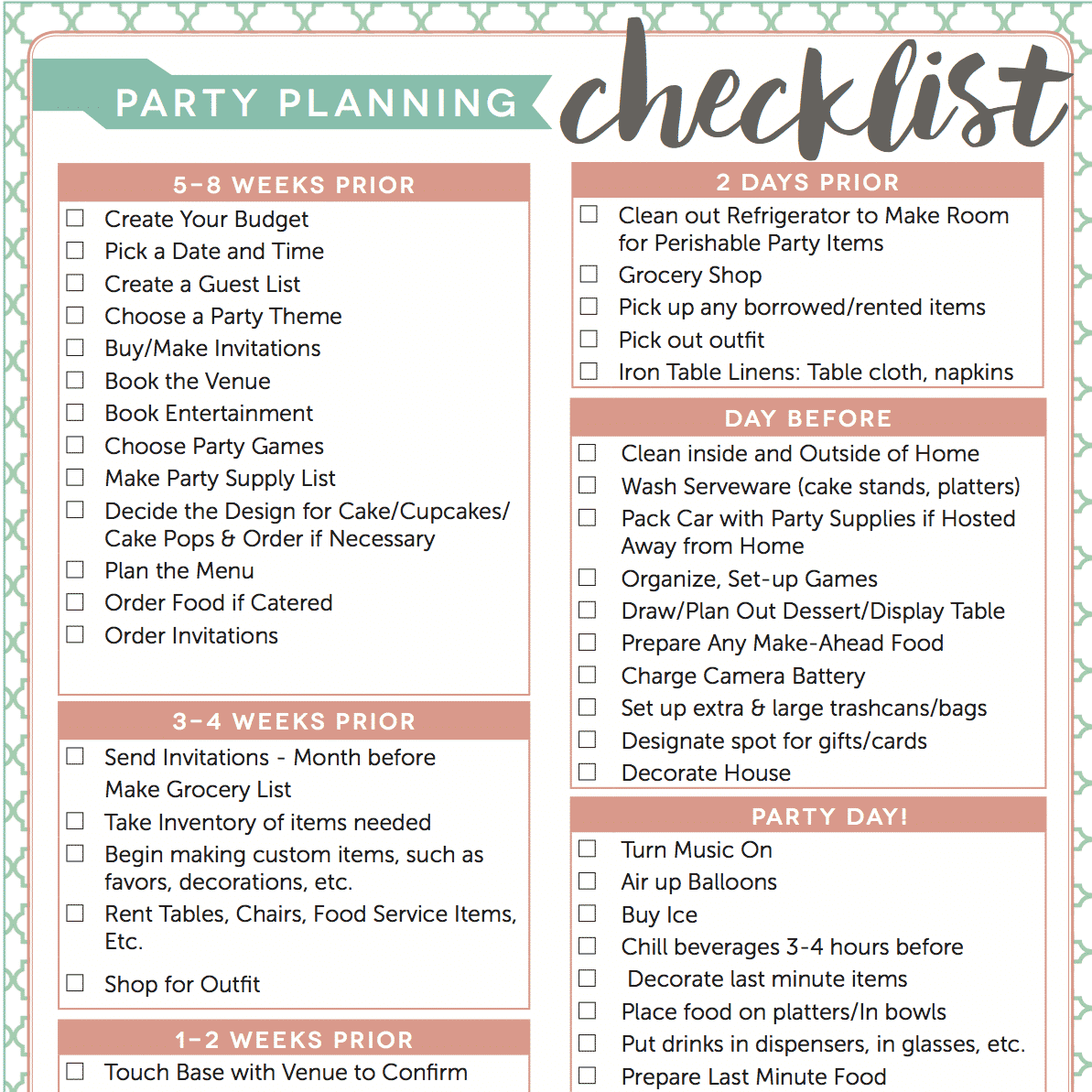 Favorite Party Supplies Websites
When I'm hosting or styling a party, I love paying attention to the small details like decor and party favors. Here are my favorite party supplies websites to check each time I'm hosting in case you need to stock up too!