Party Theme for Adults: Our Love is Sizzlin' Dinner Party & Dirty Cupid Game: A romantic and fun party idea for adults!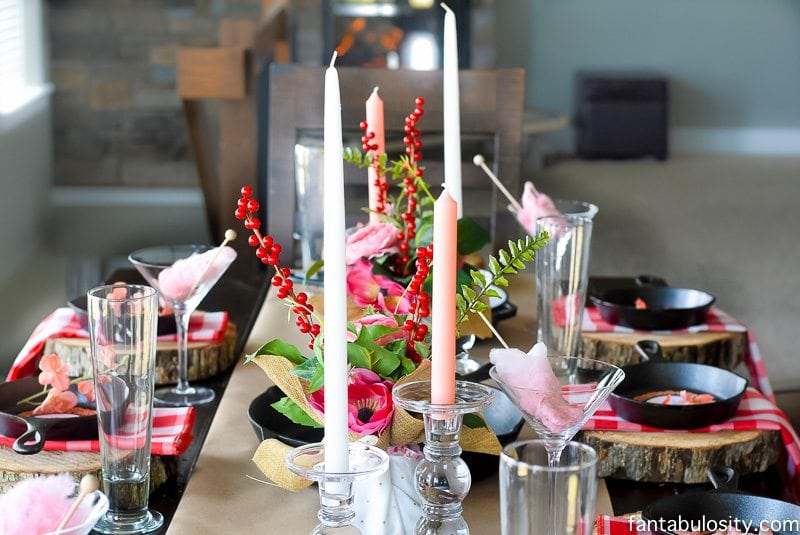 Party Theme for Adults: Our Love is Sizzlin' Dinner Party
If you caught my Facebook "LIVE," video the night before we hosted, then you were able to see a lot of the behind the scenes of what the party consisted of. But there's WAY too much fun to squeeze all of this Our Love is Sizzlin' party, in to one blog post. So here, you get to see the "out of the box," dinner party idea details, AND I'll tell you about the party game that we played… that's still cracking me up. Then, tomorrow, I'll share the crazy-delish chocolate fountain dessert bar that we also had that night. (Trust me, my belly was hanging over my yoga pants after I consumed all of this party food.)
Cast Iron Place Settings
Don't ask me where this idea came from, but I'm SO thankful it came from somewhere because it turned out to be my favorite place settings ever.
So I have a new, deep fond love for cast iron skillets, (thank you momma) and while planning the party, I knew I wanted to incorporate them somehow. (I just didn't know until later how MUCH they'd be involved.)
Each person had their own Lodge mini cast iron skillet. I mean, how stinking cute are these? Did I have to talk myself in to buying them for just this one-use? Yes. But I justified in my head of how I could use them in the future. (I'm really good at convincing myself of why I need necessities like these, ok?)
Buy the mini cast iron skillets here!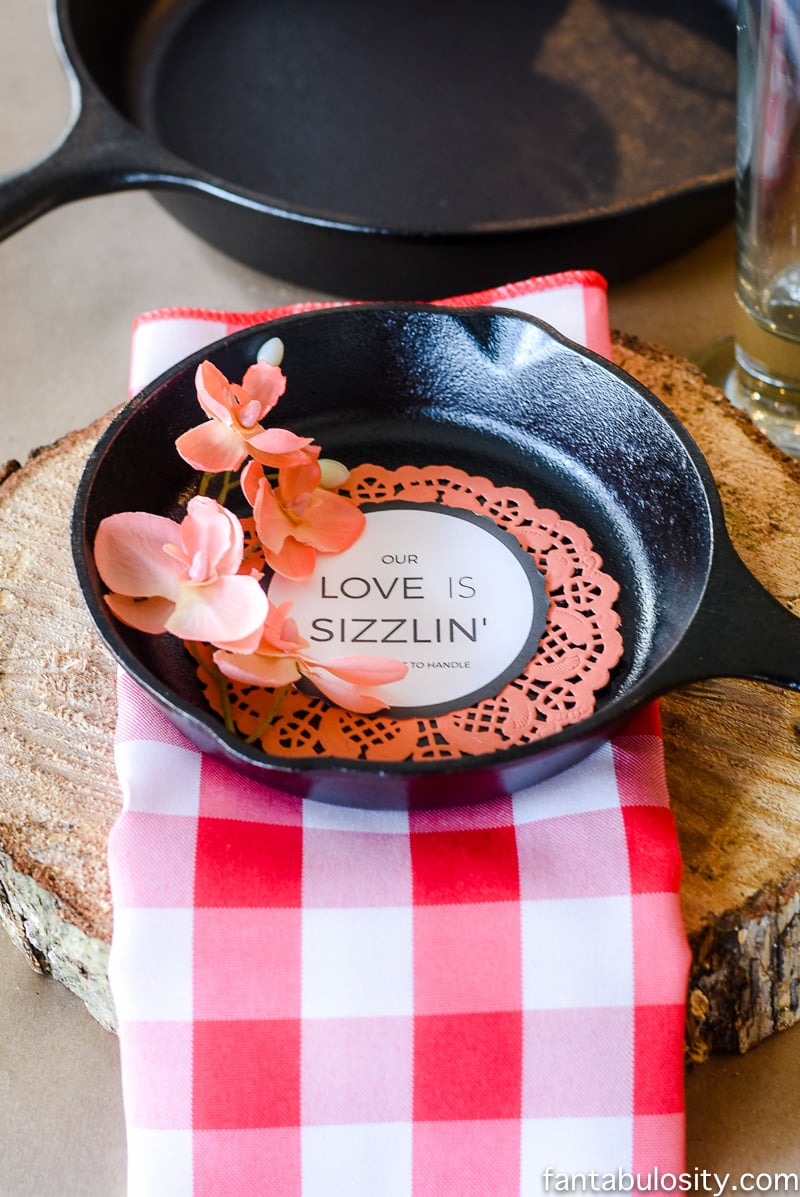 Free Printable:
Inside each mini cast iron, was a sweet little place card that said, "Our Love is Sizzlin'… and too hot to handle." Since this was a dinner party with couples, I had to squeeze in as much romance as I could get away with. 😉
If you've been following me long, then you know that I can't keep a lot of things to myself. So as I created this place setting for each skillet, I went ahead and made it in to a PDF so you all could download and use them for free for your party too! Download the free printable here: Our Love is Sizzlin'
Coral Doilies
I placed the printables on top of coral doilies that I found at Hobby Lobby a long time ago, that I've been holding on to for a special purpose. THIS was that special purpose. (I just didn't know it until a week before the party.) Then, I added an itty bitty stem of flowers that I cut off of some of the flowers that I decorated the tablescape with. More on the flowers in a bit.
Napkins:
The biggest struggle that I had styling this party, was deciding if red would compliment the pinks and corals that I so desperately wanted to decorate with. I had already bought the red and white napkins, when I bought the cast iron skillets, and being able to use what I had on hand, along with what I just bought would work out perfectly. To my relief, the colors went together like they were made for each other.
Buy the red and white napkins here!
Wood Planks:
To tie in the cast iron feel of things, using wood planks for each place setting was a no brainer. BUT, when I had a hard time finding them online, I relied on my parents to help a gal out. I sent one quick text message to them, asking if I could come down one day and cut a few round wood slices for a party that I had coming up. Before I knew it, they sent me a text back later that day saying they already did it for me. (I guess they didn't trust me with a chainsaw? Smart, smart people they are.)
But if you aren't super luck to have parents who live on a farm, then I finally found a place online where you can buy them!
Cocktails:
Keepin' it classy and keepin' it real, I wanted the girls to have a pretty little thang, and the guys to feel right at home. So how was I to do this? Well, the girls were served cotton candy champagne, and the guys were sippin' on ice cold beer. The best of both worlds!
I made my own cotton candy, using the machine that I showed you on my Facebook LIVE video the night before the party, and it was a HIT! Using Jolly Rancher candy, I whipped up small servings of cotton candy for each glass, and it was a delicious addition to the bubbly.
Buy the cocktail and beer supplies here: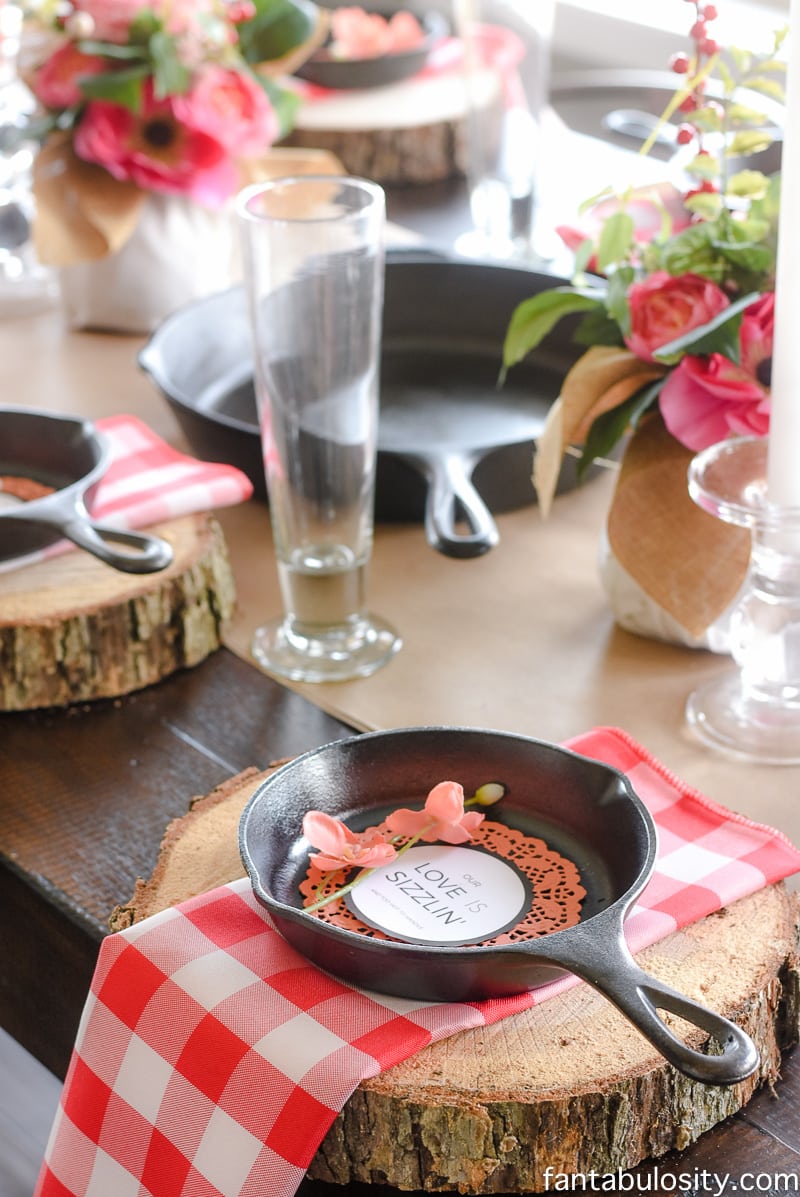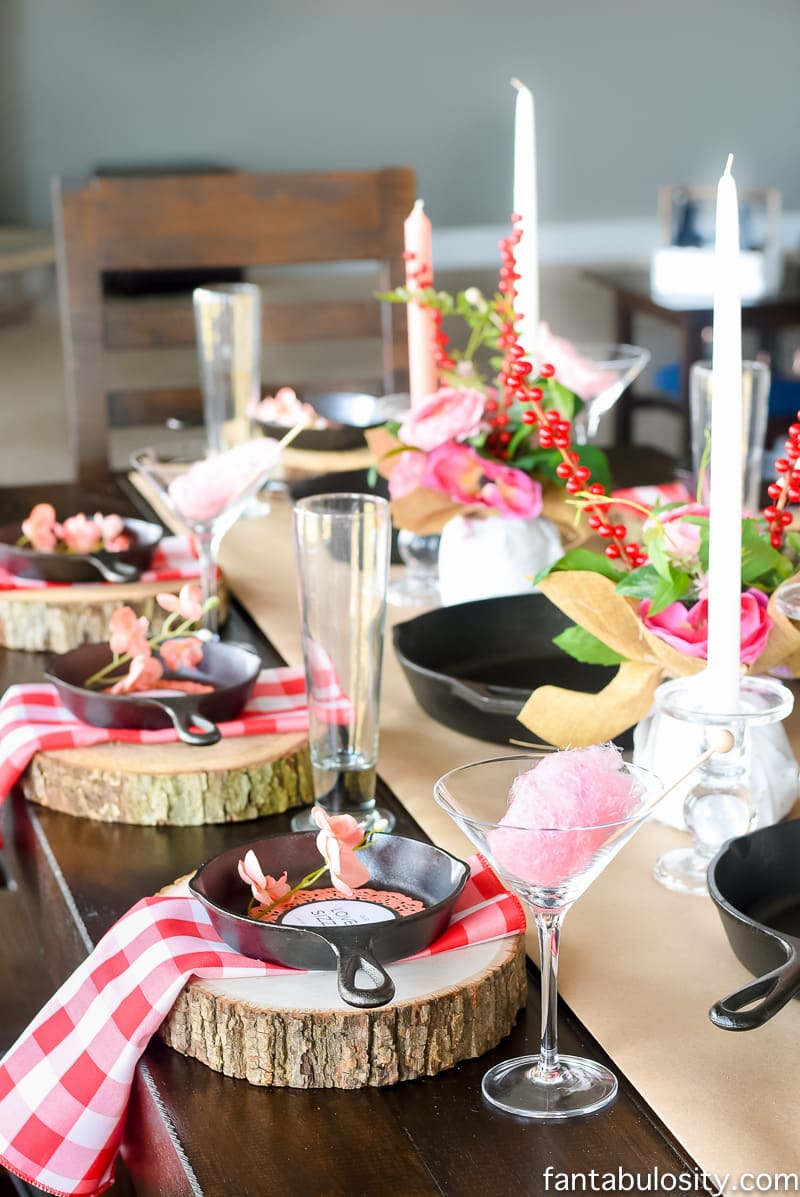 Tablescape Decorations:
Using kraft paper, that was folded in half, I created a tablerunner, that had the same rustic feel and color, to compliment the wood slices of the place settings. Something that would be SUPER cute, (that I didn't think of until after the fact) would be to write fun, romantic sayings on the table runner too. Or, give each person a black magic marker to write a sweet comment about their spouse, and you can save the table runner and host the same party again the next year… adding to it, year after year. Fun, right!!?
Buy the kraft paper jumbo roll here!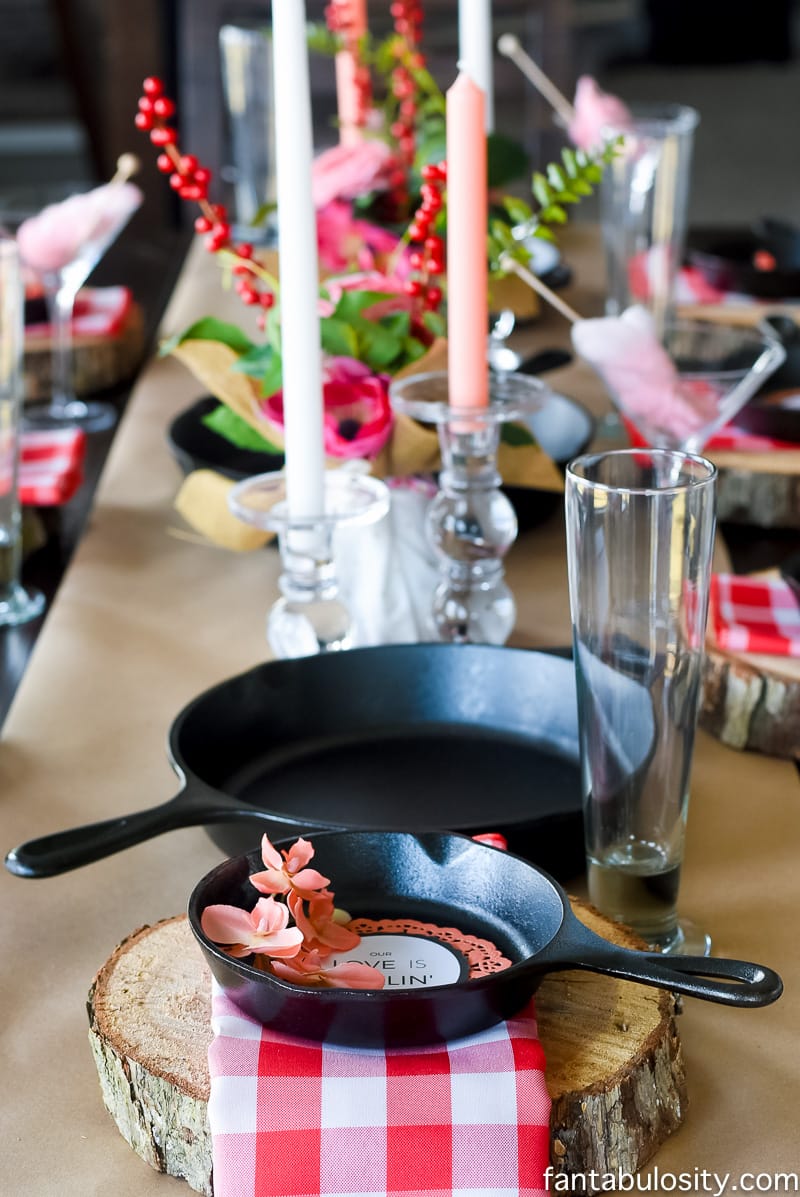 Main Serving Dishes:
Have you ever been to a fondu restaurant, where you fill yourself up on dips, dips, and more dips? With the same concept, I wanted a romantic, "eat with your hands," kind of meal, all while keeping it rustic and chic too.
The meal consisted of 3 dips that were baked in large cast iron skillets, served alongside of complimenting bread for dipping. We had:
• Pizza Dip with Breadsticks
• Caprese Dip with toasted french bread slices
• Spinach and Artichoke Dip with soft rolls
Each dip was served in 10.25 cast irons, and placed throughout the table for easy sharing.
Buy the 10.25 in cast iron skillets here!
Candles:
What kind of romantic dinner party would it be without tall, chic candles!? We all sat around the table with the beautiful glow of the lit candles.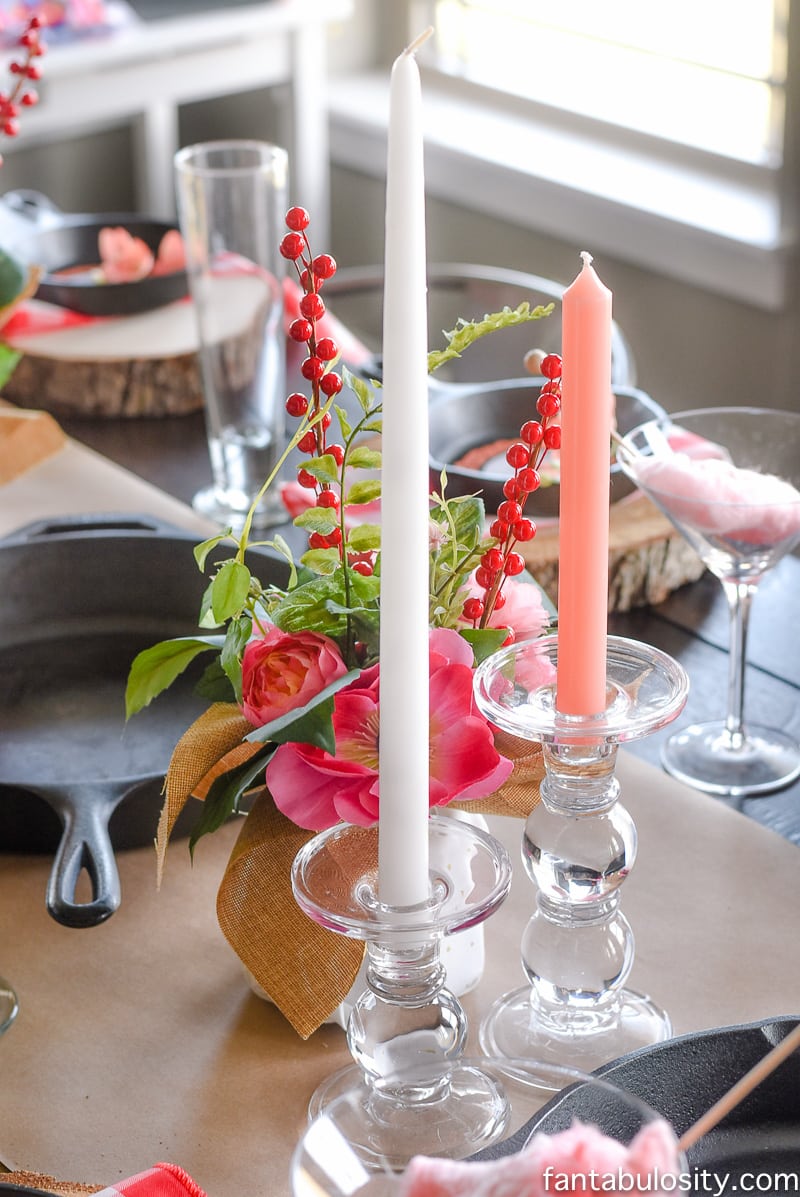 Flowers:
I had went to Hobby Lobby a few days before the party, hoping to find flowers that I could make an arrangement or two out of. I was ecstatic to find already-made bouquets with almost all of the colors that the party decor consisted of. Only thing missing flower wise? Red. So I found red berry twigs in the next isle over that I knew would be the perfect addition to the bouquets. They added height, and the pop of red that I was looking for.
I also bought a small piece of white and gold polka dot fabric while there, to wrap around the base of the bouquets, to allow them to pop on top of the kraft paper table runner. The bouquets had burlap around the base, which I loved, but wanted a color contrast so they wouldn't blend right in to the runner. The white was just what they needed!
"Dirty Cupid" – Adult Party Game
This game sounds a lot worse than it really is. But I couldn't resist calling it this, because it's so stinking comical.
With the idea of the "Dirty Santa," game concept, I wanted the night to have a gift exchange game to keep things entertaining after dinner.
How to Play:
Each person brings a $15 romantic gift for the exchange. (Now, depending on the person… this could get extremely hilarious, which it totally did at our party, or it could be a nice, sweet gift exchange.)
Using the same rules as Dirty Santa, we drew numbers to see who would pick a gift from the pile first, and then went about the game choosing/stealing gifts along the way. We all went home with new romantic gifts, and SO.MUCH.LAUGHTER was had.
Gift Ideas?
I know your next question already. "Jessica, what were some of the gift items?" Well I will tell you that I'm not going to say all of them, because some make me blush. But I will give you the ones that I feel ok saying in front of my mother.
• Chocolates
• PJ's
• Massage Oil & Warmer
• "Kinky" Vodka
Chocolate Fountain Dessert Bar
Have you ever had a chocolate fountain at a party? Well let me tell you… it will be happening again around here. Not only was it an easy way to serve desserts but all of our guests LOVED making their own chocolate creations!
See ALL the details of the chocolate fountain bar so you can get ideas for your own!