This Pop-Up Dinner Party idea is one of the most fun outdoor party ideas to date! Keeping the decor minimal and classy is an easy way to host your friends this Summer.
Now that warmer weather is here, it's time to schedule those parties, especially outdoor parties.
All things here on Fantabulosity, are about keeping it "simple," affordable, and adorable. This "Pop-Up" Outdoor Dinner Party, may just be the first event that you want to host this year.
Pop-Up Dinner Party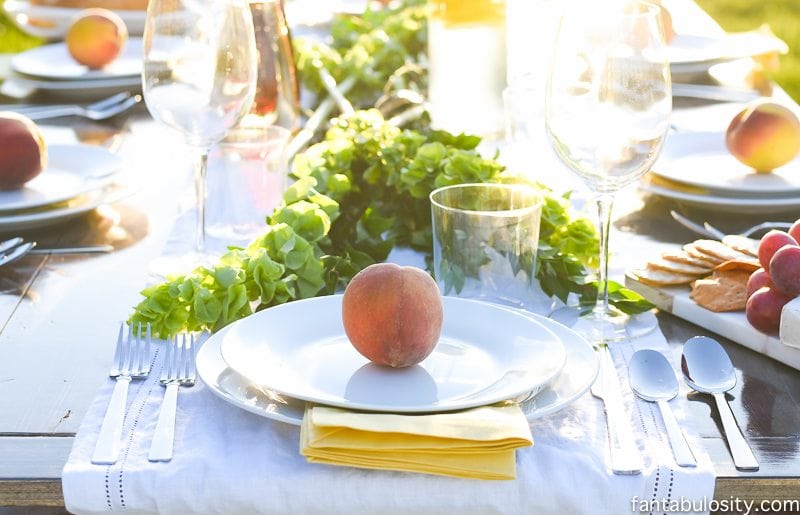 Simple Party Ideas:
Don't go overboard with "planning." You may just be surprised how well a tablescape comes together using the items that you already have, or that you can find, around the house.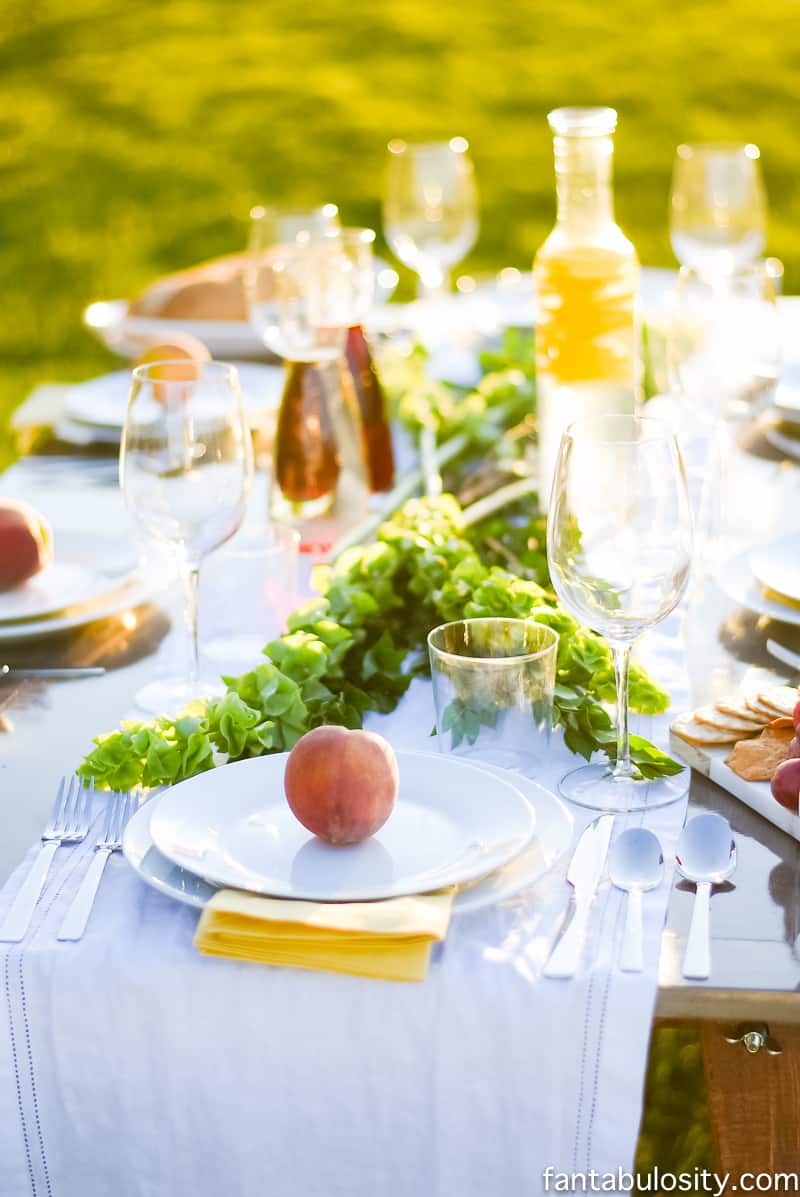 Outdoor Party Ideas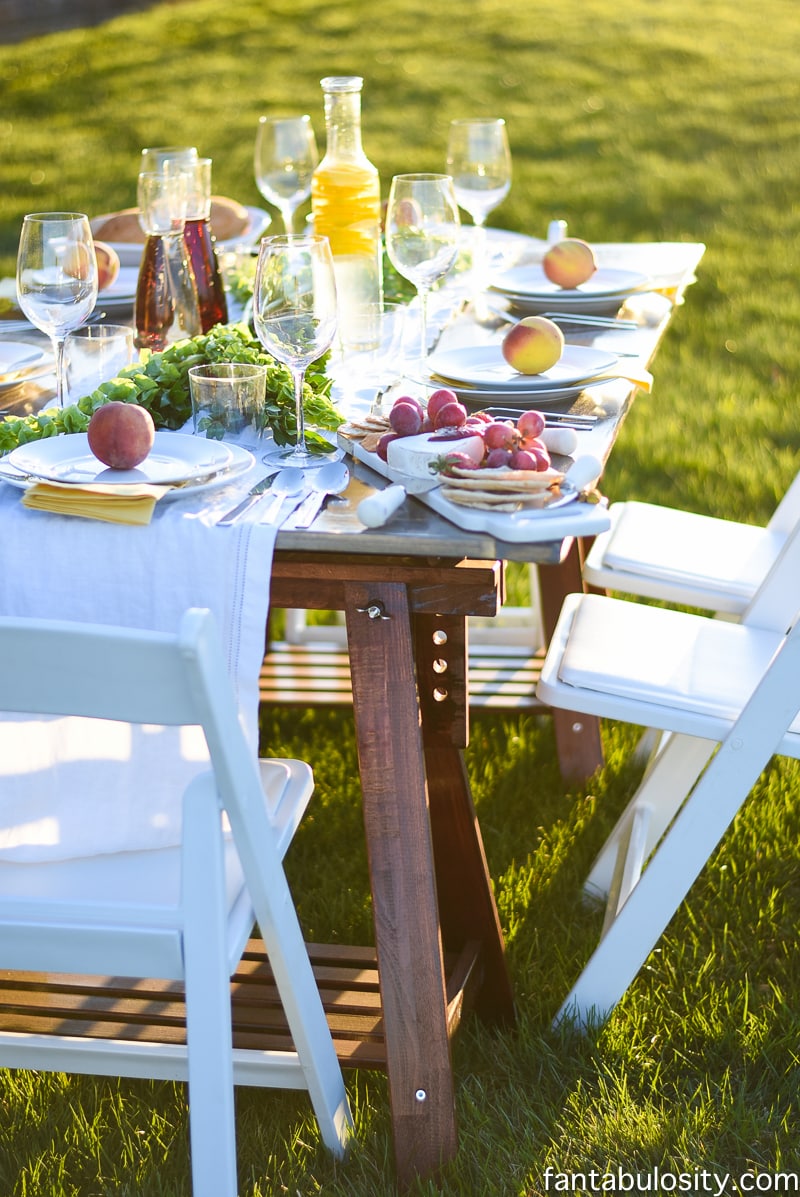 Simple Table Set-Up:
Would you believe that using two sawhorses and a tabletop, can be your golden ticket to creating a FABULOUS platform for a classy & rustic dinner party?
Sawhorses: IKEA
Table Stop: Custom made by Kings Creations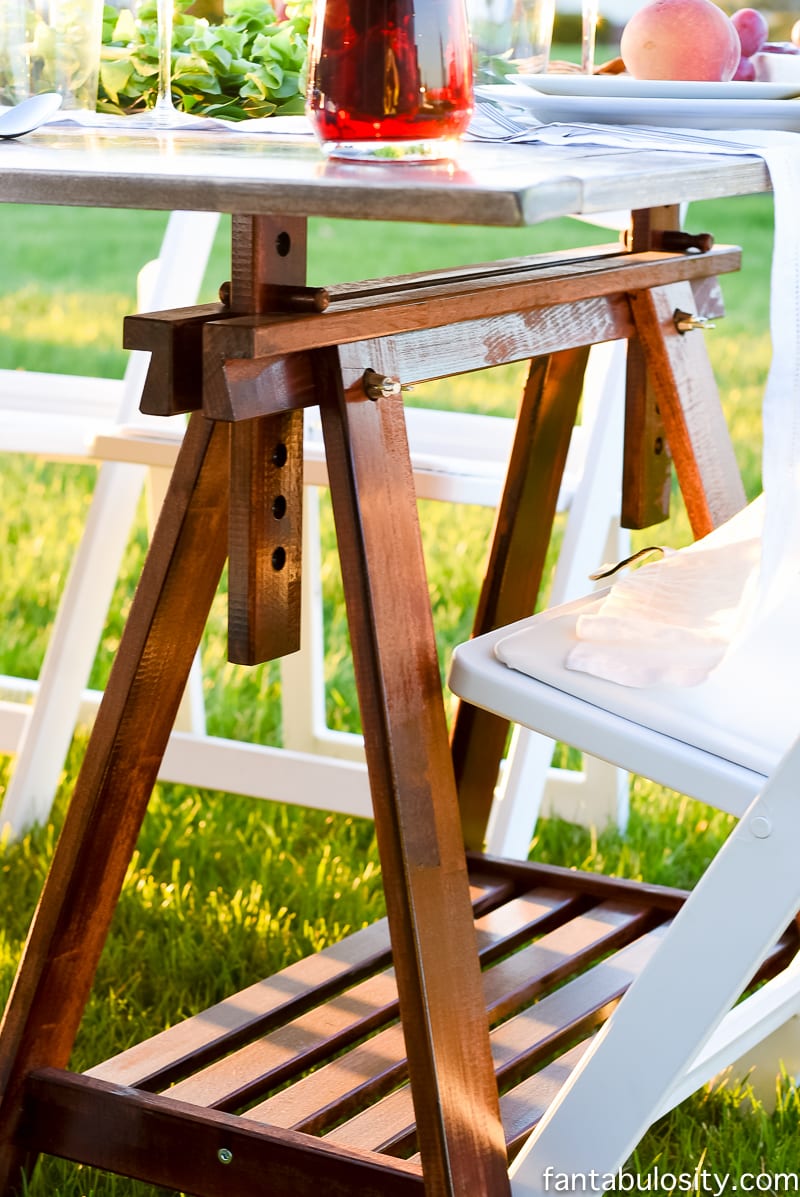 Tabletop: If you're a DIY connoisseur, you may be able to whip up a table-top like this yourself. However, although inspired & tempted, I'll continue to leave the DIY woodworking to my friends at Kings Creations.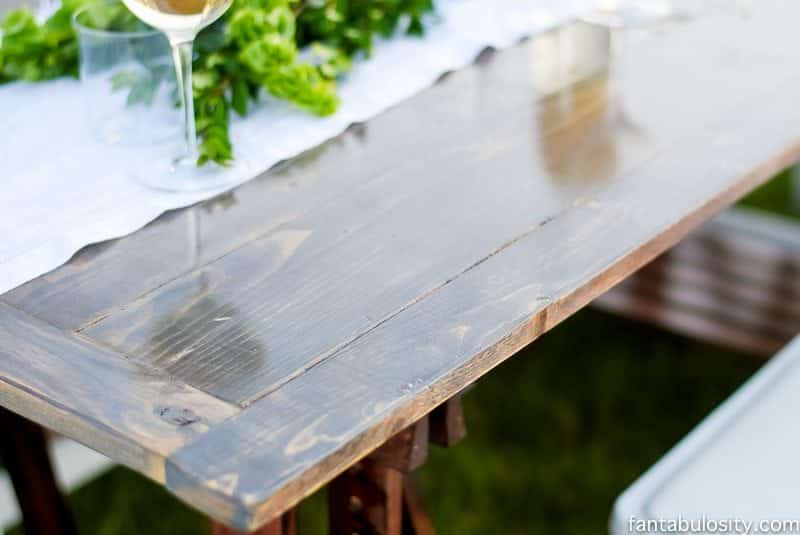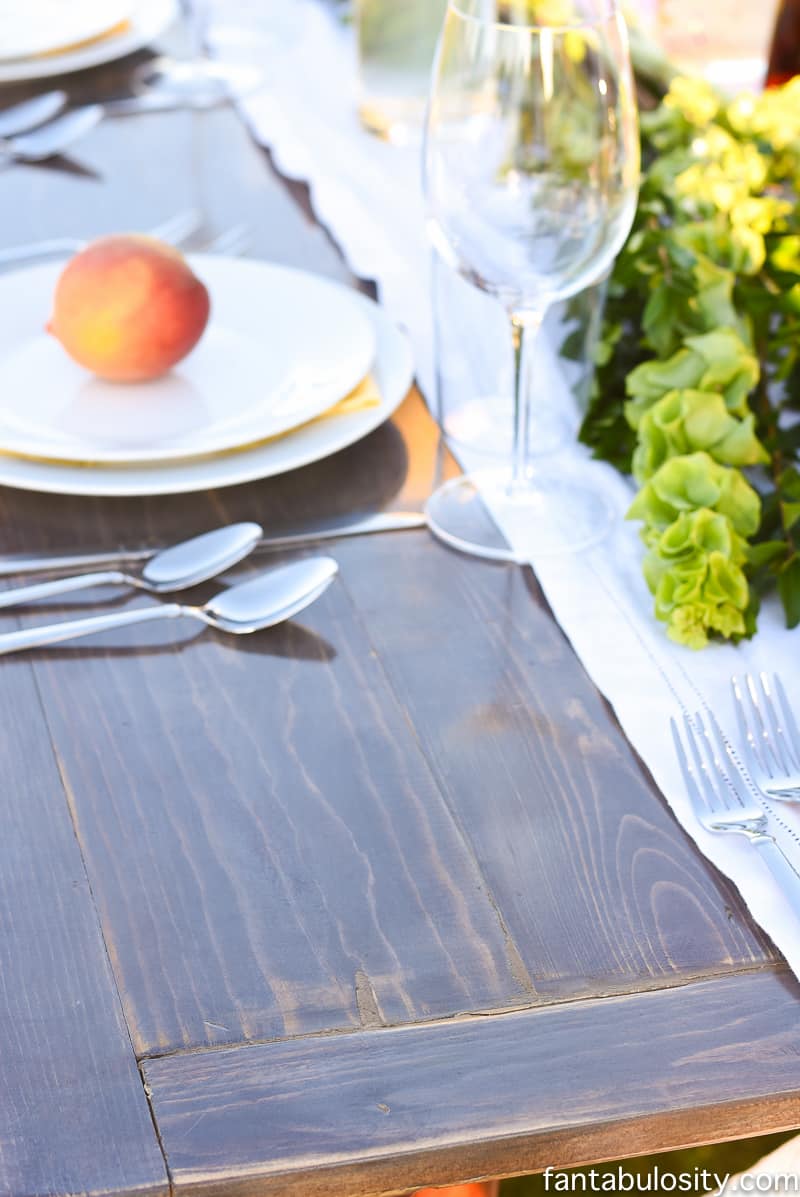 Time of Day:
Hosting your outdoor dinner party at sunset, not only makes for BEAUTIFUL pictures, but cooler weather, and FABULOUS lighting ambiance.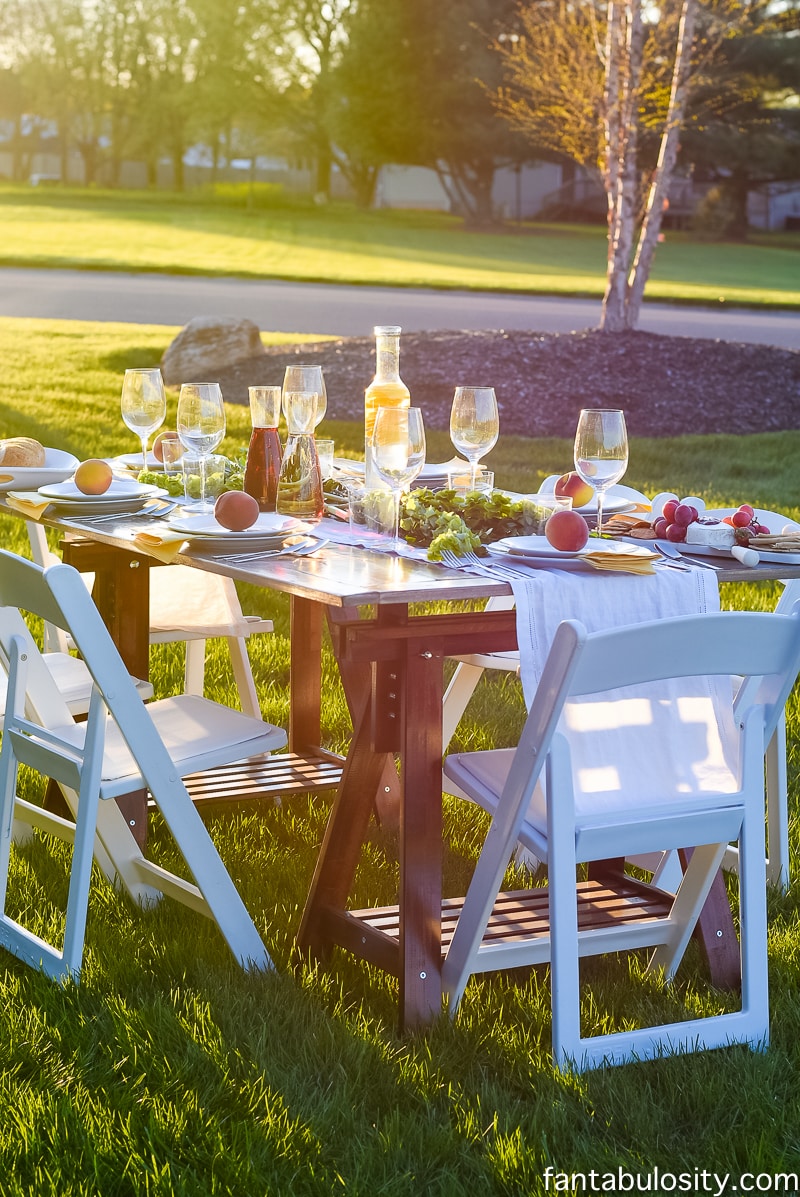 Table Details
Cheese Board: A simple, yet CLASSY cheese board, can act as a serving tray for cheeses, fruits, crackers, and pita bread… but can also double as a decorative piece on your dinner table. Buy this one here: Marble & Wood Cheese Board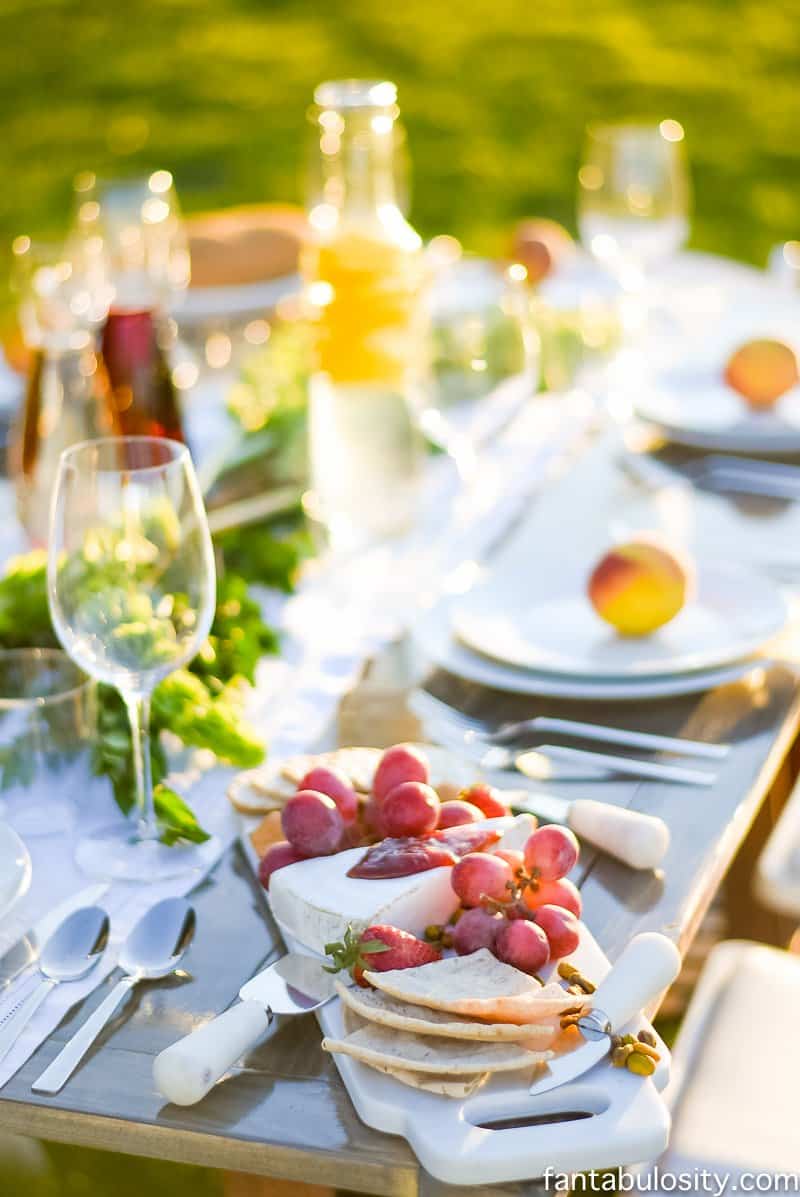 Beverages:
Try keeping the beverage selection, minimal. This won't crowd the table, and guests won't feel overwhelmed with a ton of drink choices. But, taking everyday beverages, and serving them in easy to handle and "clear," serving carafes, can make the beverages look elegant and easy to recognize.
Shop wine carafes here: Williams-Sonoma Wine Carafes
Drink Garnishes:
Adding colorful garnishes to water, can not only enhance the flavor but can also serve as a decorative detail for the table! Shop pitchers, here: Williams-Sonoma Pitchers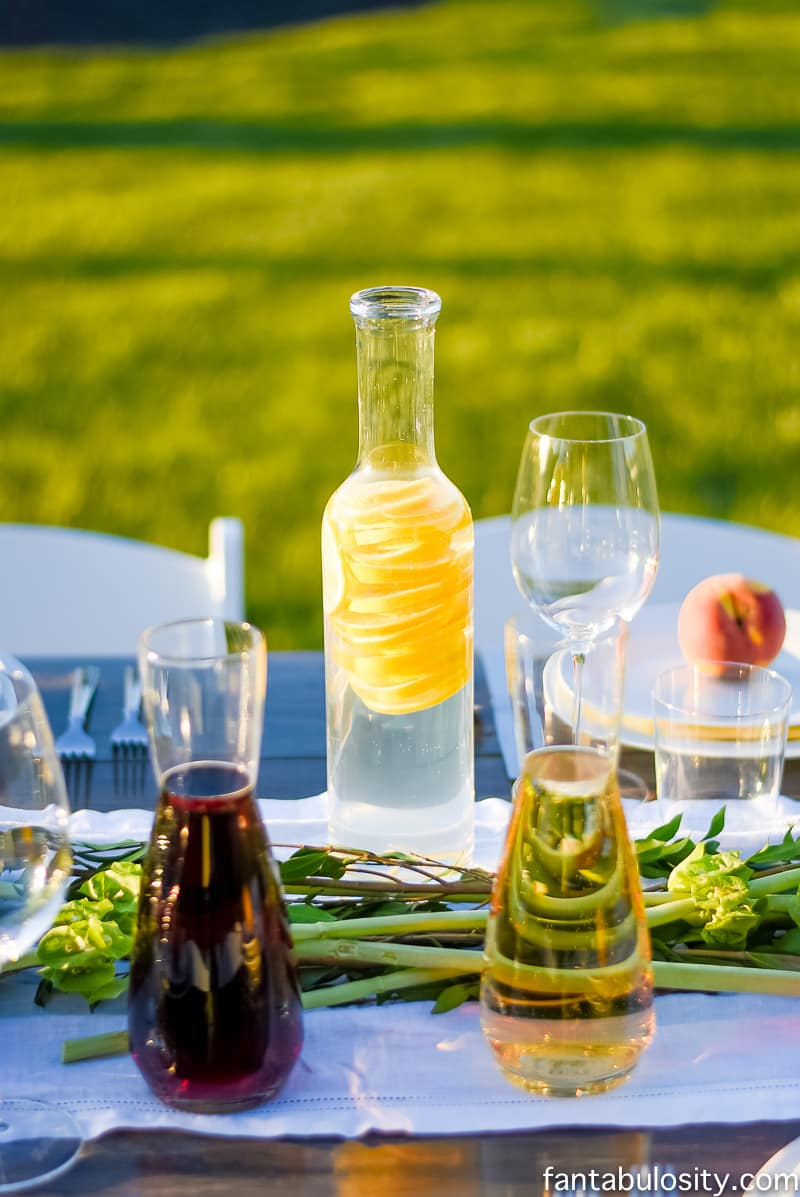 Fun oils/kinds of vinegar are especially fun to serve with bread. Easy to handle, snack on, and absolutely "classy."
Buy: Williams-Sonoma House Olive Oil
Buy: Williams-Sonoma House Balsamic Vinegar
Place Setting:
Adding a pop of color to clean/white plates is an adorable way to add decor to your dinner table. Throwing a Summer party? Use seasonal fruit as the place setting.
Keeping things neutral? Add fresh herbs such as chives, rosemary, or dill, for a "greenery," approach.
Or combine a fun appetizer with a place setting by making a jarcuterie!
Williams-Sonoma offers a more affordable dinnerware line, and it completely fits my budget, when it comes to entertaining.
Shop the affordable, white dinnerware here: Open Kitchen
Breaking up the "white on white," of a dinner plate and a salad plate can easily be done with a fabric napkin. Have fun, using a patterned napkin, or keep it fairly neutral by using a solid color.
Shop Fabric Napkins here: Linen Double Hemstitch Napkins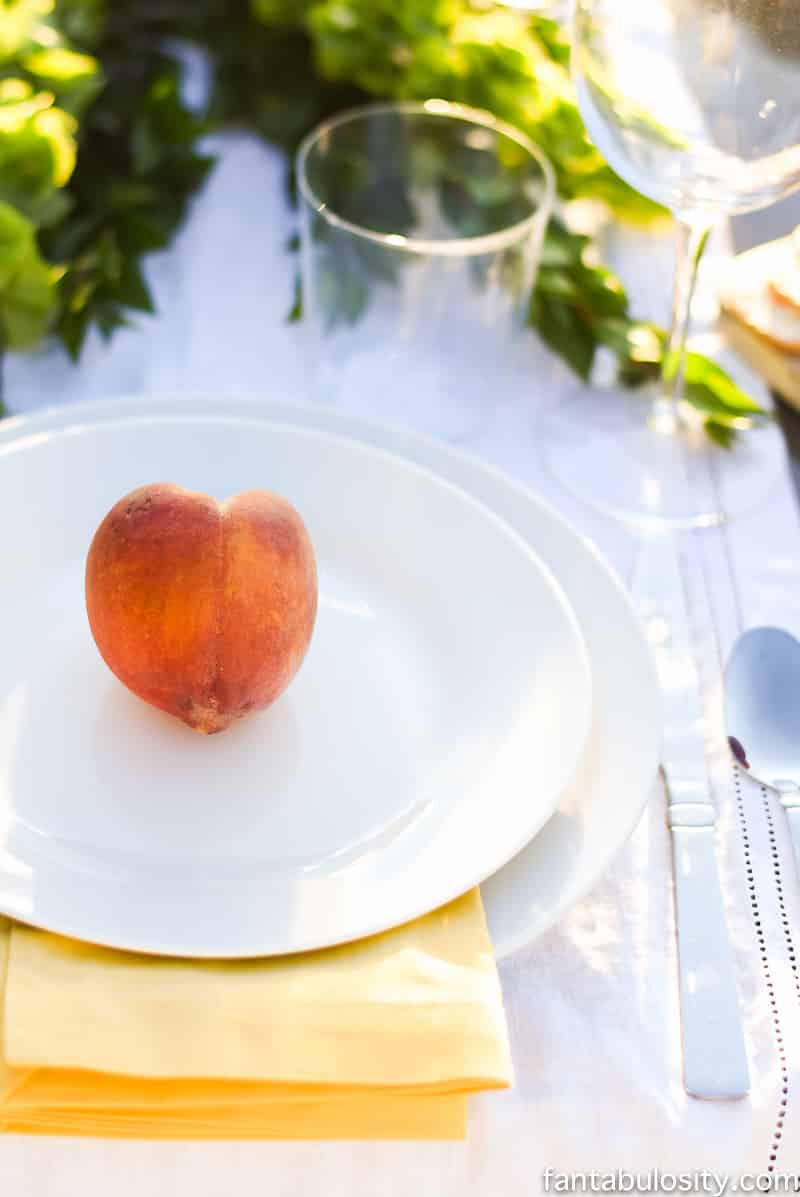 Table Runner:
To prevent serve ware from disappearing and blending in on your table, add a fabric table runner to break-up the color blending. Using a table runner with minimal detail can really enhance the look, without distracting eyes from the focal points of the table.
Shop this table runner here: Linen Double Hemstitch Table Runner
Layer long stems of greenery on top of a light colored table runner, and you have an easy, pop of color for a centerpiece. Splurge and visit your local florist for a few sprigs if possible, for an impressive touch!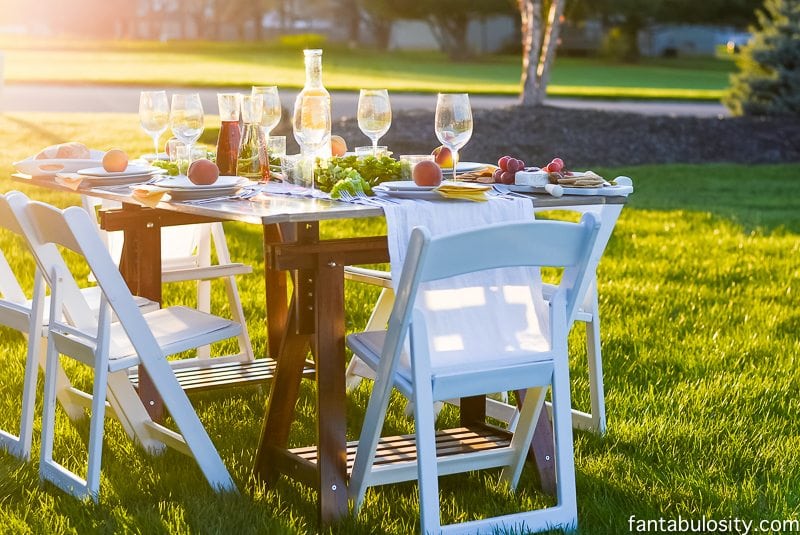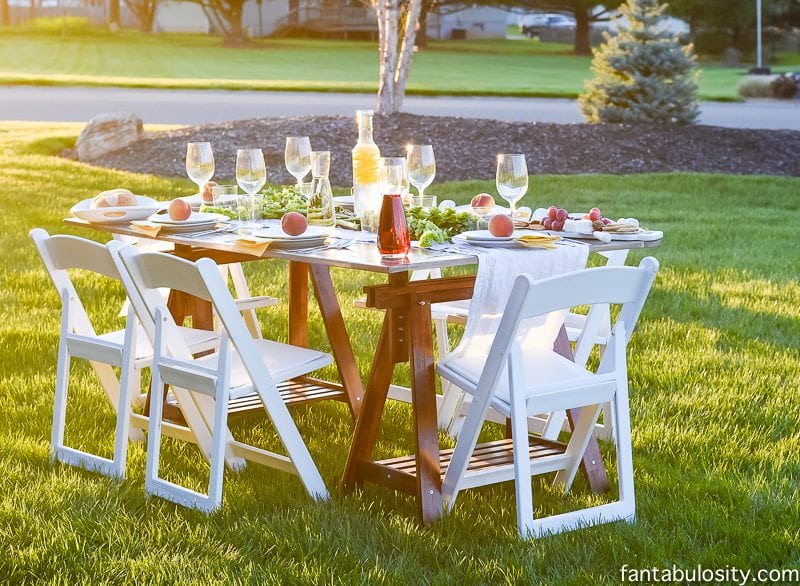 I'm SO thankful that you came to visit! If you love entertaining and hosting parties, then you won't want to leave without browsing the other parties that I have designed, here!
Then of course, don't forget to save your free party planning checklist, that I use to style and plan ALL of my parties. Forgetting one detail can throw a kink in your party plans. Use the checklist to help prevent forgetfulness!
Vendor Credits:
Party Styling: Fantabulosity
Table Construction: Kings Creations